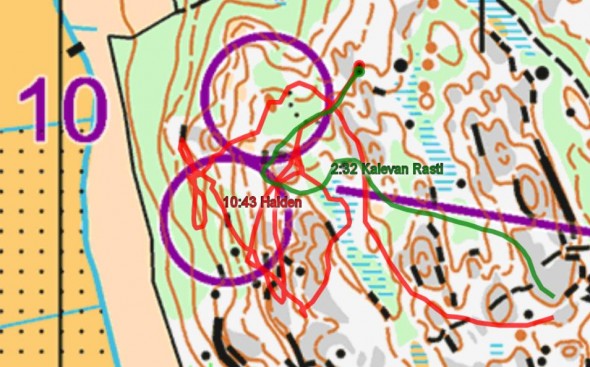 What a Jukola night! Getting through the night without big mistakes was the road to success in this year's Jukola. A lot of interesting mistakes to study now when the GPS tracking has been released.
Only a few of the "highlights" are included in this article – please add a comment if you find some which should have been mentioned…
Halden – leg 4
The big mistake which cost Halden the possibility to fight for the victory was the 10th control on leg 4. This was a massive one! Millegård explained after the race that he injured himself already on the way to the start control, and had to fight all the way with the injury.
Here is another one for Millegård – at control 3:
Leg 4 – control 1: The control that crunched a lot of hopes
The first control at the 4th leg crushed a lot of hopes. There was not one team making a 6-7 minute mistake – but rather 5-6 teams. You can feel the frustration of the runners out there ….
Leg 4 – control 7: Another one bites the dust
Leg 1 – control 1: The problems started already from the start
Of the teams having the southern control – none of the GPS tracked teams had the "mental strength" to break away from the queue and run towards their own control. Results: Nearly 2 minutes lost for many top teams.
All the GPS tracking from Jukola & Venla

Here you find all the GPS-tracking from Jukola & Venla. Remember that you can also compare your own GPS tracks with the best runners in 3DRerun.
Replay all the action: LiveBlog
You can replay all the action in the WorldofO LiveBlog from Jukola 2012: