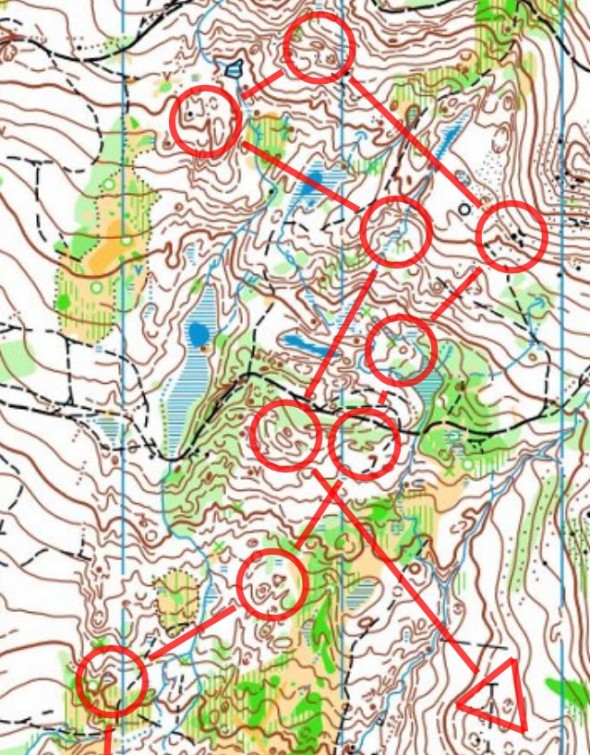 A completely different terrain from the long distance met the runners in the JWOC middle distance qualification. Away with the depressions – instead a lot of contour details and tricky short legs.
Even with very different terrain, most of yesterdays medalists from the long distance did very well. The three medalists in the mens race won two heats (Eskil Kinneberg and Marius Thrane Ødum) and had one third place (Gleb Tikhonov).  The women medalists had some more problems – bronze medalist Emily Kemp winning her heat, gold medalist Nurmi finishing 7th and silver medalist Sandberg finishing 19th(!) – with the first 20 in each heat going to the finals. Note also that Tove Alexandersson again had some problems and finished 6th.
Tomorrows middle distance final starts from 11:00 CET until 13:00 CET – with the winner ready around 13:30 CET. Here is the startlist for the middle final:
Maps and courses
You find the maps here:
Results (Top 20)
20 men and 20 women from each heat went to the A-finals. Here are the results of all runner going to the A-finals.

Results men
——————————————————————————-
Heat A
1. Odum Marius Thrane Denmark 23.16
2. Wängdahl Jens Sweden 23.38 0.22
3. Petter Lyngen Carl Norway 24.22 1.06
4. Liszka Krisztián Hungary 25.03 1.47
5. Ogden Matt New Zealand 25.31 2.15
6. Baltacis Karlis Latvia 25.37 2.21
7. Suominen Miika Finland 25.53 2.37
8. Hadač Filip Czech Republic 25.55 2.39
9. Regborn Martin Sweden 26.02 2.46
10. Niewiedziala Robert Poland 26.18 3.02
11. Barkasz Daniel Romania 26.51 3.35
12. Keller Samuel Switzerland 26.55 3.39
13. Dubois Remi France 27.26 4.10
14. Jurado Alonso Manuel Spain 27.40 4.24
15. Morenas Gediminas Lithuania 27.41 4.25
16. Barcík Róbert Slovakia 27.43 4.27
17. Seleznov Volodymyr Ukraine 27.57 4.41
18. Bakó Áron Hungary 28.10 4.54
19. Chloupek Adam Czech Republic 28.11 4.55
20. Kozyrev Andrey Russia 28.13 4.57
Heat B
1. Kinneberg Eskil Norway 25.00
2. Petržela Jan Czech Republic 25.06 0.06
3. Aukrust Osmoen Jon Norway 25.08 0.08
4. Norskov Thor Denmark 25.10 0.10
5. Zernis Rudolfs Latvia 25.29 0.29
6. Lawford Ian Australia 25.35 0.35
7. Hann Nick New Zealand 25.43 0.43
8. Aschwanden Sven Switzerland 25.49 0.49
9. Bloemen Tristan Belgium 26.08 1.08
10. Zagonel Giacomo Italy 26.11 1.11
11. Prunsche Christoph Germany 27.11 2.11
12. Polovinko Andriy Ukraine 27.12 2.12
13. Svensk Emil Sweden 27.13 2.13
14. Crickmore Jonathan Great Britain 27.23 2.23
15. Arvola Miika Finland 27.30 2.30
16. Kuchmenko Ivan Russia 27.49 2.49
17. Purins Mikus Latvia 27.52 2.52
18. Bartkevičius Algirdas Lithuania 27.53 2.53
19. Tranchant Blanc Olivier France 27.55 2.55
20. Huhtinen Mikko Finland 28.06 3.06
Heat C
1. Silva Luís Portugal 25.20
2. Edsen Jakob Ekhard Denmark 25.43 0.23
3. Tikhonov Gleb Russia 26.02 0.42
4. Denzler Alain Switzerland 26.07 0.47
5. Schuster Marek Czech Republic 26.08 0.48
6. Börjeskog Eric Sweden 26.14 0.54
7. Capbern Loic France 26.39 1.19
8. Serrallonga Arqués Marc Spain 26.47 1.27
9. Olejnik Michal Poland 26.51 1.31
10. Stevenson Jamie Great Britain 27.15 1.55
11. Hubáček Michal Czech Republic 27.18 1.58
12. Jurvakainen Tuukka Finland 27.21 2.01
13. Asmolov Oleksandr Ukraine 27.45 2.25
14. Bugár Gergely Hungary 27.46 2.26
15. Shved Aleksander Estonia 28.06 2.46
16. Schneider Florian Switzerland 28.09 2.49
17. Staišiunas Viktoras Lithuania 29.18 3.58
17. Short Conor Ireland 29.18 3.58
19. Jarvis Westergard Hakon Norway 29.39 4.19
19. Birtwistle Duncan Great Britain 29.39 4.19
Results women
Heat A
1. Narum Marte Norway 24.18
2. Basset Isia France 25.34 1.16
3. Butt Lucy Great Britain 26.10 1.52
4. Chepaeva Natalia Russia 26.35 2.17
5. Karlsson Helena Sweden 26.49 2.31
6. Alexandersson Tove Sweden 26.54 2.36
7. Lösch Susen Germany 27.19 3.01
8. Fremstad Runa Norway 28.09 3.51
9. Zempléni Réka Hungary 28.46 4.28
10. Aebi Marion Switzerland 28.48 4.30
11. Dyaksova Antoaneta Bulgaria 30.22 6.04
12. Kaasiku Evely Estonia 30.25 6.07
13. Caglio Anna Italy 30.40 6.22
14. Hulkkonen Johanna Finland 31.01 6.43
15. Robertson Laura New Zealand 31.02 6.44
16. Odum Miri Thrane Denmark 31.19 7.01
17. Sokolová Ľudmila Slovakia 31.23 7.05
18. Kemp Molly Canada 31.44 7.26
19. Novotná Markéta Czech Republic 32.46 8.28
20. Tommer Nora Switzerland 32.47 8.29
Heat B
1. Hagner Stine Bagger Denmark 25.04
2. Jansson Haverstad Maren Norway 26.13 1.09
3. Horčičková Vendula Czech Republic 27.05 2.01
4. Arbter Anja Austria 27.23 2.19
5. Mueller Sandrine Switzerland 27.45 2.41
6. Holer Lisa Switzerland 28.10 3.06
7. Nurmi Kirsi Finland 28.32 3.28
8. Watson Charlotte Great Britain 28.48 3.44
9. Knapová Lenka Czech Republic 28.50 3.46
10. Steigrová Lucia Slovakia 29.06 4.02
11. Bauer Julia Austria 29.11 4.07
12. Papugová Katarína Slovakia 29.49 4.45
13. Klingenberg Ita Denmark 30.02 4.58
14. Kirvesmies Tytti Finland 30.38 5.34
15. Jaugelaite Ona Lithuania 31.29 6.25
16. Beauvisage Lauriane France 31.30 6.26
17. Rudakouskaya Hanna Belarus 31.31 6.27
18. Sabirova Alina Russia 32.21 7.17
19. Sandberg Frida Sweden 32.23 7.19
20. Biller Anna Germany 32.39 7.35
Heat C
1. Kemp Emily Canada 25.27
2. Denisova Anastasia Belarus 26.55 1.28
3. Morawska Anna Poland 27.09 1.42
4. Hagström Sara Sweden 27.11 1.44
5. Novotná Tereza Czech Republic 28.25 2.58
6. Wennemo Oda Norway 28.33 3.06
7. Klingenberg Emma Denmark 28.41 3.14
8. Anufrieva Ekaterina Russia 28.44 3.17
9. Poloprutská Markéta Czech Republic 29.17 3.50
10. Savolainen Iida Finland 29.24 3.57
11. Myhre Ingjerd Norway 31.14 5.47
12. Sukharevska Viktoriia Ukraine 31.16 5.49
13. Neverova Anastasiia Russia 31.23 5.56
14. Ruch Martina Switzerland 31.24 5.57
14. Mäkinen Elisa Finland 31.24 5.57
16. Costa Joana Portugal 32.01 6.34
16. Ramstein Laura Austria 32.01 6.34
18. Sandevoir Claire France 32.18 6.51
19. Lindsay Rona Great Britain 32.31 7.04
20. Hellmueller Mirjam Switzerland 32.37 7.10