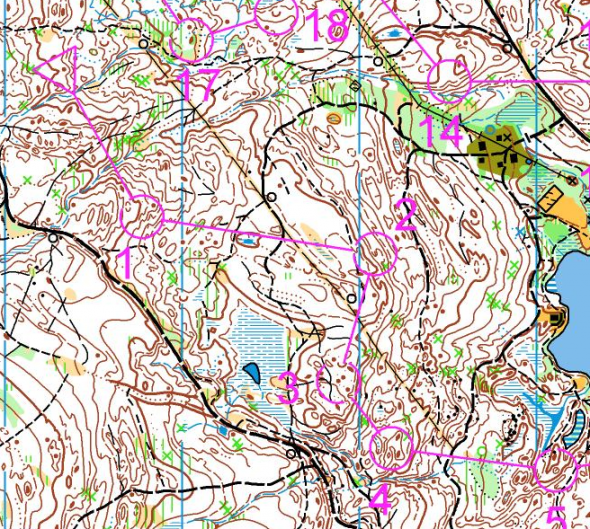 A great day for New Zealand in the Junior World Championships in Kosice, Slovakia today. Tove Alexandersson back on top after two days with big mistakes.
Matt Ogden took the first JWOC gold medal for New Zealand after beating Jan Petrezela (Czech Republic) and Florian Schneider (Switzerland) with 13 and 13 seconds in a technical middle distance course.
Ogden showed his strength already at the sprint and long with 10th and 14th places respectively, but the middle distance final today was something really exceptional by the Kiwi compared to what he has shown earlier.
According to New Zealand orienteering Ross Morrison, Ogden is one of the most dedicated athletes in the history of NZ orienteering. – His mind is non-stop orienteering, and that's what makes a champion, Morrison writes. The young New Zealand orienteer is also known for his very good skills in Catching Features – currently ranked 8th in the world. According to Morrison, Ogden was initially selected for the NZ WOC 2012 team to run in the relay, but decided to focus on Oringen in his last junior year.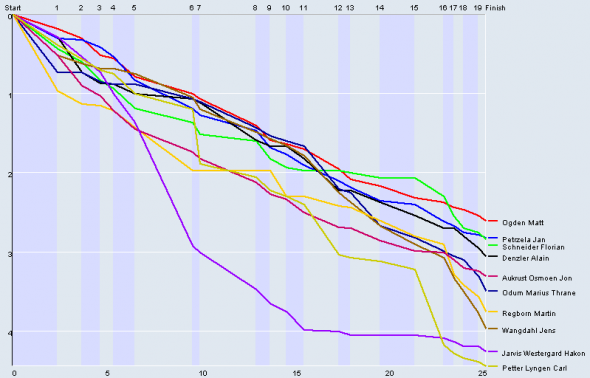 It was a very tight race, with none of the runners doing a consistently good race all the way. Ogden, while having a bit lower top speed than his main contenders, did manage without any significant mistakes – and that was the secret for success in this tricky middle distance race with many short legs in terrain with varying runnability.
Czech Petrezela was on very good way to gold when passing the spectator control, but seemingly did not manage to stand the pressure, and lost time to control 16, 17 and 18.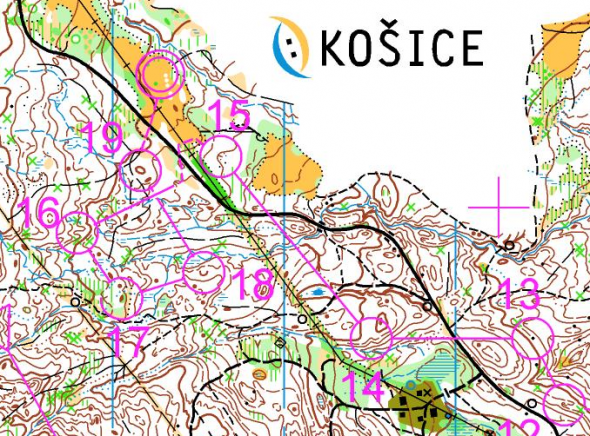 Gold medalist on the long distance, Eskil Kinneberg (Norway), made mistakes from the start and finished in a very disappointing 37th place. Sprint gold medallist Gleb Tikhonov (Russia) did also have a bad race – finishing 15th on the tricky middle distance race, finishing 15th.
Gold despite bad start for Alexandersson
Alexandersson did not do a perfect race today – but still it was enough to fight her way to gold. To orientering.se the Swedish runner explained how even careful running to the first control led to a new mistake at the first control.
– My tactics was to take it easy and be very accurate to the first control, but I still missed a minute. That made me a bit distressed, og I never got the flow in the orienteering after that. I had to fight all the way to concentrate.
In the splitsbrowser below you see how Alexandersson is far behind the leaders at the first control, but she continues in a speed nobody else is even close to. Especially on the long legs Alexandersson has another speed than the others.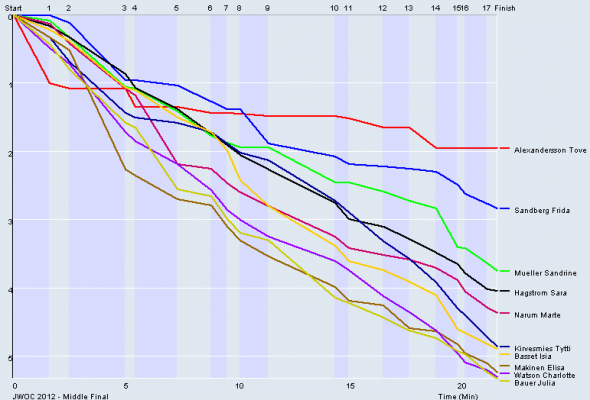 Maps and courses
You find the maps here:
Results
Results men
1. Ogden Matt                      New Zealand              27.55
2. Petržela Jan                    Czech Republic           28.08     0.13
3. Schneider Florian               Switzerland              28.09     0.14
4. Denzler Alain                   Switzerland              28.22     0.27
5. Aukrust Osmoen Jon              Norway                   28.37     0.42
6. Odum Marius Thrane              Denmark                  28.48     0.53
7. Regborn Martin                  Sweden                   29.04     1.09
8. Wängdahl Jens                   Sweden                   29.17     1.22
9. Jarvis Westergard Hakon         Norway                   29.34     1.39
10. Petter Lyngen Carl              Norway                   29.45     1.50
Results women
1. Alexandersson Tove              Sweden                   23.42
2. Sandberg Frida                  Sweden                   24.35     0.53
3. Mueller Sandrine                Switzerland              25.30     1.48
4. Hagström Sara                   Sweden                   25.47     2.05
5. Narum Marte                     Norway                   26.07     2.25
6. Kirvesmies Tytti                Finland                  26.36     2.54
7. Basset Isia                     France                   26.38     2.56
8. Mäkinen Elisa                   Finland                  26.59     3.17
9. Watson Charlotte                Great Britain            27.03     3.21
10. Bauer Julia                     Austria                  27.04     3.22