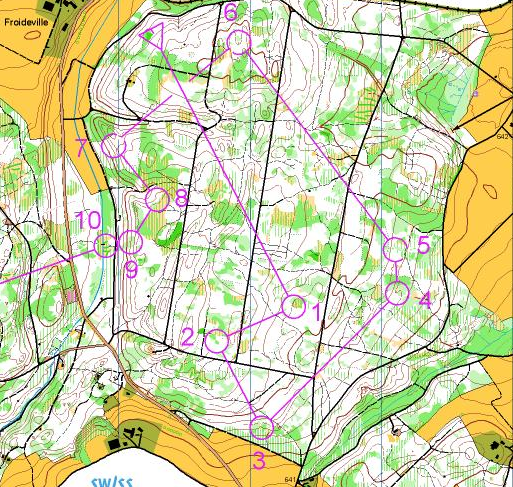 [Update: Improved map quality]- One of the terrains with best runnability we I have been in on the trainings, Anders Norberg (Norway) said after running a steady qualification run in today's WOC long qualification. Heat winners today were Olav Lundanes, Matthias Merz, Edgard Bertuks, Tatiana Riabkina, Simone Niggli and Minna Kauppi.
All big favourites managed to get to the finals. Andrey Khramov in 14th place was the one of the favourites who had most problems today.
Maps
Technically the challenges were smaller than what is expected in the final on Thursday.
Below you find the maps from the long distance qualification (map quality is now improved!).
Results
All 45 runners going to the finals are listed below – 15 in each heat.
Men A
1   Olav Lundanes NOR 59:03 0:00 Qualified
2   Dmitriy Tsvetkov RUS 1:01:13 +2:10 Qualified
3   Fabian Hertner SUI 1:01:23 +2:20 Qualified
4   Gernot Kerschbaumer AUT 1:02:20 +3:17 Qualified
5   Tue Lassen DEN 1:02:42 +3:39 Qualified
6   Mikhail Mamleev ITA 1:02:58 +3:55 Qualified
7   Julian Dent AUS 1:04:35 +5:32 Qualified
8   Fredric Portin FIN 1:04:54 +5:51 Qualified
9   Gustav Bergman SWE 1:05:02 +5:59 Qualified
10   Peeter Pihl EST 1:05:15 +6:12 Qualified
11   Vilius Aleliunas LTU 1:05:18 +6:15 Qualified
12   Aleksei Alekseyonok BLR 1:05:31 +6:28 Qualified
13   Diogo Miguel POR 1:05:43 +6:40 Qualified
14   Štepán Kodeda CZE 1:05:52 +6:49 Qualified
15   Nicolas Simonin IRL 1:06:01 +6:58 Qualified
Men B
1   Matthias Merz SUI 59:22 0:00 Qualified
2   Valentin Novikov RUS 59:42 +0:20 Qualified
3   Frederic Tranchand FRA 1:02:15 +2:53 Qualified
4   Lauri Sild EST 1:02:17 +2:55 Qualified
5   Anders Holmberg SWE 1:03:09 +3:47 Qualified
6   Ionut Zinca ROU 1:03:10 +3:48 Qualified
7   Hans Gunnar Omdal NOR 1:04:41 +5:19 Qualified
8   Yury Tambasov BLR 1:04:46 +5:24 Qualified
9   Tomáš Dlabaja CZE 1:05:07 +5:45 Qualified
10   Adam Kovacs HUN 1:05:25 +6:03 Qualified
11   Rasmus Djurhuus DEN 1:06:20 +6:58 Qualified
12   Artem Panchenko UKR 1:06:21 +6:59 Qualified
13   Kalvis Mihailovs LAT 1:06:29 +7:07 Qualified
13   Bartosz Pawlak POL 1:06:29 +7:07 Qualified
15   Alessio Tenani ITA 1:07:41 +8:19 Qualified
Men C
1   Edgars Bertuks LAT 58:13 0:00 Qualified
2   Jan Šedivý CZE 59:27 +1:14 Qualified
3   Philippe Adamski FRA 1:00:54 +2:41 Qualified
4   Matthias Kyburz SUI 1:00:58 +2:45 Qualified
5   Wojciech Kowalski POL 1:01:09 +2:56 Qualified
6   Kiril Nikolov BUL 1:01:15 +3:02 Qualified
7   Anders Nordberg NOR 1:01:36 +3:23 Qualified
8   Yannick Michiels BEL 1:02:38 +4:25 Qualified
9   Scott Fraser GBR 1:02:42 +4:29 Qualified
10   Erik Rost SWE 1:03:15 +5:02 Qualified
11   Pavlo Ushkvarok UKR 1:03:17 +5:04 Qualified
12   Tuomas Tervo FIN 1:04:01 +5:48 Qualified
13   Vytautas Beliunas LTU 1:04:47 +6:34 Qualified
14   Andrey Khramov RUS 1:04:52 +6:39 Qualified
15   Rasmus Thrane Hansen DEN 1:05:41 +7:28 Qualified
Women A
1   Tatyana Riabkina RUS 50:00 0:00 Qualified
2   Eva Jureníková CZE 50:44 +0:44 Qualified
3   Helena Jansson SWE 51:03 +1:03 Qualified
4   Claire Ward GBR 51:58 +1:58 Qualified
5   Ines Brodmann SUI 52:56 +2:56 Qualified
6   Lena Eliasson SWE 53:38 +3:38 Qualified
7   Svetlana Mironova RUS 54:05 +4:05 Qualified
8   Ildiko Szerencsi HUN 54:31 +4:31 Qualified
9   Kristina Rybakovaite LTU 54:48 +4:48 Qualified
10   Tone Wigemyr NOR 56:00 +6:00 Qualified
11   Venla Niemi FIN 56:44 +6:44 Qualified
12   Kirti Rebane EST 57:19 +7:19 Qualified
13   Samantha Saeger USA 57:37 +7:37 Qualified
14   Aislinn Prendergast AUS 58:02 +8:02 Qualified
15   Antoniya Grigorova-Burgova BUL 59:01 +9:01 Qualified
16   Elisa Elstner AUT 1:00:04 +10:04 Qualified
Women B
1   Simone Niggli-Luder SUI 47:39 0:00 Qualified
2   Celine Dodin FRA 50:26 +2:47 Qualified
3   Ursula Kadan AUT 50:38 +2:59 Qualified
4   Dana Šafka Brožková CZE 50:47 +3:08 Qualified
5   Anne Margrethe Hausken Nordberg NOR 51:10 +3:31 Qualified
6   Merja Rantanen FIN 51:37 +3:58 Qualified
7   Lina Strand SWE 52:09 +4:30 Qualified
8   Signe Klinting DEN 53:27 +5:48 Qualified
9   Annika Rihma EST 54:12 +6:33 Qualified
10   Inga Kazlauskaite LTU 54:40 +7:01 Qualified
11   Olga Sluta UKR 56:09 +8:30 Qualified
12   Sarah Rollins GBR 56:17 +8:38 Qualified
13   Kim Geypen BEL 57:00 +9:21 Qualified
13   Louise Oram CAN 57:00 +9:21 Qualified
15   Anna Serrallonga Arqués ESP 59:17 +11:38 Qualified
Women C
1   Minna Kauppi FIN 49:34 0:00 Qualified
2   Ida Bobach DEN 49:40 +0:06 Qualified
3   Sara Lüscher SUI 50:17 +0:43 Qualified
4   Inga Dambe LAT 51:46 +2:12 Qualified
5   Annika Billstam SWE 51:50 +2:16 Qualified
6   Mari Fasting NOR 53:15 +3:41 Qualified
7   Anastasiya Tikhonova RUS 53:27 +3:53 Qualified
8   Vendula Klechová CZE 54:25 +4:51 Qualified
9   Miek Fabré BEL 54:29 +4:55 Qualified
10   Ausrine Kutkaite LTU 54:49 +5:15 Qualified
11   Nadiya Volynska UKR 55:35 +6:01 Qualified
12   Fanni Gyurko HUN 55:38 +6:04 Qualified
12   Daria Lajn POL 55:38 +6:04 Qualified
14   Helen Bridle GBR 56:20 +6:46 Qualified
15   Lea Vercellotti FRA 57:05 +7:31 Qualified