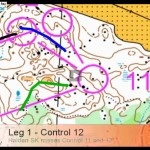 Here is a selection of 10Mila videos to get you in the right mood ahead of 10Mila. Relive the summary video and the start from 10Mila 2012, the slowmotion video from 10Mila 2008, the tracking highlights from 10Mila 2007, the 10Mila Petzl video from 2008 or some of the other great 10Mila content available on the Internet. Enjoy!
What is your favourite 10Mila video?
Do you know about more great 10Mila videos which can set the WorldofO.com readers in the right mood? Please add a comment below – and I'll update the post accordingly… All videos are courtesy of YouTube.com.
Note! This is a repost from 2012 with some more videos added!
10Mila 2012 – Summary Men
10Mila 2012 – Summary Women
10Mila 2012 – Start Men
10Mila 2011 – The start

(see also summary of the 2011 women relay)
10Mila 2011 – Summary video
10Mila 2010 – The start
10Mila 2008 – Petzl video
10Mila 2010 – 3DRerun demo from decisive 3rd leg
10Mila 2006 – suggestion from Ivan Banov
10Mila 2005

Thanks to comment below from Magnus
10Mila 2003
10Mila 2002
10Mila 1998
Nice story from Asplövet to go with the video
10Mila 1998 (2)
10Mila 1995(1)
10Mila 1995(2)
10Mila 1994
10Mila 1993
10Mila 1992
10Mila 1990
10Mila 1989(1)
10Mila 1989(2)
10Mila 1989(3)
10Mila 1988
10Mila 1987
10Mila 1986
10Mila 1985
10Mila 1984