Frederic Tranchands victory in  the overall Finnish orienteering league (Huippuliiga) after starting as number 52(!) in the chasing start was the highlight of this orienteering weekend – the start field was very good. There were also very strong start fields in the three Silva League races in Sweden.
In the prestigious live TV-broadcast Huippuliiga final, Tranchand told Finnish TV YLE after the race that he took the race as "a nice relay training". Tranchand explained that he had tired legs after a lot of training lately, but was happy to still be able to win.
Boström caught
Above you see the first part of the course where Tranchand (in a big field) catches two minutes on Mårten Boström who started alone in the lead. The route choice to number 5 and the mistake at number 7 costs most time. In addition the big field managed to keep higher speed and help each other when doing small mistakes – compared to Boström fighting first alone – and then in a smaller field – up at the front. In the second part of the race Boström looses another 90 seconds – and is finally caught just ahead of the arena passing. The decisive mistake for the lead group consisting of Boström, Anjala, Muukkonen and Suna is at control 26 where a direction mistake costs nearly a minute compared to the chasing group.
 1.    52   Tranchand Frederic              OK Hällen                                44:33
  2.     4   Anjala Topi                     Koovee                                   44:37          +4
  3.     5   Tervo Tuomas                    Rajamäen Rykmentti                       44:40          +7
  4.     1   Boström Mårten                  Lynx                                     44:44         +11
  5.     2   Suna Jussi                      Turun Metsänkävijät                      44:46         +13
  6.    18   Lakanen Jani                    Vaajakosken Terä                         44:50         +17
  7.     3   Muukkonen Petteri               Vehkalahden Veikot                       44:51         +18
  8.    13   Hubmann Martin                  Norway                                   44:52         +19
  9.     8   Dlabaja Tomas                   Rajamäen Rykmentti                       44:53         +20
 10.    10   Howald Florian                  Tampereen Pyrintö                        45:08         +35
Minna Kauppi took the women's
Minna Kauppi won the women's race after starting in a big lead – making several mistakes (loosing one minute in the butterfly and more than a minute to 16/17) and being caught by Venla Niemi at control 17. Kauppi had higher speed than Niemi, though, and managed to run away from Niemi again and take the victory. Below you see an autOanalysis between Kauppi and Niemi – click the map for full view.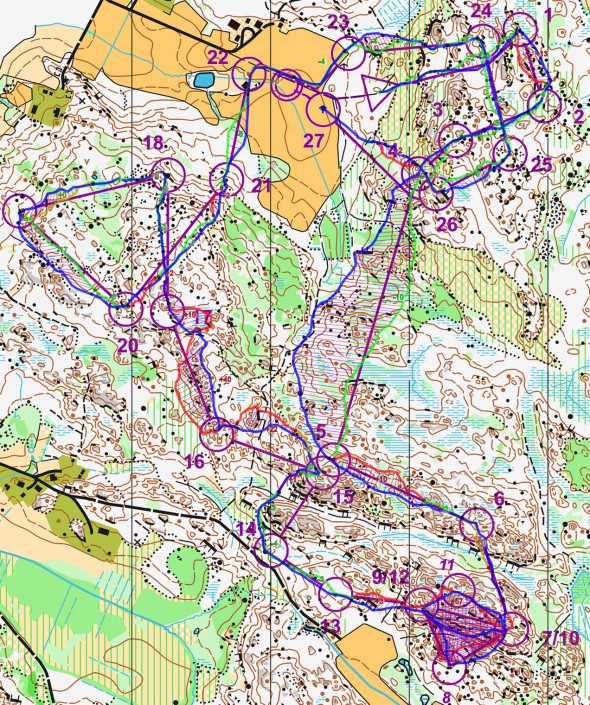 1.   101   Kauppi Minna                    Asikkalan Raikas                         43:43
  2.   102   Niemi Venla                     Tampereen Pyrintö                        44:42         +59
  3.   105   Kinni Saila                     Tampereen Pyrintö                        47:54       +4:11
  4.   104   Friederich Rahel                Sweden                                   47:57       +4:14
  5.   109   Haajanen Sofia                  SK Pohjantähti                           48:00       +4:17
  6.   112   Kuuselo Riina                   Tampereen Pyrintö                        48:01       +4:18
  7.   117   Sundberg Karoliina              Lynx                                     48:03       +4:20
  8.   108   Uotila Ulrika                   Koovee                                   48:05       +4:22
  9.   123   Saarimäki Heini                 Angelniemen Ankkuri                      48:09       +4:26
 10.   120   Vinogradova Natalia             Angelniemen Ankkuri                      48:10       +4:27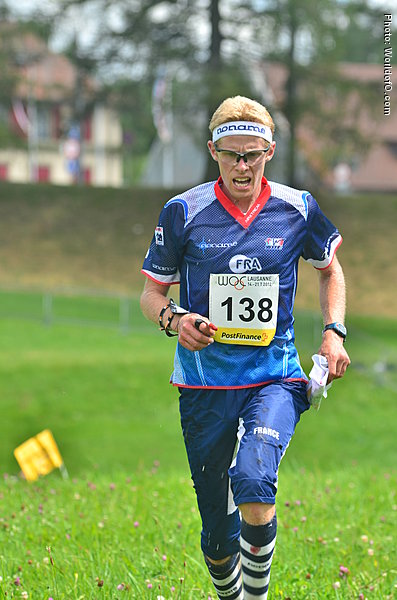 Silva League: Sprint, Middle and Long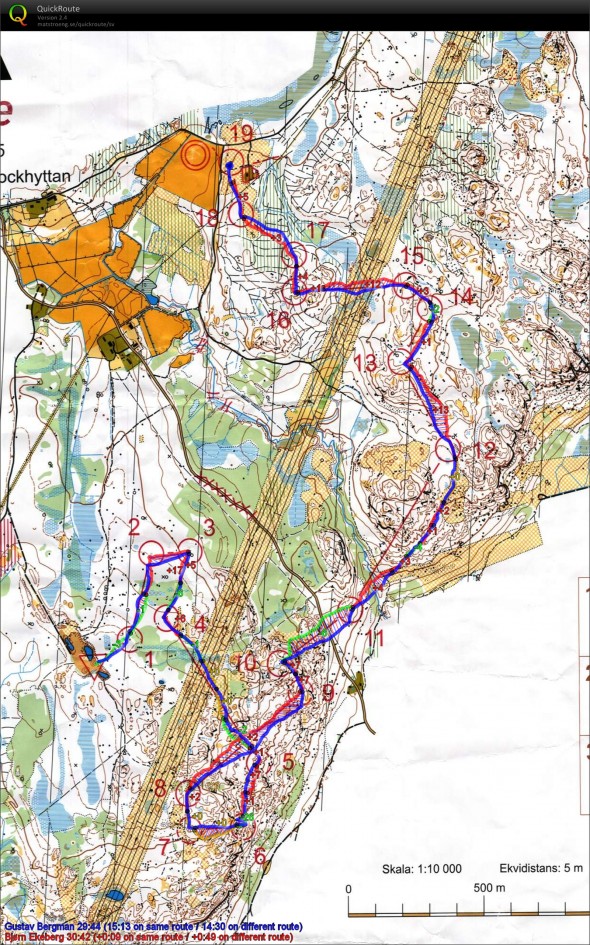 Three Silva League races this long weekend – Sprint Thursday, Middle Saturday and Long Sunday. Some observations based on the results:
Simone Niggli looses twice in a row on Thursday and Saturday – Tove Alexandersson beats her both times. Not often to loose twice in a row for Niggli – but the Swiss superstar came back with a victory on Sunday's long (but still only 1:30 ahead of Alexandersson). On Saturday's middle distance Alexandersson was 8 seconds behind at the prewarning – but beat Niggli with three seconds in the end. Niggli also has a clear lead in overall Silva League – but will not start in the final Silva League weekend due to looking after her family and reducing travel.
Tatiana Riabkina was twice third in the first Silva League weekend – this weekend she took two new third places – placing herself firmly in third spot in the overall Silva League.
Thierry Gueorgiou is probably angry with himself after loosing more than 2:30 at the second control in Saturday's middle distance (see map above for the control location). Without this mistake the "King of Middle" would have been all the way on the top of the list – now he god a disappointing 13th place.  His performance in sprint (2nd place) and long (victory with more than 3 minutes) is excellent though – and enough to give him a very clear overall lead in Silva League.
Fredric Johansson impressed the first Silva League weekend with 2 x 2nd place in the long distance races. On Sunday Johansson showed that really means business this season with yet another 2nd place behind Thierry Gueorgiou.
Gustav Bergman delivers stable performances – three good races and victory on Saturday, but the top shape is not really there yet. Above you can see a map with an autOanalysis (click for full size) of Bergman's race compared to Norwegian Bjørn Ekeberg who finished 5th. Stable technical performances by both – but Bergman has higher speed – especially in the last part of the race.
Matthias Merz has struggled earlier this season – but at the middle distance on Saturday he was up there again with a second place.
Jonas Leandersson shows excellent performance in sprint – back where he was last spring when he (somewhat surprisingly) won the EOC gold medal. It is also nice to see young Belgian Yannick Michiels steadily improving and getting more stable in sprint – a third place on Thursday's sprint is excellent.
Matthias Kyburz did not manage to deliver top performances – 4th in Thursday's sprint after many small mistakes is below par for last year's overall World Cup winner.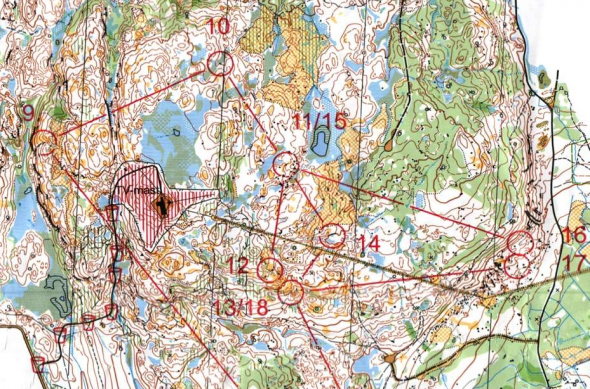 Long distance Sunday – part of course.
More about the races:
Thursday – Sprint
Saturday – Middle
Sunday Long