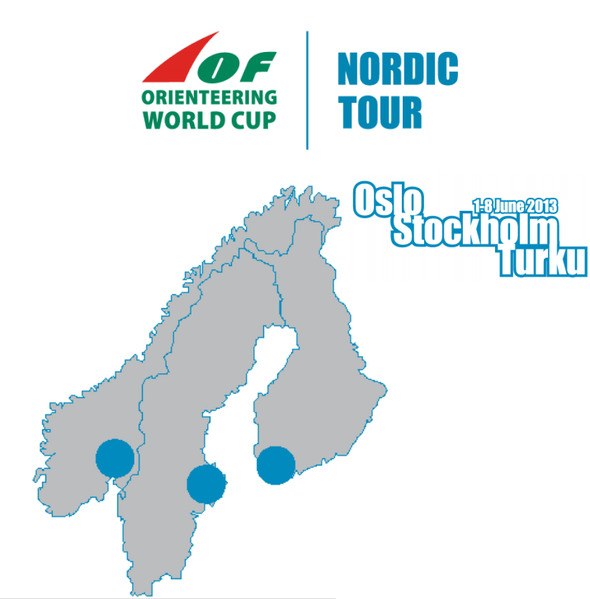 5 stages – 3 countries – 8 days – 133 starters – all races broadcast on TV / webTV – and 29 of the 40 best orienteers in the world* on the start line – although not all will travel on from Oslo. The 2013 edition of the Nordic Orienteering Tour looks like it might be the best so far – but it is also the last edition of orienteering's "Tour de Ski copy" – at least for now.
Bertuks is still on the start lists, but decided just yesterday to skip NORT to be better prepared for WOC
*29 of the 40 best orienteers on the World Ranking are on the start list – 5 of the top 20 women and 6 of the top 20 men are missing. Notably missing are recent WOC medalists Thierry Gueorgiou, Helena Jansson, Edgars Bertuks, Valentin Novikov, Lena Eliasson and Peter Öberg (Reigning World Champion on middle distance Bertuks is still on the start lists, but decided just yesterday to skip NORT to be better prepared for WOC). Update 31/5: Olav Lundanes and Minna Kauppi are also not starting due to illness.
PS! All NORT starters should have received an e-mail from their team leader with a link to update information in the athlete profiles. Please check with your team responsible (or alternatively with the author of this article) if you did not receive an e-mail. Changes should be submitted by Friday May 31st 22:00 CET
Useful links
High quality TV broadcasts
From earlier it was already clear that the race in Sweden will be broadcast on SVT (Swedish national TV, available free world wide, no IP restriction) and the races in Finland on YLE (Finnish national TV). It has just been confirmed that NRK (the Norwegian national TV) will stream the broadcast from the two first NORT races on their webTV service (available world wide free of charge, no IP restriction). In addition there will of course be GPS tracking and live results.
This means that we can expect good quality broadcasts from all NORT final races. This article will be updated with details about world wide availability for the YLE broadcasts when available.
Sprint, sprint, sprint – and then add some middle and a chasing start
Just like in earlier editions of the Nordic Orienteering Tour, good sprint abilities are sought. Three of the final races are sprint races (in addition to two additional qualification races – also counting for the overall). Forest specialists are left with the middle distance race on stage 2 in Oslo and the chasing start (shortened long distance) in Turku, Finland next Saturday (last stage).
Program
Saturday June 1st: Sprint, Oslo (NOR) – start from 14:01 CET, no Qual
Sunday June 2nd: Middle, Oslo (NOR)  – start from 13:25 CET, no Qual
Tuesday June 4th: KnockOut sprint, Sigtuna (SWE) – qual from 10:00 CET, semi-final from 15:17 CET, final from 17:20 CET. Forking may be used
Friday June 7th: Sprint, Turku (FIN) – qual from 08:00 CET – final from 14:15 CET
Saturday June 8th: Chasing start, Turku (FIN) – start from 12:20 CET
Overall results
Calculation of overall results is similar to last year – the qualification races (which are not being TV broadcast) also being very important for the overall. You find the complete rules here – although it is a bit confusing as the rules refer to the time in the qualification race on stage one counting for the overall NORT standing, whereas the NORT Bulletin 4 does not mention any qualification race on day 1. Basically the overall results are calculated based on summing the actual running times in all qualification races and subtracting bonus seconds which are awarded based on position in the finals. Bonus seconds for the finals are given by 120 for victory and then 90 – 75 – 60 – 50 – 45 – 40 – 37 – 34 – 31 – 28 – 26 …
The NORT webpage should give you updates on the actual rules – and updated overall results – during the Nordic Orienteering Tour.
Money prizes
Although money prizes are not as impressive as originally planned when the Nordic Tour concept was launched, an athlete winning the overall + all 5 stages will travel back having earned 7500 Euro.
Old Maps (click for larger size)
Stage 1, Oslo:
Stage 2, Oslo:
Stage 3, Sigtuna:
Stage 4, Turku (two maps – qual and final):
Stage 5, Turku: