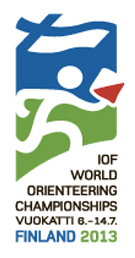 [Update: Direct link to live services] The World Orienteering Championships starts on Sunday July 7th at 08:30 CET (09:30 local Finnish time) with Long distance qualification east of Vuokatti, Finland. The first medals are handed out Monday evening in sprint – after a busy day with sprint qualification in the morning and sprint final in the evening.
Updates:
The championships continue with Long final on Tuesday, Middle qualification on Thursday, Middle final on Friday and relay on Saturday. The tough start of the championships with the Sprint squeezed in between Long qualification and final makes it difficult for athletes to combine these two disciplines – and thus several of the top all-rounders will have to choose one of the disciplines.
Finnish events have a history of excellent live services, so expect all services to work as advertised
Live services: How to follow the competitions
For spectators – either in the arena or at home through the Internet – the World Championships in Finland should be excellent. Live TV (Finnish YLE channel), live GPS tracking (all races except women's long distance qualification), organizers video production and live results. Note that GPS-tracking and the organizers video production is a paid service (10 Euro for the whole week). Finnish events have a history of excellent live services, so expect all services to work as advertised.  Read all about how to follow the competitions here – and see info about WOC on TV here (YLE broadcasts: sprint final, long final, middle final, relay – probably not available worldwide? Please leave a comment if you know more). In addition to YLE broadcasts in Finland, WOC will also be broadcast live in some other countries like e.g. Norway (NRK).
WOC 2013 Detailed program
All times are given in CET. Finnish time is one hour later.
Sunday July 7th 08:30: Long qualification
Monday July 8th 08:00: Sprint qualification / 16:54: Sprint final women / 18:21: Sprint final men
Tuesday July 9th 10:55: Long final women / 12:45 Long final men
Thursday July 11th 08:00: Middle qualification women / 09:15: Middle qualification men
Friday July 12th 12:10: Middle final men / 14:05: Middle final women
Saturday July 13th 12:55: Relay men / 15:00 Relay women
Startlists are typically available after the teamleader meeting the evening before the event – expect to see them around 20:00 CET. For finals where qualification is several days earlier, startlists will usually be available earlier. From the qualifications, 15 runners go on to the finals in each heat.
Useful links
WOC Teams – sorted by country
Note that all teams have received login information to update the athlete data / profile miniature picture. If you are a competitor and have not received a link, please contact your team leader.
Terrain
Two different terrain types will be featured in WOC 2013. The long distance terrain is flat, fast and open – with the longest WOC long distance course ever. The middle/relay terrain is mostly hilly, partly dense and though – a perfect terrain for a middle distance race. In addition there is the sprint which is partly fast forest – partly urban area. See below for old maps and more details about each discipline.
WOC Long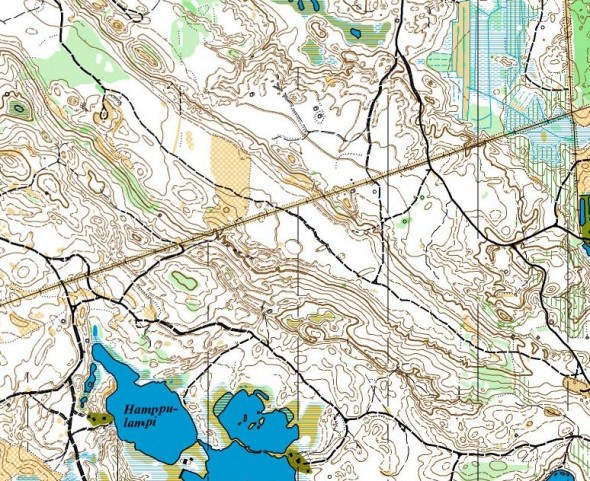 Reigning champions are Olav Lundanes and Simone Niggli.
WOC Sprint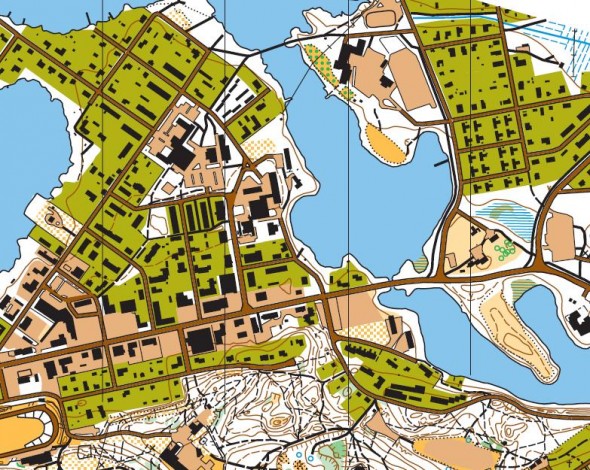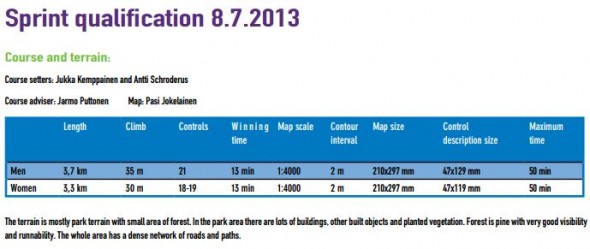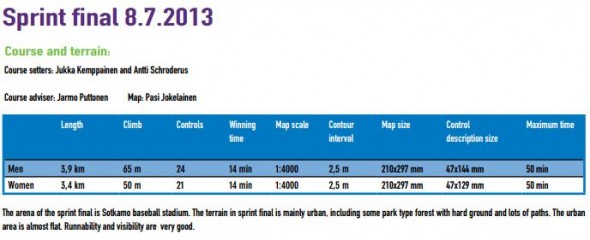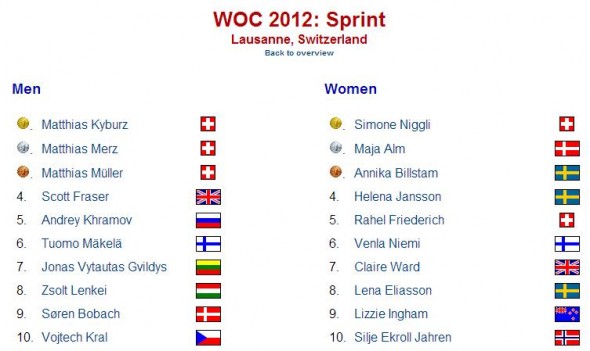 Reigning champions are Matthias Kyburz and Simone Niggli.
WOC Middle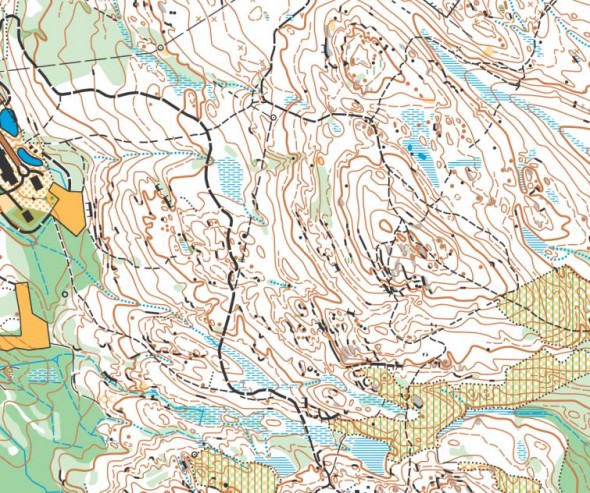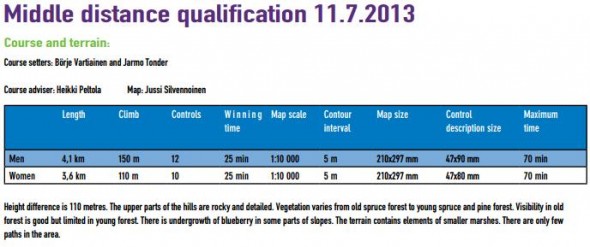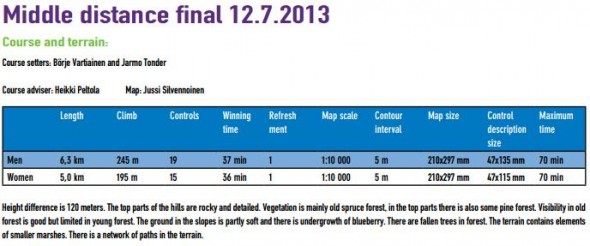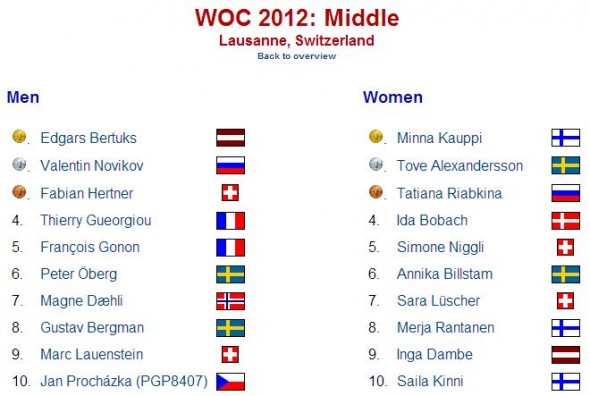 Reigning champions are Edgars Bertuks and Minna Kauppi.
WOC Relay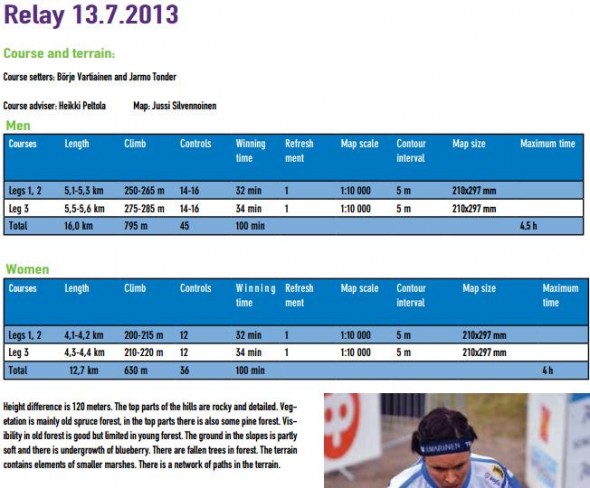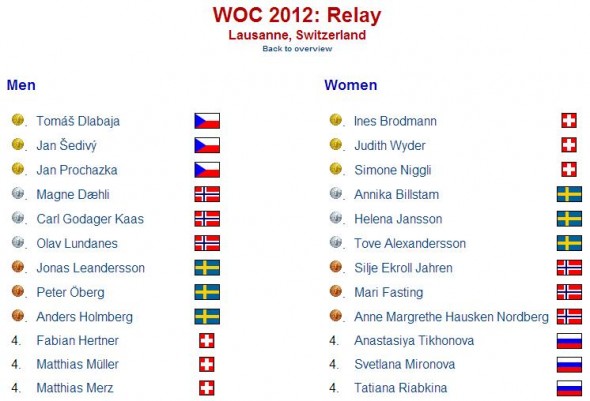 Reigning champions are Czech Republic and Switzerland.
The terrain for the relay is the same as for the middle distance. The lower slopes which are faster might very well be used more for the relay than for the middle distance, but no information is given about this.
[This article will be updated with more information about each event]