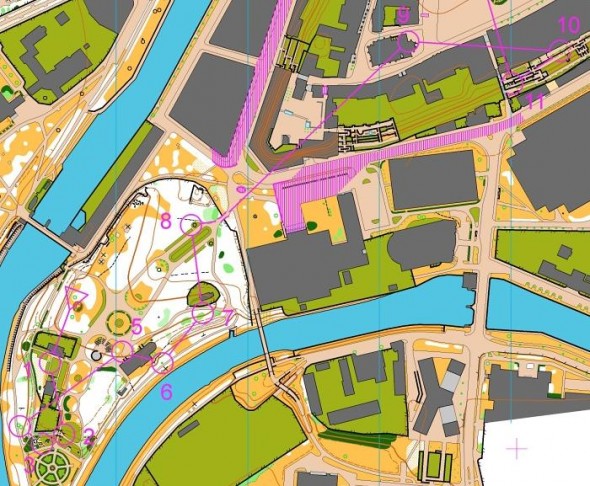 Gold went to Heidi Mårtensson (Norway) and Florian Schneider (Switzerland) in JWOC sprint in Hradec Kravlove, Czech Republic today. In the mens class it was very close to a Czech victory on homeground – with Michal Hubacek only 4 seconds behind Schneider – whereas Tim Robertson (New Zealand) secured New Zealand a popular medal.
In the women's class Denmark took another medal – this time silver with Nicoline F Klysner. Bronze went to Anastasia Denisova (Belarus).
Higher speed
– I had a great race today. I knew I was very well physically prepared, so I wanted to concentrate not to make any mistake. I must say I succeeded despite of making a small mistake on my way to the second last control. I am so happy to become the World Champion, Heidi Mårtensson commens at the JWOC website.
The Norwegian coach was also very impressed with the new Norwegian Junior World Champion.
– She has higher speed than the rest of the start field, and wins even if she does a small mistake at the end, Norwegian Junior coach Torben Wendler comments to orientering.no about the Norwegian winner in the womens class – Heidi Mårtensson. Mårtensson is the daughter of the Swedish top runner Jörgen Mårtensson – and shows that she has some of the same abilities as her father when it comes to performing when it really counts.
Second medal for Schneider
For Florian Schneider – gold medalist in the men's class – this was the second medal in this Junior World Championships for Schneider.
– I lost 10 seconds – that could be it for me. At least one will probably come through without mistakes, Schneider said to swiss-orienteering.ch while waiting for the last of his more than 160 competitors to finish their race.
Schneider took silver on the long distance – and proved also on the middle distance that he has the speed of the best – although some large mistakes there destroyed his medal chances.
Maps
Results
Men


Photo: JWOC website
| | | | | |
| --- | --- | --- | --- | --- |
| 1. | Schneider Florian | SUI | 14:35 | |
| 2. | Hubáček Michal | CZE | 14:39 | 0:04 |
| 3. | Robertson Tim | NZL | 14:47 | 0:12 |
| 4. | Heggedal Sigur | NOR | 14:57 | 0:22 |
| 5. | Meier Christoph | SUI | 14:58 | 0:23 |
| 6. | Pedersli Trond Einar | NOR | 15:00 | 0:25 |
| 7. | Crickmore Jonathan | GBR | 15:04 | 0:29 |
| 8. | Parfianowicz Piotr | POL | 15:06 | 0:31 |
| 9. | Bloemen Tristan | BEL | 15:08 | 0:33 |
| 10. | Niemi Aleksi | FIN | 15:10 | 0:35 |
| 11. | Edsen Jakob Ekhard | DEN | 15:12 | 0:37 |
| 12. | Aldén Niklas | SWE | 15:13 | 0:38 |
| 13. | Hann Nick | NZL | 15:14 | 0:39 |
| 14. | Svensk Emil | SWE | 15:16 | 0:41 |
| 15. | Johansson Anton | SWE | 15:17 | 0:42 |
| 16. | Wolowczyk Krzysztof | POL | 15:20 | 0:45 |
| 17. | Ahlund Ludvig | SWE | 15:24 | 0:49 |
| 18. | Minář Marek | CZE | 15:26 | 0:51 |
| 19. | Wängdahl Jens | SWE | 15:29 | 0:54 |
| 20. | Polyakov Dmitry | RUS | 15:30 | 0:55 |
Women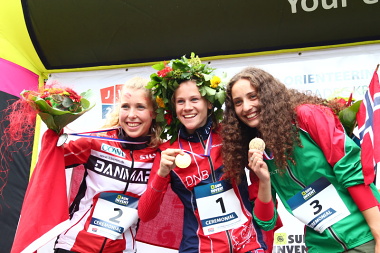 Photo: JWOC website
| | | | | |
| --- | --- | --- | --- | --- |
| 1. | Martensson Heidi | NOR | 14:33 | |
| 2. | Klysner Nicoline Frib | DEN | 14:45 | 0:12 |
| 3. | Denisova Anastasia | BLR | 14:48 | 0:15 |
| 4. | Savkina Ekaterina | RUS | 14:49 | 0:16 |
| 5. | Benjaminsen Andrine | NOR | 14:52 | 0:19 |
| 6. | Sandberg Frida | SWE | 14:59 | 0:26 |
| 7. | Hulkkonen Johanna | FIN | 15:00 | 0:27 |
| | Tomashevskaya Veronik | RUS | 15:00 | 0:27 |
| 9. | Forsgren Hilda | SWE | 15:02 | 0:29 |
| 10. | Krasilnikova Daria | RUS | 15:10 | 0:37 |
| 11. | Schubnell Lisa | SUI | 15:12 | 0:39 |
| 12. | Ahlsand Anine | NOR | 15:17 | 0:44 |
| | Horčičková Vendula | CZE | 15:17 | 0:44 |
| 14. | Basset Isia | FRA | 15:19 | 0:46 |
| 15. | Gustafsson Jannina | FIN | 15:22 | 0:49 |
| | Backscheider Emilie | FRA | 15:22 | 0:49 |
| 17. | Klysner Cecilie Fribe | DEN | 15:24 | 0:51 |
| | Klingenberg Ita | DEN | 15:24 | 0:51 |
| 19. | Neverova Anastasiia | RUS | 15:25 | 0:52 |
| 20. | Haikonen Henna-Riikka | FIN | 15:26 | 0:53 |