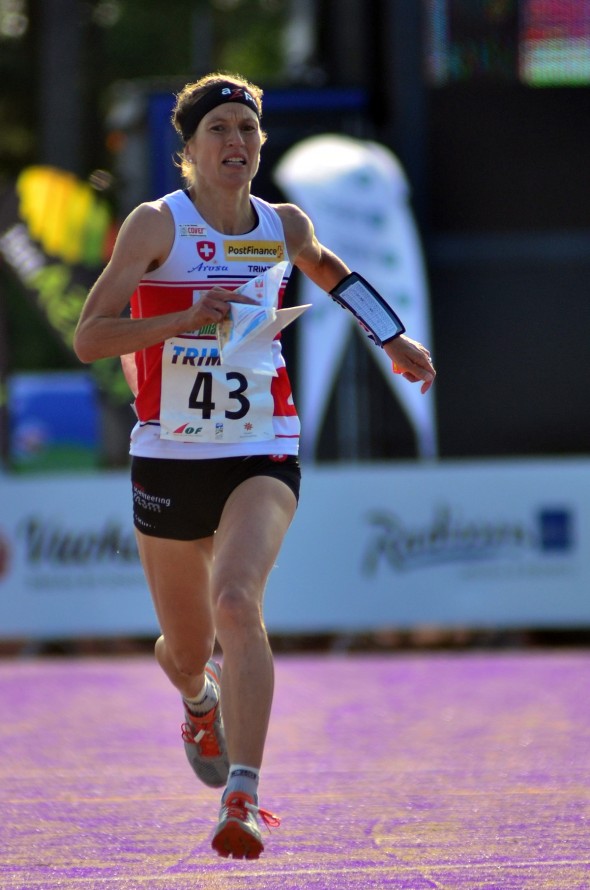 The men start from 10:55 CET – the men from 12:45 CET. 19.5 km tough long distance orienteering with estimated winning time of 91 minutes will meet the men qualified for the final – 13.4 km with estimated winning time of 71 minutes will meet the women. The qualification courses were tougher than expected – with long winning time. Many think that the courses in the final will also be longer than the expected 91 and 71 minutes.
For orienteer who is good enough it is quite easy terrain. But if you can not orienteer, anything can happen
As the course setter put it on the press conference earlier today: "For orienteer who is good enough it is quite easy terrain. But if you can not orienteer, anything can happen". Still, he was quick to point out that the winner will not be the one running the fastest, but the one orienteering best – as he promised some "surprises" for the runners.
[Note that this article is based on the "WOC Long Qual: Live .."-article – and the predictions (except for some small updates after the qualification races) and other material is copied from that article.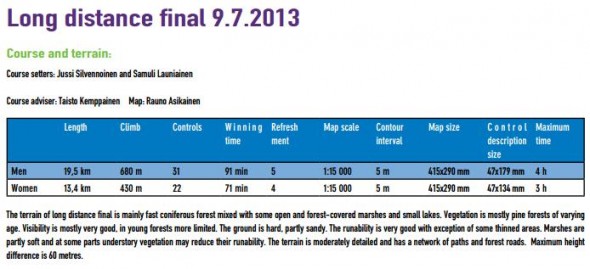 Reigning champions: Olav Lundanes and Simone Niggli
Reigning champions on the long distance from Switzerland in 2012 are Olav Lundanes and Simone Niggli. Lundanes is not at the start in this World Championships – recovering after illness trouble this winter and spring. Niggli on the other hand is on the start list – and also the biggest favourite of all.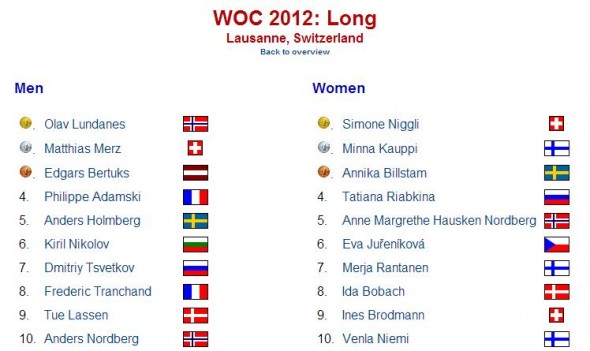 Men: Gueorgiou, Merz or Hubmann?

The three biggest favourites in this race are probably Thierry Gueorgiou (France), Daniel Hubmann(Switzerland) and Matthias Merz (Switzerland). Two of them were not even on the start list in last years WOC long distance: Gueorgiou and Hubmann (Switzerland). Both suffered with injuries last year:  Hubmann not running at all at this time last year after a torn Achilles at EOC in May, and Gueorgiou suffering with a stress fracture, barely making it to WOC last year, but not being in his best shape. Gueorgiou has impressed a lot both in Swedish Silva League long distance races in similar terrain, in the Finnish WOC selection races and in Jukola. Hubmann has also shown impressive shape – winning the Swiss long distance test selection race in Finland ahead of Merz.
Both Hubmann, Merz and Gueorgiou have earlier shown that they have the physical and mental ability to get all the way to the top
Both Hubmann, Merz and Gueorgiou have earlier shown that they have the physical and mental ability to get all the way to the top – and all three have proved this spring and summer that the WOC shape is building up.
Outsiders: Valentin Novikov (has often had problems towards the end of the races – but should definitely be in the fight), Magne Dæhlie (very good in this type of orienteering – second in the Finnish selection race long), Edgars Bertuks (bronze WOC Long last year, but not shown that impressive results this year – struggling with his orienteering although the speed is not too bad. – I have prepared equally well for middle and long, but since the long terrain is basically like my home terrain, my big goal here is the long distance, he comments).
Dark horses: Fredrik Johansson (Some very good races in Silva League this spring), Jani Lakanen (World Champion from WOC long 2006 – training hard this season to be up there again), Anders Nordberg, Philippe Adamski, Anders Holmberg, Baptiste Rollier, Johan Runesson, Tero Föhr,
Women: Niggli, Kauppi, Alexandersson or Riabkina?

Simone Niggli – reigning champion – is always the big favourite on a long distance race when she is on the start list. This year Niggli has shown excellent shape – and nothing is different from earlier year. Niggli is – as one of few – running all disciplines, so the Swiss superstar will have two more races in her feet on the day between long qualification and long final. Normally that would be a significant disadvantage, but with Niggli's physical shape it should not be a big issue.
Minna Kauppi has 9 WOC Gold medals – but only one of them on the long distance (from 2007 in Ukraine shared with rival Heli Jukkola – with Niggli in Bronze position). As Kauppi said it on the WOC opening press conference: – My head is more prepared for middle distance which is a shorter distance where I can easier concentrate all the way.
However, this year Kauppi has prepared more for the long distance. – I want to challenge myself to do it all the way in the long distance as well, she says – but admits that her chances are still probably better in middle. In the Finnish selection races long distance Kauppi had several mistakes due to loss of concentration – but maybe July 9th 2013 is her big day?
Alexandersson is probably the only one who can beat Niggli when Niggli has a top race
In the same Finnish selection race, Tatiana Riabkina had an impressive performance – winning the race with 4 minutes ahead of Tove Alexandersson – with Kauppi down on 7th place. The Russian "veteran" and the Swedish first year senior are the two big contenders – both wanting to beat the big names of orienteering the last decade, Simone Niggli and Minna Kauppi. Riabkina has been in the game since WOC in 1999 in Inverness – picking medals since her silver medal on middle in Sweden in 2004 – and never won an international gold medal in a senior world or european championship. She has a total of 12 medals from WOC and EOC, though, and is very stable – beeing Top 10 in every single WOC start since 2005.
Alexandersson is in many ways the opposite of Riabkina – extremely good when at her best. Alexandersson is probably the only one who can beat Niggli when Niggli has a top race, but Alexandersson is still quite unstable – although stability has improved step by step the last years.  On the other hand Alexandersson is good for a medal even with mistakes – and on a top day gold is very possible. At the WOC opening press conference, Alexandersson was very confident.
– My preparations have been very good. The terrain is quite similar to what I have at home, so I have practised a lot at home. And I have also been here some times. So I feel well prepared.
Outsiders: Mari Fasting (good results this spring, stabilizing at a higher level, and will fight for the medals on a good day), Eva Jurenikova (4th in France in 2011, 6th in Switzerland in 2012 – is it too far up to the medals this year again, or has the time in Halden made her that tick better?), Lena Eliasson (good enough for a medal – maybe even gold – on a perfect day – but stability has been a problem) , Dana Safka Brozkova (never forget Brozkova – she comes from "nowhere" when WOC is on – probably not strong enough in this terrain though?)
Dark horses: Ida Bobach, Amalie Chataing (steadily improving, has had some good results this year), Anni-Maja Fincke, Tone Wigemyr, Emma Klingenberg, Ines Brodman, Cat Taylor, Hanny Allston
Useful links
WOC Teams – sorted by country
Note that all teams have received login information to update the athlete data / profile miniature picture. If you are a competitor and have not received a link, please contact your team leader.