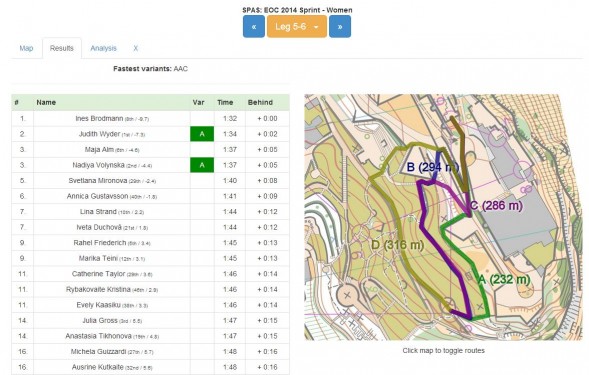 In a cooperation between the EOC 2014 organizers and World of O, a SPAS Analysis has been set up for the EOC Sprint A-Finals. All athletes competing in the A-finals are kindly asked to click through the multiple-choice form leg-by-leg, and assign routes to each leg.
"Spectators" and other interested may take a look at SPAS for EOC Sprint already now – but before the athletes have entered their routes it does not reveal all interesting details.
For spectators and other interested
Although the SPAS analysis is not really interesting before many of the athletes have entered their routes, it is already now possible to take a look to get an impression about where the runners lost time – and for which type of leg. To test SPAS, choose either Men or Women below. Then you can click through and see split times, map and route choice variants for each leg. If you come back later when more athletes have entered their routes, there is a lot more information in SPAS.
PS! Please do not enter routes for athletes if you did not run yourself – this will disrupt the analysis possibilities. If there are problems with this, the service will be password protected for later races.
For athletes who ran the race
Choose either Men or Women below. Then choose "Enter routes" , find your name in the pull down menu and enter your route leg by leg using a multiple-choice system. If you don't find the routechoice alternative you chose, then choose either "None" if it is far off – or one of the given alternatives if it is very similar.
Enter your routes here:
What is SPAS?
SPAS (SPlit Analysis System) is a WebApp/Mobile App for Splits analysis for orienteering events – specially designed for sprint orienteering where GPS-data is often too poor to make a proper analysis. SPAS was designed for Bergen Sprint Camp in 2014 – here is anexample of the type of analysis which can be done with SPAS (Norwegian language PowerPoint presentation) – or you can check it out directly in SPAS for one of the events from Bergen Sprint Camp.