Annika Billstam traveled less this year in order to focus on training and local competitions. Still she has some very nice experiences on great courses and terrains outside Sweden. Read on for the complete interview with Annika Billstam about her favourite courses and terrains this year.
Submit your suggestion
to "Course of the Year 2014″ in the intro article – and get the possibility to win today's sponsor prize or one of the other sponsor prizes.
Q: What was the best course you run in 2014 – and why?
I choose the WOC middle distance as the best course I ran in 2014. Most probably my feelings of this day contribute to the choice, but the course also had every ingredient to achieve this award – and in this case in an excellent mix. The course setter got me in his trap from the start when I underestimated the difficulties of the first control. It looked easy, I was too eager and I had an overspeed attacking the ring (running downhill on an open meadow with still very fresh legs).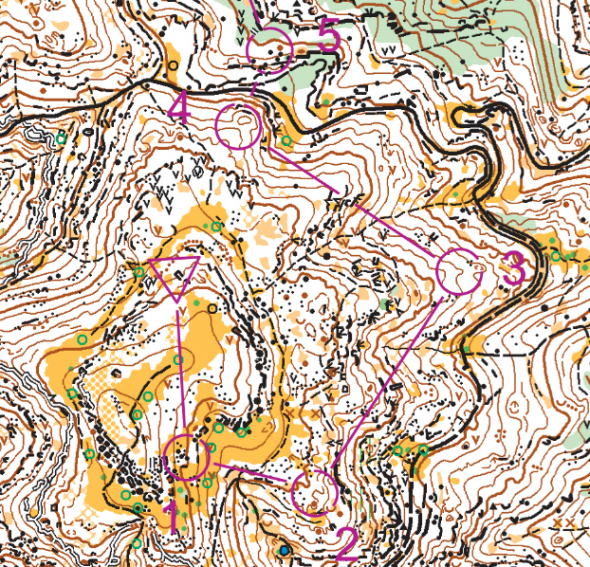 The course (click here or the map below to see the complete course) then passed different sections where the runner was forced to stay alert to adjust the speed and map reading according to the difficulties; from route choices with more easy control points to parts where your technical skills were put on trial. When the runner thought the course more or less was over (at this point also highly physically tired after the arena passage and a steep climb) there was still a difficult control left where a lot of runners made crucial mistakes.
Q: What was the most interesting orienteering terrain you run in 2014 – and why?
My choice is POM 2014 in Gouveia –all stages! The terrain varied widely between and during the stages even though they all ended at the same finish. There was also a great variety in terms of technical difficulties, meters of climb, and possibly running speed (open areas which allowed fast running mixed with green, superslow, boulder areas … ). I had a lot of struggles finding the rhythm but also a lot of fun and I really enjoyed it. On top of that the mapping was top quality.
[Editors comment: See below for some of the terrains for POM 2014 – click the images for full map in omaps.worldofo.com]
Q: Usually the courses in interesting terrains are the ones you remember – so a challenge for you: Can you remember a very good course you ran in "boring" terrain this year?
This year I've chosen to run a lot less competitions far from home, in order to reduce my traveling and increase the time of training and competitions closer to home. One weekend I went for a "training competition" outside Gävle called "Valbos nationella" (see map/course here – not Annika Billstam's route).
Gästrikland is a known among Swedish orienteers for having very stony, sometimes bushy and maybe a little bit boring terrain. This course on a map mainly consisting of marshes was a great surprise. The couse setter used the best parts, tested my direction skills and the set-up with a beautiful arena all together completed my training desires. The key to success this day was to use your compass; with nice direction changes in stony, challenging terrain, between control 3-7. Then heavy marshrunning with decreased visibility where you had to stay in high focus to hit the ring.
A lot of fun high speed orienteering in an on beforehand expected boring terrain!
Q: What is the worst course you run in 2014?
Silva League sprint in Tranås (see course here). To prepare for this race I studied competitions which had been on this map before. I found a lot of interesting legs with complex route choices and my expectations before the competition were high –which I think they should be at Silva League level.
The course however was all about running. The course would have won a lot to be set just on the east side of the river.
Q: Did you set any courses in 2014? If so, is it possible to share the best (in your opinion) with World of O's readers?
No, I hope I will have more time for this in the future.
Q: In how many countries did you run orienteering in 2014?
In 2014 I've been orienteering in Sweden, Portugal, Italy, Finland, USA and I will go to Spain later this year.
Q: Thanks a lot for your answers, Annika!
Rules for "Course of the Year 2014″
The following rules are given for "The course of the Year 2014″ (see the intro-article for all details).
The course must have been run in competition or training in 2014.
Suggestions are submitted as a comment to this post – including link to the map with course in a quality which is good enough for the readers to understand the course and the challenges involved. Please add information about location/date if that is not clear from the link provided. Also include which sponsor prize you are interested in if you win.
You must give a reason for why you think this course deserves to be named "The course of the Year 2014″ (or why it is the best course you run/set this year). All reasons are valid. Examples can for example be "varied orienteering challenges", "extremely technical orienteering", "high fun-factor", "fantastic map", "spectacular orienteering", "fantastic nature" – a combination of these – or a totally different reason. To get all the way to the top you should probably have a combination of reasons…
The course may be any discipline – e.g. a long distance, a middle distance, a sprint distance. It may also be a technical training course – like e.g. a corridor orienteering exercise.
There will be a voting process among the readers of "World of O" in order to name "The course of the year 2014″. This is your second chance to win sponsor prizes!
Prizes from our Sponsors
Prizes from our Sponsors always makes it more fun! There will be a prize for the first one suggesting the course which ends up becoming "The course of the Year 2014″, and prizes drawn among the ones suggesting and voting. All prizes are transferable to other persons (you don't have to travel yourself).
Event sponsor: Andalucia O-Meeting 2015. 27th-28th February & 1st March 2015
Prize offered: AOM Competition Package for 4 persons – including entry to 4 events in 3 days, 4 nights accommodation in apartment and a 4-map training package before or after the event. Value about 600 Euro. Transferable to other persons.
Sweet terrains and maps, nearby accommodations and high level competitions (2 WREs) in a very mild climate! More info at aom2015.com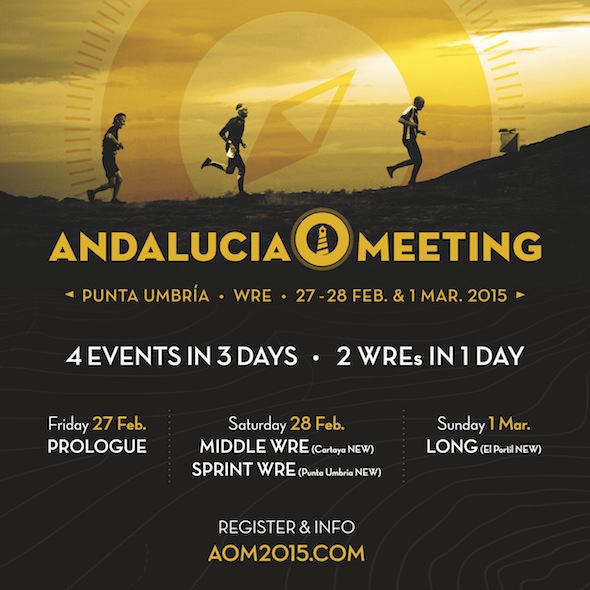 ---
Event sponsor: Liburnija Orienteering Meeting 2015. 14th-15th March 2015
Prize offered: Big club package with entry for Liburnija Orienteering Meeting 2015 for 10 persons! Value about 200 Euro. Transferable to other person(s).
The second edition of Liburnija Orienteering Meeting will be organized on the snow-free terrains of the island of Krk from 14th-15th of March 2015. Our vision is that this event becomes one of highlights of winter orienteering events in Europe for elite runners so therefore expect demanding courses and extreme terrain. Read more here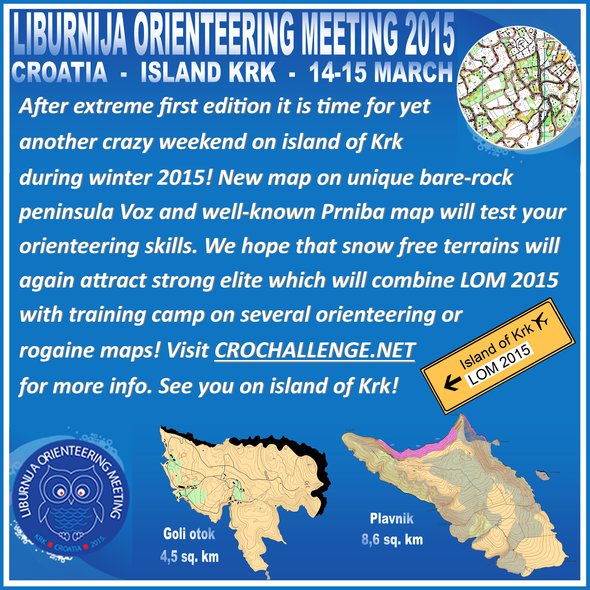 ---
Event sponsor: Bergen Sprint Camp – January 30th – February 1st 2015
Prize offered: 2 packages – each consisting of 2 complete Bergen Sprint Camp packages: Entry for all 4 races + training Friday morning + Saturday evening program consisting of presentations and dinner. Value about 375 Euro. Transferable to other persons.
For the 6th time in a row, BSC is held in the city center of Bergen, Norway. We provide all participants with challenging courses, good maps and interesting analysis of the sessions – hoping to improve the sprint orienteering technique for everyone. See more at Sprint-Camp.blogspot.no – including all courses and analysis from previous editions of BSC.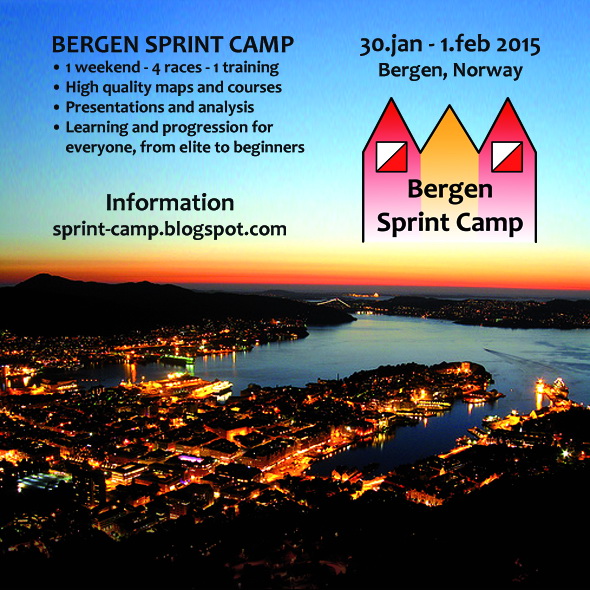 ---
Event sponsor: Orievents / NAOM 2015. 31st January – 1st February 2015
Prize offered: Competition + training package for 2 persons, consisting of: Entry for NAOM 2015 (January 31st – Middle + WRE Sprint (Marvão), February 1st – Middle distance) + training camp (6 trainings) + 3 days of accommodation in half board. Value about 270 Euro. Transferable to other persons.
Orievents Training Camps "Alto Alentejo" are an excellent training opportunity for Orienteering of good quality during the winter. Start the new season in training camps in Alto Alentejo, Portugal! More at www.naom.pt and about the training camp at Orievents.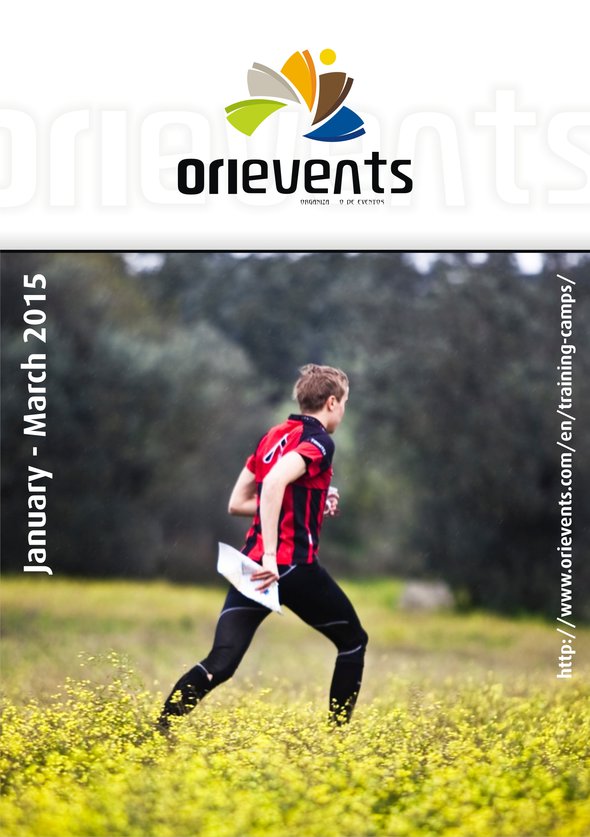 ---
Event sponsor: Portugal O-Meeting 2015. 13th – 17th February 2015
Prize offered: 2 packages – each one for 2 persons – consisting of: Entry fees for the 4 stages of POM 2015, model events, night sprint and sprint relay. Value about 200 Euro. Transferable to other persons.
Portugal O' Meeting is already a well-known established international event, normally reaching the highest average points in World Ranking Events, excluding the World Championships and World Cup events. More at pom.pt.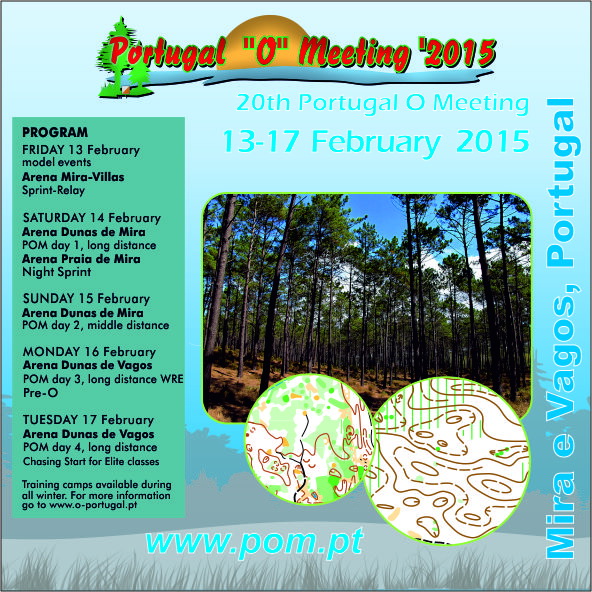 ---
Event sponsor: Lipica Open 2015. 7th – 11th March 2015
Prize offered: 3 packages – each for 2 people – consisting of: Entry to complete 5 day Lipica Open competition + Slovenia training package consisting of up to 3 trainings. Value about 300 euro. Transferable to other persons.
In 2015 Lipica open will again be organized as a 5 day event. Again we will add some new terrain and combine diverse areas. Training conditions in this part of Europe are now better than ever – both on forest maps and on sprint maps of nice little towns on the Adriatic coast! More at www.lipicaopen.com – for trainings see www.orienteering.si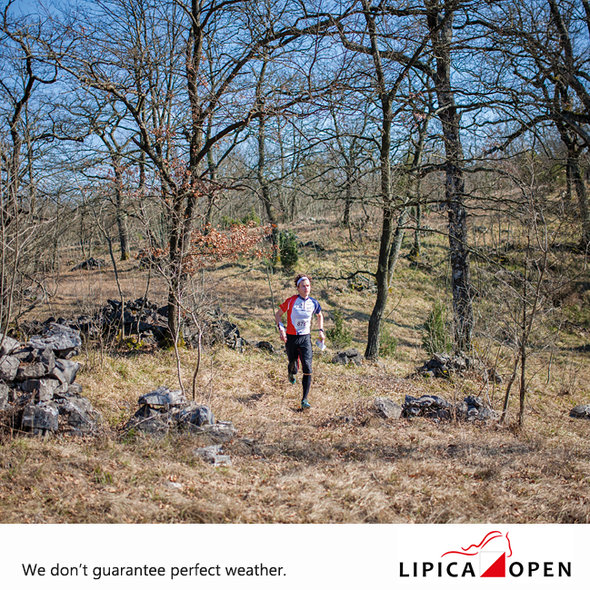 ---
Event sponsor: Kopaonik Open 2015
Prize offered: 2 competition packages, each consisting of 2 entries to Kopaonik open 2015 (5 competition stages + 1 training)
and the Cup of Raska 2015 entry fee (1 competition stage).  Value about 200 Euro. Transferable to other persons.
We are offering to you 6 days of orienteering challenges for you, combination of two classical long, two middle and one sprint distance challenges plus one night orienteering challenge with separate ranking, 1 training plus 6 competition stages in total. For more info see  www.kopaonikopen.org