Already on the second day of Route to Christmas 2014 we visit Czech Republic for a long leg in hilly terrain. Czech Republic is famous for its many interesting route choice legs on long distance courses – today's leg in Route to Christmas is leg 11 in the M21 course from the Czech Championships Long distance 2014 organized at September 28th 2014.

There are always many great suggestions for Route to Christmas from Czech competitions
Thanks to Vojtěch Netuka for the excellent tip! Everybody is encouraged to submit suggestions about legs for Route to Christmas from their area (either in the comments of this post or using e-mail to jan@kocbach.net). For a leg to be considered, there should if possible be at least 5 athletes with GPS-files or routes drawn in RouteGadget. Ideally Route to Christmas should give you legs from 24 countries – one country for each day – but for that to happen I need a lot of help from the readers!
The leg is as usually first provided without routes – you may take a look at it and think about how you would attack this leg (if the image is too small, you may click on it to get it larger). For these types of long legs, a typical way to solve the leg is to first identify possible alternative based on where there are paths and not too much altitude difference and then (mentally) compare the length and the climb for each of the alternatives. For the current leg you may identify a left, a straight and a right variant. Before choosing a route, make the (mental) job of considering the approximate length and climb difference between the three main variants and see how well you hit when reading the analysis below.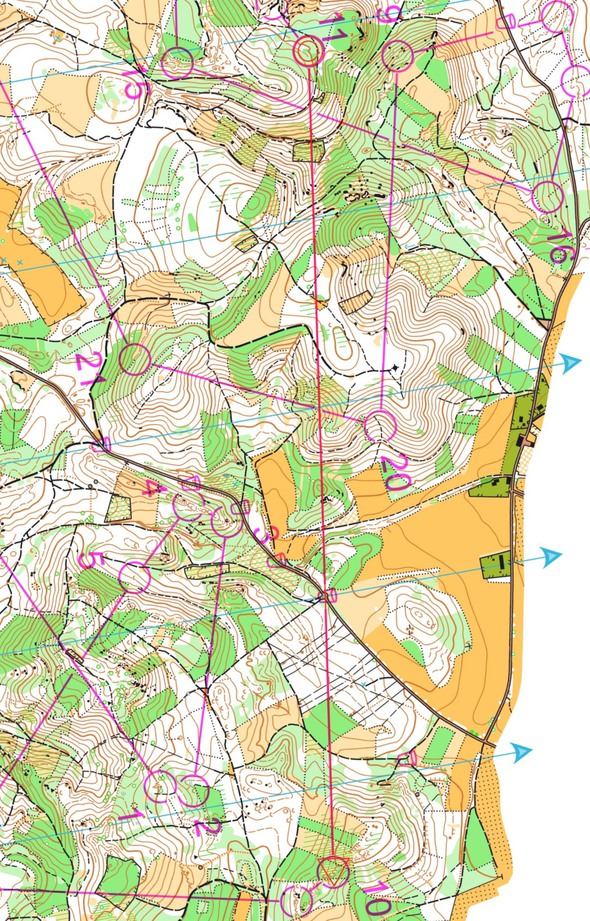 Location
You find other maps from the area in omaps.worldofo.com here. See also latest additions in 3DRerun from this area in order to learn more about this terrain type.
Webroute
Next you can draw your own route using the 'Webroute' below. Think through how you would attack this leg, and draw the route you would have made. Some comments about why you would choose a certain route are always nice for the other readers.
Then you can take a look at how the runners have solved this leg below. As you can see, the rightmost variant was the fastest in the race – being around 250 meters shorter than the leftmost variant with not much more climb and a lot of running on roads. The direct alternative has more climb, is not that much shorter (less than 200 meters shorter) and is run on small tracks for significant amounts of time.
Below some altitude profiles are found for the three main alternatives based on Google Maps – thus the accuracy is not optimal. If somebody wants to count the climb on the three alternatives and post it as a comment, that would be nice information for the Route to Christmas visitors!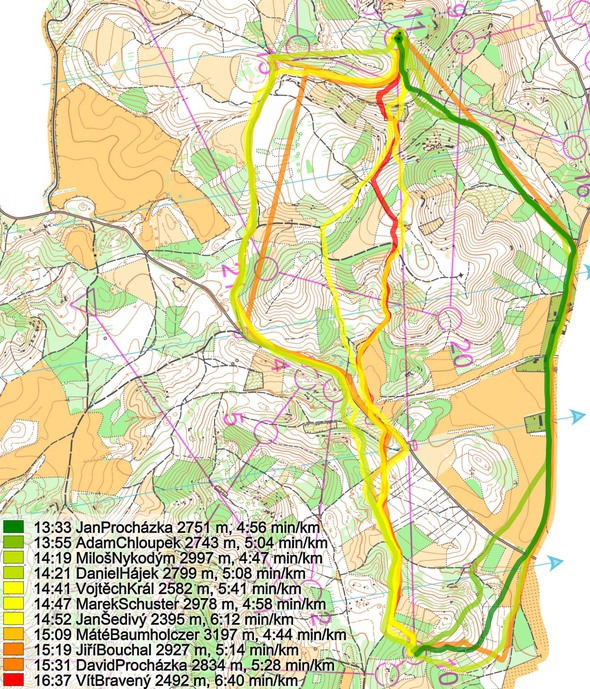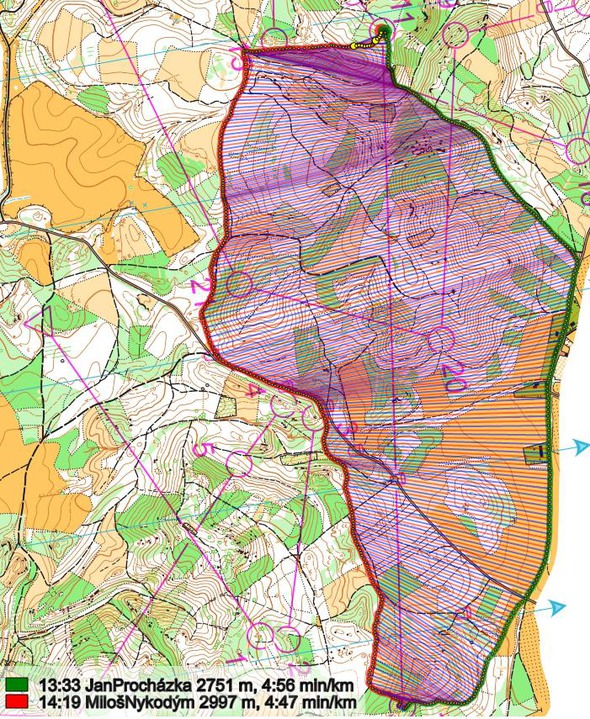 Altitude profile for the rightmost alternative (Prochazka):


Altitude profile for the leftmost alternative (Nykodym):


Altitude profile for direct alternative (Kral):

Density map
See below for a density map of some of the ones who have drawn their routes so far (will be updated during the day).
Comments
Additional information
You find the complete map in omaps.worldofo.com at this location. There is also GPS-tracking available here.
Route to Christmas series
The 'Route to Christmas' series at World of O has been very popular the last years – and I have therefore decided to continue the series this Christmas as well. If you have got any good legs in RouteGadget, GPSSeuranta or 3DRerun from 2014-competitions – or old forgotten ones which are still interesting – please email me the link at Jan@Kocbach.net, and I'll include it in Route to Christmas if it looks good. Route to Christmas will not be interesting if YOU don't contribute.
Not all legs are taken for the interesting routechoice alternatives – some are also taken because the map is interesting – or because it is not straightforward to see what to do on a certain leg. Any comments are welcome – especially if you ran the event chosen for todays leg!
Note that there may be some errors in the Routegadget data (sometimes somebody draws a route for another runner just for fun). Please add a comment below if you spot en error.