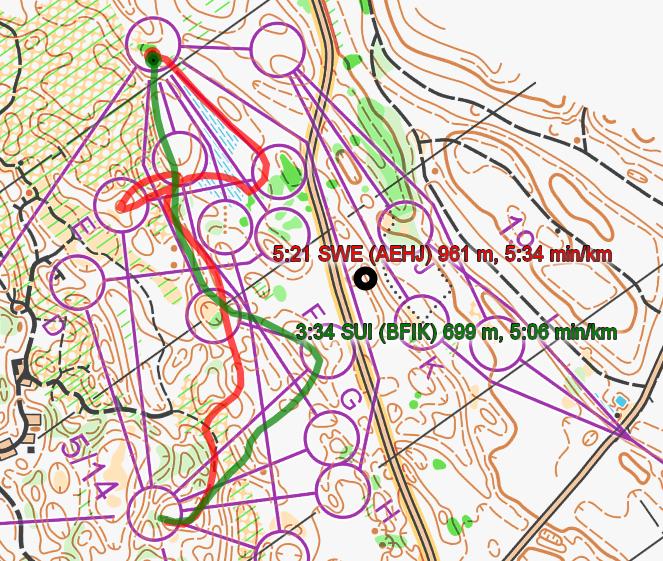 In many ways the men's World Championships relay at WOC 2015 was decided already at the first real forking at the first leg – to the 6th control. In this quite easy terrain, the runners did very few significant mistakes.
The exception was the first leg runners who had trouble with the forking with the high pressure and high speed at the start of the relay – and the last leg runners who had trouble with the high pressure in the decision phase approaching the finish.
First leg: Hertner takes on the challenge
The Swiss first leg runner Fabian Hertner was the only of the top teams who mastered this challenge. Above you see Hertner's route compared to Swedish  Jonas Leandersson who ran to the wrong forking and lost significant time. Similarly below is a comparison with Norwegian Øystein Kvaal Østerbø who did a similar – but less severe mistake. Finland was another team doing a similar mistake here – so did Russia and several other of the top favourites. France did, however, master the forking in an excellent way – this was the key to their success in the relay. Several of the non-favourite teams followed Hertner (Belarus, Austria), though.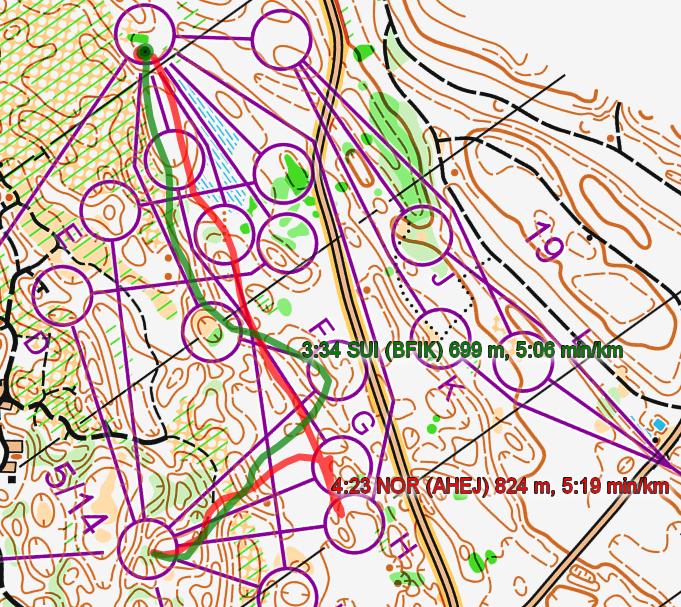 The below graphical split time comparison (only showing common controls) shows the development at the first leg. Note how several teams lose time at the 3rd split (which is the control shown above) – whereas France's Vincent Coupat keeps up. France does lose time through the forking the second time though. Great Britain's Scott Fraser has also problem in the first forking, but runs a fantastic last part of the leg, thus still putting Great Britain in a good position.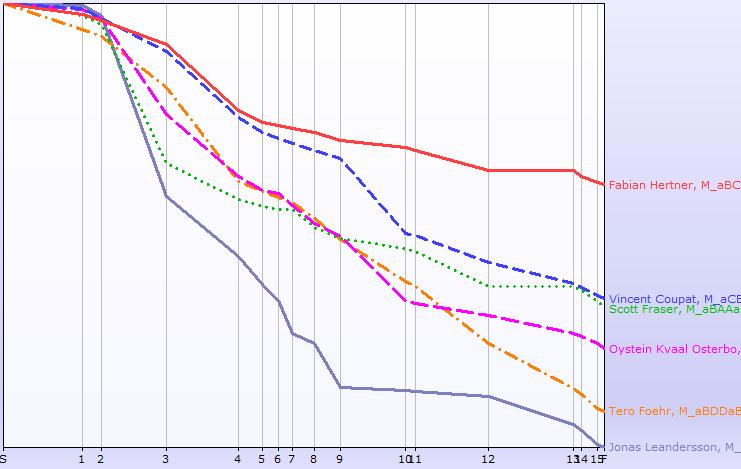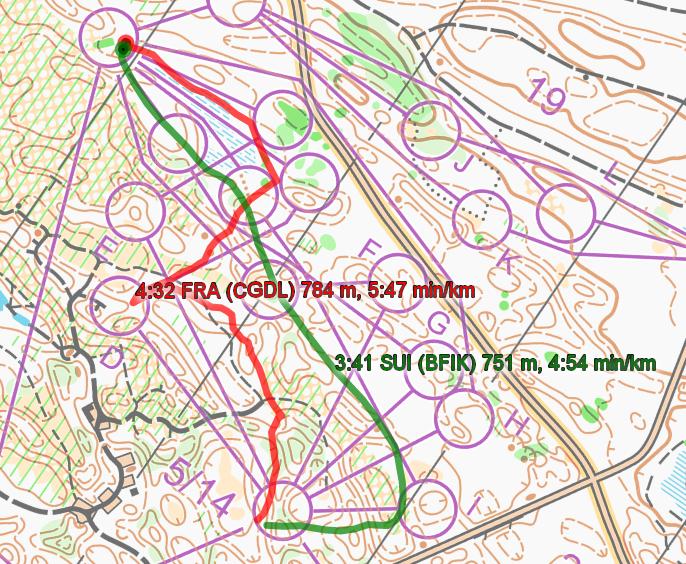 Second leg: "Easy job" for Daniel Hubmann
Out on the second leg Daniel Hubmann had got the position he needed: Alone in the lead with nobody seeing his back. Hubmann made no significant mistakes – and neither did the other top favourites. The only exception being French Lucas Basset who lost around 20 seconds on the control before the big forking, letting Britain's Graham Gristwood slip past.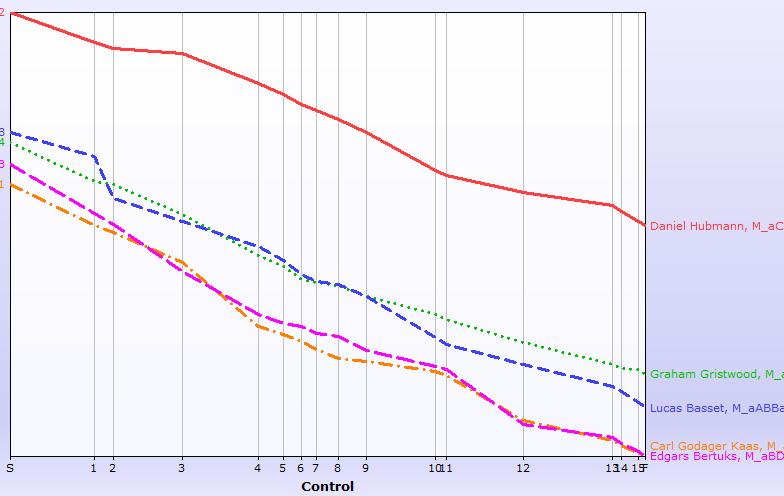 Third leg: Matthias Kyburz wraps it up
At the head of the relay there was no trouble for Switzerland's Matthias Kyburz. He could run unopposed from his competitors. The real action was further back where Norway's Magne Dæhlie fought against France and Great Britain. Here France's Frederic Tranchand made two small mistakes – which was enough for Norway to slip past. Great Britain's Ralph Street simply could not keep up with the Norwegian's speed.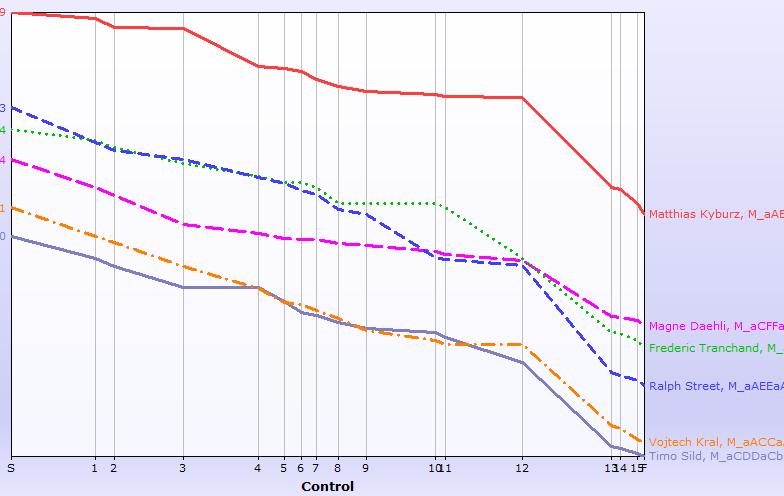 Here you see the first decision point. France makes a 15-20 second mistake (checking control J although this was not his control). This is enough for Dæhlie to get so close that he gets up to the back of Tranchand.
The next decision is the 22nd control. Here Tranchand makes a small 10-15 second mistake – enough for Dæhlie to get the decisive gap.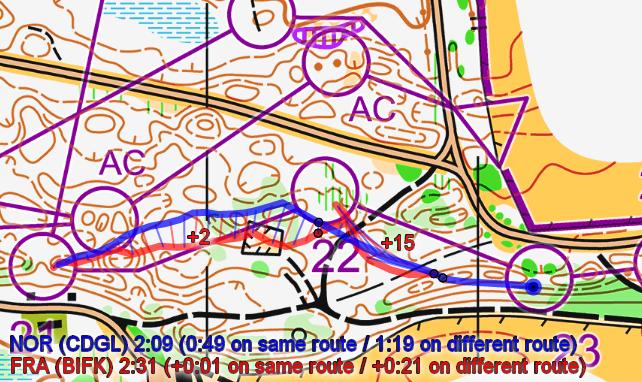 Maps and GPS-tracking
WOC Relay 2015 Men - leg 3

» See map in omaps.worldofo.com
WOC Relay Men leg 2

» See map in omaps.worldofo.com
WOC Relay Men leg 1

» See map in omaps.worldofo.com
Results

| | | | | | | | | | | | |
| --- | --- | --- | --- | --- | --- | --- | --- | --- | --- | --- | --- |
| 1st | 101:40 | 102 | Switzerland | SUI | 33:22 | (1st) | 33:37 | (1st) | 34:41 | (3rd) | Fabian Hertner/Daniel Hubmann/Matthias Kyburz |
| 2nd | 103:30 | 104 | Norway | NOR | 35:11 | (13th) | 34:13 | (3rd) | 34:06 | (1st) | Oystein Kvaal Osterbo/Carl Godager Kaas/Magne Daehli |
| 3rd | 103:52 | 103 | France | FRA | 34:38 | (6th) | 34:16 | (4th) | 34:58 | (4th=) | Vincent Coupat/Lucas Basset/Frederic Tranchand |
| 4th | 104:29 | 107 | Great Britain | GBR | 34:44 | (8th) | 33:49 | (2nd) | 35:56 | (10th) | Scott Fraser/Graham Gristwood/Ralph Street |
| 5th | 105:25 | 106 | Czech Republic | CZE | 34:40 | (7th) | 35:31 | (9th) | 35:14 | (8th) | Jan Prochazka/Jan Sedivy/Vojtech Kral |
| 6th | 105:39 | 109 | Estonia | EST | 34:49 | (9th) | 35:51 | (12th) | 34:59 | (6th) | Sander Vaher/Lauri Sild/Timo Sild |
| 7th | 106:28 | 101 | Sweden | SWE | 36:17 | (17th) | 35:13 | (7th) | 34:58 | (4th=) | Jonas Leandersson/Olle Bostrom/Gustav Bergman |
| 8th | 106:31 | 118 | Lithuania | LTU | 35:15 | (14th) | 36:06 | (15th) | 35:10 | (7th) | Vilius Aleliunas/Simonas Krepsta/Jonas Vytautas Gvildys |
| 9th | 106:59 | 120 | Bulgaria | BUL | 34:37 | (5th) | 36:46 | (16th) | 35:36 | (9th) | Kiril Nikolov/Ivaylo Kamenarov/Ivan Sirakov |
| 10th | 107:15 | 108 | Austria | AUT | 33:51 | (3rd) | 37:21 | (18th) | 36:03 | (11th) | Gernot Kerschbaumer/Helmut Gremmel/Robert Merl |