[Live all day – starting 11:00 CET, decided 16:45 CET – no live GPS-tracking expected] This may very well be the last "real long distance World Championships race"; it is staged in so remote Scottish wilderness that there is not even mobile phone coverage, thus there will be no live GPS-tracking and no "phone home and celebrate" after the race.
In addition the long distance this year comes at the very end of the championships, ensuring that no athletes need to skip the long distance in order to be well prepared for other disciplines as has often been the case in recent years. This means that we will get very interesting long distance race (except that following it live will be a bit "back to the old days of orienteering". There will be pictures streamed from cameras in the forest, however; the TV-production will be made later in the day when GPS-data is available through download form the units), with many potential winners on the start.
The long distance terrain is very different than the terrains the athletes have met so far – this means that there might be other athletes who are stronger in this terrain type.
You can follow the event live from the WOC 2015 webpage:
WOC Long Live page. Live TV and replay of GPS tracking (after competitors have finished their course) is provided through the IOF live center portal which you find at the WOC Long Live page of the organizers
See also World of O's WorldofoLive Twitter account (if Internet coverage works well in the arena; at the moment i am doubtful)
Winners 2014 in Italy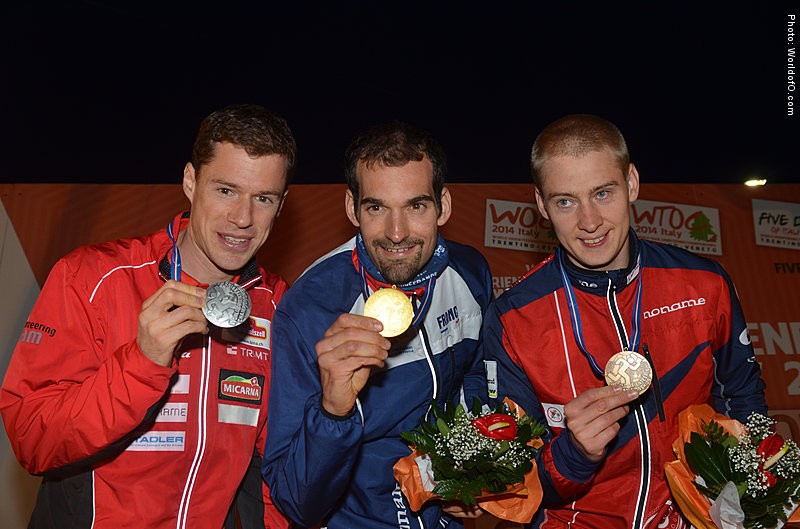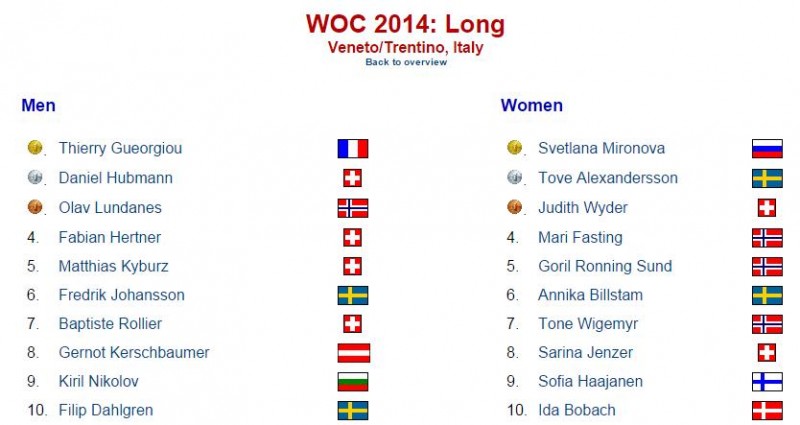 Reigning champions are Thierry Gueorgiou and Svetlana Mironova (full results 2014 and article at WorldofO about WOC Long 2014).
Men: Gueorgiou or Hubmann
The three big long distance runners in recent years have been Thierry Gueorgiou, Daniel Hubmann and Olav Lundanes. All WOC long distance races since 2008 have been won by these three – and they were also the three medalists at the World Championships Long distance in Italy last year.
Based on the middle distance, Daniel Hubmann may be the strongest physically this year. He has shown in previous races in Scotland that he can handle the different Scottish terrain types well – also the terrain where the long distance is organized. Thierry Gueorgiou had the same speed as Hubmann on the middle distance, and decided this year to skip the relay in order to focus 100% on the middle and long distance. He is however not on his very top level – but it may still be enough?
The terrain is quite similar to western Norway – and an Olav Lundanes in top shape would have been an obvious favourite in this terrain. As it stands now, Lundanes is more of an outsider due to the trouble he has had this season, also seen at the middle distance.
Outsiders: Matthias Kyburz (very strong long distance runner, but a little bit unstable), Oleksandr Kratov, Fabian Hertner, Magne Dæhlie. Also count in Frederic Tranchand, Edgars Bertuks and Gustav Bergman.
Tip:
1. Thierry Gueorgiou
2. Daniel Hubmann
3. Magne Dæhlie
[Edit: Olav Lundanes was on the list here as 3rd until I talked to his father one hour ahead of the start – that's why Lundanes's picture is featured below. He was 100% confident Lundanes would not take a medal, and thus I exchanged him for Dæhlie … But Lundanes did it again.] [Runner up: Matthias Kyburz]
Women: Alexandersson or Bobach
Without Judith Wyder on the start list, Tove Alexandersson and Ida Bobach are the two big favourites in the women's class. Tove Alexandersson has some uncertainty as she has been injured and not been able to run the other races here at the World Championships except the sprint qualification. It she is well enough from her injury, however, she should be difficult to beat.
Ida Bobach is the biggest favourite in the women's class. She ran a fantastic relay on Wednesday, and proved in the World Cup long distance in Norway in June that she can survive a complete long distance with a top result. Note that Bobach finished barely within the Top 10 in WOC Long in Italy last year, but the Dane has improved a lot on the discipline the last year.
An obvious outsider (or even a gold favourite) is Svetlana Mironova, the surprise winner of last year's World Championships long.  The question of how she masters this type of terrain remains.
Outsiders: Annika Billstam, Mari Fasting, Anne Margrethe Hausken Nordberg, Minna Kauppi, Cat Taylor.
Tip:
1. Ida Bobach
2. Tove Alexandersson
3. Mari Fasting
Runner up: Cat Taylor – a medal for the home country would have been fantastic!