Today's leg in Route to Christmas is a classic hilly, continental route choice leg from Austria. We have now traveled through 12 countries, and are half way to Christmas. The chosen leg is from the Austrian Championships Ultralong – and the same leg was ran both in W21E and in M45.
How much climb can you take – and how far around can you go
The leg is a nice setup for a routechoice leg: A big valley in the middle of the leg. Some nice roads going both direct and around. But how much climb can you take – and how far around can you go? The forest should be fairly fast where it is flat, but mostly it is hilly. Thanks a lot to Martin Veitsberger for the tip – Martin is a regular who has provided tips for Route to Christmas every year!
The leg is as usually first provided without routes – you may take a look at it and think about how you would attack this leg (if the image is too small, you may click on it to get it larger):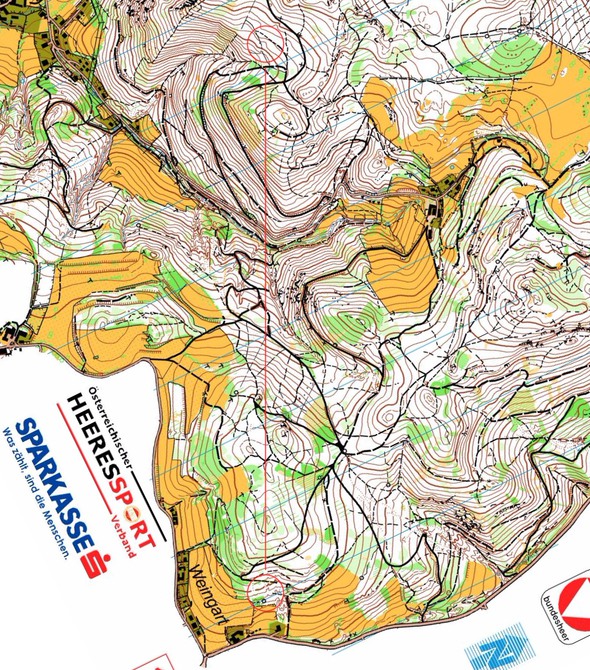 Location
You find other maps from the area in omaps.worldofo.com here. See also latest additions in 3DRerun from this area in order to learn more about this terrain type.
Photos from the area


Photos provided by Panoramio. Photos are under the copyright of their owners.
Webroute
Next you can draw your own route using the 'Webroute' below. Think through how you would attack this leg, and draw the route you would have made. Some comments about why you would choose a certain route are always nice for the other readers.
Then you can take a look at how the runners have solved this leg below – first for M45 and then for W21. As you can see the three fastest times (of those who have entered their routes) in M45 went around to the right – and also the fastest in W21 went around. These are however also the best runners in the race, so it is difficult to conclude 100%. However, you don't save much length by going direct – but on the other hand you solve climb by going around to the right. So it seems fair that going around to the right is faster. PS! If somebody would care to calculate the climb for the different routes and add a comment, I am sure several would be happy.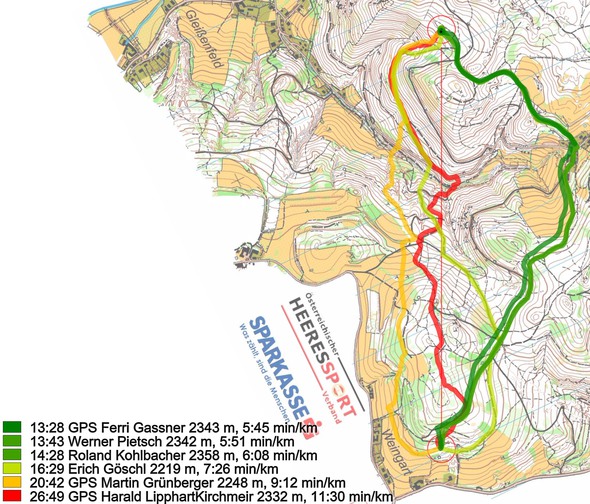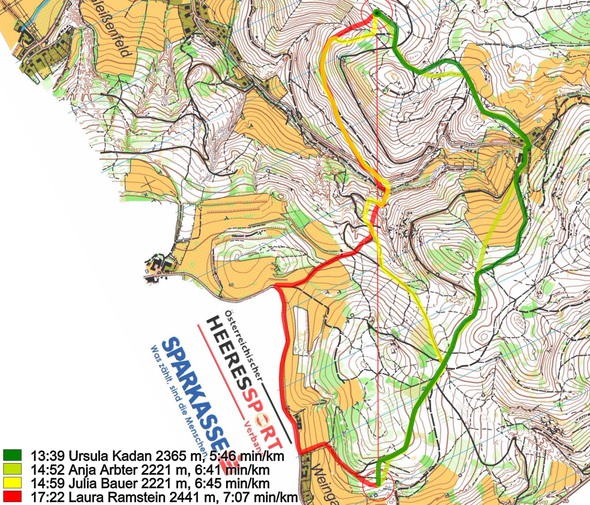 Going left and going middle is almost exactly the same climb, 24 or 25 contours (120-125 m), mostly because the initial hillside on the middle and right routes only require 3 contours, i.e. going left only adds distance without saving climb! The right-hand route however is significantly flatter, with just 15 contours (75 m), and those are well distributed over the entire leg, and avoids climb into the control.
As shown in Eistein Weltzien's old Master's Thesis, a long leg with significant climb at the end, into the control, tend to cost time on the next leg as well: This means that for almost everyone, i.e. excepting Olav Lundanes-class runners, the right-hand route is even more of a win than the split times indicates.
Density map
See below for a density map of some of the ones who have drawn their routes so far.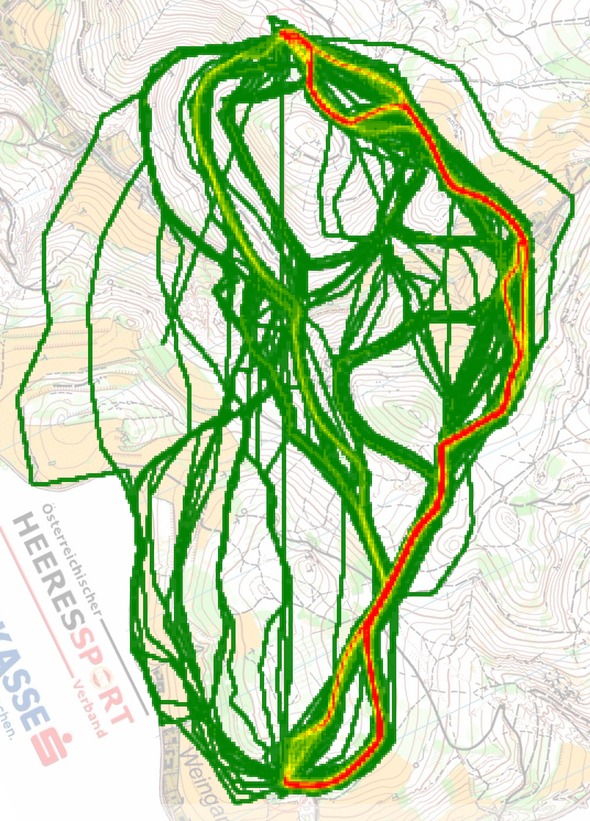 Additional information
You find the complete map in omaps.worldofo.com at this location.
Route to Christmas series
The Route to Christmas series at World of O has been very popular the last years – giving the readers the opportunity to do one Route Choice Challenge each day from December 1st until December 24th. If you have got any good legs in RouteGadget, GPSSeuranta or 3DRerun from 2015-competitions – or old forgotten ones which are still interesting – please email me the link at Jan@Kocbach.net, and I'll include it in Route to Christmas if it looks good. Route to Christmas will not be interesting if YOU don't contribute.
Not all legs are taken for the interesting routechoice alternatives – some are also taken because the map is interesting – or because it is not straightforward to see what to do on a certain leg. Any comments are welcome – especially if you ran the event chosen for todays leg!