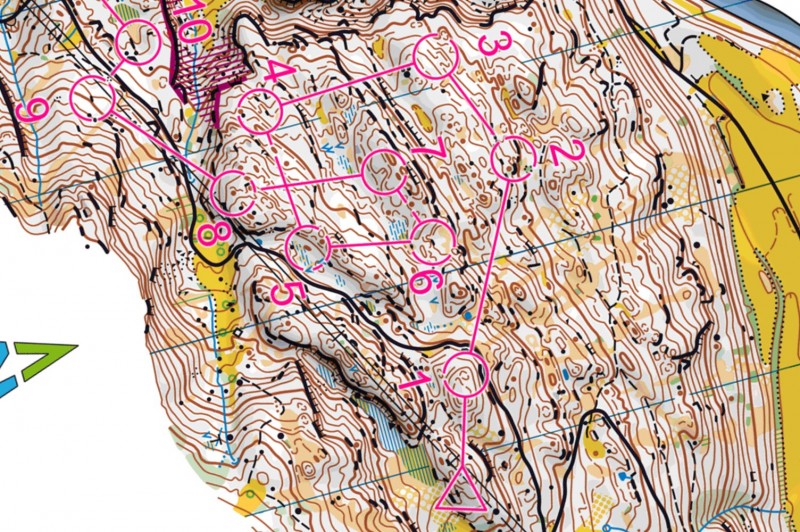 Another Swiss day at the Junior World Orienteering Championship at the middle distance: Gold for Simona Aebersold in the women's class and Thomas Curiger in the men's class. 
In the women's class Polish Aleksandra Hornik took a very popular silver medal with Swedish Johanna Öberg in third. In the men's class the double gold medalist from earlier this week, Joey Hadorn, took the silver medal and Norwegian Audun Heimdal took the only individual medal for Norway at this championships, a bronze medal.
Lead from start to finish
Simona Aebersold did a very strong race, leading the race all the way from start to finish. In the end the victory margin was nearly 2 minutes to the Polish Aleksandra Hornik. The Pole had also a strong race, only a small mistake at the 5th control – but her speed was simply not as high as the Swiss gold medalist from the Sprint.
The only place Hornik was faster was her fantastic straight route to the 2nd leg (see below) and the routechoice to control 12 where Aebersold turned around at the cliff and lost 10-12 seconds.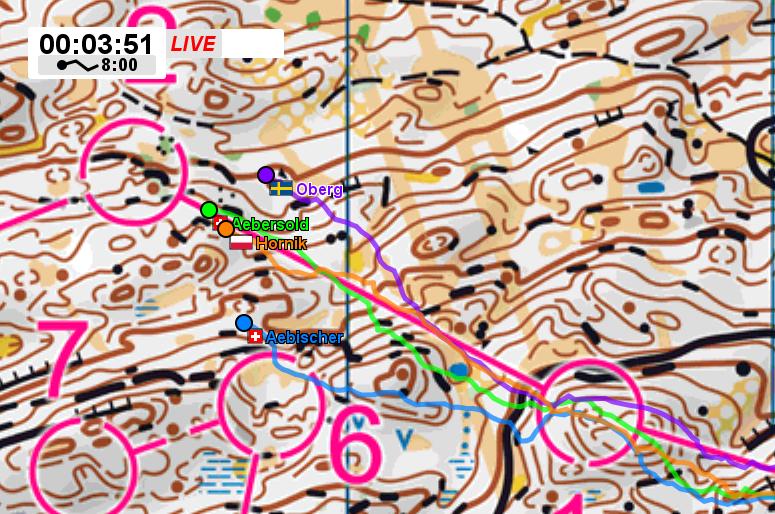 Illustration: Aebersold in the lead already to the 2nd control.
Illustration: Aebersold vs Hornik.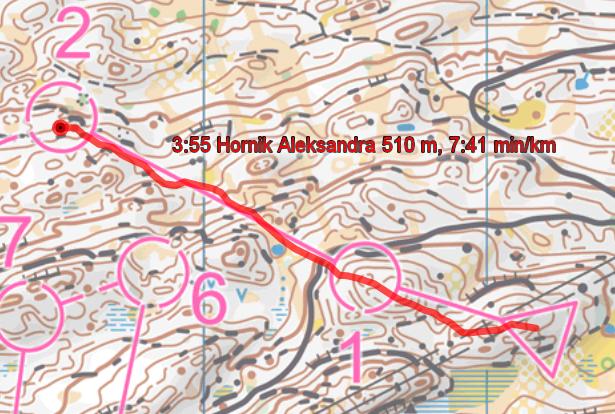 Illustration: Hornik brought her compass to Switzerland.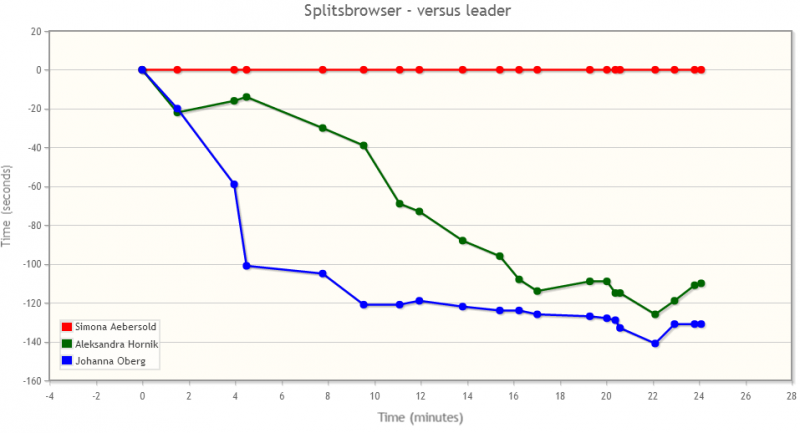 Hadorn with highest speed – Curiger with best orienteering
Joey Hadorn had again the highest speed, but Thomas Curiger with an excellent technical race proved that the middle distance is a discipline in which it is difficult to fix mistakes with high running speed as Hadorn did in both sprint and long distance. In the end Curiger was 49 seconds faster than Hadorn, Hadorn having left significantly more than that in the forest due to non-optimal orienteering.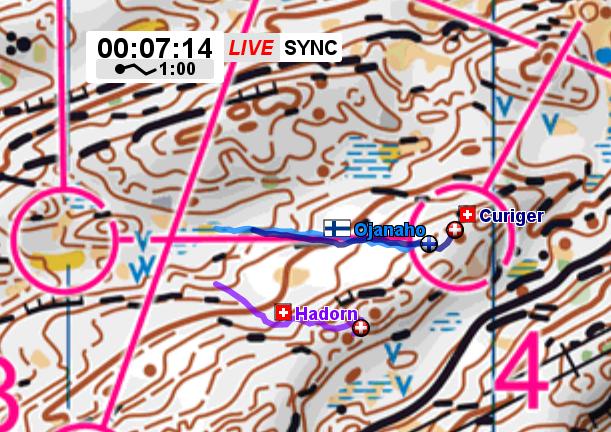 Illustration: 35 seconds mistake to the 4th control by Hadorn – one of the mistakes of the Swiss silver medalist.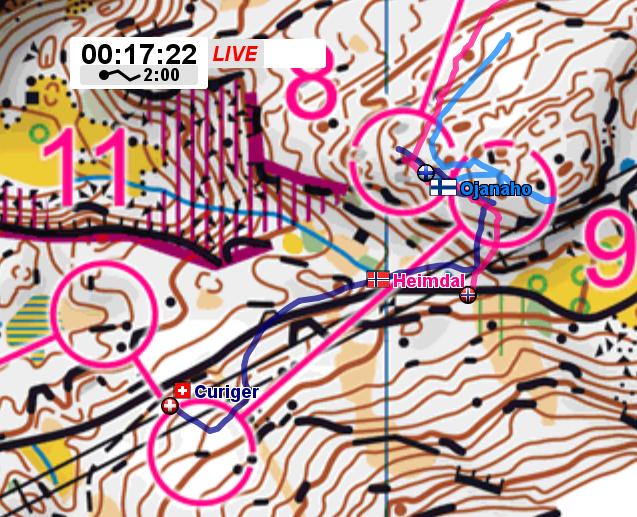 Illustration: Ojanaho with big mistake at 9th control – out of the medal fight.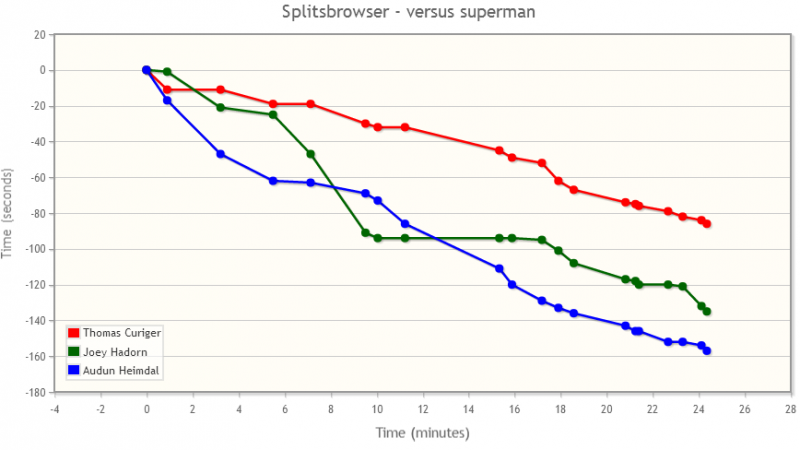 Full analysis
A full analysis of the race will be available at WorldofO.com tomorrow morning. Tomorrow the championship finishes with the relay.
Maps
JWOC 2016 Middle Men

» See map in omaps.worldofo.com
JWOC 2016 Middle Women

» See map in omaps.worldofo.com
Results
Men
| | | | | |
| --- | --- | --- | --- | --- |
| 1. | Thomas Curiger | Switzerland | 24:21 | (+0:00) |
| 2. | Joey Hadorn | Switzerland | 25:10 | (+0:49) |
| 3. | Audun Heimdal | Norway | 25:32 | (+1:11) |
| 4. | Anton Forsberg | Sweden | 25:35 | (+1:14) |
| 5. | Noah Zbinden | Switzerland | 25:40 | (+1:19) |
| 6. | Isac von Krusenstierna | Sweden | 25:53 | (+1:32) |
| 7. | Anton Kuukka | Finland | 26:08 | (+1:47) |
| 8. | Mathias Peter | Austria | 26:21 | (+2:00) |
| 9. | Shamus Morrison | New Zealand | 26:27 | (+2:06) |
| 10. | Jesper Svensk | Sweden | 26:28 | (+2:07) |
| 11. | Mathieu Perrin | France | 26:35 | (+2:14) |
| 12. | Oskar Stormer | Norway | 26:41 | (+2:20) |
| 13. | Simon Hector | Sweden | 26:48 | (+2:27) |
| 14. | Simon Imark | Sweden | 27:01 | (+2:40) |
| 15. | Elias Thorsdal Molnvik | Norway | 27:05 | (+2:44) |
| 16. | Alexander Chepelin | Great Britain | 27:09 | (+2:48) |
| 16. | Riccardo Rancan | Switzerland | 27:09 | (+2:48) |
| 18. | Mikhail Kuleshov | Russia | 27:11 | (+2:50) |
| 19. | Olli Ojanaho | Finland | 27:12 | (+2:51) |
| 20. | Vegard Jarvis Westergard | Norway | 27:16 | (+2:55) |
Women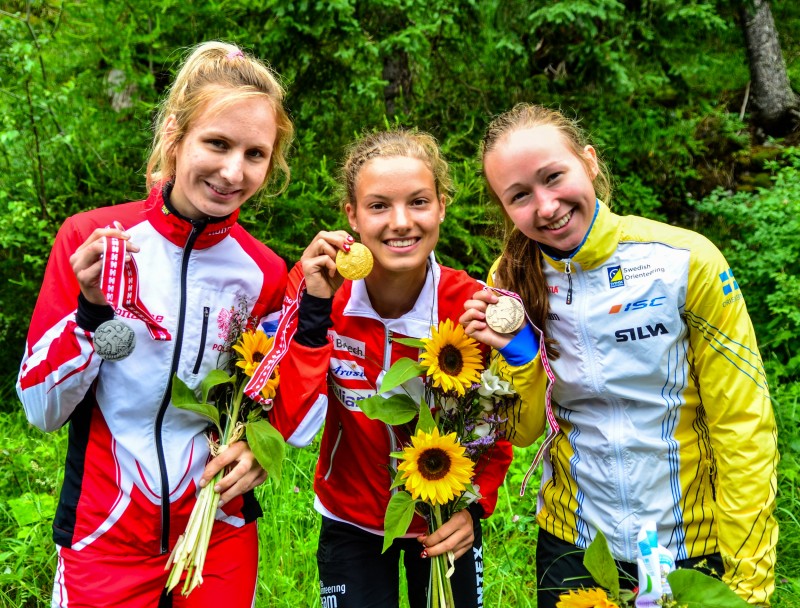 | | | | | |
| --- | --- | --- | --- | --- |
| 1. | Simona Aebersold | Switzerland | 24:06 | (+0:00) |
| 2. | Aleksandra Hornik | Poland | 25:56 | (+1:50) |
| 3. | Johanna Oberg | Sweden | 26:17 | (+2:11) |
| 4. | Megan Carter Davies | Great Britain | 27:28 | (+3:22) |
| 5. | Anna Haataja | Finland | 27:31 | (+3:25) |
| 6. | Hanna Mueller | Switzerland | 27:37 | (+3:31) |
| 7. | Paula Gross | Switzerland | 27:39 | (+3:33) |
| 8. | Anna Dvorianskaia | Russia | 27:47 | (+3:41) |
| 9. | Tilda Johansson | Sweden | 27:50 | (+3:44) |
| 10. | Valerie Aebischer | Switzerland | 28:20 | (+4:14) |
| 11. | Sofie Bachmann | Switzerland | 28:32 | (+4:26) |
| 12. | Anna Stickova | Czech Republic | 28:46 | (+4:40) |
| 13. | Victoria Haestad Bjornstad | Norway | 28:47 | (+4:41) |
| 14. | Enni Jalava | Finland | 29:00 | (+4:54) |
| 15. | Jasmina Gassner | Austria | 29:38 | (+5:32) |
| 16. | Aasne Skram Troemborg | United States of America | 29:46 | (+5:40) |
| 17. | Elin Carlsson | Sweden | 29:47 | (+5:41) |
| 18. | Ingrid Lundanes | Norway | 29:51 | (+5:45) |
| 19. | Tereza Novakova | Czech Republic | 30:11 | (+6:05) |
| 20. | Barbora Chaloupska | Czech Republic | 30:17 | (+6:11) |