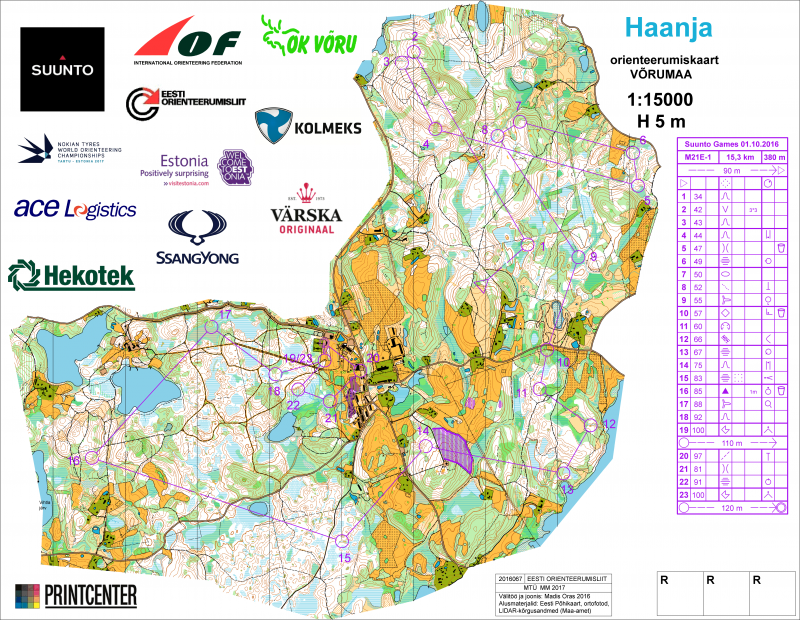 Helena Jansson and Olav Lundanes were fastest in the Long distance race of Suunto Games 2016 in next years' World Orienteering Championships (WOC) area in Estonia.
Lundanes had another tight battle with Swiss Matthias Kyburz – winning with only 16 seconds. Jansson had a crushing victory with nearly 6 minutes down to Judith Wyder in second place.
Men: Lundanes best in tough part – Kyburz faster in fast part
The men's race developed as a classic battle between Norwegian Olav Lundanes and the fast Swiss runners. The first part of the course was in very tough terrain where Lundanes could use his strength to open up a one minute gap to everyone – including Swiss Matthias Kyburz. The second part was much faster, and Kyburz got closer and closer. A bad route choice to the 17th control cost Kyburz the chance to catch Lundanes – and in the end the victory was 16 seconds. Swedish Rassmus Andersson continued his strong second half of the season with a 3rd place. Lithuanian runner Jonas Vitautas Gvildys shows that he will want to challenge the Nordic and Swiss runners at next years' WOC with a 4th place.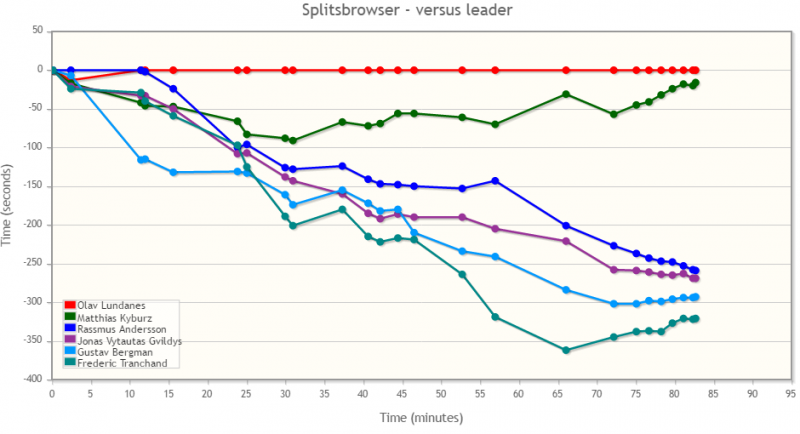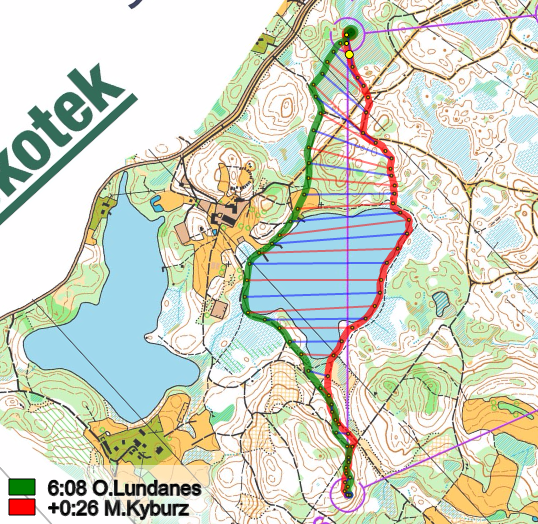 Women: Jansson decides early
Helena Jansson did not have the best World Championships on homeground earlier this year, but showed in Estonia that she is still one of the very best orienteers in the world. Jansson decided the race with a very good and fast routes to the second and sixth control – building up a 4 minute lead already after 30 minutes running at the 6th control. A few minutes later she caught Swiss Judith Wyder, and together they ran a strong last part of the race, Wyder returning to the finish some seconds ahead of Jansson.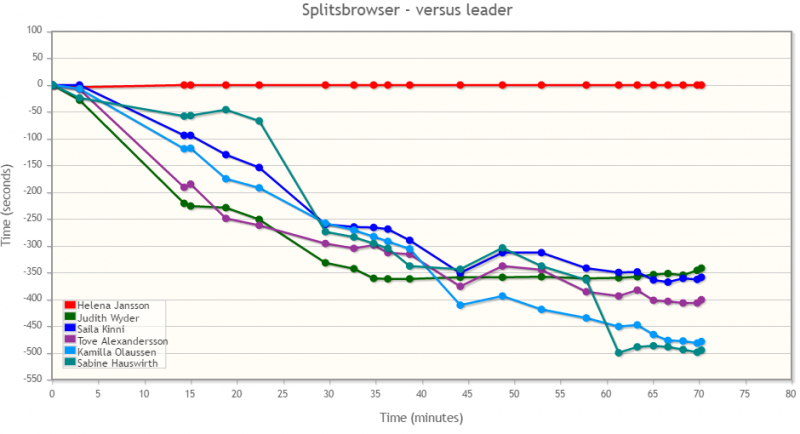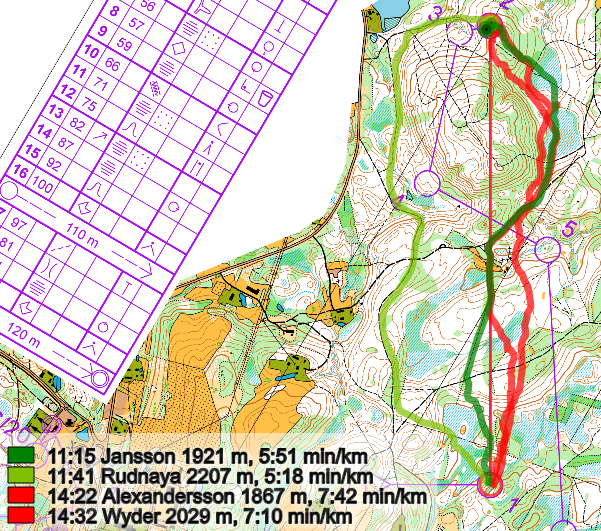 Maps
GPS-tracking is available here:
Suunto Games Long 2016 M21E1

» See map in omaps.worldofo.com
Suunto Games Long 2016 W21E

» See map in omaps.worldofo.com
Results
Men
| | | | | |
| --- | --- | --- | --- | --- |
| 1. | Olav Lundanes | Norwegian Orienteering Federat | 82:35 | (+0:00) |
| 2. | Matthias Kyburz | Swiss Orienteering | 82:51 | (+0:16) |
| 3. | Rassmus Andersson | Swedish Orienteering Federatio | 86:54 | (+4:19) |
| 4. | Jonas Vytautas Gvildys | Lithuanian Orienteering Federa | 87:04 | (+4:29) |
| 5. | Gustav Bergman | Swedish Orienteering Federatio | 87:28 | (+4:53) |
| 6. | Frederic Tranchand | French Orienteering Federation | 87:56 | (+5:21) |
| 7. | Fredrik Bakkman | Swedish Orienteering Federatio | 88:11 | (+5:36) |
| 8. | Andreas Kyburz | Swiss Orienteering | 88:16 | (+5:41) |
| 9. | William Lind | Swedish Orienteering Federatio | 88:28 | (+5:53) |
| 10. | Timo Sild | KJSK | 88:32 | (+5:57) |
| 11. | Kenny Kivikas | Ilves OK | 89:51 | (+7:16) |
| 12. | Florian Howald | Swiss Orienteering | 90:13 | (+7:38) |
| 13. | Olli Markus Taivainen | Pellon Ponsi | 90:19 | (+7:44) |
| 14. | Jonas Leandersson | Swedish Orienteering Federatio | 90:23 | (+7:48) |
| 15. | Magne Daehli | Norwegian Orienteering Federat | 90:58 | (+8:23) |
Women
| | | | | |
| --- | --- | --- | --- | --- |
| 1. | Helena Jansson | Swedish Orienteering Federatio | 70:09 | (+0:00) |
| 2. | Judith Wyder | Swiss Orienteering | 75:51 | (+5:42) |
| 3. | Saila Kinni | Finnish Orienteering Federatio | 76:08 | (+5:59) |
| 4. | Tove Alexandersson | Swedish Orienteering Federatio | 76:50 | (+6:41) |
| 5. | Kamilla Olaussen | Fredrikstad SK | 78:08 | (+7:59) |
| 6. | Sabine Hauswirth | Swiss Orienteering | 78:24 | (+8:15) |
| 7. | Venla Harju | Finnish Orienteering Federatio | 78:33 | (+8:24) |
| 8. | Svetlana Mironova | Russian Orienteering Federatio | 78:34 | (+8:25) |
| 9. | Sarina Jenzer | Swiss Orienteering | 78:37 | (+8:28) |
| 10. | Julia Gross | Swiss Orienteering | 79:04 | (+8:55) |
| 11. | Anna Bachman | Swedish Orienteering Federatio | 79:35 | (+9:26) |
| 12. | Miia Niittynen | Koovee | 79:42 | (+9:33) |
| 13. | Anastasia Denisova | Savedalens AIK | 79:52 | (+9:43) |
| 14. | Ingjerd Myhre | Norwegian Orienteering Federat | 80:30 | (+10:21) |
| 15. | Karolin Ohlsson | Swedish Orienteering Federatio | 80:48 | (+10:39) |