Jonas Leandersson (Sweden) and Judith Wyder (Switzerland) were strongest at Suunto Games Middle distance in Estonia. Suunto Games is organized in the area of next year's World Orienteering Championships (WOC), with many of the world's top ranked runners on the start list. 
It was a good day for Sweden in the men's class with 3 men among the 4 best – Leandersson won with a 30 second margin ahead of Gustav Bergman with Swiss Matthias Kyburz in 3rd and Swedish Albin Ridefelt in 4th.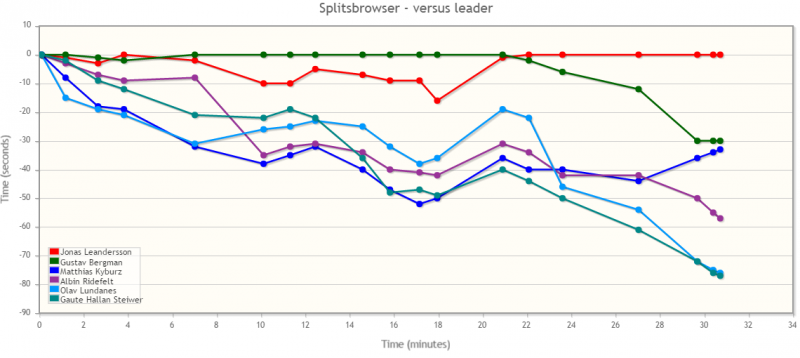 In the women's class the battle for victory was very tight; Wyder won only one second ahead of Anastasia Rudnaya (Russia) with Marianne Andersen (Norway) in third.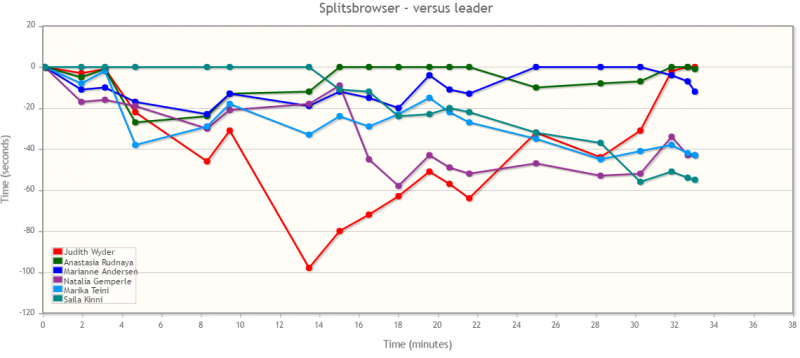 Maps & GPS-tracking
GPS-tracking is available here:
Suunto Games Middle 2016 M21E

» See map in omaps.worldofo.com
Suunto Games Middle 2016 W21E

» See map in omaps.worldofo.com
Results
Men
| | | | | |
| --- | --- | --- | --- | --- |
| 1. | Jonas Leandersson | Swedish Orienteering Federatio | 30:37 | |
| 2. | Gustav Bergman | Swedish Orienteering Federatio | 31:07 | |
| 3. | Matthias Kyburz | Swiss Orienteering | 31:10 | |
| 4. | Albin Ridefelt | Swedish Orienteering Federatio | 31:34 | |
| 5. | Olav Lundanes | Norwegian Orienteering Federat | 31:53 | |
| 6. | Gaute Hallan Steiwer | Lillomarka OL | 31:54 | |
| 7. | William Lind | | 32:11 | |
| 8. | Einari Heinaro | Finnish Orienteering Federatio | 32:19 | |
| 9. | Eetu Savolainen | Finnish Orienteering Federatio | 32:23 | |
| 10. | Florian Howald | Swiss Orienteering | 32:28 | |
| 11. | Rassmus Andersson | Swedish Orienteering Federatio | 32:31 | |
| 11. | Jani Lakanen | Koovee | 32:31 | |
| 13. | Kenny Kivikas | Ilves OK | 32:32 | |
| 14. | Elias Kuukka | Finnish Orienteering Federatio | 32:33 | |
| 15. | Lauri Sild | KJSK | 32:51 | |
Women
| | | | | |
| --- | --- | --- | --- | --- |
| 1. | Judith Wyder | Swiss Orienteering | 32:56 | (-0:01) |
| 2. | Anastasia Rudnaya | MS Parma | 32:57 | (+0:00) |
| 3. | Marianne Andersen | Norwegian Orienteering Federat | 33:08 | (+0:11) |
| 4. | Natalia Gemperle | Russian Orienteering Federatio | 33:39 | (+0:42) |
| 4. | Marika Teini | SK Pohjantahti | 33:39 | (+0:42) |
| 6. | Saila Kinni | Finnish Orienteering Federatio | 33:51 | (+0:54) |
| 7. | Lotta Karhola | Tampereen Pyrinto | 34:15 | (+1:18) |
| 8. | Karolin Ohlsson | Swedish Orienteering Federatio | 34:32 | (+1:35) |
| 9. | Ingjerd Myhre | Norwegian Orienteering Federat | 35:15 | (+2:18) |
| 10. | Svetlana Mironova | Russian Orienteering Federatio | 35:41 | (+2:44) |
| 11. | Maija Sianoja | MS Parma | 36:03 | (+3:06) |
| 12. | Silje Ekroll Jahren | Norwegian Orienteering Federat | 36:05 | (+3:08) |
| 13. | Amilia Bjorklund | Swedish Orienteering Federatio | 36:15 | (+3:18) |
| 14. | Elena Roos | Swiss Orienteering | 36:19 | (+3:22) |
| 15. | Miia Niittynen | Koovee | 36:33 | (+3:36) |