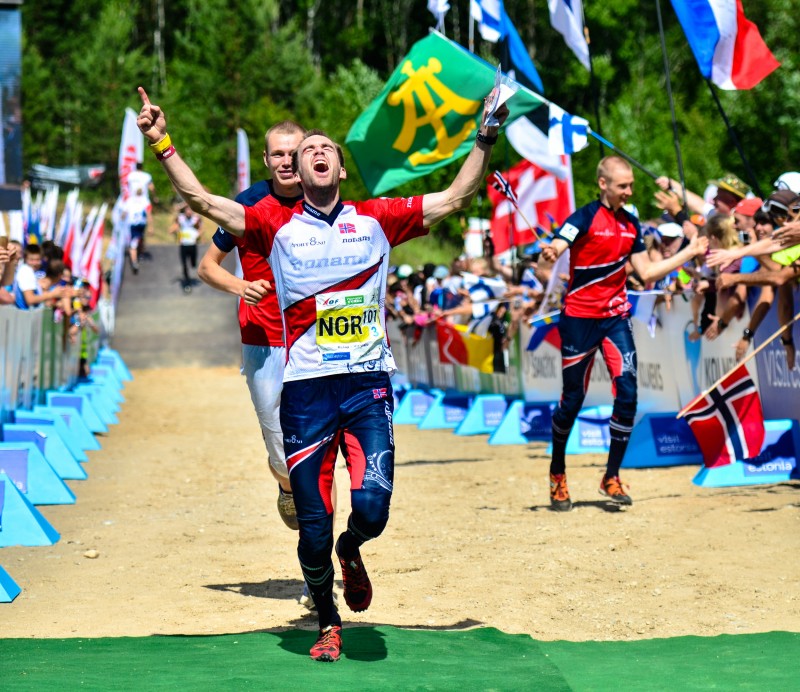 [Updated with Sweden's Gold in the women's class] Norway did just as last year – winning WOC Relay Gold medal in the men's race after Olav Lundanes ran away from the bunch on the second leg and delivering Magne Dæhli a one minute lead. France finished second after Thierry Gueorgiou's last WOC race. Sweden took Bronze after a good race by Gustav Bergman – but never enough to see Gueorgiou's back.
In the women's class Sweden won after a fantastic team effort; Emma Johansson and Helena Jansson delivered Tove Alexandersson in the lead, and Alexandersson took care of the lead on the last leg.  Behind Sweden there was a tight fight between Russia and Finland in the first part of the last leg, but Russia managed to get a gap after mistakes by Finland – and Russia took silver with Finland in Bronze.
 
Maps
Results
1
Magne Daehli
Norway
94:50 (1)


+00:00

2
Thierry Gueorgiou
France
96:06 (2)


+01:16

3
Gustav Bergman
Sweden
96:53 (3)


+02:03

4
Lauri Sild
Estonia
98:47 (4)


+03:57

5
Matthias Kyburz
Switzerland
101:11 (5)


+06:21

6
Leonid Novikov
Russian Federation
101:20 (6)


+06:30

7
Edgars Bertuks
Latvia
101:28 (7)


+06:38

8
Fredric Portin
Finland
101:32 (8)


+06:42

9
Tue Lassen
Denmark
102:23 (9)


+07:33

10
Ruslan Glibov
Ukraine
103:20 (10)


+08:30
Women
Statements from the men's press conference
Magne Dæhli (Norway): –  Of course I was really nervous. I know that he was in very good shape, so I was very focused. I was focused in the start to get a good first control. I felt very well the rest of the course, except for the first control after the arena where I had a small mistake.
Thierry Gueorgiou (France): – I never saw Magne. I was very focused on having a good start. I was just focusing on my orienteering. I had some small struggles, but nothing big. I think I was not in super shape, but it was a good race, and I am happy with my race. I think he (Magne) fulfilled his mission, it is always difficult to run in the front. I don't think we should be frustrated with a second place, Norway was very impressive here.  We are all three every happy.
Gustav Bergman (Sweden): – I felt quite relaxed going out. I knew from yesterday that when you try to much, you do mistakes. I was just focusing on my own orienteering, and I knew that if I just did my own orienteering I would be in the medals.
[Note that there was no women's press conference]