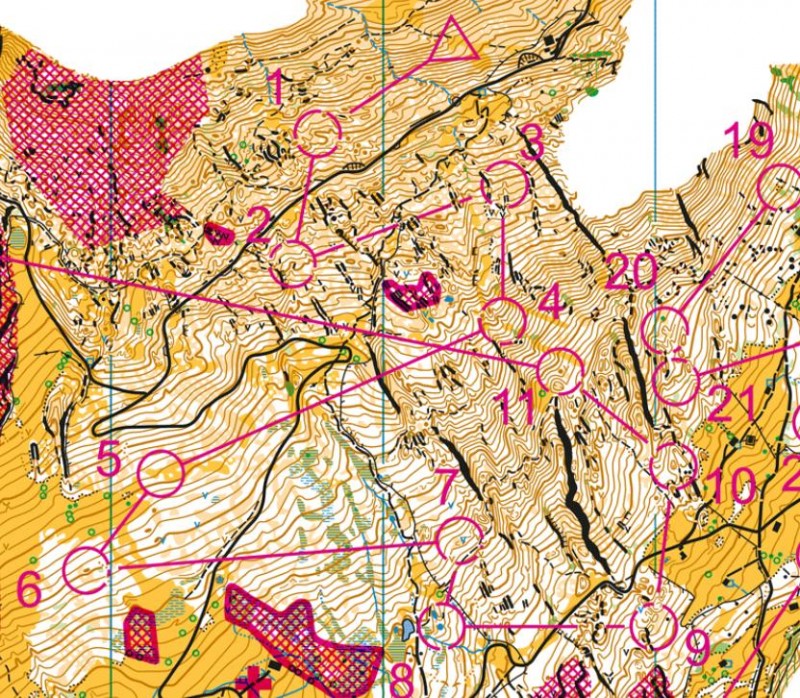 Switzerland was on top in both the men's and the women's class in the World Cup final long distance in Grindelwald, Switzerland on Friday. Matthias Kyburz took yet another World Cup victory while Elena Roos took her first World Cup victory.
The athletes got very interesting orienteering challenges in steep, alpine terrain with beautiful views – situated in the middle of one of the most popular areas in the Swiss alps.
Men: Kyburz vs Lundanes
The battle for the overall World Cup was expected to be between Matthias Kyburz, his team mate Daniel Hubmann and Norwegian Olav Lundanes. Kyburz and Lundanes were also the two athletes battling for the win in the long distance race in Grindelwald – Kyburz deciding the battle partly due to taking better routechoices; particularly the leg from 12 to 13 (see below) where Lundanes loses more than 2 minutes while being 1:30 behind at the end of the race.
Decisive moment in WC LD men: Olav taking wrong route choice to C12, losing over 2min to Matthias https://t.co/f9Leke7KHx pic.twitter.com/VEwBYZb0we

— Eva Jurenikova (@evajurenikova) September 29, 2017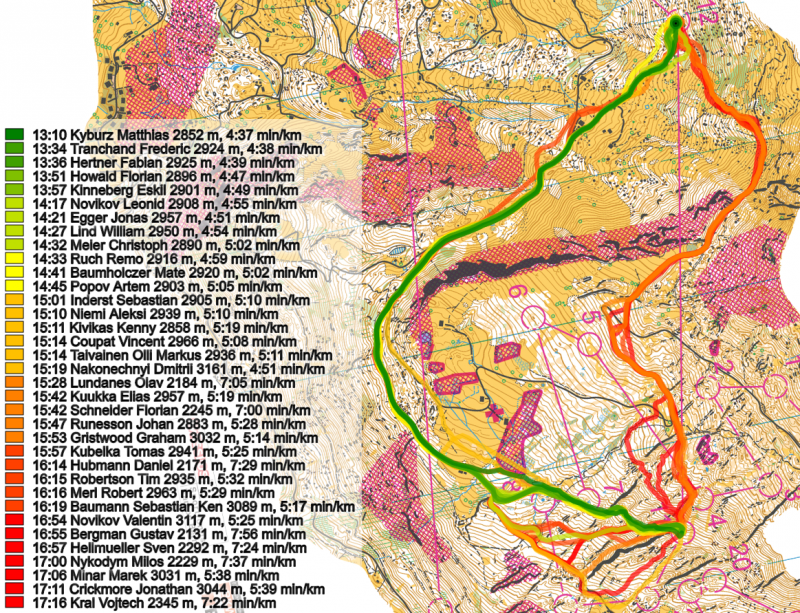 Magne Dæhli (also Norway) finished 3rd more than 4 minutes behind Hubmann while Daniel Hubmann finished all the way down in 5th place nearly 6 minutes behind Kyburz. The below race graph shows how Lundanes is faster than Kyburz for significant parts of the race, but the long leg to control 12 decides the victory battle.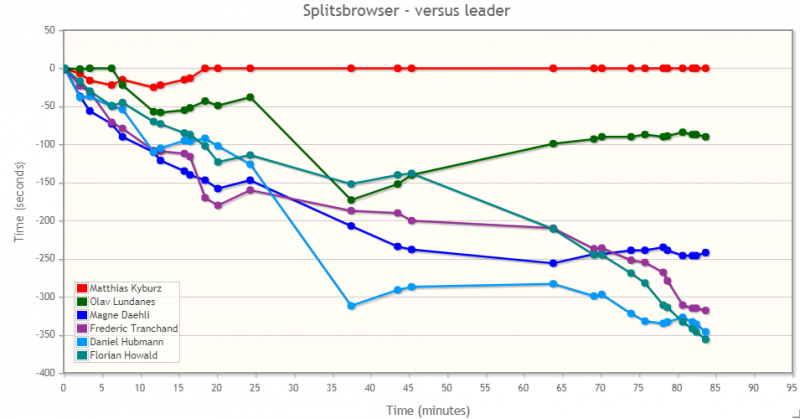 With a normal race at Saturday's middle distance, Kyburz wins the overall World Cup. Lundanes does however still have a theoretical possibility to take the overall.
Women: Double for Switzerland
In the women's class the battle was expected to be mainly between the two best athletes in the World Cup – Tove Alexandersson (Sweden) and Natalia Gemperle (Russia). Instead two Swiss runners were on the top of the podium at the end of the tough long distance: Elena Roos and Sabine Hauswirth. Alexandersson was in a clear lead after the first half of the race, but lost more than 9(!) minutes on the longest leg on the course, most of the time being lost when approaching the control – finishing in a disappointing 14th place.
As you can see on the below race graph, the Swiss runners basically decided the race on the long legs, showing the rest of the world elite how to orienteer in Swiss alpine terrain – a lesson to be learned ahead of next year's European Championships in steep Swiss terrain.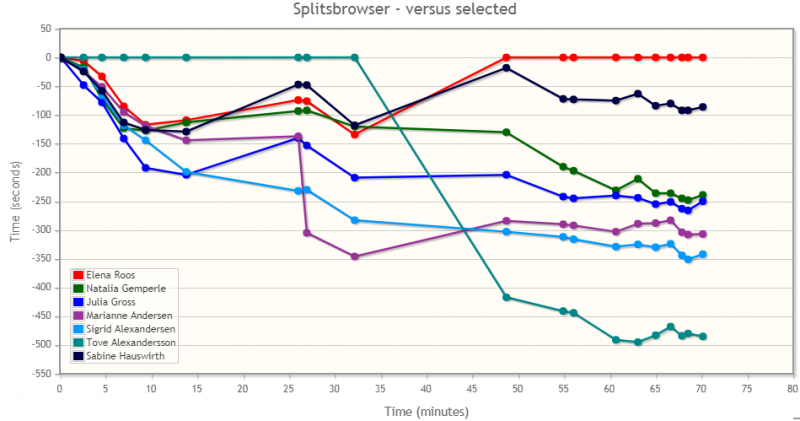 With this result the overall World Cup in the women's class is suddenly very interesting, with Alexandersson only having a 29 point lead on Russia's Natalia Gemperle.
World Cup standings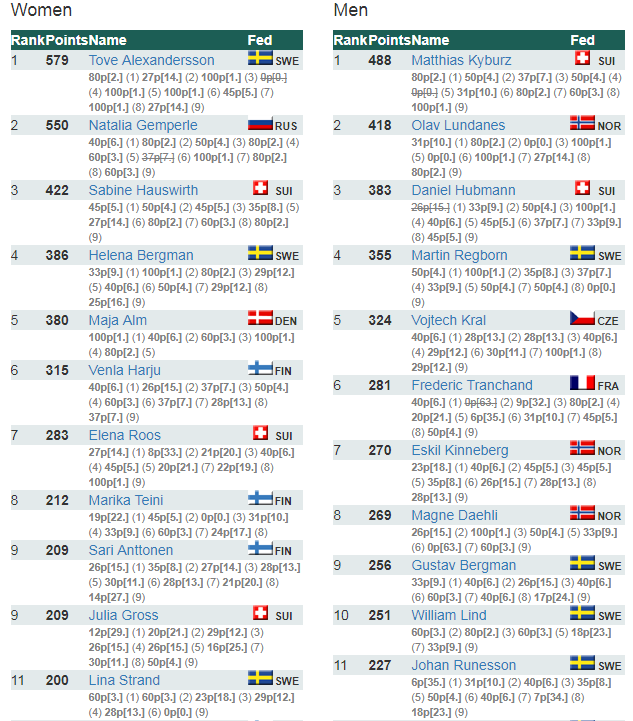 Maps and GPS-tracking
WC-Final 2017 Long Men

» See map in omaps.worldofo.com
WC-Final 2017 Long Women

» See map in omaps.worldofo.com
Results
Men
| | | | | |
| --- | --- | --- | --- | --- |
| 1. | Matthias Kyburz | Switzerland | 83:35 | (+0:00) |
| 2. | Olav Lundanes | Norway | 85:05 | (+1:30) |
| 3. | Magne Daehli | Norway | 87:37 | (+4:02) |
| 4. | Frederic Tranchand | France | 88:53 | (+5:18) |
| 5. | Daniel Hubmann | Switzerland | 89:21 | (+5:46) |
| 6. | Florian Howald | Switzerland | 89:31 | (+5:56) |
| 7. | Florian Schneider | Switzerland | 89:56 | (+6:21) |
| 8. | Graham Gristwood | Great Britain | 92:13 | (+8:38) |
| 9. | William Lind | Sweden | 92:54 | (+9:19) |
| 10. | Fabian Hertner | Switzerland | 93:07 | (+9:32) |
| 11. | Gernot Kerschbaumer | Austria | 93:20 | (+9:45) |
| 12. | Vojtech Kral | Czech Republic | 93:21 | (+9:46) |
| 13. | Eskil Kinneberg | Norway | 94:15 | (+10:40) |
| 14. | Jonas Egger | Switzerland | 94:42 | (+11:07) |
| 15. | Fredric Portin | Finland | 95:26 | (+11:51) |
| 16. | Milos Nykodym | Czech Republic | 95:55 | (+12:20) |
| 17. | Christoph Meier | Switzerland | 96:16 | (+12:41) |
| 18. | Thomas Natvig Arstad | Norway | 96:55 | (+13:20) |
| 19. | Oskar Sjoeberg | Sweden | 97:32 | (+13:57) |
| 20. | Olli Markus Taivainen | Finland | 97:45 | (+14:10) |
Women