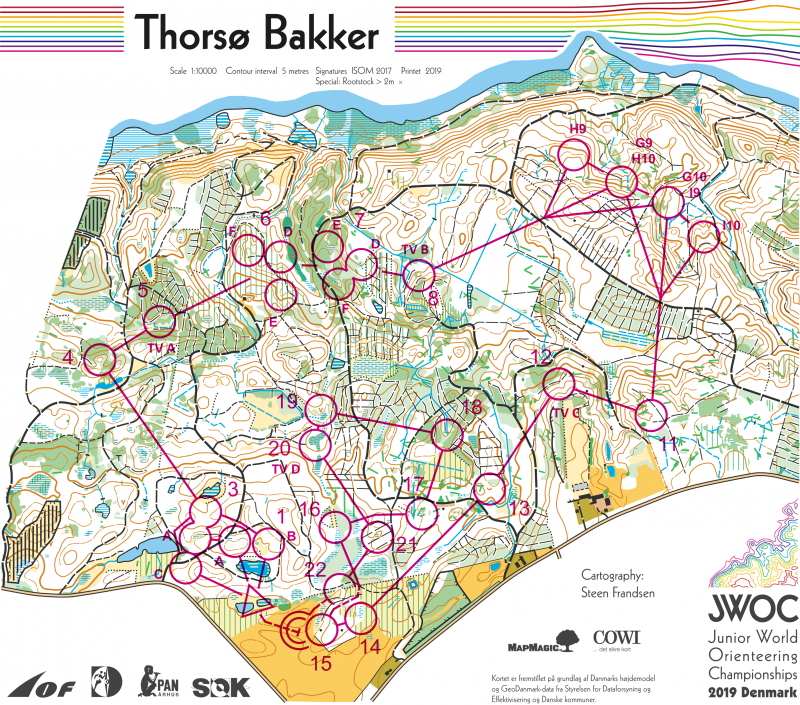 Norway's men and Great Britain's women won the JWOC 2019 relay – finishing off this year's Junior World Championships.
Norway was the big favourite in the men's class after great runs by Kasper Fosser throughout the championship – Fosser took his third gold medal in the championships with the relay gold. It was also the third JWOC relay gold medal in a row for both Fosser and Elias Jonsson in the Norwegian team. Sweden's 2nd team finished second. France went into the last leg with a 10 second lead to Norway, and finished third.
In the women's class Great Britain took a very deserved victory after many good runs by the British women. The battle with Russia was close, but in the end last leg runner Grace Molloy could decide with an 18 second advantage. Both Sweden and Finland were less than a minute behind in the end, with Sweden taking bronze one second ahead of Finland.
Maps and GPS-tracking
See links to maps and GPS-tracking from the last leg below – all maps are available at the organizer's webpage.
JWOC Relay 2019

» See map in omaps.worldofo.com
JWOC Relay 2019 Men

» See map in omaps.worldofo.com
Results
 Men
Norway (Lukas Liland, Elias Jonsson, Kasper Fosser) 1:30:52
Sweden (Samuel Pihlström, Gustav Runefors, Axel Granqvist) 1:33:01
France (Guilhem Haberkorn, Quentin Moulet, Guilhem Elias) 1:34:15
Switzerland 1:35:09
Czech Republic 1:36:27
Great Britain 1:36:51
Women
Great Britain (Megan Keith, Fiona Bunn, Grace Molloy) 1:34:35
Russia (Irina Lazareva, Kristina Smirnova, Veronika Kalinina) 1:34:53
Sweden (Ella Olsson, Johanna Kaellvik Leufven, Alva Sonesson) 1:35:28
Finland 1:35:29
Czech Republic 1:37:50
Norway 1:37:58