[Updated with maps from Qualification and Quarter-final] Tove Alexandersson (SWE) and Vojtech Kral (CZE) took the victories in Saturday's World Cup Knock-Out Sprint in Laufen, Switzerland. Both showed excellent performance throughout all of the day, winning their Quarter-Final and Semi-Final races.
Alexandersson won her 6th World Cup victory of 6 possible so far this season – and again the victory was clear – 9 seconds is a lot in a KnockOut-Sprint. Czech junior Tereza Janosikova finished second ahead of Elena Roos (SUI). In the men's class the battle for the World Cup win was tight all the way to the finish.
Kral won the men's class two seconds ahead of Joey Hadorn (SUI) with Ralph Street (GBR) in third place. This is the breakthrough of Street in the World Cup, having only one Top10 result from the World Cup earlier, a 7th place back in 2013.
Overall World Cup
See full standings here (overall World Cup standings had not been updated with KnockOut-Sprint results as of Sunday morning)
Maps and GPS-tracking final
Maps and GPS-tracking semifinals
Maps quarter-final
 
Maps Qualification
Results
Men
Results Final
| | | | | |
| --- | --- | --- | --- | --- |
| | | 1 | KRAL Vojtech | 06:39 |
| | | 2 | HADORN Joey | 06:41 |
| | | 3 | STREET Ralph | 06:43 |
| | | 4 | MICHIELS Yannick | 06:44 |
| | | 5 | BERGMAN Gustav | 06:47 |
| | | 6 | JONES Kristian | 07:39 |
Results all quarter-finals, semi-finals and finals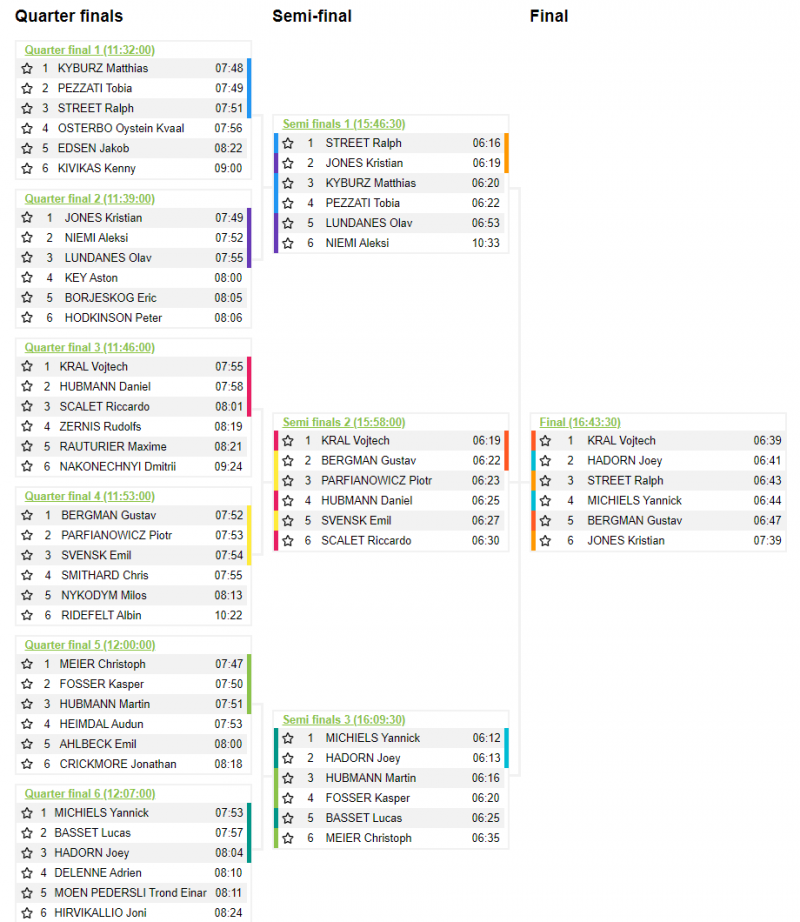 (click for larger)
Women
Results Final
| | | | | |
| --- | --- | --- | --- | --- |
| | | 1 | ALEXANDERSSON Tove | 07:28 |
| | | 2 | JANOSIKOVA Tereza | 07:37 |
| | | 3 | ROOS Elena | 07:38 |
| | | 4 | GEMPERLE Natalia | 07:40 |
| | | 5 | HAUSWIRTH Sabine | 07:41 |
| | | 6 | RUCH Martina | 07:46 |
Results all quarter-finals, semi-finals and finals
(click for larger)