The World Orienteering Championships (WOC) women's relay starts at 16:20 CET, the men's at 18:25 CET. Sweden is reigning champions in both the women's and men's class, and have won 4 of 5 gold medals in this championship so far. Can Sweden continue their success with another double?
Follow the race live:
Expect the sandstone terrain to give spectacular TV-broadcasts!
Key information
| | | |
| --- | --- | --- |
| | Women | Men |
| Start | 16:20 CET | 18:25 CET |
| Winner ready | 18:05 CET | 20:10 CET |
| Course details | 4.1 km / 285 m climb / 15 ctrls | 5.0 km / 360 m climb / 19 ctrls |
| Winning time | 105 min total | 105 min total |
| Reigning champion | Sweden | Sweden |
| Terrain | Sandstone | Sandstone |
Reigning champions: Results WOC 2019 Relay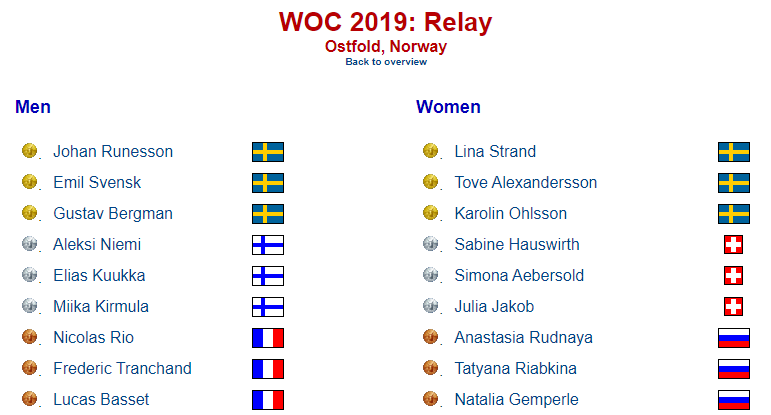 Terrain: Sandstone
The terrain is typical continental sandstone terrain of Kokořínsko, altitude 320 – 430 m (see map from one of the selection races above; the old map from the competition area is old with a different mapping standard and does not give full credit to this terrain types' complexity). Its intricate morphology consists of plenty of valleys and reentrants crowned by massive sandstone rock formations. In places, the rocks are also present at other levels. Visibility: Mostly grown pine forest, where visibility is generally very good – limited in areas of young pine plantations and areas of mixed forest. Runnability is generally very good, though often significantly limited by the steepness of the slopes. In some parts, running is also limited by high blueberries (often present on plateaus and also on some slopes) and in thickets of various ages. Frequent animal tracks can make running easier on slopes.
Women: Sweden difficult to beat with super-Tove
With Tove Alexandersson on the team and three runners in the Top-6 at the middle distance, it will be very difficult to beat Sweden in the women's class. Norway does however also have a very strong team, with two women Top-4 at the middle distance. Andrine Benjaminsen has shown that she is very good at women-vs-women battles, and could definitely decide a last relay for Norway in a tight battle against almost anyone. The Swiss team has one very strong runner in Simona Aebersold, and the rest of the team can perform at the highest level on a good day – and can battle for gold on a top day. The dark horse in this race is the Czech team, with two women in Top-9 in the middle distance, in addition to Jana Knapova who was disqualified at the middle distance, but showed that she had the speed and orienteering technique of the medalists.
Outsiders: Russia, Denmark, France, Finland.
WoO's tip:
1. Sweden
2. Norway
3. Switzerland
Main challenger: Czech Republic
Team setup (may change)
1
Sweden
16:20
1
8652284
1. Lisa Risby
1
8651653
2. Sara Hagstrom
1
8651539
3. Tove Alexandersson
2
Swizerland
16:20
2
8652893
1. Elena Roos
2
8645506
2. Sabine Hauswirth
2
8652126
3. Simona Aebersold
3
Neutral
16:20
3
8652254
1. Anastasia Rudnaya
3
8647177
2. Tatiana Ryabkina
3
8647234
3. Svetlana Mironova
4
Norway
16:20
4
8653323
1. Marie Olaussen
4
8653388
2. Kamilla Steiwer
4
8653318
3. Andrine Benjaminsen
5
Czech Republic
16:20
5
8653390
1. Adela Indrakova
5
8651626
2. Denisa Kosova
5
8645446
3. Jana Knapova
6
Finland
16:20
6
8651524
1. Venla Harju
6
8652745
2. Amy Nymalm
6
8647124
3. Veera Klemettinen
7
Estonia
16:20
7
8651597
1. Annika Rihma
7
8652096
2. Evely Kaasiku
7
8645421
3. Marianne Haug
8
Denmark
16:20
8
8645549
1. Line Cederberg
8
8647200
2. Cecilie Friberg Klysner
8
8652621
3. Miri Thrane Oedum
9
United Kingdom
16:20
9
8647193
1. Grace Molloy
9
8652246
2. Jo Shepherd
9
8652230
3. Megan Carter Davies
10
Austria
16:20
10
8647131
1. Carina Polzer
10
8651598
2. Jasmina Gassner
10
8647122
3. Laura Ramstein
Men: Tight battle expected
Sweden is reigning champion, and has again a very strong team with silver-medalist from the middle distance Gustav Bergman as the key athlete. The Swedish team looks physically very strong, their main challenge is that the athletes are a bit unstable individually, seemingly running at a slightly higher speed than their orienteering skills allow for from time to time. In "relay mode", running with less risk, they may be difficult to beat again. It will be interesting to see if Ridefelt has recovered enough from his injury at the middle – as of writing this he is in the team setup.
Norway was outside the medals at the men's WOC relay on home ground in 2019, their big star Olav Lundanes is out with injury this year, and anchor from 2019 Magne Dæhli has struggled with injuries all winter and is out of the team. Still, Norway is definitely one of the main favourites to win the WOC 2021 relay with young Kasper Fosser as the key athlete. Fosser seems to be one of the strongest physically in the start field, he masters the relay terrain a lot better than the middle distance terrain, and he was central in Norway's success at the Sprint Relay.
The last time Switzerland won the WOC relay was back in 2015, with Daniel Hubmann and Matthias Kyburz on the team along with Fabian Hertner. This year Daniel Hubmann is not in the relay team – focusing on Friday's long. Instead  Martin Hubmann and Florian Howald – the men from the Sprint Relay team on Sunday – will have to deliver Matthias Kyburz in a good position when heading out onto the last leg. We all know what Kyburz can do on a last leg – it was Kyburz who decided the relay for Switzerland back in 2015, and Kyburz also showed impressive shape when winning the middle distance on Tuesday. But what can Hubmann and Howald do?
As for the women, the Czech team is the dark horse in this race. Can the Czech repeat the relay success from Switzerland in 2012 where the Czech teams current head coach Jan Sedivy won the Relay gold medal along with his team mates. The sandstone terrain is special, and the Czech runners have prepared exceptionally well for this relay.
WoO's tip:
1. Norway
2. Sweden
3. Switzerland
Main outsider: Czech Republic
Team setup (may change)
201
Sweden
18:25
201
8645438
1. Albin Ridefelt
201
8644916
2. William Lind
201
8652764
3. Gustav Bergman
202
Finland
18:25
202
8653383
1. Miika Kirmula
202
8651668
2. Elias Kuukka
202
8653333
3. Olli Ojanaho
203
France
18:25
203
8645489
1. Mathieu Perrin
203
8652095
2. Lucas Basset
203
8652059
3. Frederic Tranchand
204
Czech Republic
18:25
204
8645444
1. Pavel Kubat
204
8653335
2. Milos Nykodym
204
8647161
3. Vojtech Kral
205
Norway
18:25
205
8653327
1. Gaute Steiwer
205
8652859
2. Kasper Harlem Fosser
205
8645480
3. Eskil Kinneberg
206
Swizerland
18:25
206
8651667
1. Martin Hubmann
206
8652734
2. Florian Howald
206
8647186
3. Matthias Kyburz
207
Austria
18:25
207
8652323
1. Robert Merl
207
8647213
2. Gernot Ymsen
207
8649996
3. Mathias Peter
208
Ukraine
18:25
208
8653301
1. Ruslan Glibov
208
8653368
2. Oleksandr Kratov
208
8652678
3. Artem Panchenko
209
Latvia
18:25
209
8653391
1. Arturs Paulins
209
8651444
2. Edgars Bertuks
209
8649688
3. Rudolfs Zernis
210
Germany
18:25
210
8652079
1. Felix Spaeth
210
8652215
2. Ole Hennseler
210
8651404
3. Bojan Blumenstein