Sweden won the men's WOC 2021 Relay 51 seconds ahead of Norway with Switzerland 2 minutes behind. Read on for GPS-illustrations and splitsbrowser illustrations of the women's WOC 2021 Relay.
The central parts of the WOC 2021 relay is already covered in the Maps, Results and GPS-animations article. This article is a collection of splitsbrowser graphs and GPS-illustrations leg-by-leg for the orienteering geeks out there.
GPS-illustrations from key decision points
Norway Leg 1, control 4: 1:40 timeloss. Also 1:09 timeloss for Sweden here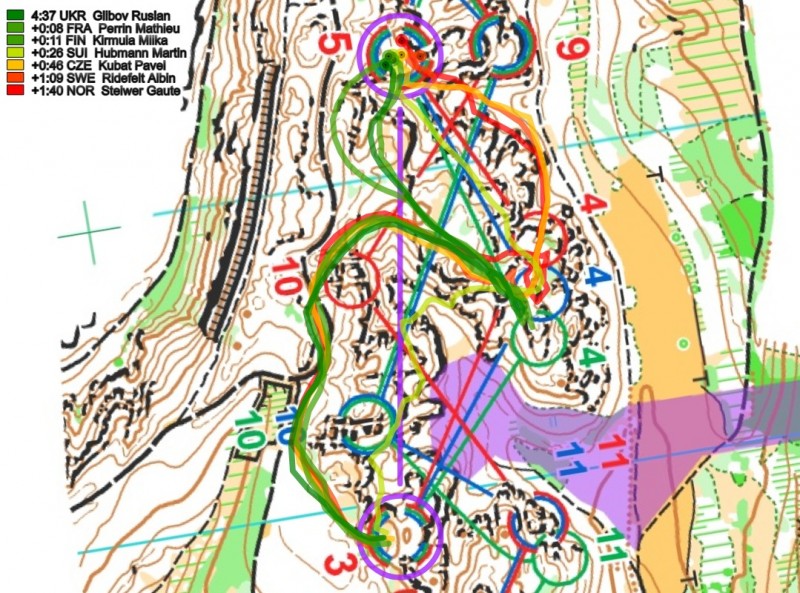 France Leg 2: 1:19 timeloss on control 5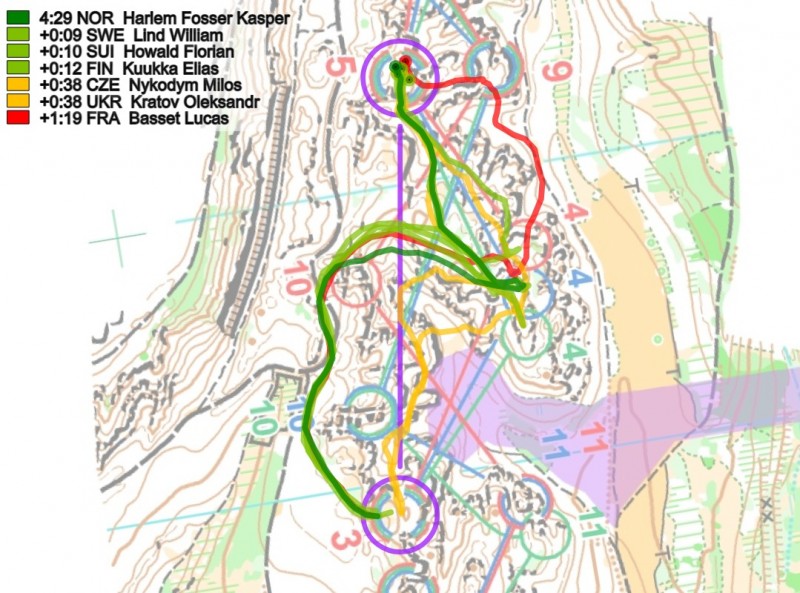 Czech Republic Leg 2: 1:25 timeloss on control 6/7 (forked)
Switzerland Leg 3: Timeloss 0:46 to control 1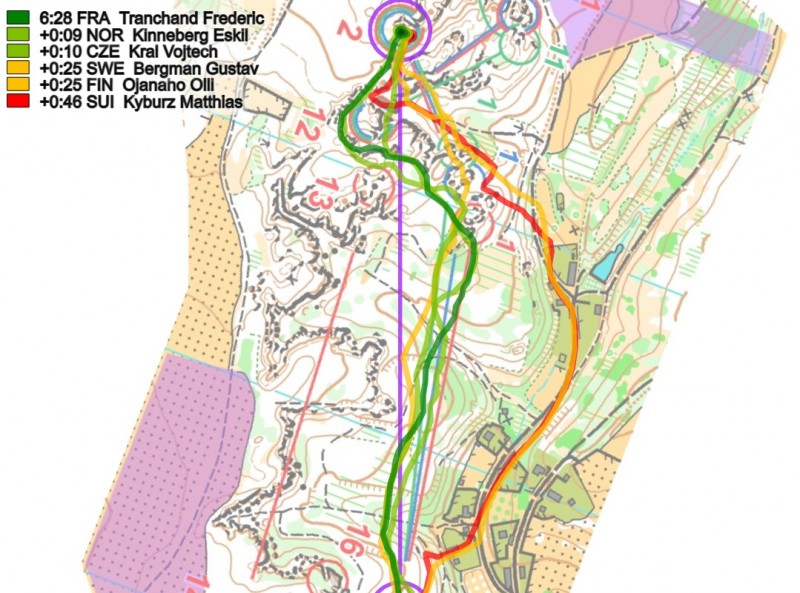 Finland Leg 3: 1:03 timeloss on leg 5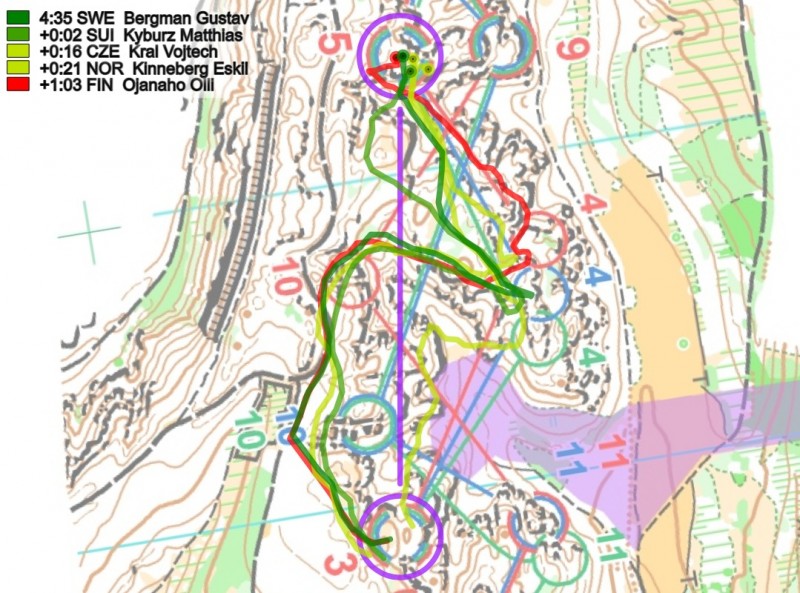 Norway Leg 3: 1:07 timeloss control 6-8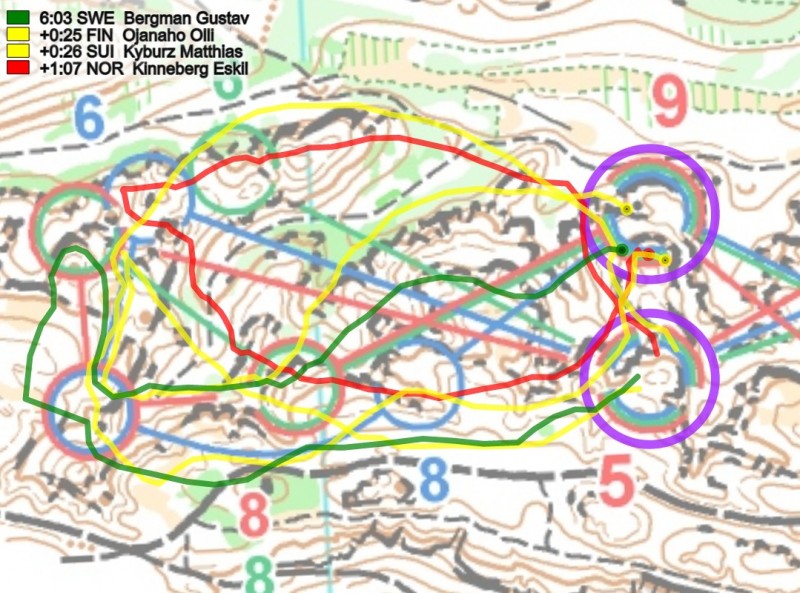 Norway Leg 3: 0:34 timeloss control 14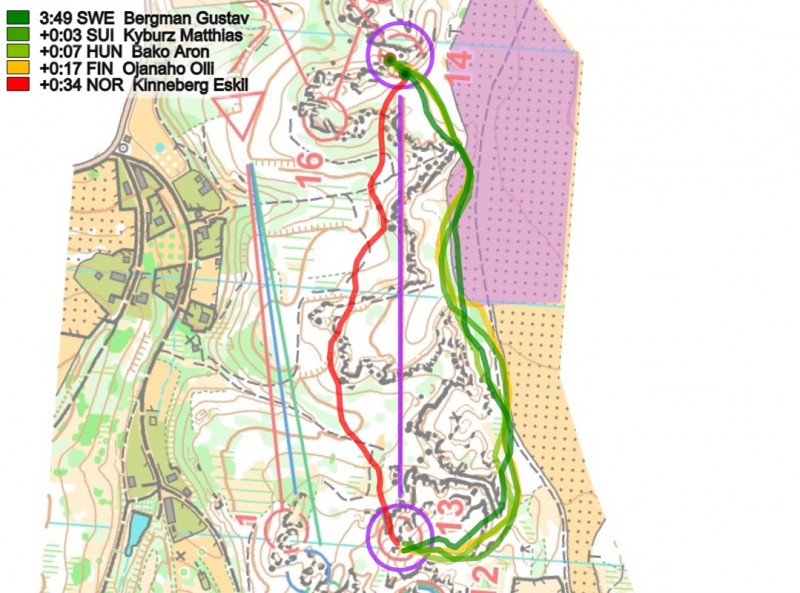 Splitsbrowser for common controls
Below is a splitsbrowser illustration for common controls. The first changeover is at control 9 and the second changeover at control 18.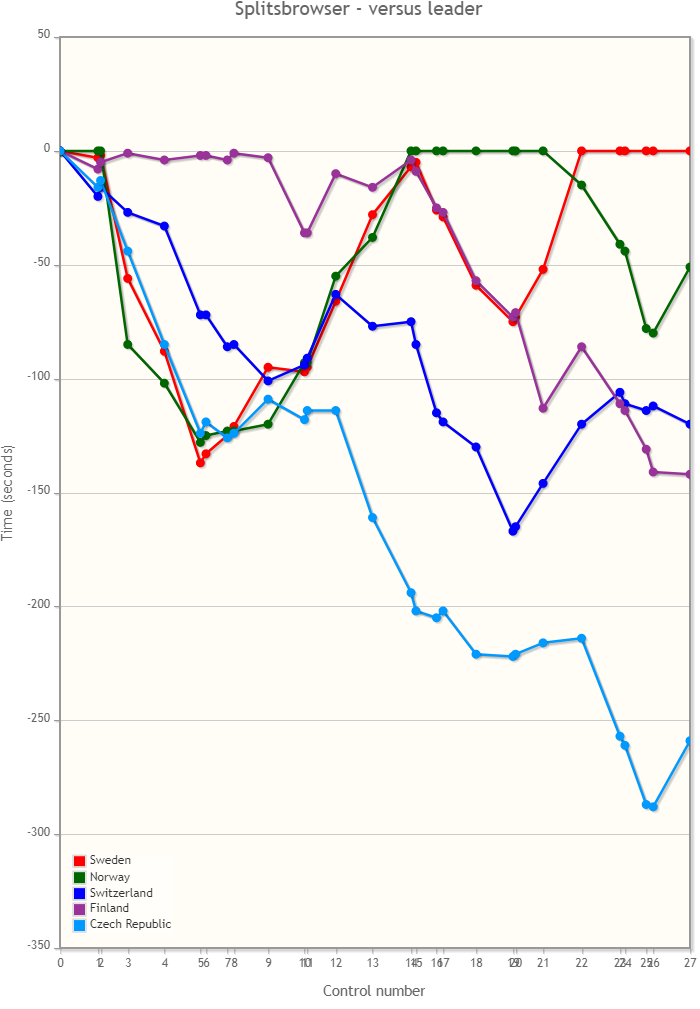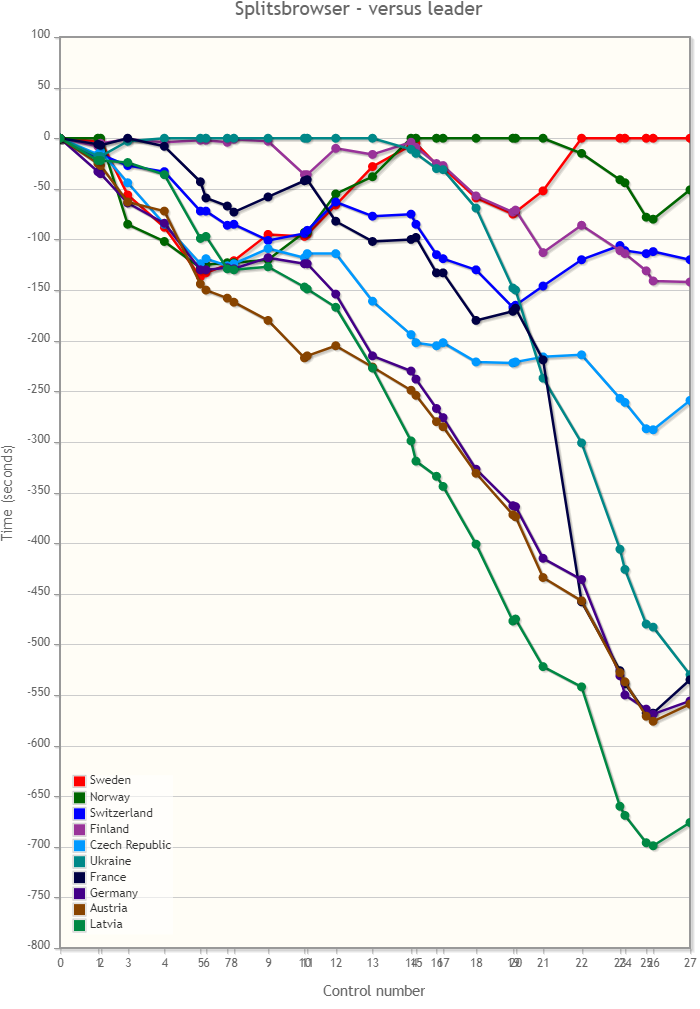 GPS Animation: See how Gustav Bergman🇸🇪 decides #WOC2021 Relay ahead of Eskil Kinneberg🇳🇴 and Matthias Kyburz🇨🇭. GPS-tracking: https://t.co/Chq12tBRFl pic.twitter.com/obrUaESe1C

— WorldofO.com (@worldofo) July 8, 2021
Men Leg 1
MEN 1 common controls: S-1
MEN 1 common controls: S-1 (Legtimes)

1.
Steiwer Gaute

(9th)

6:48

+0:00

+3%

2.
Ridefelt Albin

(5th)

6:51

+0:03

+4%

3.
Perrin Mathieu

(3rd)

6:54

+0:06

+4%

4.
Kirmula Miika

(2nd)

6:56

+0:08

0%

5.
Kowalski Wojciech

(4th)

6:58

+0:10

0%

6.
Kubat Pavel

(7th)

7:04

+0:16

0%

7.
Ollin Heino

(11th)

7:05
+0:17

+3%

8.
Glibov Ruslan

(1st)

7:06

+0:18

0%

9.
Edsen Jakob

(14th)

7:07
+0:19

+7%

10.
Hubmann Martin

(6th)

7:08

+0:20

+1%

12.
Paulins Arturs

(10th)

7:10

+0:22

0%

16.
Spaeth Felix

(8th)

7:21
+0:33

0%

MEN 1 common controls: S-1 (Total times)

1.
Steiwer Gaute

(9th)

6:48
+0:00
2.
Ridefelt Albin

(5th)

6:51
+0:03
3.
Perrin Mathieu

(3rd)

6:54
+0:06
4.
Kirmula Miika

(2nd)

6:56
+0:08
5.
Kowalski Wojciech

(4th)

6:58
+0:10
6.
Kubat Pavel

(7th)

7:04
+0:16
7.
Ollin Heino

(11th)

7:05
+0:17
8.
Glibov Ruslan

(1st)

7:06
+0:18
9.
Edsen Jakob

(14th)

7:07
+0:19
10.
Hubmann Martin

(6th)

7:08
+0:20
12.
Paulins Arturs

(10th)

7:10
+0:22
16.
Spaeth Felix

(8th)

7:21
+0:33
MEN 1 common controls: 1-2
MEN 1 common controls: 1-2 (Legtimes)

1.
Hubmann Martin

(6th)

0:25

+0:00

+12%

2.
Kirmula Miika

(2nd)

0:26

+0:01

+3%

3.
Kubat Pavel

(7th)

0:26

+0:01

+6%

4.
Stanonik Simon

(27th)

0:27
+0:02

+19%

5.
Ridefelt Albin

(5th)

0:28

+0:03

0%

6.
Zinca Ionut

(18th)

0:28
+0:03

+8%

7.
Bartkevicius Algirdas

(20th)

0:28
+0:03

+4%

8.
Steiwer Gaute

(9th)

0:29

+0:04

-4%

9.
Kowalski Wojciech

(4th)

0:29

+0:04

-6%

10.
Ollin Heino

(11th)

0:29
+0:04

-1%

11.
Glibov Ruslan

(1st)

0:29

+0:04

-4%

12.
Paulins Arturs

(10th)

0:29

+0:04

-3%

18.
Perrin Mathieu

(3rd)

0:30

+0:05

-6%

27.
Spaeth Felix

(8th)

0:31

+0:06

-7%

MEN 1 common controls: 1-2 (Total times)

1.
Steiwer Gaute

(9th)

7:17
+0:00
2.
Ridefelt Albin

(5th)

7:19
+0:02
3.
Kirmula Miika

(2nd)

7:22
+0:05
4.
Perrin Mathieu

(3rd)

7:24
+0:07
5.
Kowalski Wojciech

(4th)

7:27
+0:10
6.
Kubat Pavel

(7th)

7:30
+0:13
7.
Hubmann Martin

(6th)

7:33
+0:16
8.
Ollin Heino

(11th)

7:34
+0:17
9.
Glibov Ruslan

(1st)

7:35
+0:18
10.
Edsen Jakob

(14th)

7:37
+0:20
12.
Paulins Arturs

(10th)

7:39
+0:22
16.
Spaeth Felix

(8th)

7:52
+0:35
MEN 1 common controls: 2-3
MEN 1 common controls: 2-3 (Legtimes)

1.
Glibov Ruslan

(1st)

4:37

+0:00

+6%

2.
Perrin Mathieu

(3rd)

4:45

+0:08

+5%

3.
Kirmula Miika

(2nd)

4:48

+0:11

0%

4.
Kowalski Wojciech

(4th)

4:50

+0:13

0%

5.
Paulins Arturs

(10th)

4:54

+0:17

+2%

6.
Michiels Yannick

(16th)

4:54
+0:17

+7%

7.
Ollin Heino

(11th)

5:00
+0:23

+2%

8.
Hubmann Martin

(6th)

5:03
+0:26

0%

9.
Bujdoso Zoltan

(13th)

5:03
+0:26

+2%

10.
Hodkinson Peter

(15th)

5:10
+0:33

+1%

11.
Spaeth Felix

(8th)

5:21
+0:44

-3%

13.
Kubat Pavel

(7th)

5:23
+0:46

-7%

18.
Ridefelt Albin

(5th)

5:46
+1:09

-12%

24.
Steiwer Gaute

(9th)

6:17
+1:40

-21%

28.
Bartkevicius Algirdas

(20th)

7:07
+2:30

-23%

MEN 1 common controls: 2-3 (Total times)

1.
Perrin Mathieu

(3rd)

12:09
+0:00
2.
Kirmula Miika

(2nd)

12:10
+0:01
3.
Glibov Ruslan

(1st)

12:12
+0:03
4.
Kowalski Wojciech

(4th)

12:17
+0:08
5.
Paulins Arturs

(10th)

12:33
+0:24
6.
Ollin Heino

(11th)

12:34
+0:25
7.
Hubmann Martin

(6th)

12:36
+0:27
8.
Bujdoso Zoltan

(13th)

12:48
+0:39
9.
Kubat Pavel

(7th)

12:53
+0:44
10.
Michiels Yannick

(16th)

12:56
+0:47
11.
Ridefelt Albin

(5th)

13:05
+0:56
15.
Spaeth Felix

(8th)

13:13
+1:04
19.
Steiwer Gaute

(9th)

13:34
+1:25
MEN 1 common controls: 3-4
MEN 1 common controls: 3-4 (Legtimes)

1.
Glibov Ruslan

(1st)

6:32

+0:00

+4%

2.
Kowalski Wojciech

(4th)

6:37

+0:05

+1%

3.
Kirmula Miika

(2nd)

6:38

+0:06

0%

4.
Hubmann Martin

(6th)

6:41

+0:09

+3%

5.
Perrin Mathieu

(3rd)

6:43

+0:11

+2%

6.
Merl Robert

(12th)

6:44
+0:12

+10%

7.
Paulins Arturs

(10th)

6:47

+0:15

+1%

8.
Steiwer Gaute

(9th)

6:52

+0:20

0%

9.
Spaeth Felix

(8th)

6:55

+0:23

+2%

10.
Ridefelt Albin

(5th)

7:07
+0:35

-2%

12.
Kubat Pavel

(7th)

7:16
+0:44

-5%

MEN 1 common controls: 3-4 (Total times)

1.
Glibov Ruslan

(1st)

18:44
+0:00
2.
Kirmula Miika

(2nd)

18:48
+0:04
3.
Perrin Mathieu

(3rd)

18:52
+0:08
4.
Kowalski Wojciech

(4th)

18:54
+0:10
5.
Hubmann Martin

(6th)

19:17
+0:33
6.
Paulins Arturs

(10th)

19:20
+0:36
7.
Merl Robert

(12th)

19:56
+1:12
8.
Ollin Heino

(11th)

20:06
+1:22
9.
Spaeth Felix

(8th)

20:08
+1:24
10.
Kubat Pavel

(7th)

20:09
+1:25
11.
Ridefelt Albin

(5th)

20:12
+1:28
15.
Steiwer Gaute

(9th)

20:26
+1:42
MEN 1 common controls: 4-5
MEN 1 common controls: 4-5 (Legtimes)

1.
Kirmula Miika

(2nd)

6:26

+0:00

+5%

2.
Kowalski Wojciech

(4th)

6:26

+0:00

+6%

3.
Glibov Ruslan

(1st)

6:28

+0:02

+7%

4.
Steiwer Gaute

(9th)

6:54
+0:28

0%

5.
Perrin Mathieu

(3rd)

7:03
+0:37

0%

6.
Hubmann Martin

(6th)

7:07
+0:41

0%

7.
Kubat Pavel

(7th)

7:07
+0:41

-1%

8.
Bujdoso Zoltan

(13th)

7:08
+0:42

+2%

9.
Ollin Heino

(11th)

7:13
+0:47

0%

10.
Spaeth Felix

(8th)

7:14
+0:48

0%

11.
Ridefelt Albin

(5th)

7:17
+0:51

-3%

14.
Paulins Arturs

(10th)

7:31
+1:05

-6%

MEN 1 common controls: 4-5 (Total times)

1.
Glibov Ruslan

(1st)

25:12
+0:00
2.
Kirmula Miika

(2nd)

25:14
+0:02
3.
Kowalski Wojciech

(4th)

25:20
+0:08
4.
Perrin Mathieu

(3rd)

25:55
+0:43
5.
Hubmann Martin

(6th)

26:24
+1:12
6.
Paulins Arturs

(10th)

26:51
+1:39
7.
Kubat Pavel

(7th)

27:16
+2:04
8.
Ollin Heino

(11th)

27:19
+2:07
9.
Steiwer Gaute

(9th)

27:20
+2:08
10.
Spaeth Felix

(8th)

27:22
+2:10
12.
Ridefelt Albin

(5th)

27:29
+2:17
MEN 1 common controls: 5-6
MEN 1 common controls: 5-6 (Legtimes)

1.
Kubat Pavel

(7th)

0:55

+0:00

+7%

2.
Ridefelt Albin

(5th)

0:56

+0:01

+6%

3.
Kowalski Wojciech

(4th)

0:57

+0:02

+1%

4.
Steiwer Gaute

(9th)

0:57

+0:02

+3%

5.
Paulins Arturs

(10th)

0:58

+0:03

+2%

6.
Glibov Ruslan

(1st)

1:00

+0:05

-1%

7.
Kirmula Miika

(2nd)

1:00

+0:05

-4%

8.
Hubmann Martin

(6th)

1:00

+0:05

0%

9.
Spaeth Felix

(8th)

1:00

+0:05

+1%

10.
Ollin Heino

(11th)

1:01
+0:06

0%

23.
Zinca Ionut

(18th)

1:14
+0:19

-10%

25.
Perrin Mathieu

(3rd)

1:16

+0:21

-20%

MEN 1 common controls: 5-6 (Total times)

1.
Glibov Ruslan

(1st)

26:12
+0:00
2.
Kirmula Miika

(2nd)

26:14
+0:02
3.
Kowalski Wojciech

(4th)

26:17
+0:05
4.
Perrin Mathieu

(3rd)

27:11
+0:59
5.
Hubmann Martin

(6th)

27:24
+1:12
6.
Paulins Arturs

(10th)

27:49
+1:37
7.
Kubat Pavel

(7th)

28:11
+1:59
8.
Steiwer Gaute

(9th)

28:17
+2:05
9.
Ollin Heino

(11th)

28:20
+2:08
10.
Spaeth Felix

(8th)

28:22
+2:10
11.
Ridefelt Albin

(5th)

28:25
+2:13
MEN 1 common controls: 6-7
MEN 1 common controls: 6-7 (Legtimes)

1.
Ridefelt Albin

(5th)

3:42

+0:00

+7%

2.
Steiwer Gaute

(9th)

3:48

+0:06

+3%

3.
Spaeth Felix

(8th)

3:48

+0:06

+6%

4.
Glibov Ruslan

(1st)

3:50

+0:08

+2%

5.
Kirmula Miika

(2nd)

3:52

+0:10

-1%

6.
Gil Marcos Eduardo

(17th)

3:56
+0:14

+8%

7.
Kubat Pavel

(7th)

3:57

+0:15

0%

8.
Perrin Mathieu

(3rd)

3:58

+0:16

0%

9.
Ollin Heino

(11th)

3:58
+0:16

+2%

10.
Merl Robert

(12th)

3:58
+0:16

+8%

13.
Hubmann Martin

(6th)

4:04

+0:22

-1%

21.
Paulins Arturs

(10th)

4:22
+0:40

-8%

22.
Kowalski Wojciech

(4th)

4:25
+0:43

-12%

27.
Zinca Ionut

(18th)

5:03
+1:21

-12%

MEN 1 common controls: 6-7 (Total times)

1.
Glibov Ruslan

(1st)

30:02
+0:00
2.
Kirmula Miika

(2nd)

30:06
+0:04
3.
Kowalski Wojciech

(4th)

30:42
+0:40
4.
Perrin Mathieu

(3rd)

31:09
+1:07
5.
Hubmann Martin

(6th)

31:28
+1:26
6.
Steiwer Gaute

(9th)

32:05
+2:03
7.
Ridefelt Albin

(5th)

32:07
+2:05
8.
Kubat Pavel

(7th)

32:08
+2:06
9.
Spaeth Felix

(8th)

32:10
+2:08
10.
Paulins Arturs

(10th)

32:11
+2:09
MEN 1 common controls: 7-8
MEN 1 common controls: 7-8 (Legtimes)

1.
Ridefelt Albin

(5th)

1:07

+0:00

+7%

2.
Kirmula Miika

(2nd)

1:08

+0:01

+1%

3.
Kubat Pavel

(7th)

1:09

+0:02

+3%

4.
Hubmann Martin

(6th)

1:10

+0:03

+3%

5.
Glibov Ruslan

(1st)

1:11

+0:04

0%

6.
Steiwer Gaute

(9th)

1:11

+0:04

0%

7.
Edsen Jakob

(14th)

1:11
+0:04

+8%

8.
Spaeth Felix

(8th)

1:12

+0:05

+2%

9.
Paulins Arturs

(10th)

1:12

+0:05

0%

10.
Michiels Yannick

(16th)

1:12
+0:05

+5%

16.
Kowalski Wojciech

(4th)

1:16

+0:09

-7%

17.
Perrin Mathieu

(3rd)

1:17

+0:10

-6%

MEN 1 common controls: 7-8 (Total times)

1.
Glibov Ruslan

(1st)

31:13
+0:00
2.
Kirmula Miika

(2nd)

31:14
+0:01
3.
Kowalski Wojciech

(4th)

31:58
+0:45
4.
Perrin Mathieu

(3rd)

32:26
+1:13
5.
Hubmann Martin

(6th)

32:38
+1:25
6.
Ridefelt Albin

(5th)

33:14
+2:01
7.
Steiwer Gaute

(9th)

33:16
+2:03
8.
Kubat Pavel

(7th)

33:17
+2:04
9.
Spaeth Felix

(8th)

33:22
+2:09
10.
Paulins Arturs

(10th)

33:23
+2:10
Men Leg 2
MEN 2 common controls: S-1
MEN 2 common controls: S-1 (Legtimes)

1.
Harlem Fosser Kasper

(1st)

6:05

+0:00

+1%

2.
Basset Lucas

(7th)

6:16

+0:11

+6%

3.
Howald Florian

(3rd)

6:25

+0:20

+3%

4.
Kratov Oleksandr

(5th)

6:32
+0:27

+1%

5.
Lind William

(2nd)

6:34
+0:29

-1%

6.
Hennseler Ole

(9th)

6:38
+0:33

+6%

7.
Nykodym Milos

(6th)

6:41
+0:36

+3%

8.
Bertuks Edgars

(11th)

6:52
+0:47

+6%

9.
Baumholczer Mate

(16th)

6:54
+0:49

+12%

10.
Pawlak Bartosz

(17th)

7:04
+0:59

0%

11.
Kuukka Elias

(4th)

7:05
+1:00

-7%

12.
Ymsen Gernot

(8th)

7:09
+1:04

-4%

18.
Sild Lauri

(10th)

7:35
+1:30

-3%

MEN 2 common controls: S-1 (Total times)

1.
Harlem Fosser Kasper

(1st)

6:05
+0:00
2.
Basset Lucas

(7th)

6:16
+0:11
3.
Howald Florian

(3rd)

6:25
+0:20
4.
Kratov Oleksandr

(5th)

6:32
+0:27
5.
Lind William

(2nd)

6:34
+0:29
6.
Hennseler Ole

(9th)

6:38
+0:33
7.
Nykodym Milos

(6th)

6:41
+0:36
8.
Bertuks Edgars

(11th)

6:52
+0:47
9.
Baumholczer Mate

(16th)

6:54
+0:49
10.
Pawlak Bartosz

(17th)

7:04
+0:59
11.
Kuukka Elias

(4th)

7:05
+1:00
12.
Ymsen Gernot

(8th)

7:09
+1:04
18.
Sild Lauri

(10th)

7:35
+1:30
MEN 2 common controls: 1-2
MEN 2 common controls: 1-2 (Legtimes)

1.
Nykodym Milos

(6th)

0:26

+0:00

+14%

2.
Howald Florian

(3rd)

0:27

+0:01

+7%

3.
Lind William

(2nd)

0:28

+0:02

0%

4.
Ymsen Gernot

(8th)

0:28

+0:02

+5%

5.
Basset Lucas

(7th)

0:29

+0:03

0%

6.
Pawlak Bartosz

(17th)

0:29
+0:03

+4%

7.
Ivandjikov Boyan

(19th)

0:29
+0:03

+16%

8.
Leeuws Evert

(14th)

0:29
+0:03

+12%

9.
Harlem Fosser Kasper

(1st)

0:30

+0:04

-11%

10.
Kratov Oleksandr

(5th)

0:30

+0:04

-3%

11.
Hennseler Ole

(9th)

0:30

+0:04

+2%

12.
Kuukka Elias

(4th)

0:30

+0:04

-5%

17.
Sild Lauri

(10th)

0:32

+0:06

-1%

MEN 2 common controls: 1-2 (Total times)

1.
Harlem Fosser Kasper

(1st)

6:35
+0:00
2.
Basset Lucas

(7th)

6:45
+0:10
3.
Howald Florian

(3rd)

6:52
+0:17
4.
Kratov Oleksandr

(5th)

7:02
+0:27
5.
Lind William

(2nd)

7:02
+0:27
6.
Nykodym Milos

(6th)

7:07
+0:32
7.
Hennseler Ole

(9th)

7:08
+0:33
8.
Bertuks Edgars

(11th)

7:24
+0:49
9.
Baumholczer Mate

(16th)

7:26
+0:51
10.
Pawlak Bartosz

(17th)

7:33
+0:58
11.
Kuukka Elias

(4th)

7:35
+1:00
12.
Ymsen Gernot

(8th)

7:37
+1:02
18.
Sild Lauri

(10th)

8:07
+1:32
MEN 2 common controls: 2-3
MEN 2 common controls: 2-3 (Legtimes)

1.
Harlem Fosser Kasper

(1st)

4:29

+0:00

+1%

2.
Lind William

(2nd)

4:38

+0:09

+2%

3.
Howald Florian

(3rd)

4:39

+0:10

+5%

4.
Kuukka Elias

(4th)

4:41

+0:12

+2%

5.
Pawlak Bartosz

(17th)

4:45
+0:16

+7%

6.
Ymsen Gernot

(8th)

4:57
+0:28

+1%

7.
Haines Hector

(12th)

5:05
+0:36

+3%

8.
Kratov Oleksandr

(5th)

5:07
+0:38

-4%

9.
Nykodym Milos

(6th)

5:07
+0:38

0%

10.
Leeuws Evert

(14th)

5:16
+0:47

+6%

11.
Sild Lauri

(10th)

5:16
+0:47

+1%

14.
Hennseler Ole

(9th)

5:37
+1:08

-6%

18.
Basset Lucas

(7th)

5:48
+1:19

-14%

28.
Ivandjikov Boyan

(19th)

7:07
+2:38

-13%

MEN 2 common controls: 2-3 (Total times)

1.
Harlem Fosser Kasper

(1st)

11:04
+0:00
2.
Howald Florian

(3rd)

11:31
+0:27
3.
Lind William

(2nd)

11:40
+0:36
4.
Kratov Oleksandr

(5th)

12:09
+1:05
5.
Nykodym Milos

(6th)

12:14
+1:10
6.
Kuukka Elias

(4th)

12:16
+1:12
7.
Pawlak Bartosz

(17th)

12:18
+1:14
8.
Basset Lucas

(7th)

12:33
+1:29
9.
Ymsen Gernot

(8th)

12:34
+1:30
10.
Hennseler Ole

(9th)

12:45
+1:41
15.
Sild Lauri

(10th)

13:23
+2:19
MEN 2 common controls: 3-4
MEN 2 common controls: 3-4 (Legtimes)

1.
Lind William

(2nd)

5:58

+0:00

+10%

2.
Harlem Fosser Kasper

(1st)

6:19

+0:21

0%

3.
Kratov Oleksandr

(5th)

6:36
+0:38

+3%

4.
Kuukka Elias

(4th)

6:42
+0:44

0%

5.
Howald Florian

(3rd)

6:50
+0:52

0%

6.
Pawlak Bartosz

(17th)

6:55
+0:57

+3%

7.
Basset Lucas

(7th)

6:56
+0:58

-1%

8.
Ymsen Gernot

(8th)

6:57
+0:59

0%

9.
Sild Lauri

(10th)

7:04
+1:06

+4%

10.
Haines Hector

(12th)

7:08
+1:10

+2%

11.
Nykodym Milos

(6th)

7:23
+1:25

-3%

15.
Hennseler Ole

(9th)

7:37
+1:39

-3%

MEN 2 common controls: 3-4 (Total times)

1.
Harlem Fosser Kasper

(1st)

17:23
+0:00
2.
Lind William

(2nd)

17:38
+0:15
3.
Howald Florian

(3rd)

18:21
+0:58
4.
Kratov Oleksandr

(5th)

18:45
+1:22
5.
Kuukka Elias

(4th)

18:58
+1:35
6.
Pawlak Bartosz

(17th)

19:13
+1:50
7.
Basset Lucas

(7th)

19:29
+2:06
8.
Ymsen Gernot

(8th)

19:31
+2:08
9.
Nykodym Milos

(6th)

19:37
+2:14
10.
Hennseler Ole

(9th)

20:22
+2:59
13.
Sild Lauri

(10th)

20:27
+3:04
MEN 2 common controls: 4-5
MEN 2 common controls: 4-5 (Legtimes)

1.
Harlem Fosser Kasper

(1st)

6:17

+0:00

+3%

2.
Lind William

(2nd)

6:34

+0:17

+3%

3.
Kuukka Elias

(4th)

6:43
+0:26

+2%

4.
Howald Florian

(3rd)

6:53
+0:36

+2%

5.
Basset Lucas

(7th)

6:53
+0:36

+2%

6.
Kratov Oleksandr

(5th)

7:06
+0:49

-1%

7.
Hennseler Ole

(9th)

7:10
+0:53

+4%

8.
Serebryanitskiy Konstanti

(15th)

7:13
+0:56

+9%

9.
Ymsen Gernot

(8th)

7:18
+1:01

-1%

10.
Baumholczer Mate

(16th)

7:25
+1:08

+10%

11.
Nykodym Milos

(6th)

7:28
+1:11

-1%

13.
Sild Lauri

(10th)

7:37
+1:20

0%

21.
Schoening Eskil

(13th)

9:17
+3:00

-15%

25.
Pawlak Bartosz

(17th)

10:17
+4:00

-26%

MEN 2 common controls: 4-5 (Total times)

1.
Harlem Fosser Kasper

(1st)

23:40
+0:00
2.
Lind William

(2nd)

24:12
+0:32
3.
Howald Florian

(3rd)

25:14
+1:34
4.
Kuukka Elias

(4th)

25:41
+2:01
5.
Kratov Oleksandr

(5th)

25:51
+2:11
6.
Basset Lucas

(7th)

26:22
+2:42
7.
Ymsen Gernot

(8th)

26:49
+3:09
8.
Nykodym Milos

(6th)

27:05
+3:25
9.
Hennseler Ole

(9th)

27:32
+3:52
10.
Haines Hector

(12th)

28:00
+4:20
11.
Sild Lauri

(10th)

28:04
+4:24
MEN 2 common controls: 5-6
MEN 2 common controls: 5-6 (Legtimes)

1.
Lind William

(2nd)

0:51

+0:00

+8%

2.
Basset Lucas

(7th)

0:51

+0:00

+11%

3.
Harlem Fosser Kasper

(1st)

0:53

+0:02

0%

4.
Kratov Oleksandr

(5th)

0:57

+0:06

0%

5.
Kuukka Elias

(4th)

0:58

+0:07

-3%

6.
Ymsen Gernot

(8th)

0:58

+0:07

0%

7.
Haines Hector

(12th)

0:59
+0:08

+3%

8.
Nykodym Milos

(6th)

1:01

+0:10

-2%

9.
Hennseler Ole

(9th)

1:01

+0:10

0%

10.
Schoening Eskil

(13th)

1:01
+0:10

+1%

12.
Howald Florian

(3rd)

1:03

+0:12

-8%

13.
Sild Lauri

(10th)

1:06

+0:15

-5%

19.
Bertuks Edgars

(11th)

1:13
+0:22

-11%

23.
Pawlak Bartosz

(17th)

1:18
+0:27

-21%

27.
Baumholczer Mate

(16th)

1:26
+0:35

-16%

MEN 2 common controls: 5-6 (Total times)

1.
Harlem Fosser Kasper

(1st)

24:33
+0:00
2.
Lind William

(2nd)

25:03
+0:30
3.
Howald Florian

(3rd)

26:17
+1:44
4.
Kuukka Elias

(4th)

26:39
+2:06
5.
Kratov Oleksandr

(5th)

26:48
+2:15
6.
Basset Lucas

(7th)

27:13
+2:40
7.
Ymsen Gernot

(8th)

27:47
+3:14
8.
Nykodym Milos

(6th)

28:06
+3:33
9.
Hennseler Ole

(9th)

28:33
+4:00
10.
Haines Hector

(12th)

28:59
+4:26
11.
Sild Lauri

(10th)

29:10
+4:37
MEN 2 common controls: 6-7
MEN 2 common controls: 6-7 (Legtimes)

1.
Harlem Fosser Kasper

(1st)

3:41

+0:00

+1%

2.
Nykodym Milos

(6th)

3:44

+0:03

+11%

3.
Kratov Oleksandr

(5th)

3:56

+0:15

+1%

4.
Bertuks Edgars

(11th)

3:56
+0:15

+11%

5.
Kuukka Elias

(4th)

3:57

+0:16

0%

6.
Pawlak Bartosz

(17th)

3:58
+0:17

+5%

7.
Lind William

(2nd)

4:02

+0:21

-3%

8.
Sild Lauri

(10th)

4:02

+0:21

+7%

9.
Ymsen Gernot

(8th)

4:07
+0:26

0%

10.
Hennseler Ole

(9th)

4:10
+0:29

+2%

11.
Howald Florian

(3rd)

4:11
+0:30

-3%

12.
Basset Lucas

(7th)

4:16
+0:35

-5%

25.
Haines Hector

(12th)

5:24
+1:43

-17%

MEN 2 common controls: 6-7 (Total times)

1.
Harlem Fosser Kasper

(1st)

28:14
+0:00
2.
Lind William

(2nd)

29:05
+0:51
3.
Howald Florian

(3rd)

30:28
+2:14
4.
Kuukka Elias

(4th)

30:36
+2:22
5.
Kratov Oleksandr

(5th)

30:44
+2:30
6.
Basset Lucas

(7th)

31:29
+3:15
7.
Nykodym Milos

(6th)

31:50
+3:36
8.
Ymsen Gernot

(8th)

31:54
+3:40
9.
Hennseler Ole

(9th)

32:43
+4:29
10.
Sild Lauri

(10th)

33:12
+4:58
MEN 2 common controls: 7-8
MEN 2 common controls: 7-8 (Legtimes)

1.
Nykodym Milos

(6th)

1:08

+0:00

+13%

2.
Harlem Fosser Kasper

(1st)

1:11

+0:03

-3%

3.
Basset Lucas

(7th)

1:11

+0:03

+4%

4.
Kratov Oleksandr

(5th)

1:12

+0:04

+3%

5.
Kuukka Elias

(4th)

1:13

+0:05

0%

6.
Lind William

(2nd)

1:14

+0:06

-2%

7.
Howald Florian

(3rd)

1:15

+0:07

0%

8.
Ymsen Gernot

(8th)

1:16

+0:08

0%

9.
Schoening Eskil

(13th)

1:16
+0:08

+5%

10.
Pawlak Bartosz

(17th)

1:18
+0:10

0%

11.
Hennseler Ole

(9th)

1:20

+0:12

0%

12.
Sild Lauri

(10th)

1:21

+0:13

0%

MEN 2 common controls: 7-8 (Total times)

1.
Harlem Fosser Kasper

(1st)

29:25
+0:00
2.
Lind William

(2nd)

30:19
+0:54
3.
Howald Florian

(3rd)

31:43
+2:18
4.
Kuukka Elias

(4th)

31:49
+2:24
5.
Kratov Oleksandr

(5th)

31:56
+2:31
6.
Basset Lucas

(7th)

32:40
+3:15
7.
Nykodym Milos

(6th)

32:58
+3:33
8.
Ymsen Gernot

(8th)

33:10
+3:45
9.
Hennseler Ole

(9th)

34:03
+4:38
10.
Sild Lauri

(10th)

34:33
+5:08
Men Leg 3
MEN 3 common controls: S-1
MEN 3 common controls: S-1 (Legtimes)

1.
Tranchand Frederic

(12th)

6:28
+0:00

+13%

2.
Kinneberg Eskil

(4th)

6:37

+0:09

+5%

3.
Kral Vojtech

(3rd)

6:38

+0:10

+4%

4.
Odum Soren Thrane

(6th)

6:51

+0:23

+4%

5.
Bergman Gustav

(1st)

6:53

+0:25

-6%

6.
Ojanaho Olli

(5th)

6:53

+0:25

0%

7.
Bako Aron

(7th)

6:56
+0:28

+4%

8.
Sild Timo

(13th)

7:06
+0:38

+9%

9.
Street Ralph

(15th)

7:11
+0:43

+2%

10.
Blumenstein Bojan

(9th)

7:13
+0:45

+3%

12.
Kyburz Matthias

(2nd)

7:14
+0:46

-8%

13.
Peter Mathias

(8th)

7:18
+0:50

+1%

17.
Zernis Rudolfs

(10th)

7:53
+1:25

-7%

MEN 3 common controls: S-1 (Total times)

1.
Tranchand Frederic

(12th)

6:28
+0:00
2.
Kinneberg Eskil

(4th)

6:37
+0:09
3.
Kral Vojtech

(3rd)

6:38
+0:10
4.
Odum Soren Thrane

(6th)

6:51
+0:23
5.
Bergman Gustav

(1st)

6:53
+0:25
6.
Ojanaho Olli

(5th)

6:53
+0:25
7.
Bako Aron

(7th)

6:56
+0:28
8.
Sild Timo

(13th)

7:06
+0:38
9.
Street Ralph

(15th)

7:11
+0:43
10.
Blumenstein Bojan

(9th)

7:13
+0:45
12.
Kyburz Matthias

(2nd)

7:14
+0:46
13.
Peter Mathias

(8th)

7:18
+0:50
17.
Zernis Rudolfs

(10th)

7:53
+1:25
MEN 3 common controls: 1-2
MEN 3 common controls: 1-2 (Legtimes)

1.
Tranchand Frederic

(12th)

0:26
+0:00

+13%

2.
Bergman Gustav

(1st)

0:27

+0:01

-3%

3.
Ojanaho Olli

(5th)

0:27

+0:01

+2%

4.
Kyburz Matthias

(2nd)

0:27

+0:01

-1%

5.
Zernis Rudolfs

(10th)

0:27

+0:01

+7%

6.
Kral Vojtech

(3rd)

0:28

+0:02

0%

7.
Street Ralph

(15th)

0:28
+0:02

+5%

8.
Inderst Sebastian

(17th)

0:28
+0:02

+12%

9.
Kinneberg Eskil

(4th)

0:29

+0:03

-2%

10.
Olejnik Michal

(11th)

0:29
+0:03

+3%

11.
Odum Soren Thrane

(6th)

0:30

+0:04

-3%

12.
Blumenstein Bojan

(9th)

0:30

+0:04

0%

14.
Peter Mathias

(8th)

0:31

+0:05

-3%

16.
Bako Aron

(7th)

0:32

+0:06

-7%

28.
Beliunas Vytautas

(20th)

0:45
+0:19

-17%

MEN 3 common controls: 1-2 (Total times)

1.
Tranchand Frederic

(12th)

6:54
+0:00
2.
Kinneberg Eskil

(4th)

7:06
+0:12
3.
Kral Vojtech

(3rd)

7:06
+0:12
4.
Bergman Gustav

(1st)

7:20
+0:26
5.
Ojanaho Olli

(5th)

7:20
+0:26
6.
Odum Soren Thrane

(6th)

7:21
+0:27
7.
Bako Aron

(7th)

7:28
+0:34
8.
Sild Timo

(13th)

7:39
+0:45
9.
Street Ralph

(15th)

7:39
+0:45
10.
Kyburz Matthias

(2nd)

7:41
+0:47
11.
Blumenstein Bojan

(9th)

7:43
+0:49
12.
Peter Mathias

(8th)

7:49
+0:55
17.
Zernis Rudolfs

(10th)

8:20
+1:26
MEN 3 common controls: 2-3
MEN 3 common controls: 2-3 (Legtimes)

1.
Bergman Gustav

(1st)

4:35

+0:00

+3%

2.
Kyburz Matthias

(2nd)

4:37

+0:02

+5%

3.
Kral Vojtech

(3rd)

4:51

+0:16

+4%

4.
Kinneberg Eskil

(4th)

4:56

+0:21

+3%

5.
Street Ralph

(15th)

5:10
+0:35

+4%

6.
Olejnik Michal

(11th)

5:14
+0:39

+4%

7.
Odum Soren Thrane

(6th)

5:16
+0:41

0%

8.
Ojanaho Olli

(5th)

5:38
+1:03

-10%

9.
Bako Aron

(7th)

5:38
+1:03

-4%

10.
Jonas Adam

(18th)

5:40
+1:05

+8%

11.
Zernis Rudolfs

(10th)

5:43
+1:08

-6%

13.
Blumenstein Bojan

(9th)

5:47
+1:12

-4%

15.
Peter Mathias

(8th)

5:56
+1:21

-7%

24.
Sild Timo

(13th)

6:49
+2:14

-12%

25.
Beliunas Vytautas

(20th)

7:29
+2:54

-11%

MEN 3 common controls: 2-3 (Total times)

1.
Bergman Gustav

(1st)

11:55
+0:00
2.
Kral Vojtech

(3rd)

11:57
+0:02
3.
Kinneberg Eskil

(4th)

12:02
+0:07
4.
Kyburz Matthias

(2nd)

12:18
+0:23
5.
Odum Soren Thrane

(6th)

12:37
+0:42
6.
Tranchand Frederic

(12th)

12:41
+0:46
7.
Street Ralph

(15th)

12:49
+0:54
8.
Ojanaho Olli

(5th)

12:58
+1:03
9.
Bako Aron

(7th)

13:06
+1:11
10.
Blumenstein Bojan

(9th)

13:30
+1:35
12.
Peter Mathias

(8th)

13:45
+1:50
14.
Zernis Rudolfs

(10th)

14:03
+2:08
MEN 3 common controls: 3-4
MEN 3 common controls: 3-4 (Legtimes)

1.
Bergman Gustav

(1st)

6:03

+0:00

+7%

2.
Ojanaho Olli

(5th)

6:28

+0:25

+6%

3.
Kyburz Matthias

(2nd)

6:29
+0:26

+2%

4.
Kral Vojtech

(3rd)

6:53
+0:50

0%

5.
Odum Soren Thrane

(6th)

7:07
+1:04

+1%

6.
Kinneberg Eskil

(4th)

7:10
+1:07

-1%

7.
Zernis Rudolfs

(10th)

7:15
+1:12

0%

8.
Blumenstein Bojan

(9th)

7:16
+1:13

+2%

9.
Peter Mathias

(8th)

7:18
+1:15

+1%

10.
Bako Aron

(7th)

7:19
+1:16

0%

24.
Inderst Sebastian

(17th)

9:43
+3:40

-15%

26.
Street Ralph

(15th)

10:50
+4:47

-28%

27.
Tranchand Frederic

(12th)

10:54
+4:51

-28%

MEN 3 common controls: 3-4 (Total times)

1.
Bergman Gustav

(1st)

17:58
+0:00
2.
Kyburz Matthias

(2nd)

18:47
+0:49
3.
Kral Vojtech

(3rd)

18:50
+0:52
4.
Kinneberg Eskil

(4th)

19:12
+1:14
5.
Ojanaho Olli

(5th)

19:26
+1:28
6.
Odum Soren Thrane

(6th)

19:44
+1:46
7.
Bako Aron

(7th)

20:25
+2:27
8.
Blumenstein Bojan

(9th)

20:46
+2:48
9.
Peter Mathias

(8th)

21:03
+3:05
10.
Zernis Rudolfs

(10th)

21:18
+3:20
MEN 3 common controls: 4-5
MEN 3 common controls: 4-5 (Legtimes)

1.
Kyburz Matthias

(2nd)

6:39

+0:00

+7%

2.
Bergman Gustav

(1st)

6:53

+0:14

0%

3.
Ojanaho Olli

(5th)

7:18
+0:39

+1%

4.
Kinneberg Eskil

(4th)

7:19
+0:40

+2%

5.
Odum Soren Thrane

(6th)

7:22
+0:43

+4%

6.
Kral Vojtech

(3rd)

7:36
+0:57

-2%

7.
Bako Aron

(7th)

7:40
+1:01

+2%

8.
Tranchand Frederic

(12th)

8:01
+1:22

0%

9.
Peter Mathias

(8th)

8:04
+1:25

0%

10.
Olejnik Michal

(11th)

8:04
+1:25

0%

13.
Blumenstein Bojan

(9th)

8:28
+1:49

-4%

17.
Zernis Rudolfs

(10th)

8:51
+2:12

-11%

19.
Street Ralph

(15th)

9:02
+2:23

-11%

MEN 3 common controls: 4-5 (Total times)

1.
Bergman Gustav

(1st)

24:51
+0:00
2.
Kyburz Matthias

(2nd)

25:26
+0:35
3.
Kral Vojtech

(3rd)

26:26
+1:35
4.
Kinneberg Eskil

(4th)

26:31
+1:40
5.
Ojanaho Olli

(5th)

26:44
+1:53
6.
Odum Soren Thrane

(6th)

27:06
+2:15
7.
Bako Aron

(7th)

28:05
+3:14
8.
Peter Mathias

(8th)

29:07
+4:16
9.
Blumenstein Bojan

(9th)

29:14
+4:23
10.
Olejnik Michal

(11th)

29:51
+5:00
11.
Zernis Rudolfs

(10th)

30:09
+5:18
MEN 3 common controls: 5-6
MEN 3 common controls: 5-6 (Legtimes)

1.
Bergman Gustav

(1st)

0:54

+0:00

+4%

2.
Kinneberg Eskil

(4th)

0:57

+0:03

+6%

3.
Ojanaho Olli

(5th)

0:57

+0:03

+4%

4.
Kral Vojtech

(3rd)

0:58

+0:04

+3%

5.
Kyburz Matthias

(2nd)

0:59

+0:05

-2%

6.
Bogataj Mark

(21st)

1:02
+0:08

+15%

7.
Peter Mathias

(8th)

1:03

+0:09

+2%

8.
Zernis Rudolfs

(10th)

1:03

+0:09

0%

9.
Street Ralph

(15th)

1:04
+0:10

0%

10.
Moran Colm

(24th)

1:04
+0:10

+18%

11.
Bako Aron

(7th)

1:05

+0:11

-2%

17.
Odum Soren Thrane

(6th)

1:13

+0:19

-13%

18.
Blumenstein Bojan

(9th)

1:13

+0:19

-10%

22.
Olejnik Michal

(11th)

1:15
+0:21

-11%

MEN 3 common controls: 5-6 (Total times)

1.
Bergman Gustav

(1st)

25:45
+0:00
2.
Kyburz Matthias

(2nd)

26:25
+0:40
3.
Kral Vojtech

(3rd)

27:24
+1:39
4.
Kinneberg Eskil

(4th)

27:28
+1:43
5.
Ojanaho Olli

(5th)

27:41
+1:56
6.
Odum Soren Thrane

(6th)

28:19
+2:34
7.
Bako Aron

(7th)

29:10
+3:25
8.
Peter Mathias

(8th)

30:10
+4:25
9.
Blumenstein Bojan

(9th)

30:27
+4:42
10.
Olejnik Michal

(11th)

31:06
+5:21
11.
Zernis Rudolfs

(10th)

31:12
+5:27
MEN 3 common controls: 6-7
MEN 3 common controls: 6-7 (Legtimes)

1.
Bergman Gustav

(1st)

3:49

+0:00

0%

2.
Kyburz Matthias

(2nd)

3:52

+0:03

+1%

3.
Bako Aron

(7th)

3:56

+0:07

+8%

4.
Olejnik Michal

(11th)

3:58
+0:09

+10%

5.
Blumenstein Bojan

(9th)

4:03

+0:14

+7%

6.
Ojanaho Olli

(5th)

4:06

+0:17

0%

7.
Odum Soren Thrane

(6th)

4:09

+0:20

+1%

8.
Sild Timo

(13th)

4:09
+0:20

+10%

9.
Street Ralph

(15th)

4:13
+0:24

+2%

10.
Kral Vojtech

(3rd)

4:15
+0:26

-3%

11.
Zernis Rudolfs

(10th)

4:16
+0:27

0%

13.
Kinneberg Eskil

(4th)

4:23
+0:34

-5%

14.
Peter Mathias

(8th)

4:23
+0:34

0%

MEN 3 common controls: 6-7 (Total times)

1.
Bergman Gustav

(1st)

29:34
+0:00
2.
Kyburz Matthias

(2nd)

30:17
+0:43
3.
Kral Vojtech

(3rd)

31:39
+2:05
4.
Ojanaho Olli

(5th)

31:47
+2:13
5.
Kinneberg Eskil

(4th)

31:51
+2:17
6.
Odum Soren Thrane

(6th)

32:28
+2:54
7.
Bako Aron

(7th)

33:06
+3:32
8.
Blumenstein Bojan

(9th)

34:30
+4:56
9.
Peter Mathias

(8th)

34:33
+4:59
10.
Olejnik Michal

(11th)

35:04
+5:30
11.
Zernis Rudolfs

(10th)

35:28
+5:54
MEN 3 common controls: 7-8
MEN 3 common controls: 7-8 (Legtimes)

1.
Olejnik Michal

(11th)

1:10
+0:00

+16%

2.
Kyburz Matthias

(2nd)

1:13

+0:03

0%

3.
Bako Aron

(7th)

1:14

+0:04

+7%

4.
Bergman Gustav

(1st)

1:15

+0:05

-5%

5.
Tranchand Frederic

(12th)

1:15
+0:05

+8%

6.
Kral Vojtech

(3rd)

1:16

+0:06

0%

7.
Kinneberg Eskil

(4th)

1:17

+0:07

0%

8.
Sild Timo

(13th)

1:17
+0:07

+11%

9.
Zernis Rudolfs

(10th)

1:18

+0:08

+2%

10.
Panchenko Artem

(14th)

1:18
+0:08

+10%

11.
Odum Soren Thrane

(6th)

1:19

+0:09

0%

12.
Blumenstein Bojan

(9th)

1:20

+0:10

+2%

13.
Peter Mathias

(8th)

1:20

+0:10

+1%

16.
Ojanaho Olli

(5th)

1:25

+0:15

-10%

MEN 3 common controls: 7-8 (Total times)

1.
Bergman Gustav

(1st)

30:49
+0:00
2.
Kyburz Matthias

(2nd)

31:30
+0:41
3.
Kral Vojtech

(3rd)

32:55
+2:06
4.
Kinneberg Eskil

(4th)

33:08
+2:19
5.
Ojanaho Olli

(5th)

33:12
+2:23
6.
Odum Soren Thrane

(6th)

33:47
+2:58
7.
Bako Aron

(7th)

34:20
+3:31
8.
Blumenstein Bojan

(9th)

35:50
+5:01
9.
Peter Mathias

(8th)

35:53
+5:04
10.
Olejnik Michal

(11th)

36:14
+5:25
11.
Zernis Rudolfs

(10th)

36:46
+5:57