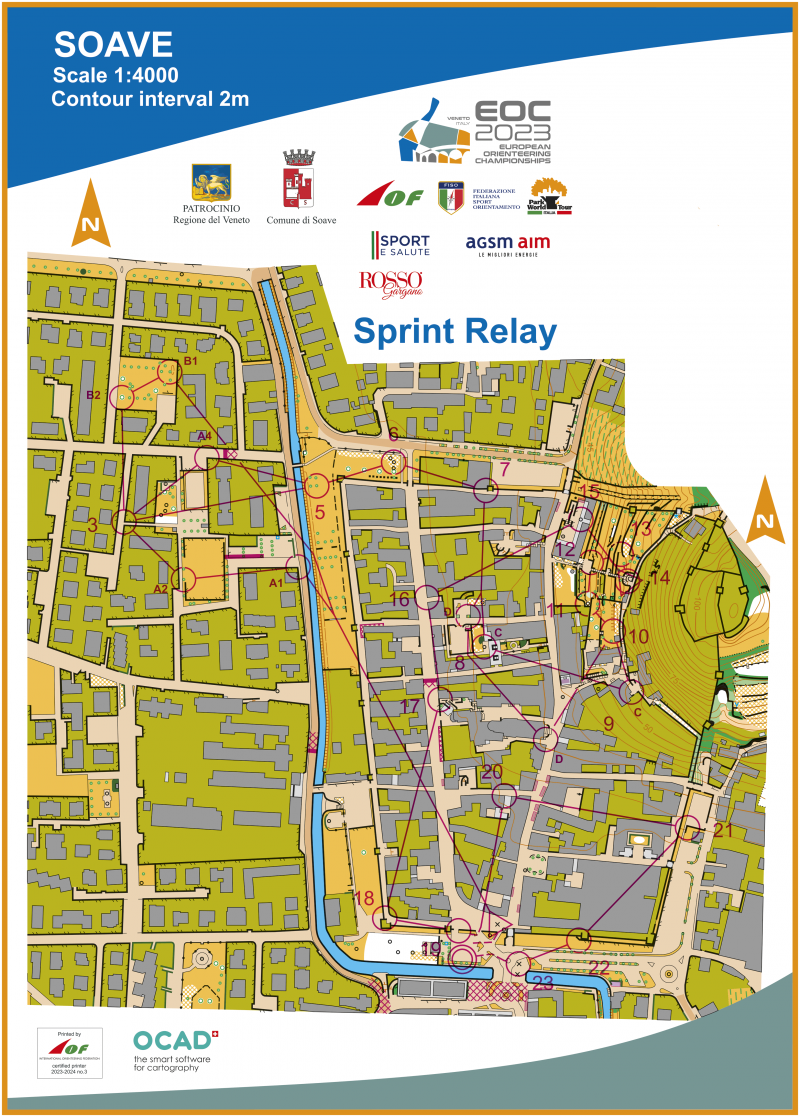 Sweden won a clear victory in the European Championships (EOC) Sprint Relay ahead of Switzerland and Finland. In the Swedish team, Tove Alexandersson led the field after the first leg – giving  Jonatan Gustafsson a gap out on the second leg which Martin Regborn and Sara Hagstrom managed to increase steadily to the finish.
Behind Sweden, there was a close fight for the remaining podium spots, which Elena Roos of Switzerland decided in the last leg in the last international championship of her career. Venla Harju took Finland to bronze after running away from Norway's Victoria Hæstad Bjørnstad on the last leg. France and Great Britain finished off the podium.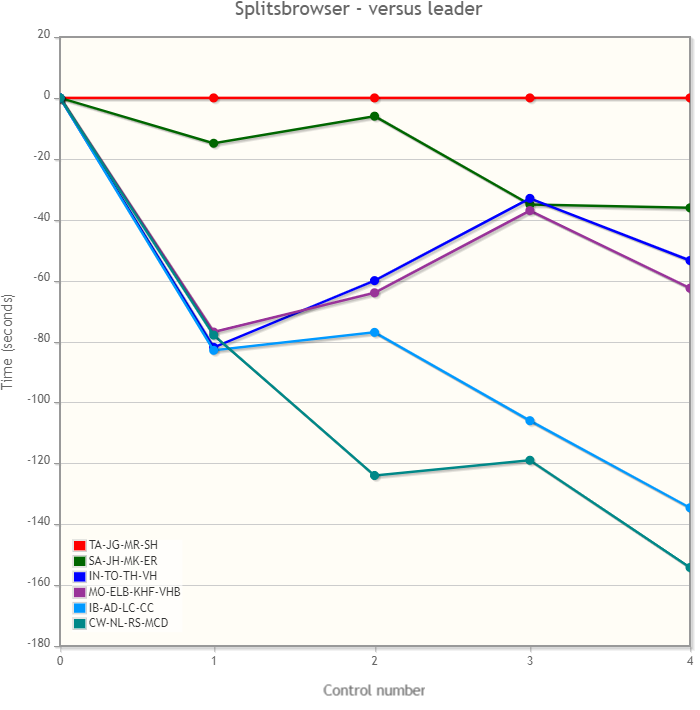 The above illustration shows the race development with whole legs along the x-axis, and with the initials of the runners in the legend. Here Red is Sweden, Green in Switzerland, Blue is Finland, Violet is Norway, Light Blue is France and the Green-Blue is Great Britain. The illustration shows how it looked like it was only Sweden and Switzerland battling it out for the gold on the first two legs, then Matthias Kyburz did a major mistake at the start of the 3rd leg, letting Norway and Finland into the battle for the medals – the silver and bronze medalists from Wednesday running very good races.
On the 3rd leg the speed was too high for France and Great Britain, and the battle for silver and bronze was therefore between Switzerland, Finland and Norway on the last leg.
See below for graphical representations of the split times for the common controls on each leg. Note that this does not give the current standings (except for leg 1), but the leg development assuming a mass start – and that there are also some forking differences here.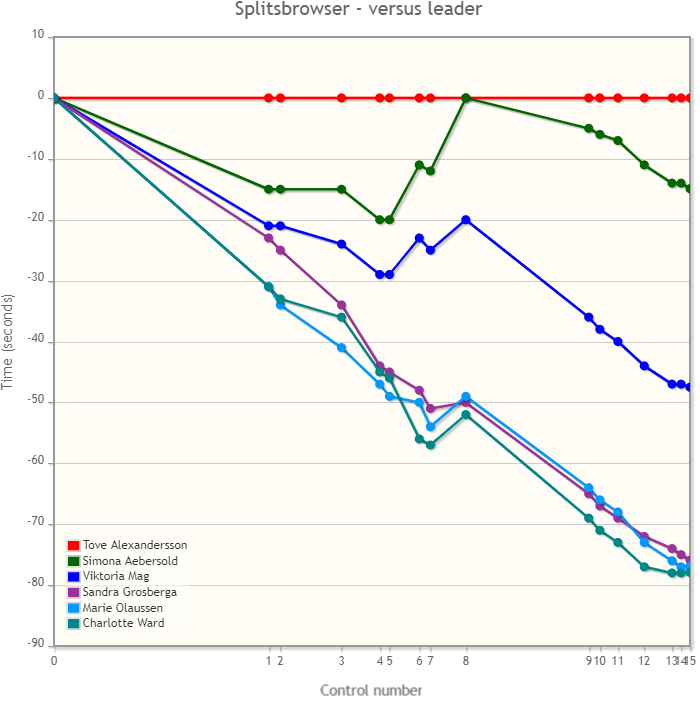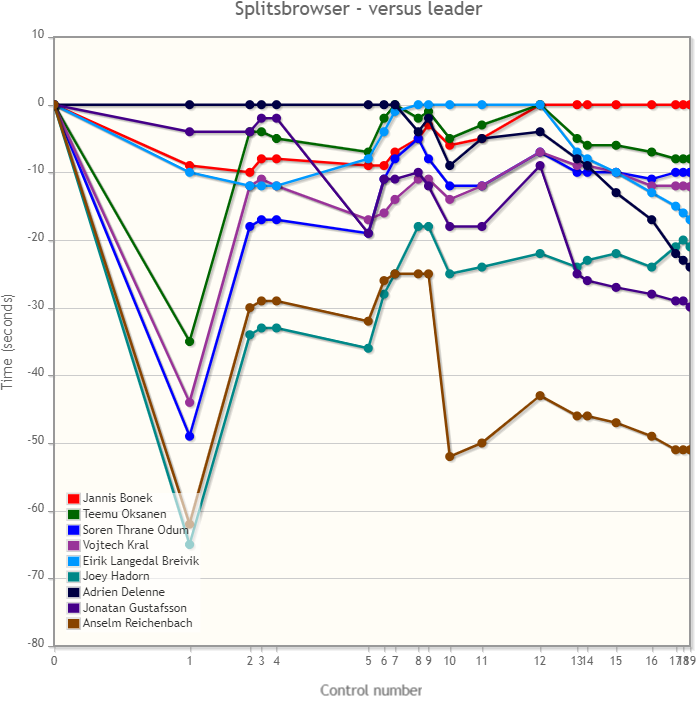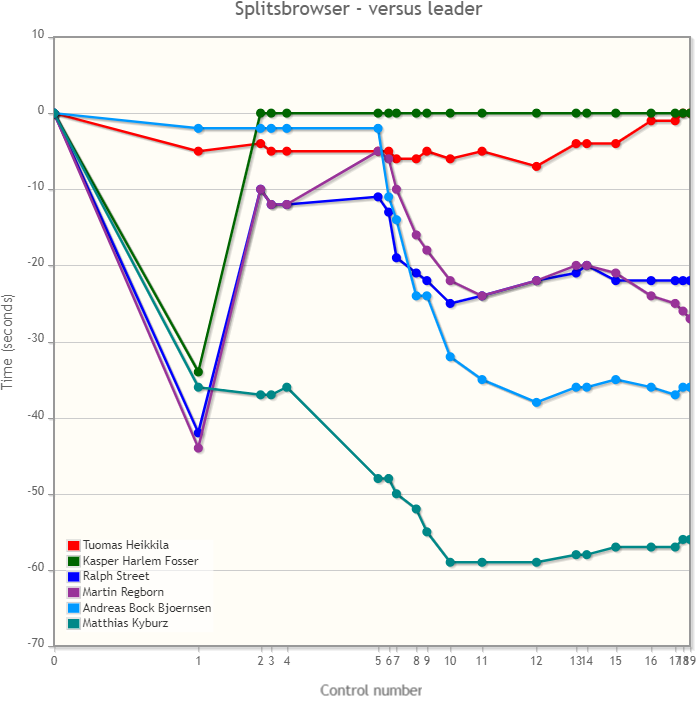 Maps and GPS-tracking
See below for links to maps and GPS-tracking.
Results
| | | | | | | | | | |
| --- | --- | --- | --- | --- | --- | --- | --- | --- | --- |
| 1 | Sweden | | | | 1:02:35.20 | | | | |
| | 1. Tove Alexandersson | 15:15.90 | 1 | | 15:15.90 | 1 | | | |
| | 2. Jonatan Gustafsson | 15:58.90 | 8 | +0:29.90 | 31:14.80 | 1 | 0 | | 0:00.00 |
| | 3. Martin Regborn | 15:26.00 | 4 | +0:27.00 | 46:40.80 | 1 | 0 | | 0:00.00 |
| | 4. Sara Hagstrom | 15:54.40 | 1 | | 1:02:35.20 | 1 | 0 | | 0:00.00 |
| 2 | Switzerland | | | | 1:03:11.30 | | | +0:36.10 | |
| | 1. Simona Aebersold | 15:30.80 | 2 | +0:14.90 | 15:30.80 | 2 | | +0:14.90 | |
| | 2. Joey Hadorn | 15:50.00 | 6 | +0:21.00 | 31:20.80 | 2 | 0 | +0:06.00 | -0:08.90 |
| | 3. Matthias Kyburz | 15:55.00 | 7 | +0:56.00 | 47:15.80 | 3 | +1 | +0:35.00 | +0:29.00 |
| | 4. Elena Roos | 15:55.50 | 2 | +0:01.10 | 1:03:11.30 | 2 | -1 | +0:36.10 | +0:01.10 |
| 3 | Finland | | | | 1:03:28.60 | | | +0:53.40 | |
| | 1. Inka Nurminen | 16:37.80 | 7 | +1:21.90 | 16:37.80 | 7 | | +1:21.90 | |
| | 2. Teemu Oksanen | 15:37.00 | 2 | +0:08.00 | 32:14.80 | 3 | -4 | +1:00.00 | -0:21.90 |
| | 3. Tuomas Heikkila | 14:59.00 | 1 | | 47:13.80 | 2 | -1 | +0:33.00 | -0:27.00 |
| | 4. Venla Harju | 16:14.80 | 3 | +0:20.39 | 1:03:28.60 | 3 | +1 | +0:53.40 | +0:20.40 |
| 4 | Norway | | | | 1:03:37.70 | | | +1:02.50 | |
| | 1. Marie Olaussen | 16:32.80 | 5 | +1:16.90 | 16:32.80 | 5 | | +1:16.90 | |
| | 2. Eirik Langedal Breivik | 15:46.00 | 5 | +0:17.00 | 32:18.80 | 4 | -1 | +1:04.00 | -0:12.90 |
| | 3. Kasper Harlem Fosser | 14:59.00 | 1 | | 47:17.80 | 4 | 0 | +0:37.00 | -0:27.00 |
| | 4. Victoria Haestad Bjornstad | 16:19.90 | 4 | +0:25.50 | 1:03:37.70 | 4 | 0 | +1:02.50 | +0:25.50 |
| 5 | France | | | | 1:04:49.80 | | | +2:14.60 | |
| | 1. Isia Basset | 16:38.80 | 8 | +1:22.90 | 16:38.80 | 8 | | +1:22.90 | |
| | 2. Adrien Delenne | 15:53.00 | 7 | +0:24.00 | 32:31.80 | 5 | -3 | +1:17.00 | -0:05.90 |
| | 3. Loic Capbern | 15:55.00 | 7 | +0:56.00 | 48:26.80 | 5 | 0 | +1:46.00 | +0:29.00 |
| | 4. Cecile Calandry | 16:23.00 | 5 | +0:28.60 | 1:04:49.80 | 5 | 0 | +2:14.60 | +0:28.60 |
| 6 | Great Britain | | | | 1:05:09.40 | | | +2:34.19 | |
| | 1. Charlotte Ward | 16:33.80 | 6 | +1:17.90 | 16:33.80 | 6 | | +1:17.90 | |
| | 2. Nathan Lawson | 16:45.00 | 15 | +1:16.00 | 33:18.80 | 10 | +4 | +2:04.00 | +0:46.10 |
| | 3. Ralph Street | 15:21.00 | 3 | +0:22.00 | 48:39.80 | 7 | -3 | +1:59.00 | -0:05.00 |
| | 4. Megan Carter Davies | 16:29.60 | 6 | +0:35.19 | 1:05:09.40 | 6 | -1 | +2:34.19 | +0:35.19 |
| 7 | Denmark | | | | 1:05:35.40 | | | +3:00.20 | |
| | 1. Ida Agervig Kristiansson | 17:20.80 | 11 | +2:04.90 | 17:20.80 | 11 | | +2:04.90 | |
| | 2. Soren Thrane Odum | 15:39.00 | 3 | +0:10.00 | 32:59.80 | 7 | -4 | +1:45.00 | -0:19.90 |
| | 3. Andreas Bock Bjoernsen | 15:35.00 | 5 | +0:36.00 | 48:34.80 | 6 | -1 | +1:54.00 | +0:09.00 |
| | 4. Cecilie Friberg Klysner | 17:00.60 | 10 | +1:06.19 | 1:05:35.40 | 7 | +1 | +3:00.20 | +1:06.20 |
| 8 | Hungary | | | | 1:05:41.40 | | | +3:06.20 | |
| | 1. Viktoria Mag | 16:03.40 | 3 | +0:47.50 | 16:03.40 | 3 | | +0:47.50 | |
| | 2. Zoltan Bujdoso | 16:39.40 | 14 | +1:10.40 | 32:42.80 | 6 | +3 | +1:28.00 | +0:40.50 |
| | 3. Mihaly Ormay | 16:23.00 | 14 | +1:24.00 | 49:05.80 | 9 | +3 | +2:25.00 | +0:57.00 |
| | 4. Rita Maramarosi | 16:35.60 | 8 | +0:41.19 | 1:05:41.40 | 8 | -1 | +3:06.20 | +0:41.20 |
| 9 | Czechia | | | | 1:05:47.20 | | | +3:12.00 | |
| | 1. Jana Peterova | 17:25.70 | 13 | +2:09.80 | 17:25.70 | 13 | | +2:09.80 | |
| | 2. Vojtech Kral | 15:41.10 | 4 | +0:12.09 | 33:06.80 | 9 | -4 | +1:52.00 | -0:17.80 |
| | 3. Tomas Krivda | 15:58.00 | 9 | +0:59.00 | 49:04.80 | 8 | -1 | +2:24.00 | +0:32.00 |
| | 4. Tereza Janosikova | 16:42.40 | 9 | +0:48.00 | 1:05:47.20 | 9 | +1 | +3:12.00 | +0:48.00 |
| 10 | Austria | | | | 1:07:17.50 | | | +4:42.30 | |
| | 1. Ylvi Kastner | 17:31.80 | 17 | +2:15.90 | 17:31.80 | 17 | | +2:15.90 | |
| | 2. Jannis Bonek | 15:29.00 | 1 | | 33:00.80 | 8 | -9 | +1:46.00 | -0:29.90 |
| | 3. Matthias Groell | 16:34.00 | 16 | +1:35.00 | 49:34.80 | 10 | +2 | +2:54.00 | +1:08.00 |
| | 4. Laura Ramstein | 17:42.70 | 15 | +1:48.30 | 1:07:17.50 | 10 | 0 | +4:42.30 | +1:48.30 |
| 11 | Germany | | | | 1:07:43.60 | | | +5:08.39 | |
| | 1. Paula Starke | 17:27.80 | 14 | +2:11.90 | 17:27.80 | 14 | | +2:11.90 | |
| | 2. Anselm Reichenbach | 16:20.00 | 12 | +0:51.00 | 33:47.80 | 14 | 0 | +2:33.00 | +0:21.10 |
| | 3. Colin Kolbe | 16:31.00 | 15 | +1:32.00 | 50:18.80 | 13 | -1 | +3:38.00 | +1:05.00 |
| | 4. Patricia Nieke | 17:24.80 | 13 | +1:30.40 | 1:07:43.60 | 11 | -2 | +5:08.39 | +1:30.39 |
| 12 | Italy | | | | 1:07:50.70 | | | +5:15.50 | |
| | 1. Caterina Dallera | 18:14.80 | 19 | +2:58.90 | 18:14.80 | 19 | | +2:58.90 | |
| | 2. Francesco Mariani | 16:08.00 | 9 | +0:39.00 | 34:22.80 | 17 | -2 | +3:08.00 | +0:09.10 |
| | 3. Riccardo Scalet | 15:48.00 | 6 | +0:49.00 | 50:10.80 | 12 | -5 | +3:30.00 | +0:22.00 |
| | 4. Maddalena De Biasi | 17:39.90 | 14 | +1:45.50 | 1:07:50.70 | 12 | 0 | +5:15.50 | +1:45.50 |
| 13 | Latvia | | | | 1:07:51.80 | | | +5:16.60 | |
| | 1. Sandra Grosberga | 16:31.80 | 4 | +1:15.90 | 16:31.80 | 4 | | +1:15.90 | |
| | 2. Andris Jubelis | 16:59.00 | 16 | +1:30.00 | 33:30.80 | 11 | +7 | +2:16.00 | +1:00.10 |
| | 3. Rudolfs Zernis | 16:10.00 | 10 | +1:11.00 | 49:40.80 | 11 | 0 | +3:00.00 | +0:44.00 |
| | 4. Elza Kuze | 18:11.00 | 17 | +2:16.60 | 1:07:51.80 | 13 | +2 | +5:16.60 | +2:16.60 |
| 14 | Spain | | | | 1:08:41.60 | | | +6:06.40 | |
| | 1. Nerea Gonzalez | 17:31.20 | 16 | +2:15.30 | 17:31.20 | 16 | | +2:15.30 | |
| | 2. Eduardo Gil Marcos | 17:09.59 | 18 | +1:40.60 | 34:40.80 | 18 | +2 | +3:26.00 | +1:10.70 |
| | 3. Alvaro Casado | 16:10.00 | 10 | +1:11.00 | 50:50.80 | 15 | -3 | +4:10.00 | +0:44.00 |
| | 4. Ana Isabel Toledo | 17:50.80 | 16 | +1:56.40 | 1:08:41.60 | 14 | -1 | +6:06.40 | +1:56.40 |
| 15 | Poland | | | | 1:08:51.70 | | | +6:16.50 | |
| | 1. Hanna Wisniewska | 18:51.80 | 22 | +3:35.90 | 18:51.80 | 22 | | +3:35.90 | |
| | 2. Piotr Parfianowicz | 17:15.00 | 20 | +1:46.00 | 36:06.80 | 20 | -2 | +4:52.00 | +1:16.10 |
| | 3. Michal Olejnik | 16:11.00 | 12 | +1:12.00 | 52:17.80 | 19 | -1 | +5:37.00 | +0:45.00 |
| | 4. Aleksandra Hornik | 16:33.90 | 7 | +0:39.50 | 1:08:51.70 | 15 | -4 | +6:16.50 | +0:39.50 |