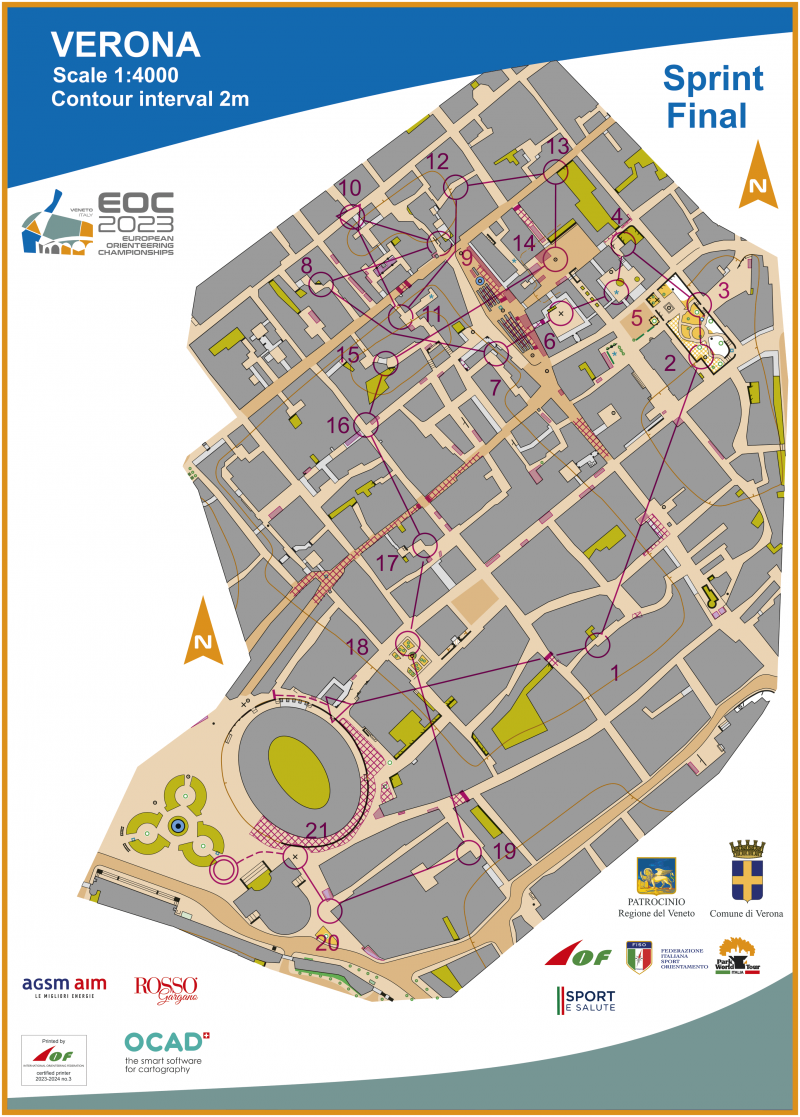 Matthias Kyburz (Switzerland) and Sara Hagström (Sweden) won the European Championships (EOC) Sprint in the historical city center of Verona, on a day were high speed and flawless orienteering was required in the relatively easy courses set in the flat terrain.
In the men's class, the battle for the gold medal was very close – with Kyburz in the end winning with a 4 second gap to Kasper Fosser (Norway). Fosser was ahead of Kyburz at control 18, but lost 1-2 seconds on 3 of the 4 last legs – Kyburz showing off his trademark strong finish. The third place went to today's big surprise – Finland's Tuomas Heikkila, one second behind – snatching the bronze medal one second ahead of Ralph Street (Great Britain) and Martin Regborn (Sweden) in shared fourth place.
The lack of technical challenges led to very close races – with a maximum of 7 seconds between the Top-4 in the men's race throughout the course, as you can see in the split time illustrations below. The few route choice challenges given did not separate the runners much – you were only punished with a few second's time loss when you took the wrong route. Below the spilt time illustrations, a few of the most interesting legs from the men's class are shown including route choices and time losses for the runners.
In the women's class most expected Tove Alexandersson (Sweden) to battle for the win with Simona Aebersold (Switzerland), but in the end Hagström had a faster finish and took the gold medal with 8 seconds margin to Alexandersson – after Alexandersson had been in the lead two controls before the finish. Aebersold finished in third, 23 seconds down, after being in the lead halfway but losing valuable time and losing out of the battle for the win to the 13th control. The last runner in the battle for the medals was Megan Carter-Davies (Great Britain), last year's WOC winner, who was close to the medals until doing a big mistake to the 13th control. Neither Aebersold of Carter-Davies lost time due to a routechoice mistake, but did technical mistakes.
Split time illustrations
Men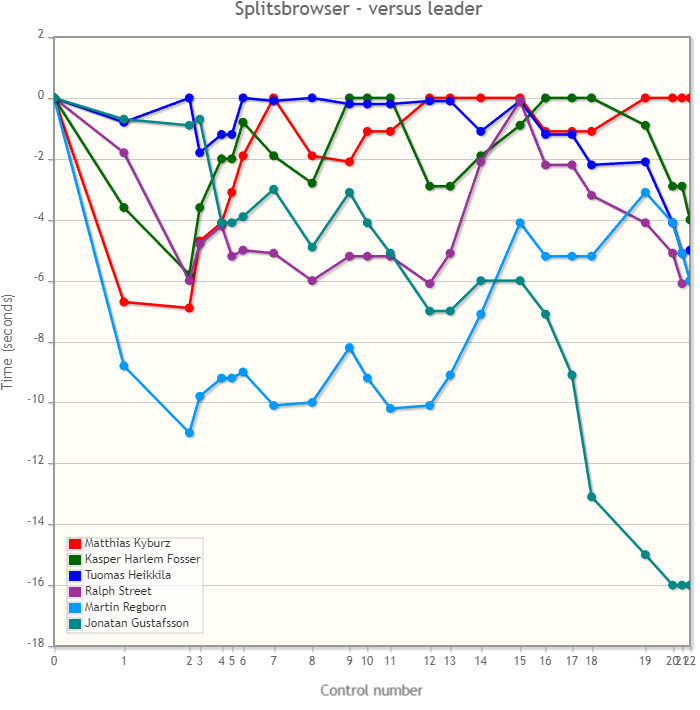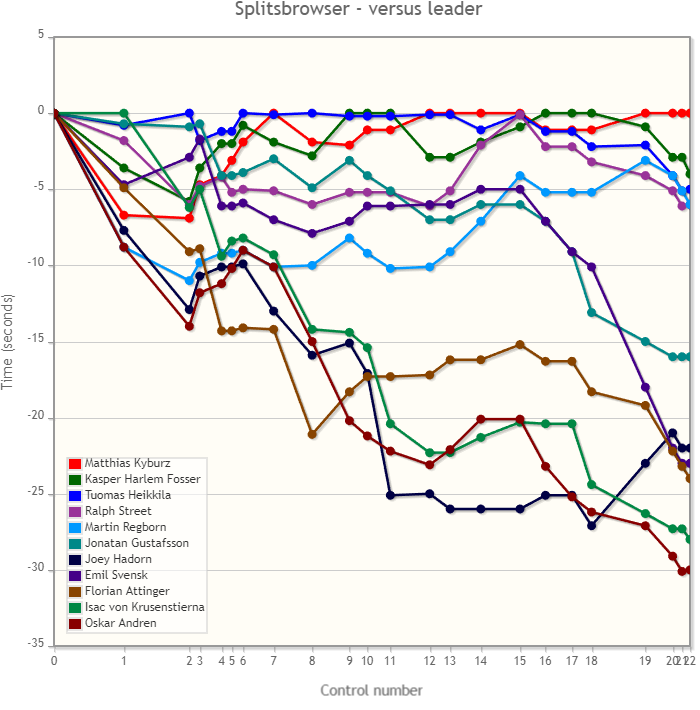 Women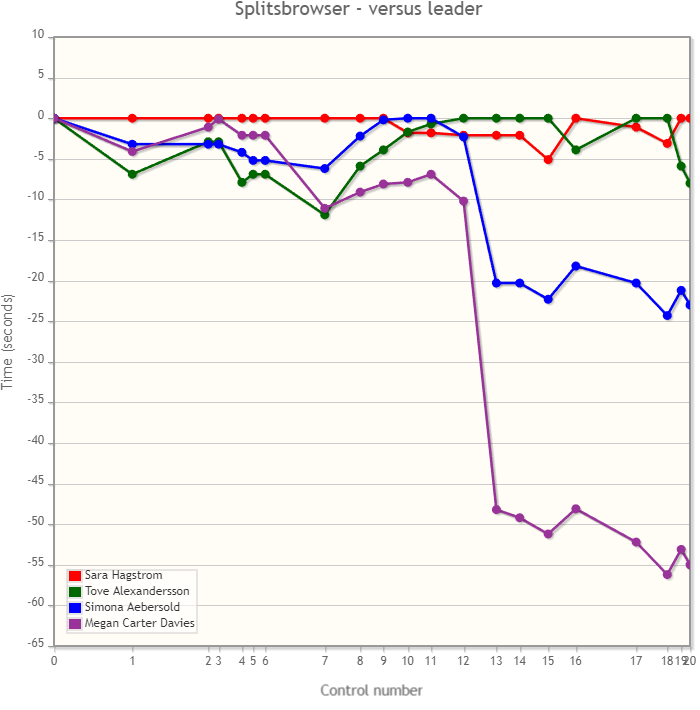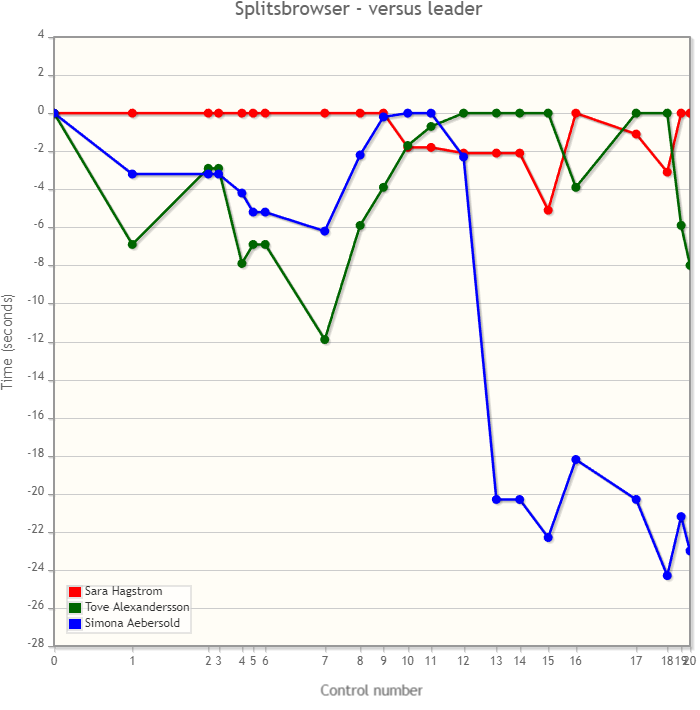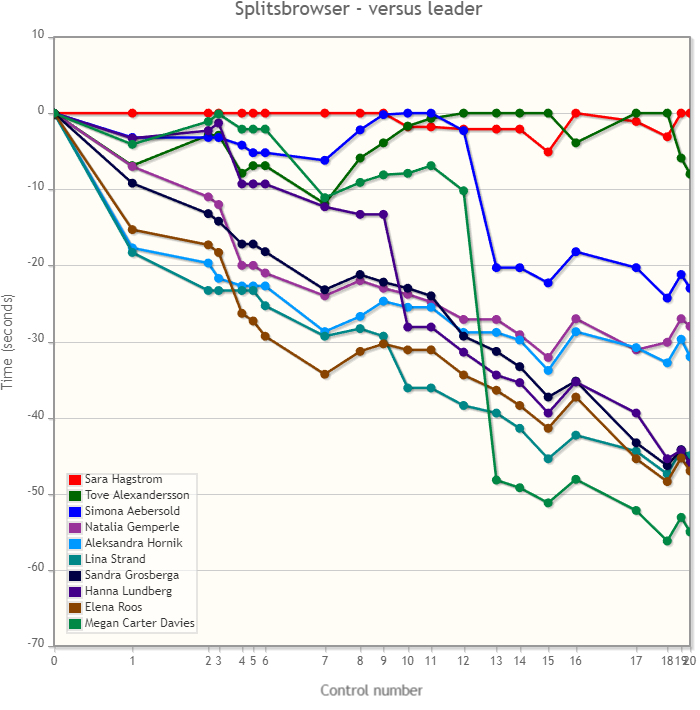 GPS-tracking illustrations
A collection of the most challenging legs routechoice-wise are shown below – the examples are from the men's course, but very similar legs were run in the women's class. Even if you took the wrong route, you only lost a few seconds.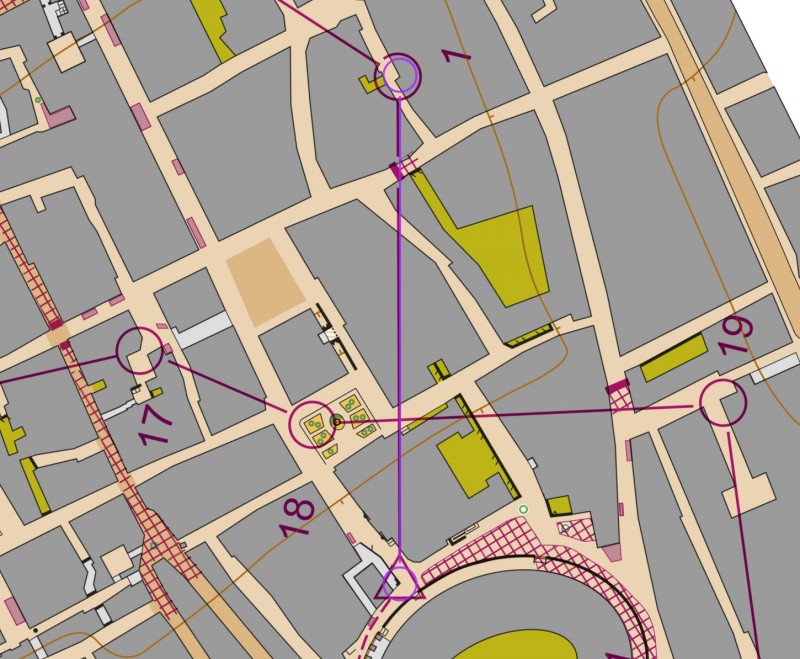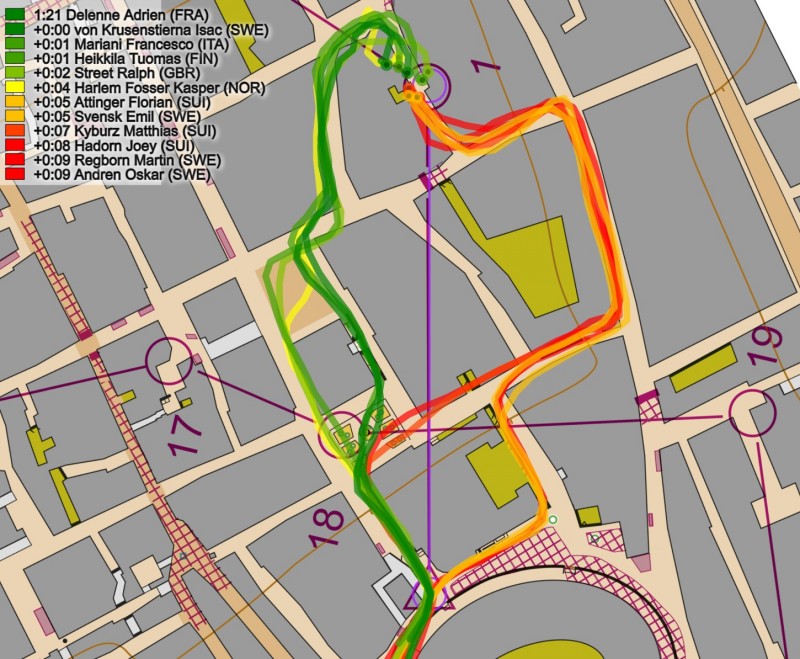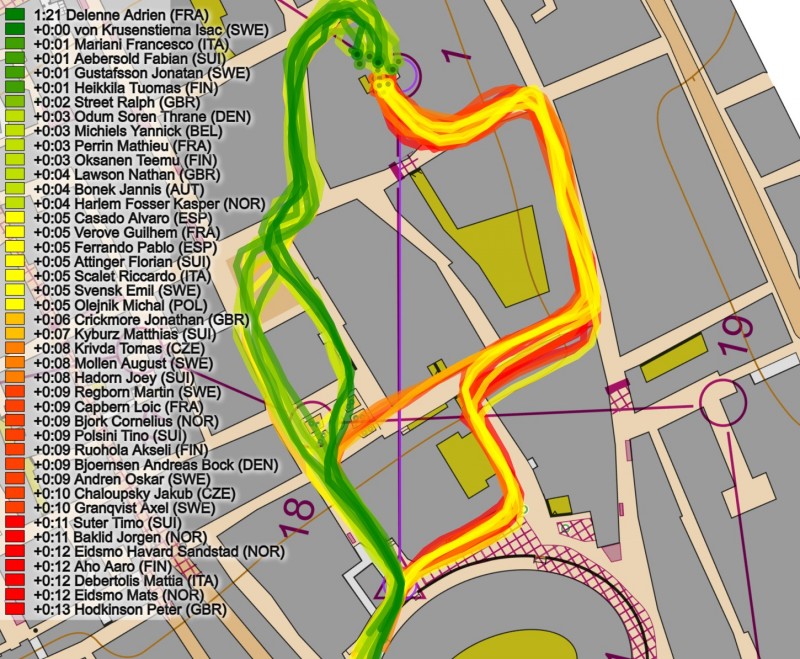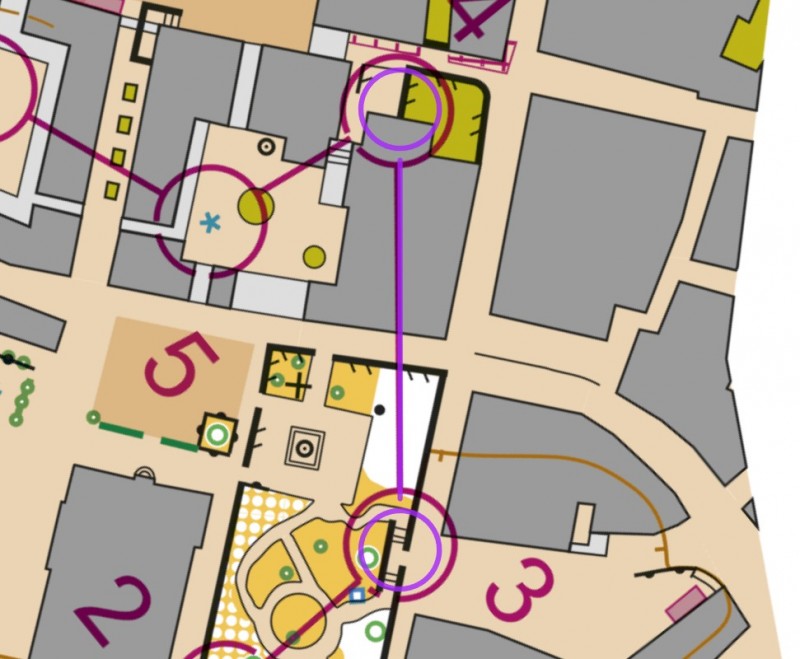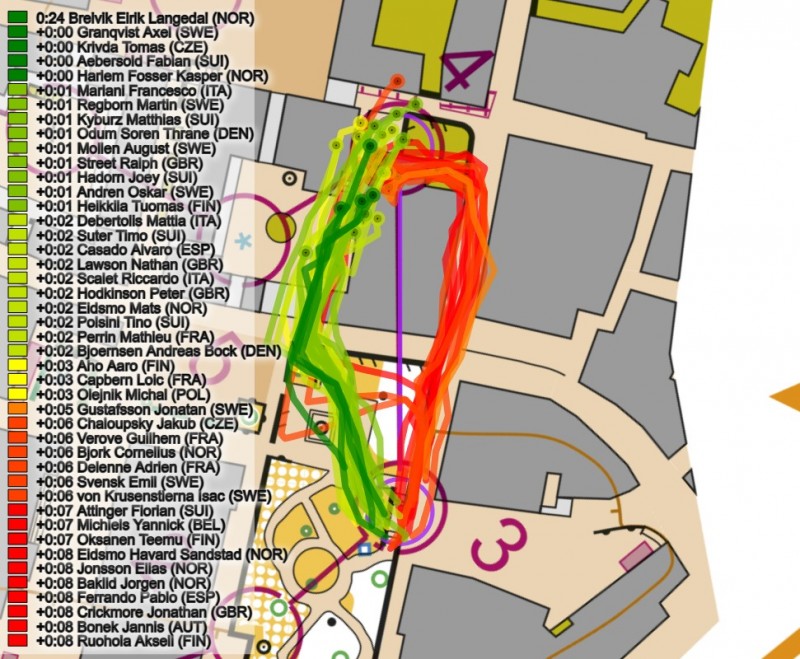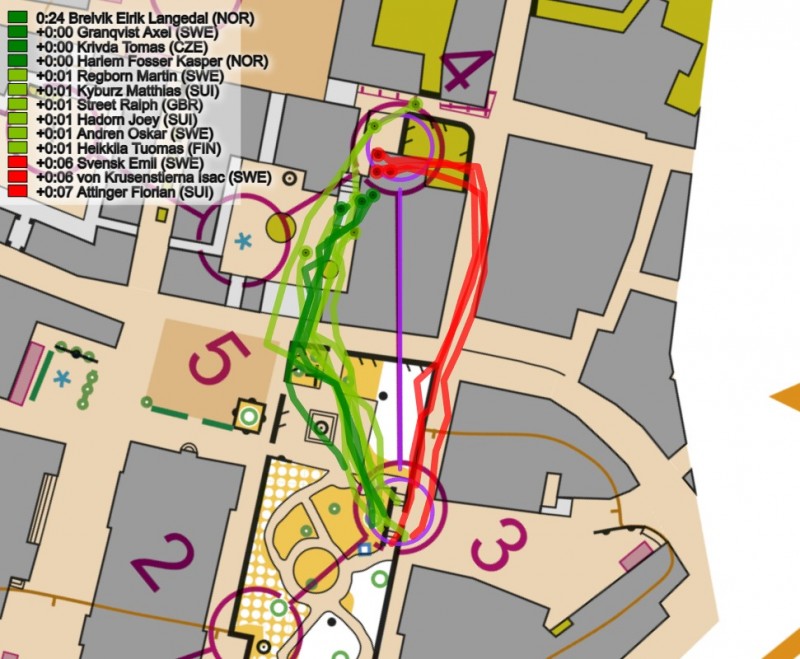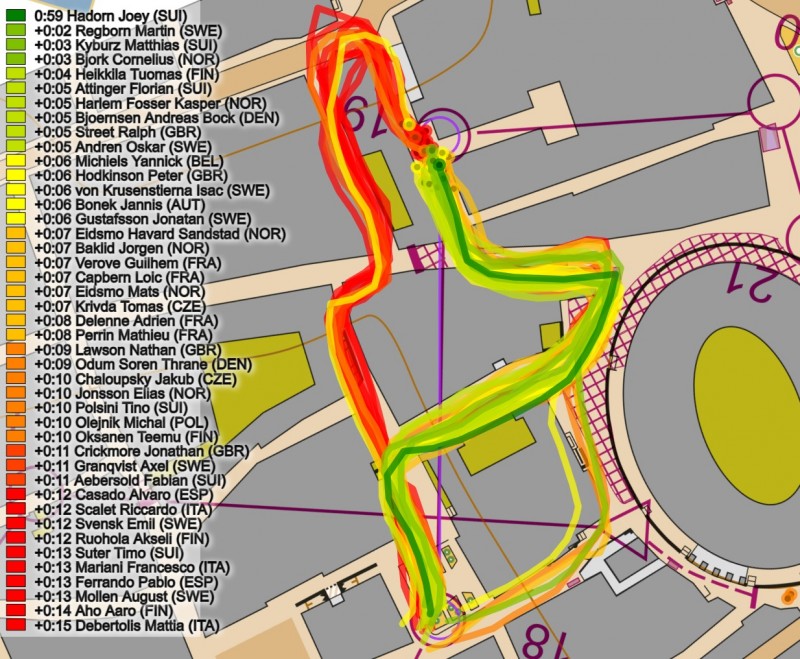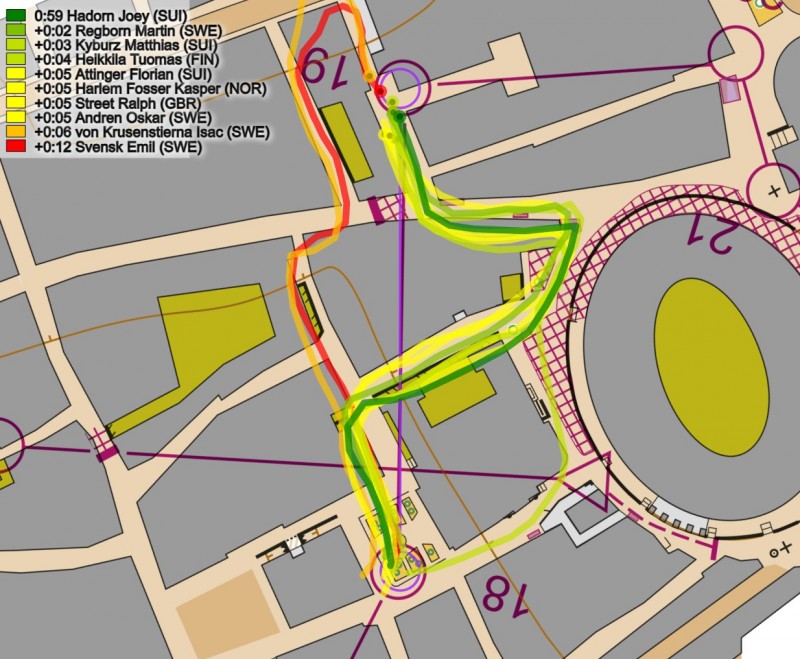 Maps and GPS-tracking
See the map from the men's class on the top of the page and the women's map here. Click the maps below to get to the GPS-tracking via omaps.worldofo.com.
EOC 2023, Sprint Men

» See map in omaps.worldofo.com
EOC 2023, Sprint Women

» See map in omaps.worldofo.com
Results
Men
Women