Posted by Jan Kocbach, 24 Sep 2007@19:50
This weekend, I used the Norwegian Champs Night Orienteering to test some methods to analyze orienteering races better using a GPS unit. What I wanted was to get easy information about (1) how fast I am in certain terrain types, in minutes per kilometer to improve my route choices – and (2) to compare my speed at the start of a race compared to the end of a race, to see if I can keep my pace up.
Routegadget on speed
I have until now used routegadget to upload my GPS tracks from my Garmin Forerunner 305 GPS watch. That works perfectly, but does not give the information I describe above. There might be other tools which can do exactly what I want, but I have not found any yet. If there is, please send me an email about it – it would save me more work;) So I just made a small script which takes the Routegadget data, plots the track at the map in a jpg-file, and adds a red point every minute so that speed is seen by how close the red points are. In addition, I added the speed for the last minute in minutes per kilometer alongside the red point. It doesn't look pretty, but it is just the first step – I'll get it looking better later on if I need, I guess.
Update: I just got an e-mail from Jean Phillipe Stefanini telling me that Sporttracks can do what I want directly. However, it turns out that this does not cover my needs as you need to use mouseover to see the speed along the routechoice. What I wanted is a way to publish maps with speed info directly visible (e.g. on the internet). Also I think it is easier to grasp where time is lost when speed info is written directly on the map and you don't have to use a mouseover. In addition, in my opinion map calibration is more difficult with Sporttracks than with Routegadget. But thanks a lot for comments Jean Phillipe. Other comments from people with other experinces are also very welcome!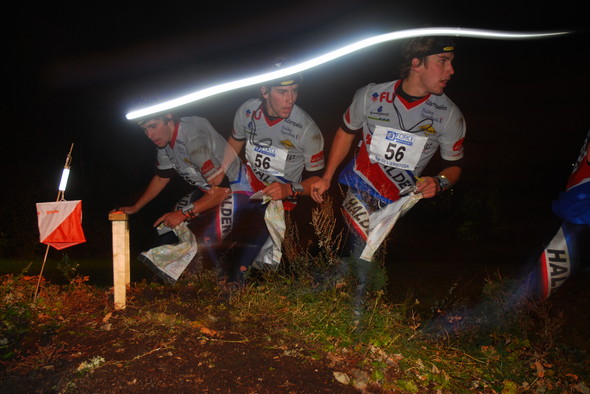 3.3 x Sindre Saksæther – number 12 at NM Night Orienteering 2007 – at the last control.
All of the course
Above you see one part of the course – below you see another part. Alternatively you can go here to see all of the map at once (big file). For the record – the results from the Norwegian Champs Night can be found here – I finished 29th after a run without any big mistakes.
Some examples of analysis,
Below: Out of control 12, you can see by counting the red points each minute in different terrain types that that I loose approximately 2 minutes by going through the green to the road instead of taking west through the white and following the path.
Above: Out of control 9 runnability was very bad where I choose to run, so running east around the path would have been faster. Probably also other places.
Below: I did not loose my pace in the end;)