Posted by Jan Kocbach, 22 Jul 2008@8:00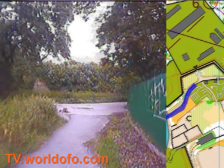 WoO-TV has prepared a runthrough video of the last (and decisive) part of the mens course in the WOC 2008 long distance final with a headcam. Alongside the video the map along with a GPS track is shown in a split screen and the running speed in minutes/km. Headcam-runner is Jan Kocbach.
Video quality is not the best. Thus, this is considered another video piece for the specially interested orienteer. Still – it is nice to see exactly what kind of challenges the competitors met when comparing with the map.
Enjoy the video!