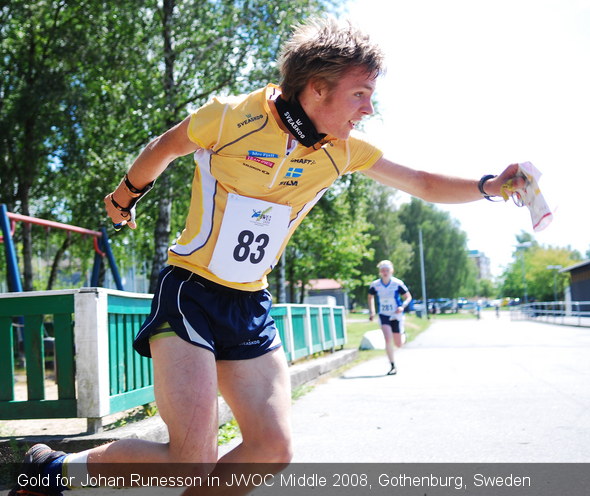 After being very close at the Sprint distance in both mens and womens categories, Sweden got its Gold medal at todays Middle distance with Johan Runesson after an excellent race in a very technical middle distance. In the womens class the Finn Venla Niemi took the victory after beating Swedens Beata Falk with about 30 seconds.

Happy about mistake
– It was good for me that I missed yesterday, because now I took it easy today, a happy Johan Runesson said after the victory was clear. Many of the late starters who had dominated the qualification yesterday got big problems in todays Final – and early starting Runesson had many nervous minutes in the finish area. In the end only Sören Bobach of the late starters managed to get on the podium – the bronze medalist from the Sprint getting another Bronze medal on the Middle distance today. Silver medal went to Norway and Ulf Forseth Indgaard – giving a full Scandinavian podium. Following within top 10 were only Finns and Swedes, except for Matthias Kyburz of Switzerland in the 9th spot.
1. Johan Runesson Sweden 30:45 +00:00
2. Ulf Forseth Indgaard Norway 31:16 +00:31
3. Sören Bobach Denmark 31:19 +00:34
4. Olli-Markus Taivainen Finland 31:21 +00:36
5. Olle Boström Sweden 31:29 +00:44
6. Pelle Engstrand Sweden 32:06 +01:21
7. Erik Liljekvist Sweden 32:08 +01:23
8. Leo Laakkonen Finland 32:16 +01:31
9. Matthias Kyburz Switzerland 32:20 +01:35
10. Gustav Bergman Sweden 33:10 +02:25
Scandinavian dominance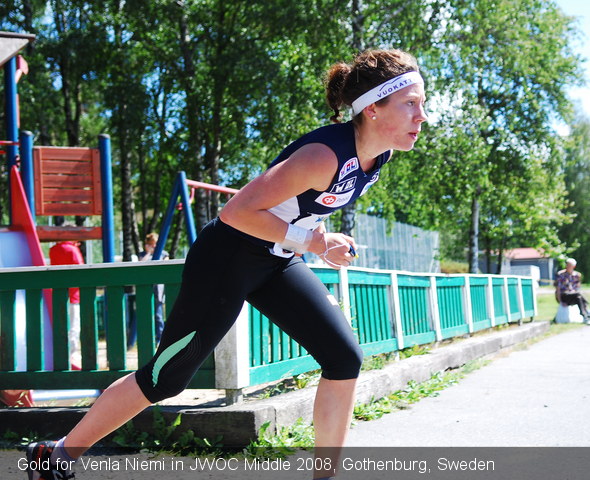 The Scandinavians dominated in the womens category as well. Except for French Karine D´Harreville in third spot, all the 6 best women were from Finlan and Sweden. Sweden got three women in the top 6 – the same as in the mens class. Looking at top 10, there are only two non-Scandinavians – D´Harreville in third spot and French Marine Leloup in 10th spot. This shows that the home ground advantage for the Swedes in this type of technical terrain is very strong. The Norwegian women did not manage to fight into the podium today – Mariann Ulvestad in 10th spot being the best.
1. Venla Niemi Finland 28:29 +00:00
2. Beata Falk Sweden 29:03 +00:34
3. Karine D`Harreville France 29:12 +00:43
4. Anna Forsberg Sweden 29:30 +01:01
5. Jenny Lönnkvist Sweden 29:40 +01:11
6. Marika Teini Finland 29:47 +01:18
7. Signe Klinting Denmark 30:19 +01:50
8. Mariann Ulvestad Norway 30:42 +02:13
9. Lina Strand Sweden 30:45 +02:16
10. Marine Leloup France 30:54 +02:25
– A very technical course
– We expected a very technical course after the qualification yesterday, bronze medalist in the mens class Sören Bobach said after his run. – And we got a very technical course. I made a mistake in the start, and I was very tired. I had to walk the last part of the long leg.