The Route to Christmas series has been very popular here at World of O the last years, and there have been many requests to offer some of these "O-puzzles" throughout the year. I have therefore decided to launch a similar series of "O-puzzles" throughout the rest of the year – at irregular intervals – named "O-Route Challenge". I do not promise a lot of posts, but if time allows and I see interesting routes I will post them here.

Starting off with Ski-O Woc
Based on previous feedback I know that quite a few of you will be disappointed with me starting off with a ski-orienteering leg, but as we have the World Ski-Orienteering Championships going these days, it feels very appropriate to start off in northern Sweden with the Ski WOC Sprint held earlier today. Not a very interesting leg – but still the most interesting today in my opinion.
The leg is as usually first provided without routes – you may take a look at it and think about how you would attack this leg (if the image is too small, you may click on it to get it larger):


Webroute
Next you can draw your own route using the 'Webroute' below. Think through how you would attack this leg, and draw the route you would have made. Some comments about why you would choose a certain route are always nice for the other readers.
Finally you can take a look at the GPS-data of the best skiers on each of the three alternative routes. Note that times are off the GPS, so there might be some inaccuracies at the start/end of each track.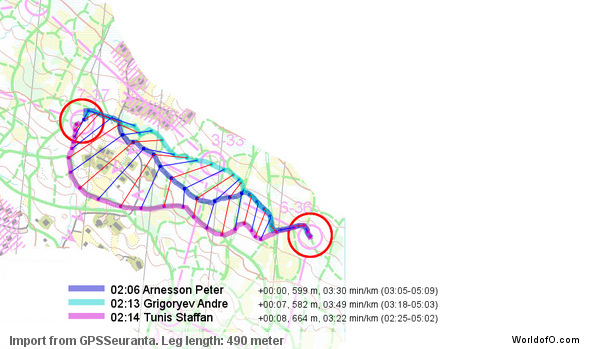 Bonus: Pace distribution over the course
As a bonus I have assembled a pace distribution over the course. Here you can see how fast the fastest skier (of the ones with GPS) was at any point on the track.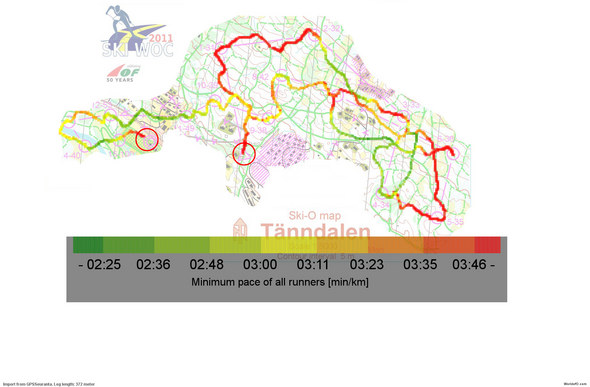 Complete map
The complete map is available here in omaps.worldofo.com.