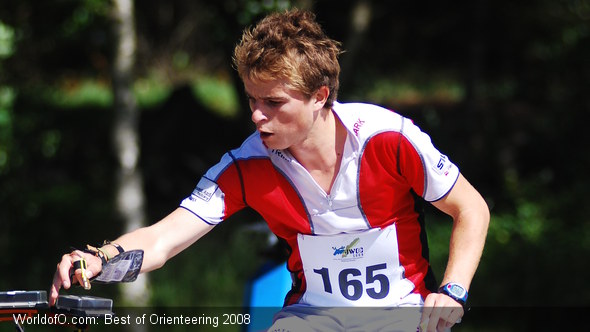 Søren Bobach started the spring season of 2008 very good – with very good runs on both 10Mila and Jukola. Injuries made preparations for JWOC less than ideal, but Bobach still returned home from Gothenburg with two Bronze medals at this years Junior World Champs. Below Bobach is presented for the nomination "The Ultimate Junior Orienteer of 2008″ through an interview made by World of O and Ultimate Orienteering.
Nominated for: Two bronze medals in Junior World Orienteering Champs in Gothenburg – over the sprint and middle distance. In addition very good runs on the big relays – Jukola and 10Mila.
About: Two of the major sources for international orienteering news on the Internet – World of O and Ultimate Orienteering – are organizing a poll to name "The Orienteering Achievement of 2008″ and "The Ultimate Junior Orienteer of 2008″. The winner in each category is decided in a vote amongst all the readers of World of O and Ultimate Orienteering after all nominees have been presented. Starting November 12th we present all nominees on a day-by-day basis. The poll is sponsored by Trimtex. Voting will be possible after all nominees have been presented from the voting page. See also all nominees in the initial press release.


Interview with Søren Bobach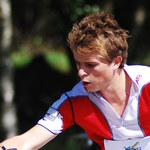 Give a short presentation of yourself.
My name is Søren Bobach and I'm 19 years old. I come from Denmark and live in a small town called Virklund. It lies next to some of the best and toughest terrains in Denmark, it's the area round Silkeborg. I'm still at high school and have almost 2 years left. When I'm not training you probably find me together with some of my friends or in front of the TV. I like to grab a beer with my friends or go to party in the weekends. My friends are very important to me. I also do other sport activities like football, volley and handball.
What was the highlight of the 2008 season for you?
The highlight of 2008 got to be JWOC. I knew that I could manage the terrain and before I got injured, I was in a pretty good shape. But coming to a championship without knowing whether you are running or not, is odd. But hopefully my leg was fine and I could run without pain. I got two medals, which was awesome. But I'm not totally satisfied with my performance. I made too many mistakes, but most of the time I acted like I should, and that was very important to me.
I like to grab a beer with my friends or go to party
in the weekends
What is your thought about being nominated for the orienteering achievement of 2008?
I'm surprised to be nominated for this award, it's a very nice surprise, but it wasn't expected. I know I had a very good spring season, with good runs on 10mila and Jukola. But I have missed half the season due to an injury in my leg.
What are your main goals for the future?
My main goals for next year are JWOC. Next year is my last as a junior and I will use most of my energy preparing for JWOC. I want to take some medals and definitely gold on the long distance. It's the only distance where I haven't been on the podium. Some smaller goals are getting on the 1st Team in 10mila and Jukola and helping the others to win those relays, and I would also like to run the WOC in Hungary, but it would be a bonus because my focus is still JWOC. In some years my goal is to be among the best runners in the world, and I want to win several gold medals.
Where is your favourite place to orienteer – where you would advice our readers to travel?
That is a hard question. I have been to so many places. But there are some terrains I just think you HAVE to visit. One of my favorites is the terrain in San Bernadino where the JWOC 2005 relay was held. I think it's a very nice terrain. Another area that I think exciting is Clermont Ferrand in France. It is very difficult orienteering and that's why I like it so much. I was there on a training camp last year. The last area I will mention is the area in which JEC 2007 was held. I can't remember the name of the area. It's very open forest with bushes and stone formations.
Can you describe your thoughest training week in 2008 (day-by-day)? Did that have any specific impact for your great achievements in 2008?
I think my toughest training week in 2008 is when I was in Portugal with Halden SK in the beginning of February. I had 7 training days with two trainings each day and totally 14 hours.
Day 1: 2 technique trainings and I ran fast on the first one. 1:52 altogether.
Day 2: This day included the first competition at Portugal O'meeting. It was a middle distance. In the afternoon we had technique training. 2:11 altogether.
Day 3: The second day at POM was a short long distance with a winning time on 70min. Just 1:30-2:00 after finishing the competition we had technique training. 2:14 altogether.
Day 4: Another short long distance. I was starting to be exhausted but I kept pushing my self to run fast. Then technique training in the afternoon. 2:33 altogether.
Day 5: The last competition day was a middle distance again. And again we had technique training in the afternoon. 1:58 altogether.
Day 6: We drove to Spain to have a day there with trainings. We ran to technique trainings, and I took it bit easier this day. 2:02 altogether.
Day 7: The last day for me. Two technique trainings and the last was a sprint, so I ran fast again. 1:37 altogether.
I was very exhausted when I got home. These training weeks did that I was in a good shape when the season started. It made me more tough which I needed for JWOC in Gothenburg.
One of my favorites is the terrain
in San Bernadino where the JWOC 2005 relay was held
Are you a professional orienteer? How many percent is your work/study that you do besides orienteering compared to a full position – and how many hours do you train each year?
I don't think I can call myself a professional orienteer. I don't study fulltime but I still have a lot to do with school. I'm using 4 years on something that normally takes 3 years. And I don't have time for a job.
In your training: Do you put priority on running in the forest or on the road/track? What is your PB in 3000m/5000m?
I have had many training hours on roads and on tracks. Most of my intervals have been on a track. But now more and more of my trainings are in the forest. But I still run trainings on roads, for example 4min intervals. I need to be strong in the forest. PB 5000m: 15.48