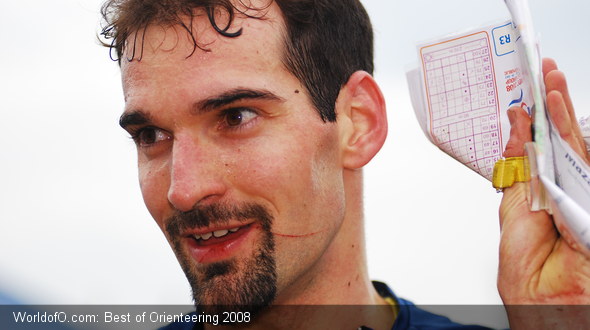 – I was a turbulent child who discovered orienteering at the age of 4, Thierry Gueorgiou says in this interview. Gueorgiou is known as The King of Middle Distance, but this year there was even more attention around the "lost" gold medal in the WOC Relay. Gueorgiou however worked hard mentally, and managed to get back in the top at the World Cup in Sälen only days after the tough WOC Relay experience. Below Gueorgiou is presented for the nomination "The Orienteering Achievement of 2008″ through an interview made by World of O and Ultimate Orienteering.
Nominated for: Taking his 5th WOC Middle distance gold medal in six years: The King of Middle Distance managed to defend his throne again!
About: Two of the major sources for international orienteering news on the Internet – World of O and Ultimate Orienteering – are organizing a poll to name "The Orienteering Achievement of 2008″ and "The Ultimate Junior Orienteer of 2008″. The winner in each category is decided in a vote amongst all the readers of World of O and Ultimate Orienteering after all nominees have been presented. Starting November 12th we present all nominees on a day-by-day basis. The poll is sponsored by Trimtex. Voting will be possible after all nominees have been presented from the voting page. See also all nominees in the initial press release.

Interview with Thierry Gueorgiou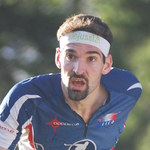 Give a short presentation of yourself.
I was a turbulent child who discovered orienteering at the age of 4. And thought it should be fun to become World Champion when I saw, by my own eyes, the legendary Kent Olsson winning the World Championship in France (1987). Since that day, I pursued my dream with commitment. The 08th August 2003, my dream came true and then realized that I had now to continue to challenge myself as long as possible. I knew I could be even better and that's what still pushes me forward today. You're only bitter if you reach the end of your life and you're filled with frustration because you feel you missed out something. You're bitter because you regret not accomplishing things you could have accomplished. I won't be a bitter old man.
What was the highlight of the 2008 season for you?
Well, there is no other race which has the same flavor that WOC races. All top orienteers peak their preparation to be at their very best at that time. So, I should answer that the middle distance in Stara Ves forests was the highlight of my season. But I also liked my performances at the middle distance in European Championships, as well as the long distance at CISM. For some diverse reasons, if I would have bet before the races, I would never have gambled a single euro on me… This is always the greatest emotions to beat your feelings and thoughts.
You're bitter because you regret not accomplishing things you could have accomplished. I won't be a bitter old man
What is your thought about being nominated for the orienteering achievement of 2008?
I suppose that it's probably better to be in the nominate list than getting no mail from you at this time of the season. But, to be honest, 2008 is already behind and I am now fully focused on 2009.
What are your main goals for the future?
Hopefully, I still have couple of goals to achieve. I think the biggest is probably to perform at my best at the World Championships 2011 (France). But up to there, I'll try to compete with some decent level as well. I still miss the long distance and relay gold to complete my WOC greatest hits. So, I might put some energy on trying to achieve those goals.
Where is your favourite place to orienteer – where you would advice our readers to travel?
Well, I have been lucky to visit many marvelous places to orienteer. I am a little addict to Trøms terrains (Northern part of Norway). But as a French orienteer, I could only recommend to visit the Aveyron's terrains (where 2008 French days took places). This is a must for me, one of those few places in the World where you get the feeling that your brain is definitively hopeless…
Can you describe your toughest training week in 2008 (day-by-day)? Did that have any specific impact for your great achievements in 2008?
Since a while (before 2003), I decided to not record my training in a diary. The reason for this choice is that I put too much energy on just counting hours, but not much on analyzing my feelings. So unfortunately, I can't answer precisely to this question. But, as far as I remember, it should be a week with around 20-24 hours of trainings (mostly running/orienteering). I don't consider those « record week » as primordial to perform at my best. The most important thing is to have good basic trainings that you keep for every single week during all the winter (like uphill intervals or special orienteering sessions for example).
I am a little addict to Tromsø terrains (Northern part of Norway)
Are you a professional orienteer? How many percent is your work/study that you do besides orienteering compared to a full position – and how many hours do you train each year?
Yes, I am a professional orienteer since 2004. My evaluation of my trainings hours per year is around 700 hours.
In your training: Do you put priority on running in the forest or on the road/track? What is your PB in 3000m/5000m?
My priority is always to try to be an orienteer who will perform well at the coming World Championships. So, I evaluate the aspects that I consider as primordial to handle. If I think that next WOC race need to be especially good in some style of running, I will include it during my basic trainings. But as I am also passionate about orienteering techniques, I must say that I am also training a lot in orienteering just to enjoy the feeling when you are on the edge and close to your limits of controlling your orienteering.
I never ran 3000m or 5000m seriously.