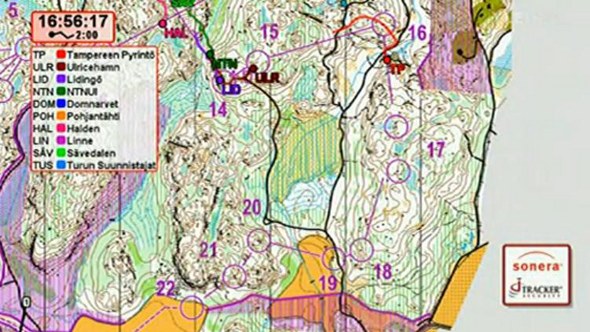 Tampereen Pyrintö's Anni-Maija Fincke decided the Venla relay after an exciting last leg. Everything was set for a Domnarvets victory as Dana Brozkova changed over to Lena Eliasson with a one minute lead, but Eliasson did big mistakes at the start of the last leg – paving the way for a Finnish victory.
Ulricehamn's Simone Niggli started 3:27 behind Domnarvets and about 2:30 behind Tampereen Pyrintö, but never managed to get closer. Instead she lost time due to several small mistakes, but still manage to save the second spot for Ulricehamn.
Halden SK was one of the big favourites today, but lost too much on the third leg to fight for the victory on the last leg. Hausken's great last leg did however bring Halden up to 3rd place – one place better than last year – and looking like the most happy girls in Finland today.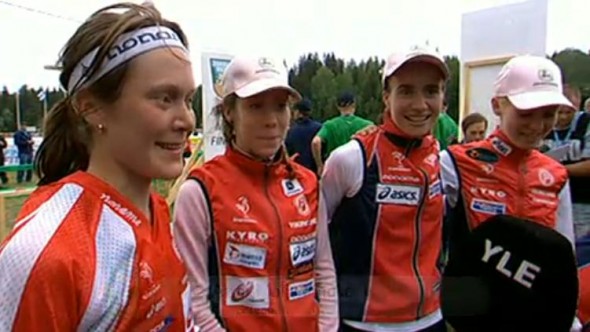 Pictures/Maps: From YLE video feed
Replay the action
By replaying the LiveBlog below, you can follow the excitement through all of the Venla relay – including many map excerpts, most of the big mistakes by the top teams, etc. Here you may also follow the Jukola relay in the same way.
Results (unofficial)
1
3
Tampereen Pyrintö
FIN
3:07:12
1 Venla Niemi
42:23
2 Saila Kinni
34:24
1:16:47
3 Riina Kuuselo
50:53
2:07:40
4 Anni-Maija Fincke
59:32
3:07:12
2
1
Ulricehamns OK
SWE
3:11:58
1 Maja Alm
44:22
2 Jenny Johansson
34:05
1:18:27
3 Ida Bobach
51:41
2:10:09
4 Simone Niggli
1:01:49
3:11:58
3
4
Halden SK
NOR
3:14:51
1 Celine Dodin
44:54
2 Björgul Ida Marie Näss
34:08
1:19:03
3 Vendula Klechova
56:33
2:15:36
4 Anne Margrethe Hausken
59:14
3:14:51
4
21
NTNUI
NOR
3:15:12
1 Line Hagman
43:09
2 Nielsen Mali Fjogstad
34:16
1:17:26
3 Bodil Holmström
51:41
2:09:07
4 Mari Fasting
1:06:04
3:15:12
5
7
IFK Lidingö SOK
SWE
3:15:38
1 Elisabeth Hansson
41:28
2 Malin Sand
35:33
1:17:01
3 Signe Söes
54:00
2:11:02
4 Annika Billstam
1:04:36
3:15:38
6
8
Sävedalens AIK
SWE
3:17:41
1 Jahren Silje Ekroll
41:02
2 Annika Östman
36:08
1:17:11
3 Maria Magnusson
55:43
2:12:54
4 Emma Andersson
1:04:46
3:17:41
7
5
OK Linne
SWE
3:20:30
1 Kristina Roberto
41:44
2 Sara Bengtsson
36:32
1:18:17
3 Iveta Duchova
53:34
2:11:51
4 Inga Kazlauskaite
1:08:38
3:20:30
8
17
SK Pohjantähti
FIN
3:20:41
1 Laura Hokka
41:50
2 Sofia Haajanen
35:49
1:17:39
3 Marttiina Joensuu
55:23
2:13:03
4 Heini Wennman
1:07:37
3:20:41
9
20
Konnerud IL
NOR
3:21:37
1 Synne Baklid
49:56
2 Therese Haare
36:38
1:26:35
3 Haverstad Maren Jansson
55:25
2:22:00
4 Marianne Andersen
59:36
3:21:37
10
15
Bäkkelagets SK
NOR
3:21:56
1 Kine Gulliksen
43:09
2 Marte Balchen
34:02
1:17:12
3 Caroline Cejka
1:01:11
2:18:24
4 Heidi Östlid Bagstevold
1:03:32
3:21:56