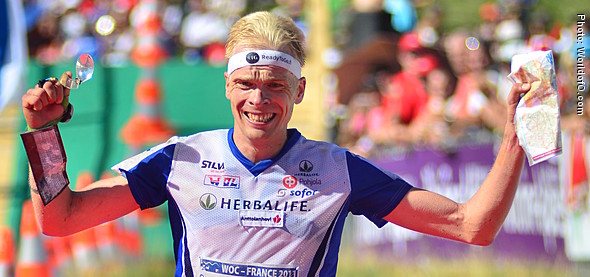 Q: Do you ever think of going back to using compass? Ikonen: I don't think so. Going back in this issue would be… yeah, bad development.
Ikonen – who took silver at this years World Champs long distance in France – 10 years after his previous individual WOC medal – started using a compass again in 2010. The interview below was published at OrienteeringOnline in 2001 – the international orienteering news website driven by Ivan Nagy some 8-10 years ago which has now turned into OrienteeringOnline Cup (or OOCup).
With the silver medal of Ikonen at this years World Championships it was interesting to reread the interview. I therefore decided to republish it here. Thanks to OrienteerignOnline for the original interview.
Interview with Pasi Ikonen, OrienteeringOnline.com, 2001
Q: When did you decide to put your compass away and why? You really never use it, no matter what terrain?
Running without compass is my way to turn my orienteering into a piece of art
It was in 1998. I ran into Eino Havas who is my coach nowadays. He had these crazy thoughts about orienteering and I had the same sickness… I did it because I was unsatisfied with my concentration in orienteering. I found myself TOO often just running with compass and not knowing my location. So I decided to find best treatment and I threw my compass away. I have it sometimes with me, but I don't have reasons to use it anymore. It's also a big challenge to run without compass and I have figured out that the winner of biggest challenges is always the best. Because of that challenge-thing and image (haha!) I never use compass. Not even in night orienteering or flat terrains. People often consider me stupid because I don't use compass. They say that why don't you use it, it's "legal help". So, they miss the point because I don't want help. Just map & me! What can I say, hmm… I've decided to be the best orienteerer in the world and I want to be perfect in my orienteering. To be perfect you need skills, and running without compass is my way to turn my orienteering into a piece of art.
Q: Do you have any problems in flat terrains, which are very poor in details? Do you make any special training for keeping direction without compass?
I have sometimes big problems, because I'm "just starting" my way. Flat terrains are not so difficult without compass. But flat terrain without details is challenging. It's pretty nice feeling when it works; you have been running for 500 metres in "white forest" and you still know the direction exactly. That's really something. Completely different feeling than with compass. So, I don't do any special training for keeping direction because I do it all the time. But I I think I should do it because the consciousness of development could be more easily seen that way. I could see what I'm doing right and what wrong. When I do just ordinary training I often see just the big picture. And those important tiny details are hiding somewhere…
Q: Do you ever think of going back to using compass?
I don't think so. Going back in this issue would be… yeah, bad development.
Q: Do you know any other Elite orienteers who don't use compass?
Many other elite orienteers don't use it much but most have it with them.
Q: Do you feel emptied out now that you're World champion at this young age already? What are your motives for the next season?
Little bit. But my orienteering has always been based on enjoying orienteering and thank god it hasn't changed. I thought that when I win the championship I'd be 30 years old, but now it came and I can't help it… haha! Fortunately, there are some good things in winning the title. Now I don't need to chase the world championship and I can concentrate on more important things like training, orienteering and my girlfriend, he he! Next season I'm going to learn the good runnability -terrains. So, I must get to work now!