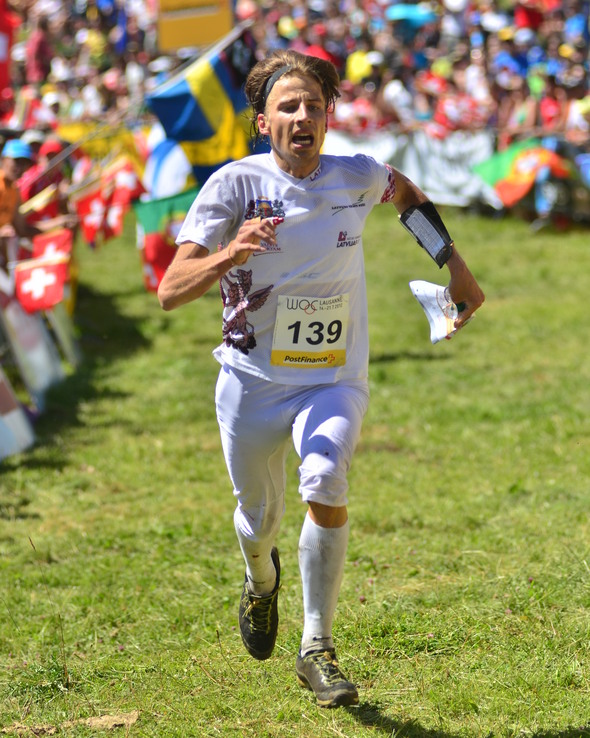 Bertuks against all odds! With Maps and Results and autOanalysis! – My goal was to improve my personal best – a 9th place, Edgars Bertuks  said after his surprising gold medal in WOC middle distance. The Latvian runner introduced himself to the orienteering world by winning the first leg in the Jukola relay earlier this year. Now he beat everybody – and is the new World Champion!
Bertuks won an exciting finish against more experienced Valentin Novikov (Russia). At the last intermediate time the difference was only one second – but Bertuks had the stronger finish. Nevertheless, he says this was not about running. Fabian Hertner secured a popular bronze medal on home ground.
Thierry Gueorgiou was not up to it physically after his injury problems – but had a technical good race.
– Normally I would win with this race, Gueorgiou said after the race. On Twitter the French star wrote "Congrats to top3 in today's middle. Had a decent performance technically,but couldn't really speed up. The challenge was too big this time." When asked about the relay, he said he was not sure if he would run it.
– Not about running
Edgars Bertuks had the following comment after the race:
– This was very technical terrain. It was not about running, but about being strong and orienteering well, a very happy Lativan said after his race.
– I did nothing special. I just took one control after the other.
Started to think about doing big
The gold medal was just as unexpected for Bertuks himself as for everybody else.
– I wanted to finish Top 10 this year, and then improve further next year when it is closer to home [in Finland]. There I know the terrain better.
Bertuks won his heat in the long qualification and finished second in the Middle qualification – and admits that he started to think about doing big already today.
– After the two good races, I started thinking that why not this year?
Brief analysis
Below you see a comparison between routes of Novikov and Bertuks (click for bigger image). Both did very good races – with Bertuks more often choosing a straight route.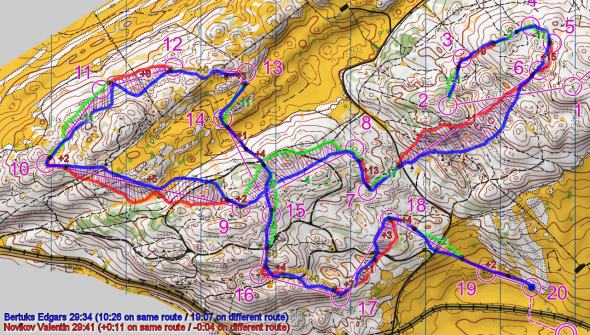 Maps
Results
These results are unofficial as of now.