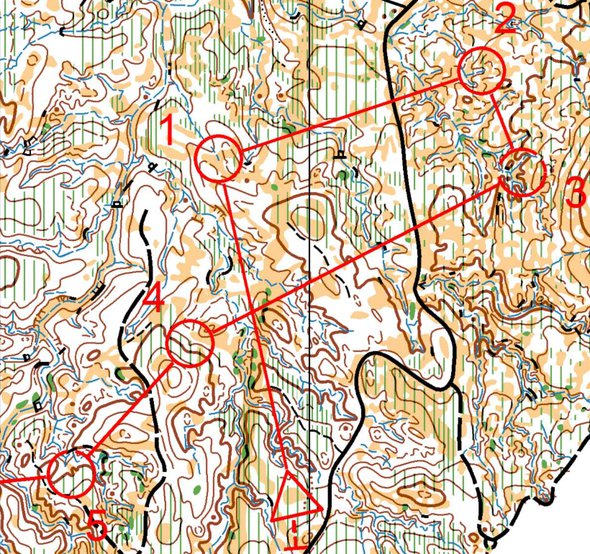 Oleksandr Kratov (Ukraine) and Lena Eliasson (Sweden) both won their first World Cup victories in the World Cup middle distance in Spain today. Again the Spanish organizers offered technical and challenging courses.
In the women's class it was again a Swedish day – 4 Swedes among the top 5:  Helena Jansson in third, Maria Magnusson in 4th and Lilian Forsgren in 5th. The only non-Swedish in the Top 5 was Russian Anastasiya Tikhonova. In the men's class Daniel Hubmann (Switzerland) caught the second place – with Timo Sild (Estonia) in third. Baptiste Rollier – who was very disappointed after finishing with the second fastest time in the cancelled race yesterday – finished in a very good 4th place.
First for Kratov
Both Hubmann and Dæhlie miss the easy 18th control after the spectator control
Daniel Hubmann had fresh legs and was hungry for success after skipping the very though long distance race yesterday. However, already on the first control Hubmann did a big mistake and lost more than a minute. In the first part of the race Kratov ran very well – with Pasi Ikonen following closely. Magne Dæhlie and Jerker Lysell also got very good starts – while Daniel Hubmann picked second by second – getting closer and closer to the lead. (Note that there is no GPS-tracking for Timo Sild; this mini-analysis is written based on the GPS-data only)
At control number 13, Hubmann had nearly caught up with the lead – with Pasi Ikonen all the way at the front. With Lysell missing number 15 and Ikonen missing number 16, the fight for victory was between Kratov, Hubmann and Dæhlie when approaching the spectator control – with Hubmann with a slight lead. However, both Hubmann and Dæhlie miss the easy 18th control after the spectator control – and with another mistake to control 22 for Hubmann (direction mistake), Kratov could take his first World Cup victory.
Below you see a comparison of Hubmann and Kratov's race (click for larger).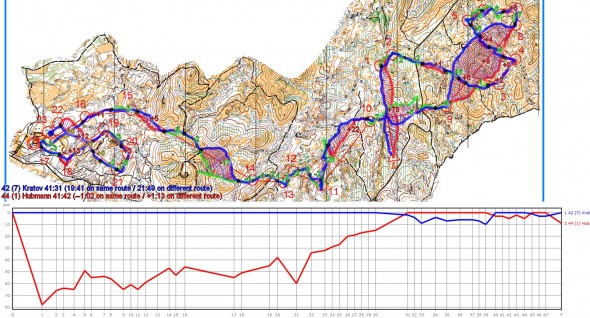 Eliasson with a super start
Lena Eliasson was simply a lot faster than the others today
Lena Eliasson was simply a lot faster than the others today – just as yesterday. But even if she did several mistakes today again, the mistakes were not as big as yesterday. And even more importantly: World Cup leader ahead of the race Tove Alexandersson – the only one close to Eliasson's speed – did even more mistakes. Alexandersson lost 45 seconds already to the first control, 2 minutes to the third control and another 2 minutes at control 10.
Back to Eliasson: She had a very good start of the race, and when approaching control 4 her lead was already around a minute compared to the other runners who wore GPS (note that the GPS-tracking for second placed Tikhonova stopped at the first control, and is thus not included in this mini-analysis).  With this big lead, Eliasson could afford a direction mistake to control number 10, a small mistake at the easy control after the spectator control and a quite big mistake at control 14.
Below is a comparison between Eliasson and Jansson (click for larger).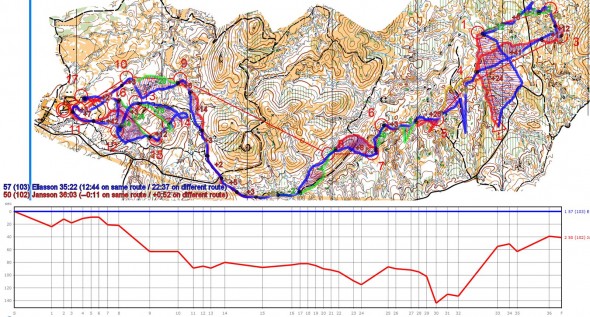 Maps and GPS-tracking
GPS tracking men/women – after the race this will include links to GPS-tracking in 2DRerun for analysis through a cooperation between WorldofO and TracTrac (Thanks, TracTrac – I am sure the readers of World of O will value this opportunity!)
Results
Men
| # | Name | Club | Start | 5.1 km | 6.8 km | Finish | |
| --- | --- | --- | --- | --- | --- | --- | --- |
| 1 | Oleksandr Kratov | UKRAINE | 12:34:00 | 33:45 (2) | 41:30 (1) | 42:15 (1) | +00:00 |
| 2 | Daniel Hubmann | SWITZERLAND | 12:38:00 | 33:42 (1) | 41:39 (2) | 42:28 (2) | +00:13 |
| 3 | Timo Sild | ESTONIA | 11:44:00 | 33:52 (4) | 42:05 (4) | 42:52 (3) | +00:37 |
| 4 | Baptiste Rollier | SWITZERLAND | 12:50:00 | 34:53 (7) | 42:40 (5) | 43:24 (4) | +01:09 |
| 5 | Anders Holmberg | SWEDEN | 11:26:00 | 34:43 (6) | 42:43 (6) | 43:30 (5) | +01:15 |
| 6 | Magne Daehli | NORWAY | 12:46:00 | 33:45 (2) | 42:47 (7) | 43:31 (6) | +01:16 |
| 7 | Gustav Bergman | SWEDEN | 12:52:00 | 35:50 (11) | 43:12 (8) | 43:57 (7) | +01:42 |
| 8 | Ionut Alin Zinca | ROMANIA | 13:08:00 | 35:34 (9) | 43:20 (9) | 44:10 (8) | +01:55 |
| 9 | Filip Dahlgren | SWEDEN | 12:32:00 | 36:03 (13) | 43:45 (10) | 44:34 (9) | +02:19 |
| 10 | Janis Kums | LATVIA | 11:42:00 | 35:58 (12) | 44:09 (11) | 44:57 (10) | +02:42 |
| 11 | Pasi Ikonen | FINLAND | 13:28:00 | 35:35 (10) | 44:12 (12) | 45:03 (11) | +02:48 |
| 12 | Jonas Leandersson | SWEDEN | 12:14:00 | 35:16 (8) | 44:30 (13) | 45:18 (12) | +03:03 |
| 13 | Kiril Nikolov | BULGARIA | 13:00:00 | 36:06 (14) | 44:35 (15) | 45:23 (13) | +03:08 |
| 14 | Raffael Huber | SWITZERLAND | 11:56:00 | 36:18 (15) | 44:33 (14) | 45:24 (14) | +03:09 |
| 15 | Johan Runesson | SWEDEN | 12:44:00 | 36:19 (16) | 44:38 (16) | 45:30 (15) | +03:15 |
Women
| | | | | | | | |
| --- | --- | --- | --- | --- | --- | --- | --- |
| 1 | Lena Eliasson | SWEDEN | 12:55:00 | 24:44 (1) | 34:55 (1) | 36:10 (1) | +00:00 |
| 2 | Anastasiya Tikhonova | RUSSIAN FEDERATION | 12:15:00 | 26:20 (3) | 35:23 (2) | 36:38 (2) | +00:28 |
| 3 | Helena Jansson | SWEDEN | 12:41:00 | 26:16 (2) | 35:35 (3) | 36:56 (3) | +00:46 |
| 4 | Maria Magnusson | SWEDEN | 12:01:00 | 26:36 (5) | 35:51 (4) | 37:15 (4) | +01:05 |
| 5 | Lilian Forsgren | SWEDEN | 12:05:00 | 26:26 (4) | 36:05 (5) | 37:16 (5) | +01:06 |
| 6 | Sara Luescher | SWITZERLAND | 13:01:00 | 27:11 (6) | 36:20 (6) | 37:38 (6) | +01:28 |
| 7 | Tessa Hill | UNITED KINGDOM | 12:13:00 | 28:29 (12) | 37:20 (8) | 38:36 (7) | +02:26 |
| 8 | Nadiya Volynska | UKRAINE | 12:53:00 | 27:12 (7) | 37:14 (7) | 38:39 (8) | +02:29 |
| 9 | Vanessa Round | AUSTRALIA | 11:41:00 | 27:21 (8) | 37:31 (9) | 38:50 (9) | +02:40 |
| 10 | Karolin Ohlsson | SWEDEN | 11:23:00 | 27:34 (10) | 37:50 (11) | 38:56 (10) | +02:46 |
| 11 | Karoliina Sundberg | FINLAND | 11:29:00 | 28:35 (15) | 37:57 (12) | 39:11 (11) | +03:01 |
| 12 | Olha Panchenko | UKRAINE | 11:59:00 | 28:31 (14) | 37:57 (12) | 39:14 (12) | +03:04 |
| 13 | Outi Ojanen | FINLAND | 12:39:00 | 28:13 (11) | 37:44 (10) | 39:15 (13) | +03:05 |
| 14 | Nataliya Vinogradova | RUSSIAN FEDERATION | 11:39:00 | 28:40 (17) | 38:07 (14) | 39:33 (14) | +03:23 |
| 15 | Amélie Chataing | FRANCE | 12:51:00 | 29:14 (19) | 38:25 (15) | 39:45 (15) | +03:35 |