[Start from 12:00 CET – last start at 15:12 CET] Thierry Gueorgiou, Daniel Hubmann, Olav Lundanes, Judith Wyder and Tove Alexandersson are the big favourites in the WOC long distance in Lavarone, Italy tomorrow. Read on to get the full background on the favourites – and see who the outsiders are.
This is the first forest race in this year's World Championships – and as there is no qualification race, one will get no pre-warning as to the shape of the runners as one is used to from previous championships. The courses are long and tough – the men's course being 16.36 km with 820 meters climb (estimated winning time on the high end; 97 minutes) and the women's course being 11.0 km with 495 meters climb (estimated winning time 77 minutes).
How to follow the race
Live TV and live GPS tracking is provided through the new IOF live center portal (buy the WOC week pass or single passes here).  There will also be live results and live speaker sound (for free). Links:
Reigning champions: Thierry Gueorgiou and Simone Niggli
Reigning champions on the long distance from Vuokatti in 2013 are Thierry Gueorgiou and Simone Niggli. Back in Switzerland in 2012 Olav Lundanes and Simone Niggli took gold. Both Thierry Gueorgiou and Olav Lundanes are on the start line in WOC 2014 in Lavarone, Italy. Niggli on the other hand has retired after winning eight gold medals in WOC long distance since 2001 – the only other woman who has won WOC long earlier who is on the start list in Lavarone this year, is Annika Billstam (Sweden) – World Champion long distance 2011.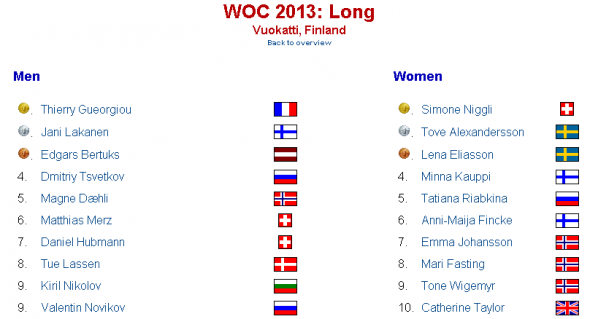 (Note! Wrong flag for Emma Johansson in 7th place – should be Sweden!)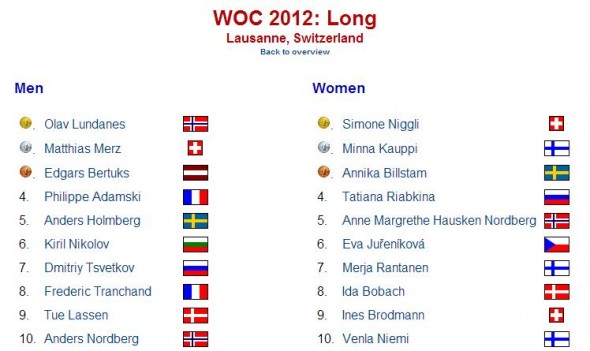 Men: Gueorgiou, Hubmann or Lundanes?
The three biggest favourites in this race are probably Thierry Gueorgiou (France), Daniel Hubmann(Switzerland) and Olav Lundanes (Norway) – World Champions long distance from 2011/2013, 2008/2009 and 2010/2012 – respectively. Main outsiders are Fredrik Johansson (Sweden) who won bronze behind Hubmann and Lundanes at the European Championships in Portugal this spring, Jani Lakanen (Finland) – the World Champion long from 2006 who won silver in Vuokatti last year and Edgars Bertuks (Latvia) who has two bronze medals in a row in WOC long distance.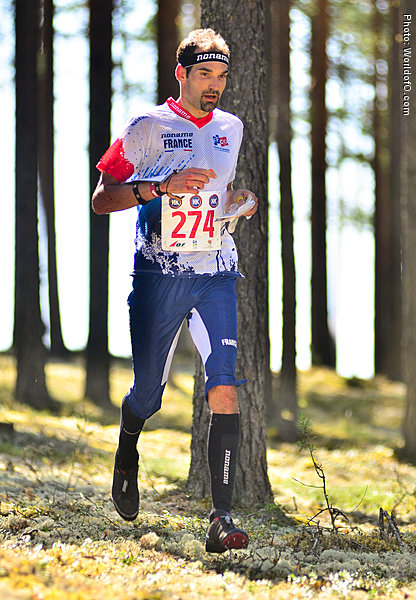 Gueorgiou has several times said that he has run his last long distance race, as long distance is "boring" – but the reigning World Champion is yet another time at the start line in a World Championships long distance. Gueorgiou showed very impressive shape at this year's Jukola relay – simply smashing the rest of the field on the last leg. After 84 minutes of running Fredrik Johansson was closest (at +2:53) with Olav Lundanes (+5:55) being the next on the list. Hubmann was more than 10 minutes behind – but was not fighting for victory.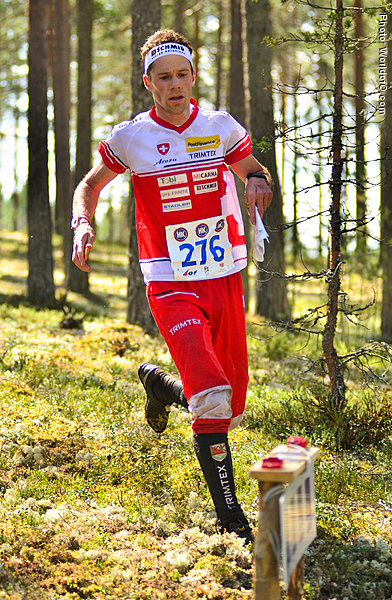 Hubmann is back at his very best this season after several years with injury problems making it necessary for him to reduce his amount of training. At the European Champs in Portugal Hubmann ran a great race at the long distance when he won the gold medal and Hubmann again showed on the sprint in Venice Saturday that his shape is perfect.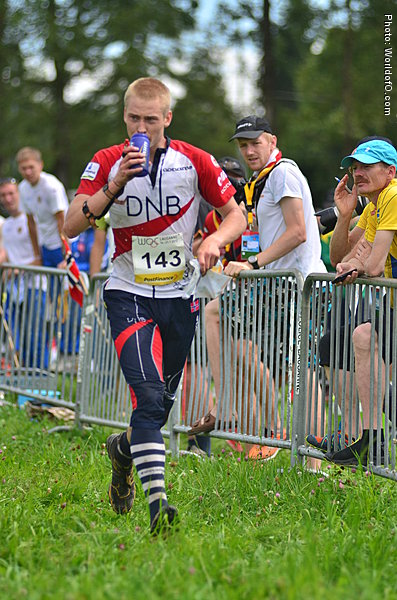 Olav Lundanes broke off the 2013 season in early spring due to health problems, and has slowly built up to a shape which is good enough to fight for gold. At the European Champs in Portugal he won silver – the terrain in Lavarone should fit the strong Norwegian a lot better.
Both Hubmann, Lundanes and Gueorgiou have earlier shown that they have the physical and mental ability to get all the way to the top
Other outsiders: Valentin Novikov (Russia; has often had problems towards the end of the races – but should definitely be in the fight), Baptiste Rollier (Switzerland; often thought about as a middle distance specialist, but has a 4th place from WOC 2011 long distance and was on the way to something big on the World Cup long distance in Spain this spring which was cancelled due to removed controls).
Dark horses: Pasi Ikonen, Magne Dæhlie, Filip Dahlgren, Fabian Hertner, Matthias Kyburz, Dmitriy Tsvetkov, Francois Gonon.
Women: Alexandersson, Wyder, Billstam …?
With the two big favourites from last year – Simone Niggli and Minna Kauppi – not on the start line, the long distance is more open than it has been for years.  The two big favourites this year are Swiss Judith Wyder and Swedish Tove Alexandersson.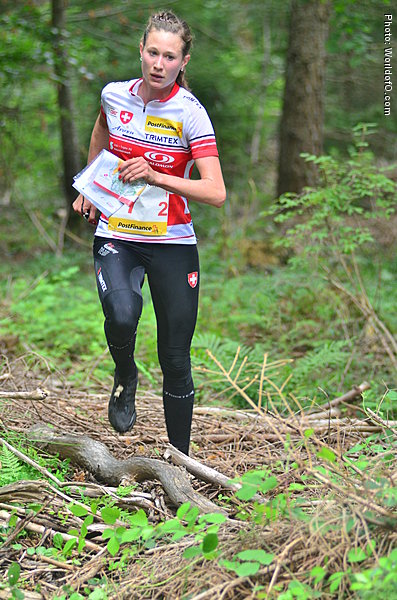 Wyder was the Queen of EOC 2014 in Portugal – nearly taking over where Simone Niggli left off – the long distance giving her one of the gold medals in Portugal. Wyder has also showed excellent shape so far in WOC 2014 winning two gold medals in to tries.
Alexandersson has the highest speed in the field, and if she runs a mistake-free race nobody should be able to beat here. At the World Cup long distance in Kongsberg earlier this year she did just that – and won a clear victory. In the World Cup long distance in Spain ahead of EOC she was down in 17th place and EOC long distance only brought her a 16th place. Also, Alexandersson has been reported to have stomach problems ahead of the long distance – but is still going to start.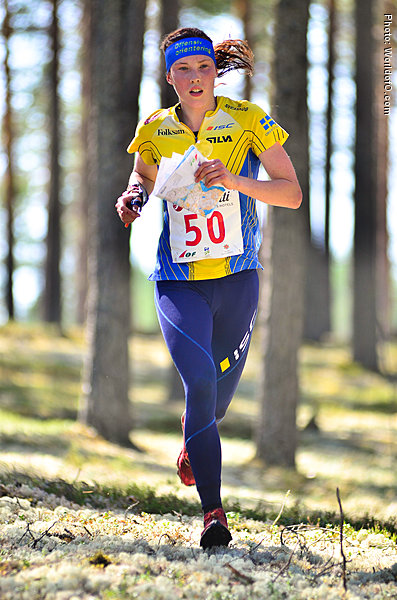 Outsiders: In addition to these two main favourites, we have several strong outsiders. Annika Billstam – the World Champion long distance from 2011 has not been running much on international level this year, but has been preparing specifically for this championships. Another strong outsider is Ida Bobach. Although middle is her strongest discipline, the Danish WOC-silver medalist over middle distance from 2011 in France showed very good long distance shape in the World Cup in Kongsberg this spring – finishing second behind Tove Alexandersson. Also look out for the third Swede on the starting line – Lena Eliasson. Eliasson is in great shape – and if she manages to keep cool through all of the race she will be a clear medal candidate. The terrain should fit Eliasson quite well.
Other outsiders are the EOC medalists Cat Taylor and Svetlana Miranova. Both are stronger in the terrain type met at EOC in Portugal – but they may very well mix into the fight for medals also in Lavarone.
Dark horses: Mari Fasting, Eva Jurenikova, Sofia Haajanen, Emma Klingenberg, Anastasiya Tikhonova.