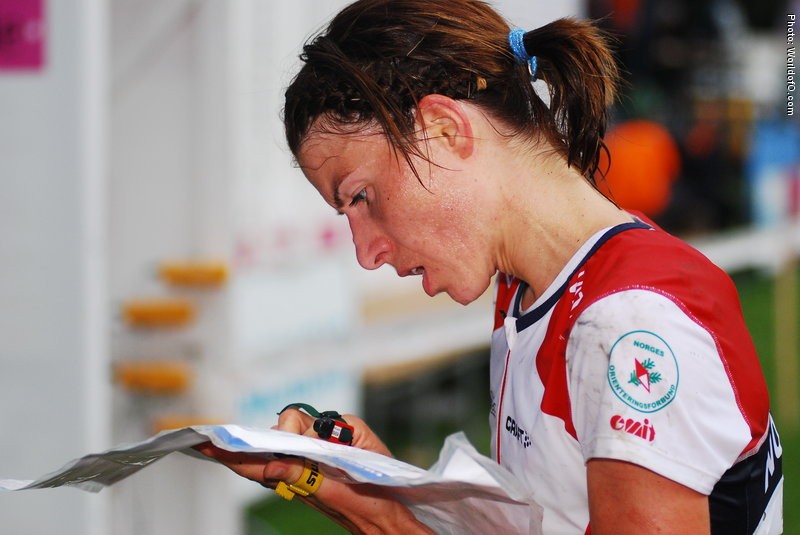 Veterans Hans Gunnar Omdal and Anne Margrethe Hausken Nordberg are part of the Norwegian team for the World Championships in Scotland which was selected earlier this week.
No Norwegian athlete will run all disciplines – and only one athlete, Anne Margrethe Hausken (photo above from WOC 2009), will run both urban and forest disciplines.
Compared to the original team published on Tuesday, Ida Marie Næss Bjørgul replaces Anne Johanne Lind due to injury.
| | | | | | |
| --- | --- | --- | --- | --- | --- |
| Men | Sprint | Spr Rel | Mid | Rel | Long |
| Magne Dæhli, Halden SK | | | X | X | X |
| Carl Godager Kaas, Bækkelagets SK | | | X | X | |
| Olav Lundanes, Halden SK | | | X | | X |
| Torgeir Nørbech, IL Tyrving | | | X | X | (X) |
| Hans Gunnar Omdal, Kristiansand OK | | | | | X |
| Gaute Hallan Steiwer, Lillomarka OL | X | (X) | | | |
| Håkon Jarvis Westergård, Järla IF OK | X | X |   |   |   |
| Øystein Kvaal Østerbø, IFK Lidingö | X | X | | (X) | |
| Reserve | | | | | |
| Bjørn Ekeberg, IL Tyrving | | | (X) | (X) | |
| Emil Ahlbäck, Fossum IF | (X) | | | | |
| Women | | | | | |
| Heidi Østlid Bagstevold, Fredrikstad SK | | | X | X | |
| Ida Marie Næss Bjørgul, Halden SK | X | (X) | (X) | (X) | (X) |
| Elise Egseth, Nydalens SK | X | X | | | |
| Mari Fasting, Halden SK | | | X | X | X |
| Silje Ekroll Jahren, Sävedalens SK | X | (X) | | | |
| Anne M Hausken Nordberg, Nydalens SK | | X | X | X | X |
| Tone Wigemyr, Bækkelagets SK | | | | (X) | X |
(X) Means reserve for that discipline