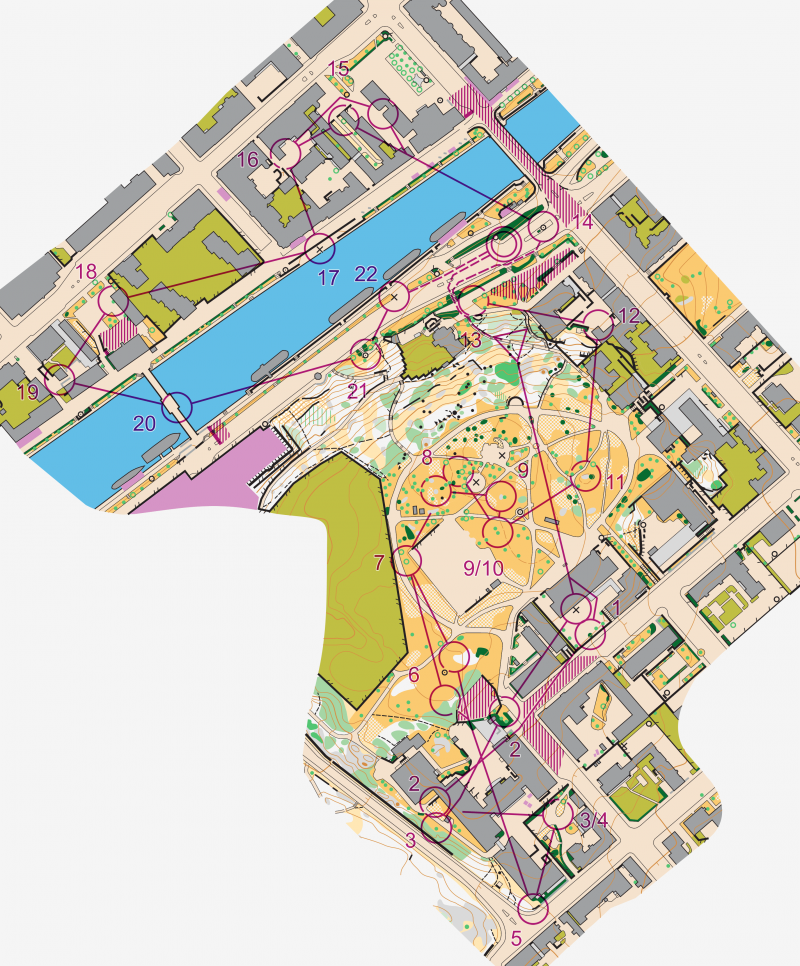 Helena Jansson decided the first race in the World Cup Sprint Relay 2017 for Sweden in a close fight with Denmark's Maja Alm. Alm was later disqualified due to a miss-punch, and Switzerland's Elena Roos did thus lead Switzerland in to second place 13 seconds behind with Great Britain in third one minute behind.
Sweden ran an excellent relay – and managed to keep the other teams behind all the way until the end. Denmark's Maja Alm got a perfect chasing position, and it looked like she would manage to catch and pass Jansson until the very end. A combination of a somewhat longer forking towards the end of the race and the chase of Jansson earlier on the course took that extra energy out of Alm, and thus Jansson could beat the fast Danish woman in a one-to-one fight – a very positive experience to bring to the World Championships in Estonia in one month's time.
Switzerland was in the fight for the victory until the middle of the last leg, but Roos could not fully keep up with the speed of Jansson and Alm. Tessa Strain did a good race for Great Britain on the last leg, bringing them in to third position, but the gap up to the three teams in front was too big already from the start.
Maps and GPS-tracking
Results
1
3
Sweden
53:15
1 Karolin Ohlsson
13:28
2 Emil Svensk
13:06
26:35
3 Jonas Leandersson
13:18
39:54
4 Helena Jansson
13:20
53:15
2
1
Switzerland
53:28
1 Sabine Hauswirth
13:28
2 Florian Howald
13:09
26:38
3 Martin Hubmann
13:18
39:56
4 Elena Roos
13:32
53:28
3
8
Great Britain
54:28
1 Catherine Taylor
13:30
2 Peter Hodkinson
13:28
26:58
3 Ralph Street
13:30
40:29
4 Tessa Strain
13:59
54:28
4
4
Russia
54:34
1 Anastasia Rudnaya
13:31
2 Dmitry Tsvetkov
13:30
27:02
3 Andrey Khramov
13:35
40:37
4 Galina Vinogradova
13:57
54:34
5
24
Finland 2
54:54
1 Sari Anttonen
13:46
2 Marten B Bostrom
13:28
27:15
3 Otto Simosas
13:34
40:49
4 Merja Rantanen
14:04
54:54
6
5
Norway
55:41
1 Nikoline Ekeberg Schjerve
14:31
2 Jon Aukrust Osmoen
13:22
27:53
3 Hakon Jarvis Westergard
13:29
41:23
4 Ida Marie Naess Bjoergul
14:17
55:41
7
7
Czech Republic
55:48
1 Tereza Janosikova
14:24
2 Jan Petrzela
13:46
28:11
3 Vojtech Kral
13:10
41:22
4 Adela Indrakova
14:26
55:48
8
20
Denmark 2
55:49
1 Ida Bobach
13:31
2 Soeren Schwartz
13:28
26:59
3 Magnus Dewett
13:56
40:55
4 Caroline Gjotterup
14:53
55:49
9
10
Austria
56:51
1 Laura Ramstein
15:01
2 Robert Merl
13:49
28:51
3 Matthias Reiner
13:50
42:41
4 Ursula Kadan
14:09
56:51
10
9
France
57:25
1 Amelie Chataing
15:00
2 Lucas Basset
13:40
28:40
3 Adrien Delenne
13:44
42:24
4 Isia Basset
15:00
57:25