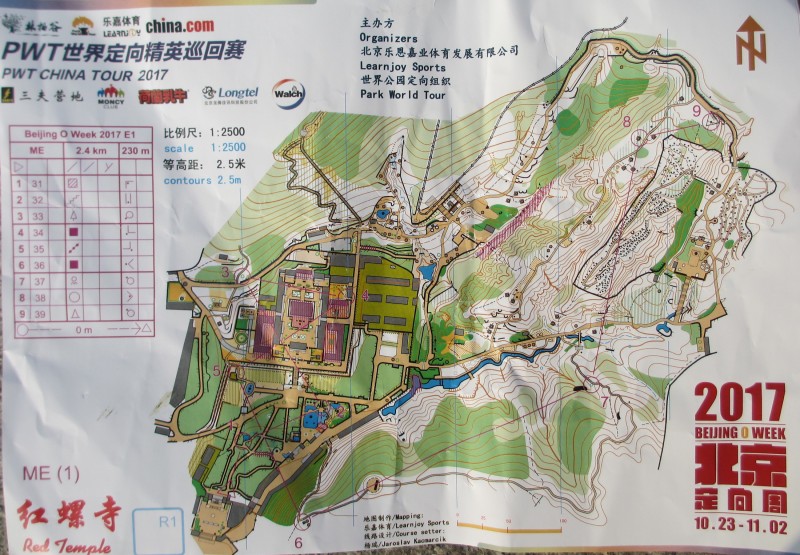 [Maps & Results from Stage 1 now out] Some of the world's best sprint orienteers are gathered in China for the PWT China Tour 2017 this week. The PWT China tour consists of 5 races, of them 2 WRE sprint races.
The first stage was won by Robert Merl (Austria) and Maija Sianoja (Finland) – see results below and first part of the map above (see also report stage 1).
See more, including maps and results, at the PWT webpage.
Program for the PWT China tour.
24th October: PWT Race 1: Sprint, Red Temple, Huairou
27th October: PWT Race 2 (WRE): Middle, Forest Park of Green Dragon Lake
29th October: PWT Race 3 & Beijing Students Orienteering Championships: Sprint, Green Dragon Lake
30th October: PWT Race 4 (WRE): Sprint, Old Summer Palace
31st October: PWT Race 5 & China Open: Sprint, Linqigu, Langfang
Results stage 1
Men
1 Robert Merl ME Austria 0:14:25 2 Gernot Kerschbaumer ME Austria 0:14:36 3 Jonas Vytautas Gvildys ME Lithuania 0:15:13 4 Oystein Kvaal Osterbo ME Norway 0:15:17 5 Tim Robertson ME New Zealand 0:15:22 6 Marten Bostrom ME Finland 0:15:28 7 Frédéric Tranchand ME France 0:15:33 8 Adrien Delenne ME France 0:15:36 9 Quentin Rauturier ME France 0:15:41 10 Chris Smithard ME Greai Britain 0:15:45
Women
1 Maija Sianoja WE Finland 0:16:24 2 Laura Robertson WE New Zealand 0:16:48 3 Marika Teini WE Finland 0:17:09 4 Matleena Bostrom WE Finland 0:17:35 5 Carlotta Scalet WE Italy 0:17:40 6 Anna Simkovics WE Austria 0:18:10 7 Elin Carlsson WE Sweden 0:18:22 8 Kristine Fjellanger WE Norway 0:18:32 9 Lone Brochmann WE Norway 0:18:41
Happy to start PWT China with a 4th place in today's Sprint north of Beijing. Sick last week, and finaly well again. https://t.co/wZrtKoLD3M pic.twitter.com/x6209817ri

— Øystein K. Østerbø (@Kvaal_Osterbo) October 24, 2017