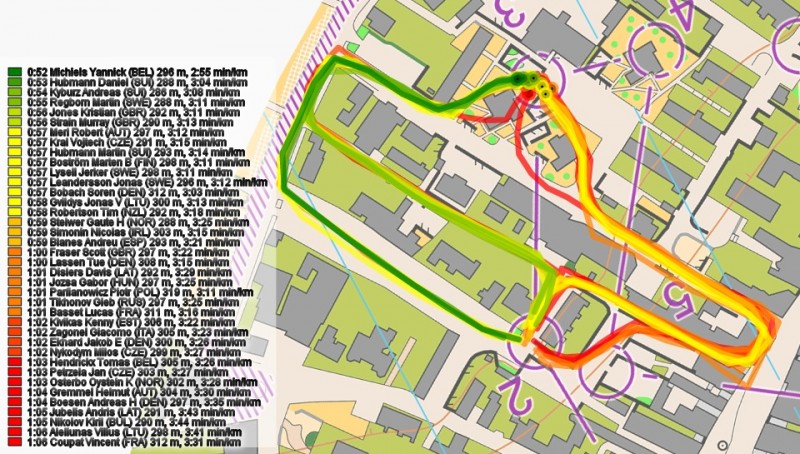 Yannick Michiels, Daniel Hubmann, Kris Jones and Martin Hubmann were all only control away from beating the eventual winner Jonas Leandersson. A sprint is however all about keeping concentration from start to finish.
The World Championships Sprint in Forres offered courses with few complex routechoice legs – the main challenge was to navigate safely through the narrow alleys of the small Scottish town – and to avoid doing any mistakes on the relatively easy legs. Compared to what many athletes had prepared themselves for – a complex sprint with artificial boundaries producing interesting routechoices – this sprint must be said to be quite uninteresting with very small time differences between the different alternatives. Therefore we also got a very tight sprint with small timegaps.
The man who mastered this best was double European Champion sprint Jonas Leandersson (Sweden, photo below). Yannick Michiels (Belgium) had a clear lead and was seemingly on the way to victory before he lost concentration for a moment and ran into a blind alley.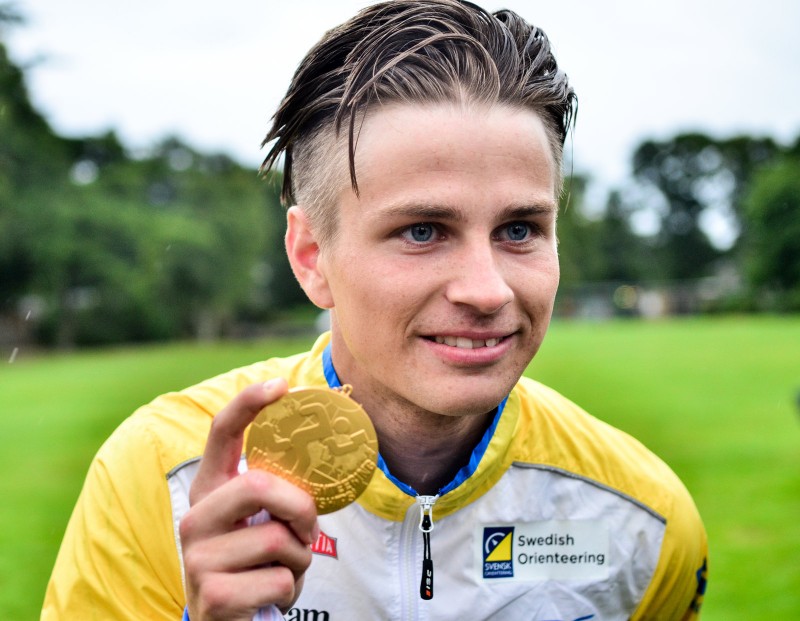 Martin Hubmann (silver) had a steady race without mistakes – enough for silver, but not really in the fight for gold. Jerker Lysell (Sweden) had a similar technical race to Martin Hubmann's, but was a bit too slow.
Daniel Hubmann and Kris Jones were the two other runners who had the speed and technique to beat Leandersson in the sprint in Forres, but both made crucial routechoice mistakes on one leg, losing 11 and 16 seconds, respectly. For both this was more than they were behind the winner Leandersson in the end.
Results and course/GPS-tracking
Looking at the results, this was a very tight sprint with Top 10 within 14 seconds. The small time gaps are due to the easy routechoices – you could not lose a lot of time here. As you will see in the analysis below, there were three runners with the speed to win today: Jonas Leandersson, Yannick Michiels and Daniel Hubmann.
| | | | | |
| --- | --- | --- | --- | --- |
| 1. | Jonas Leandersson | Sweden | 13:12 | (+0:00) |
| 2. | Martin Hubmann | Switzerland | 13:14 | (+0:02) |
| 3. | Jerker Lysell | Sweden | 13:17 | (+0:05) |
| 4. | Marten B Bostrom | Finland | 13:20 | (+0:08) |
| 4. | Yannick Michiels | Belgium | 13:20 | (+0:08) |
| 6. | Daniel Hubmann | Switzerland | 13:21 | (+0:09) |
| 6. | Andreu Blanes | Spain | 13:21 | (+0:09) |
| 8. | Kristian Jones | Great Britain | 13:25 | (+0:13) |
| 8. | Soren Bobach | Denmark | 13:25 | (+0:13) |
| 10. | Jonas Vytautas Gvildys | Lithuania | 13:26 | (+0:14) |
WOC Sprint Final Men

» See map in omaps.worldofo.com
From the start: Michiels on a different level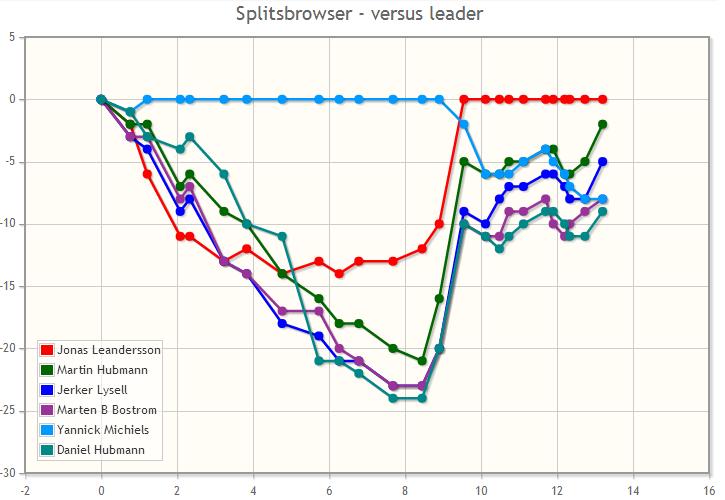 As expected, Belgian Yannick Michiels, who set an impressive sub 8 minute personal record on 3000 meter last Friday, had another speed than his competitors from the start. Looking at the split time browser for the first part of the race, Michiels has a gap to the rest of the field which increases control by control – meanwhile it is quite tight between the rest of the favourites until Jonas Leandersson speeds up in the middle of the course.
Decision point: Michiels into wrong alley
But then Michiels made a crucial mistake which cost him the victory. Running into a wrong alley on the way to control 14 costs him 13 seconds to the best split time and 12 seconds to Leandersson. After a bitter 4th place with less than 10 seconds up to Jonas Leandersson in the end, this is surely where the race was lost.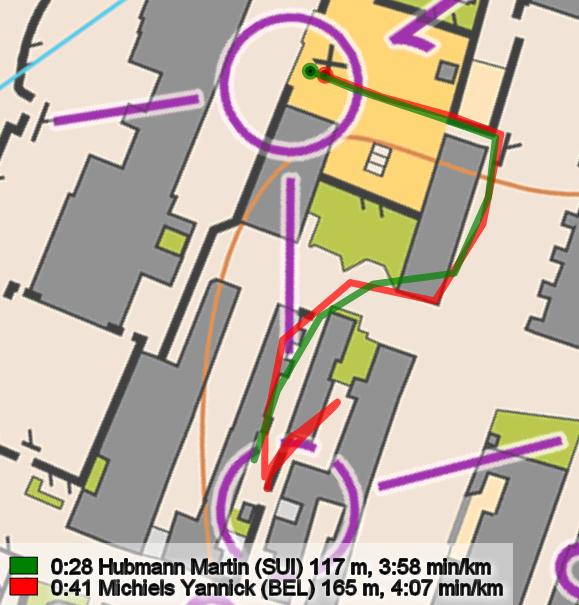 Michiels also lost some time to the next control – partly due to falling over a fence; shown spectacularly live on TV – and he had not the same impressive speed in the last part of the course like in the first part. Instead of being faster than his competitors he had approximately the same speed.
Decision point: Daniel Hubmann loses victory chance due to wrong routechoice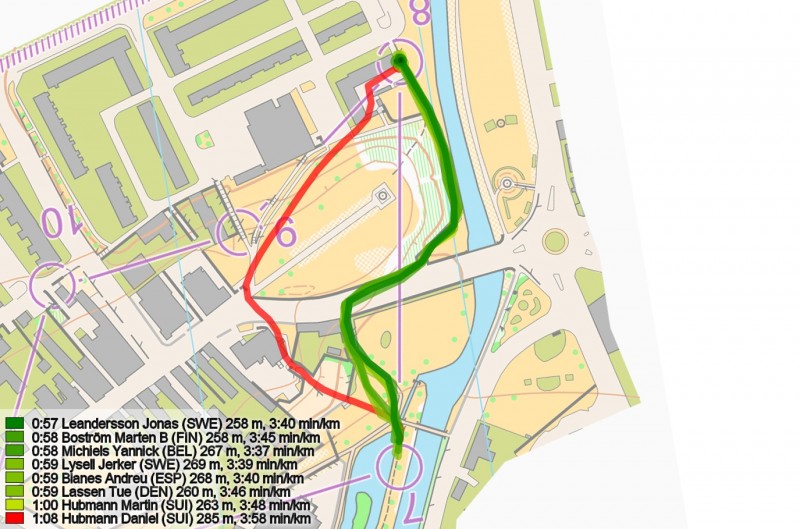 The second decision point is where Daniel Hubmann takes the wrong routechoice to the 8th control. Before this happened, Daniel Hubmann was well ahead of Jonas Leandersson. But the leftmost route (with more climb and worse running suface) was 11 seconds longer than Leandersson's time on this leg. With the gap between Hubmann and Leandersson being 9 seconds in the end, this was definitely where Hubmann lost the victory chances.
Hubmann actually also lost 7 seconds due to wrong route (or actually more a mistake, taking the wrong alley; thanks for comment below to point that out) to control 6 as well – costing him 7 seconds.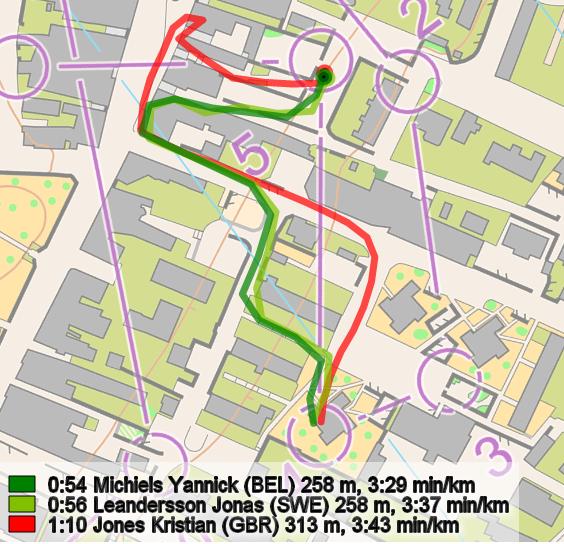 The graph below shows the race development between Hubmann and Leandersson.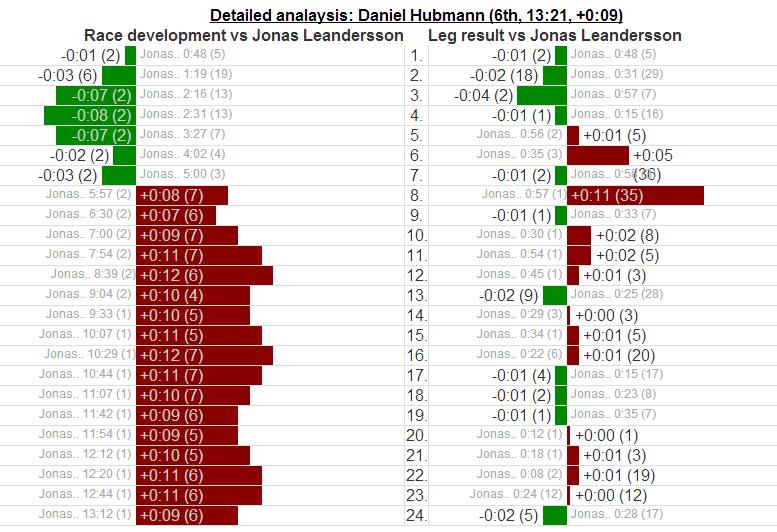 Decision point: Kris Jones misses an alley
Kris Jones lost 16 seconds to the bes split time of Yannick Michiels and 14 seconds to Leandersson on he 5 leg. The reason for the time loss is Jones missing an alley – having to turn down he speed.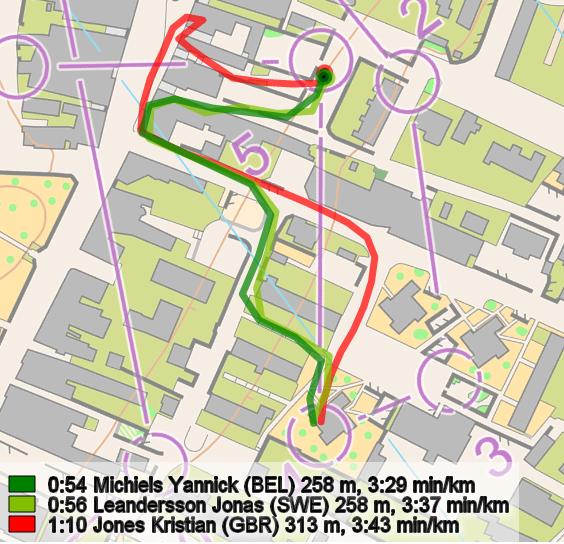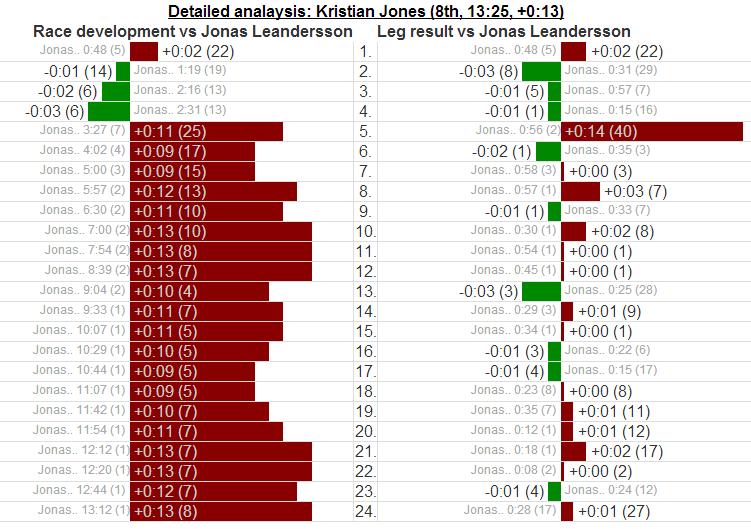 Martin Hubmann vs Leandersson and Lysell
Looking at the fight between the medalists Jonas Leandersson, Martin Hubmann and Jerker Lysell, there was never more than 11 seconds behind the three runners. Leandersson lost some time to the other two in the start and end of the race, but was very strong in the middle part of the race. There is no single leg where Hubmann and Lysell lose time, Leandersson is simply faster and better today. Leandersson notably loses some time at the very end of the course, but not enough to threaten his gold medal.

GPS Analysis
For completeness we include the raw material below, he see where and when ime was lost. Please add a comment if you any interesting developement wih regarding to that.
Men: S-1
Men: S-1 (Legtimes)

| | | | |
| --- | --- | --- | --- |
| 1. | Scott Fraser | 0:46 | +0:00 |
| 2. | Daniel Hubmann | 0:47 | +0:01 |
| 3. | Lucas Basset | 0:47 | +0:01 |
| 4. | Yannick Michiels | 0:47 | +0:01 |
| 5. | Gaute Hallan Steiwer | 0:48 | +0:02 |
| 6. | Jonas Leandersson | 0:48 | +0:02 |
| 7. | Jonas Vytautas Gvildys | 0:48 | +0:02 |
| 8. | Martin Hubmann | 0:48 | +0:02 |
| 9. | Tue Lassen | 0:48 | +0:02 |
| 10. | Vilius Aleliunas | 0:48 | +0:02 |
| 14. | Andreu Blanes | 0:49 | +0:03 |
| 16. | Jerker Lysell | 0:49 | +0:03 |
| 18. | Marten B Bostrom | 0:49 | +0:03 |

Men: S-1 (Total times)

| | | | |
| --- | --- | --- | --- |
| 1. | Scott Fraser | 0:46 | +0:00 |
| 2. | Daniel Hubmann | 0:47 | +0:01 |
| 3. | Lucas Basset | 0:47 | +0:01 |
| 4. | Yannick Michiels | 0:47 | +0:01 |
| 5. | Gaute Hallan Steiwer | 0:48 | +0:02 |
| 6. | Jonas Leandersson | 0:48 | +0:02 |
| 7. | Jonas Vytautas Gvildys | 0:48 | +0:02 |
| 8. | Martin Hubmann | 0:48 | +0:02 |
| 9. | Tue Lassen | 0:48 | +0:02 |
| 10. | Vilius Aleliunas | 0:48 | +0:02 |
| 14. | Andreu Blanes | 0:49 | +0:03 |
| 16. | Jerker Lysell | 0:49 | +0:03 |
| 18. | Marten B Bostrom | 0:49 | +0:03 |
Men: 1-2
Men: 1-2 (Legtimes)

| | | | |
| --- | --- | --- | --- |
| 1. | Yannick Michiels | 0:26 | +0:00 |
| 2. | Gaute Hallan Steiwer | 0:27 | +0:01 |
| 3. | Martin Hubmann | 0:27 | +0:01 |
| 4. | Vincent Coupat | 0:27 | +0:01 |
| 5. | Andreas Kyburz | 0:27 | +0:01 |
| 6. | Andreu Blanes | 0:27 | +0:01 |
| 7. | Marten B Bostrom | 0:27 | +0:01 |
| 8. | Scott Fraser | 0:28 | +0:02 |
| 9. | Tue Lassen | 0:28 | +0:02 |
| 10. | Jakob Edsen Ekhard | 0:28 | +0:02 |
| 11. | Jerker Lysell | 0:28 | +0:02 |
| 18. | Daniel Hubmann | 0:29 | +0:03 |
| 30. | Jonas Leandersson | 0:31 | +0:05 |

Men: 1-2 (Total times)

| | | | |
| --- | --- | --- | --- |
| 1. | Yannick Michiels | 1:13 | +0:00 |
| 2. | Scott Fraser | 1:14 | +0:01 |
| 3. | Gaute Hallan Steiwer | 1:15 | +0:02 |
| 4. | Martin Hubmann | 1:15 | +0:02 |
| 5. | Vincent Coupat | 1:15 | +0:02 |
| 6. | Andreas Kyburz | 1:16 | +0:03 |
| 7. | Andreu Blanes | 1:16 | +0:03 |
| 8. | Daniel Hubmann | 1:16 | +0:03 |
| 9. | Marten B Bostrom | 1:16 | +0:03 |
| 10. | Tue Lassen | 1:16 | +0:03 |
| 12. | Jerker Lysell | 1:17 | +0:04 |
| 21. | Jonas Leandersson | 1:19 | +0:06 |
Men: 2-3
Men: 2-3 (Legtimes)

| | | | |
| --- | --- | --- | --- |
| 1. | Yannick Michiels | 0:52 | +0:00 |
| 2. | Daniel Hubmann | 0:53 | +0:01 |
| 3. | Andreas Kyburz | 0:54 | +0:02 |
| 4. | Martin Regborn | 0:55 | +0:03 |
| 5. | Kristian Jones | 0:56 | +0:04 |
| 6. | Murray Strain | 0:56 | +0:04 |
| 7. | Martin Hubmann | 0:57 | +0:05 |
| 8. | Marten B Bostrom | 0:57 | +0:05 |
| 9. | Jerker Lysell | 0:57 | +0:05 |
| 10. | Vojtech Kral | 0:57 | +0:05 |
| 11. | Jonas Leandersson | 0:57 | +0:05 |
| 18. | Andreu Blanes | 0:59 | +0:07 |

Men: 2-3 (Total times)

| | | | |
| --- | --- | --- | --- |
| 1. | Yannick Michiels | 2:05 | +0:00 |
| 2. | Daniel Hubmann | 2:09 | +0:04 |
| 3. | Andreas Kyburz | 2:10 | +0:05 |
| 4. | Martin Hubmann | 2:12 | +0:07 |
| 5. | Marten B Bostrom | 2:13 | +0:08 |
| 6. | Gaute Hallan Steiwer | 2:14 | +0:09 |
| 7. | Jerker Lysell | 2:14 | +0:09 |
| 8. | Kristian Jones | 2:14 | +0:09 |
| 9. | Murray Strain | 2:14 | +0:09 |
| 10. | Scott Fraser | 2:14 | +0:09 |
| 12. | Andreu Blanes | 2:15 | +0:10 |
| 13. | Jonas Leandersson | 2:16 | +0:11 |
Men: 3-4
Men: 3-4 (Legtimes)

| | | | |
| --- | --- | --- | --- |
| 1. | Daniel Hubmann | 0:14 | +0:00 |
| 2. | Andreas Kyburz | 0:14 | +0:00 |
| 3. | Martin Hubmann | 0:14 | +0:00 |
| 4. | Marten B Bostrom | 0:14 | +0:00 |
| 5. | Jerker Lysell | 0:14 | +0:00 |
| 6. | Kristian Jones | 0:14 | +0:00 |
| 7. | Tue Lassen | 0:14 | +0:00 |
| 8. | Lucas Basset | 0:14 | +0:00 |
| 9. | Robert Merl | 0:14 | +0:00 |
| 10. | Tomas Hendrickx | 0:14 | +0:00 |
| 16. | Yannick Michiels | 0:15 | +0:01 |
| 19. | Jonas Leandersson | 0:15 | +0:01 |
| 35. | Andreu Blanes | 0:16 | +0:02 |

Men: 3-4 (Total times)

| | | | |
| --- | --- | --- | --- |
| 1. | Yannick Michiels | 2:20 | +0:00 |
| 2. | Daniel Hubmann | 2:23 | +0:03 |
| 3. | Andreas Kyburz | 2:24 | +0:04 |
| 4. | Martin Hubmann | 2:26 | +0:06 |
| 5. | Marten B Bostrom | 2:27 | +0:07 |
| 6. | Jerker Lysell | 2:28 | +0:08 |
| 7. | Kristian Jones | 2:28 | +0:08 |
| 8. | Gaute Hallan Steiwer | 2:29 | +0:09 |
| 9. | Scott Fraser | 2:29 | +0:09 |
| 10. | Murray Strain | 2:30 | +0:10 |
| 13. | Andreu Blanes | 2:31 | +0:11 |
| 14. | Jonas Leandersson | 2:31 | +0:11 |
Men: 4-5
Men: 4-5 (Legtimes)

| | | | |
| --- | --- | --- | --- |
| 1. | Yannick Michiels | 0:54 | +0:00 |
| 2. | Andreu Blanes | 0:56 | +0:02 |
| 3. | Jonas Leandersson | 0:56 | +0:02 |
| 4. | Soren Bobach | 0:56 | +0:02 |
| 5. | Daniel Hubmann | 0:57 | +0:03 |
| 6. | Martin Hubmann | 0:57 | +0:03 |
| 7. | Gaute Hallan Steiwer | 0:57 | +0:03 |
| 8. | Scott Fraser | 0:57 | +0:03 |
| 9. | Jonas Vytautas Gvildys | 0:58 | +0:04 |
| 10. | Andreas Hougaard Boesen | 0:58 | +0:04 |
| 11. | Jerker Lysell | 0:59 | +0:05 |
| 16. | Marten B Bostrom | 1:00 | +0:06 |

Men: 4-5 (Total times)

| | | | |
| --- | --- | --- | --- |
| 1. | Yannick Michiels | 3:14 | +0:00 |
| 2. | Daniel Hubmann | 3:20 | +0:06 |
| 3. | Martin Hubmann | 3:23 | +0:09 |
| 4. | Andreas Kyburz | 3:25 | +0:11 |
| 5. | Gaute Hallan Steiwer | 3:26 | +0:12 |
| 6. | Scott Fraser | 3:26 | +0:12 |
| 7. | Andreu Blanes | 3:27 | +0:13 |
| 8. | Jerker Lysell | 3:27 | +0:13 |
| 9. | Jonas Leandersson | 3:27 | +0:13 |
| 10. | Marten B Bostrom | 3:27 | +0:13 |
Men: 5-6
Men: 5-6 (Legtimes)

| | | | |
| --- | --- | --- | --- |
| 1. | Kristian Jones | 0:33 | +0:00 |
| 2. | Murray Strain | 0:34 | +0:01 |
| 3. | Jonas Leandersson | 0:35 | +0:02 |
| 4. | Jakob Edsen Ekhard | 0:35 | +0:02 |
| 5. | Yannick Michiels | 0:36 | +0:03 |
| 6. | Andreu Blanes | 0:36 | +0:03 |
| 7. | Jonas Vytautas Gvildys | 0:36 | +0:03 |
| 8. | Martin Regborn | 0:36 | +0:03 |
| 9. | Tue Lassen | 0:36 | +0:03 |
| 10. | Milos Nykodym | 0:36 | +0:03 |
| 14. | Martin Hubmann | 0:37 | +0:04 |
| 15. | Jerker Lysell | 0:37 | +0:04 |
| 16. | Marten B Bostrom | 0:37 | +0:04 |
| 36. | Daniel Hubmann | 0:40 | +0:07 |

Men: 5-6 (Total times)

| | | | |
| --- | --- | --- | --- |
| 1. | Yannick Michiels | 3:50 | +0:00 |
| 2. | Daniel Hubmann | 4:00 | +0:10 |
| 3. | Martin Hubmann | 4:00 | +0:10 |
| 4. | Jonas Leandersson | 4:02 | +0:12 |
| 5. | Andreu Blanes | 4:03 | +0:13 |
| 6. | Andreas Kyburz | 4:04 | +0:14 |
| 7. | Jerker Lysell | 4:04 | +0:14 |
| 8. | Marten B Bostrom | 4:04 | +0:14 |
| 9. | Scott Fraser | 4:04 | +0:14 |
| 10. | Gaute Hallan Steiwer | 4:05 | +0:15 |
Men: 6-7
Men: 6-7 (Legtimes)

| | | | |
| --- | --- | --- | --- |
| 1. | Yannick Michiels | 0:56 | +0:00 |
| 2. | Daniel Hubmann | 0:57 | +0:01 |
| 3. | Jonas Leandersson | 0:58 | +0:02 |
| 4. | Kristian Jones | 0:58 | +0:02 |
| 5. | Andreas Kyburz | 0:59 | +0:03 |
| 6. | Marten B Bostrom | 0:59 | +0:03 |
| 7. | Gaute Hallan Steiwer | 0:59 | +0:03 |
| 8. | Soren Bobach | 0:59 | +0:03 |
| 9. | Vojtech Kral | 0:59 | +0:03 |
| 10. | Tue Lassen | 0:59 | +0:03 |
| 14. | Martin Hubmann | 1:00 | +0:04 |
| 15. | Jerker Lysell | 1:00 | +0:04 |
| 23. | Andreu Blanes | 1:01 | +0:05 |

Men: 6-7 (Total times)

| | | | |
| --- | --- | --- | --- |
| 1. | Yannick Michiels | 4:46 | +0:00 |
| 2. | Daniel Hubmann | 4:57 | +0:11 |
| 3. | Jonas Leandersson | 5:00 | +0:14 |
| 4. | Martin Hubmann | 5:00 | +0:14 |
| 5. | Andreas Kyburz | 5:03 | +0:17 |
| 6. | Marten B Bostrom | 5:03 | +0:17 |
| 7. | Andreu Blanes | 5:04 | +0:18 |
| 8. | Gaute Hallan Steiwer | 5:04 | +0:18 |
| 9. | Jerker Lysell | 5:04 | +0:18 |
| 10. | Jonas Vytautas Gvildys | 5:05 | +0:19 |
Men: 7-8
Men: 7-8 (Legtimes)

| | | | |
| --- | --- | --- | --- |
| 1. | Jonas Leandersson | 0:57 | +0:00 |
| 2. | Yannick Michiels | 0:58 | +0:01 |
| 3. | Marten B Bostrom | 0:58 | +0:01 |
| 4. | Andreu Blanes | 0:59 | +0:02 |
| 5. | Jerker Lysell | 0:59 | +0:02 |
| 6. | Tue Lassen | 0:59 | +0:02 |
| 7. | Martin Hubmann | 1:00 | +0:03 |
| 8. | Kristian Jones | 1:00 | +0:03 |
| 9. | Oystein Kvaal Osterbo | 1:00 | +0:03 |
| 10. | Jonas Vytautas Gvildys | 1:01 | +0:04 |
| 35. | Daniel Hubmann | 1:08 | +0:11 |

Men: 7-8 (Total times)

| | | | |
| --- | --- | --- | --- |
| 1. | Yannick Michiels | 5:44 | +0:00 |
| 2. | Jonas Leandersson | 5:57 | +0:13 |
| 3. | Martin Hubmann | 6:00 | +0:16 |
| 4. | Marten B Bostrom | 6:01 | +0:17 |
| 5. | Andreu Blanes | 6:03 | +0:19 |
| 6. | Jerker Lysell | 6:03 | +0:19 |
| 7. | Daniel Hubmann | 6:05 | +0:21 |
| 8. | Jonas Vytautas Gvildys | 6:06 | +0:22 |
| 9. | Soren Bobach | 6:06 | +0:22 |
| 10. | Gaute Hallan Steiwer | 6:07 | +0:23 |
Men: 8-9
Men: 8-9 (Legtimes)

| | | | |
| --- | --- | --- | --- |
| 1. | Yannick Michiels | 0:32 | +0:00 |
| 2. | Daniel Hubmann | 0:32 | +0:00 |
| 3. | Kristian Jones | 0:32 | +0:00 |
| 4. | Scott Fraser | 0:32 | +0:00 |
| 5. | Murray Strain | 0:32 | +0:00 |
| 6. | Frederic Tranchand | 0:32 | +0:00 |
| 7. | Jonas Leandersson | 0:33 | +0:01 |
| 8. | Andreu Blanes | 0:33 | +0:01 |
| 9. | Soren Bobach | 0:33 | +0:01 |
| 10. | Oystein Kvaal Osterbo | 0:33 | +0:01 |
| 11. | Martin Hubmann | 0:34 | +0:02 |
| 12. | Jerker Lysell | 0:34 | +0:02 |
| 20. | Marten B Bostrom | 0:35 | +0:03 |

Men: 8-9 (Total times)

| | | | |
| --- | --- | --- | --- |
| 1. | Yannick Michiels | 6:16 | +0:00 |
| 2. | Jonas Leandersson | 6:30 | +0:14 |
| 3. | Martin Hubmann | 6:34 | +0:18 |
| 4. | Andreu Blanes | 6:36 | +0:20 |
| 5. | Marten B Bostrom | 6:36 | +0:20 |
| 6. | Daniel Hubmann | 6:37 | +0:21 |
| 7. | Jerker Lysell | 6:37 | +0:21 |
| 8. | Soren Bobach | 6:39 | +0:23 |
| 9. | Jonas Vytautas Gvildys | 6:40 | +0:24 |
| 10. | Kristian Jones | 6:41 | +0:25 |
Men: 9-10
Men: 9-10 (Legtimes)

| | | | |
| --- | --- | --- | --- |
| 1. | Jonas Leandersson | 0:30 | +0:00 |
| 2. | Yannick Michiels | 0:31 | +0:01 |
| 3. | Martin Hubmann | 0:31 | +0:01 |
| 4. | Andreu Blanes | 0:31 | +0:01 |
| 5. | Jerker Lysell | 0:31 | +0:01 |
| 6. | Jonas Vytautas Gvildys | 0:31 | +0:01 |
| 7. | Gaute Hallan Steiwer | 0:31 | +0:01 |
| 8. | Marten B Bostrom | 0:32 | +0:02 |
| 9. | Daniel Hubmann | 0:32 | +0:02 |
| 10. | Soren Bobach | 0:32 | +0:02 |

Men: 9-10 (Total times)

| | | | |
| --- | --- | --- | --- |
| 1. | Yannick Michiels | 6:47 | +0:00 |
| 2. | Jonas Leandersson | 7:00 | +0:13 |
| 3. | Martin Hubmann | 7:05 | +0:18 |
| 4. | Andreu Blanes | 7:07 | +0:20 |
| 5. | Jerker Lysell | 7:08 | +0:21 |
| 6. | Marten B Bostrom | 7:08 | +0:21 |
| 7. | Daniel Hubmann | 7:09 | +0:22 |
| 8. | Jonas Vytautas Gvildys | 7:11 | +0:24 |
| 9. | Soren Bobach | 7:11 | +0:24 |
| 10. | Kristian Jones | 7:13 | +0:26 |
Men: 10-11
Men: 10-11 (Legtimes)

| | | | |
| --- | --- | --- | --- |
| 1. | Yannick Michiels | 0:54 | +0:00 |
| 2. | Jonas Leandersson | 0:54 | +0:00 |
| 3. | Kristian Jones | 0:54 | +0:00 |
| 4. | Frederic Tranchand | 0:55 | +0:01 |
| 5. | Martin Hubmann | 0:56 | +0:02 |
| 6. | Jerker Lysell | 0:56 | +0:02 |
| 7. | Marten B Bostrom | 0:56 | +0:02 |
| 8. | Daniel Hubmann | 0:56 | +0:02 |
| 9. | Jonas Vytautas Gvildys | 0:56 | +0:02 |
| 10. | Soren Bobach | 0:56 | +0:02 |
| 14. | Andreu Blanes | 0:57 | +0:03 |

Men: 10-11 (Total times)

| | | | |
| --- | --- | --- | --- |
| 1. | Yannick Michiels | 7:41 | +0:00 |
| 2. | Jonas Leandersson | 7:54 | +0:13 |
| 3. | Martin Hubmann | 8:01 | +0:20 |
| 4. | Andreu Blanes | 8:04 | +0:23 |
| 5. | Jerker Lysell | 8:04 | +0:23 |
| 6. | Marten B Bostrom | 8:04 | +0:23 |
| 7. | Daniel Hubmann | 8:05 | +0:24 |
| 8. | Jonas Vytautas Gvildys | 8:07 | +0:26 |
| 9. | Kristian Jones | 8:07 | +0:26 |
| 10. | Soren Bobach | 8:07 | +0:26 |
Men: 11-12
Men: 11-12 (Legtimes)

| | | | |
| --- | --- | --- | --- |
| 1. | Jonas Leandersson | 0:45 | +0:00 |
| 2. | Kristian Jones | 0:45 | +0:00 |
| 3. | Yannick Michiels | 0:46 | +0:01 |
| 4. | Jerker Lysell | 0:46 | +0:01 |
| 5. | Marten B Bostrom | 0:46 | +0:01 |
| 6. | Daniel Hubmann | 0:46 | +0:01 |
| 7. | Tue Lassen | 0:46 | +0:01 |
| 8. | Vojtech Kral | 0:46 | +0:01 |
| 9. | Martin Hubmann | 0:47 | +0:02 |
| 10. | Jonas Vytautas Gvildys | 0:47 | +0:02 |
| 18. | Andreu Blanes | 0:48 | +0:03 |

Men: 11-12 (Total times)

| | | | |
| --- | --- | --- | --- |
| 1. | Yannick Michiels | 8:27 | +0:00 |
| 2. | Jonas Leandersson | 8:39 | +0:12 |
| 3. | Martin Hubmann | 8:48 | +0:21 |
| 4. | Jerker Lysell | 8:50 | +0:23 |
| 5. | Marten B Bostrom | 8:50 | +0:23 |
| 6. | Daniel Hubmann | 8:51 | +0:24 |
| 7. | Andreu Blanes | 8:52 | +0:25 |
| 8. | Kristian Jones | 8:52 | +0:25 |
| 9. | Jonas Vytautas Gvildys | 8:54 | +0:27 |
| 10. | Soren Bobach | 8:54 | +0:27 |
Men: 12-13
Men: 12-13 (Legtimes)

| | | | |
| --- | --- | --- | --- |
| 1. | Soren Bobach | 0:21 | +0:00 |
| 2. | Robert Merl | 0:21 | +0:00 |
| 3. | Martin Hubmann | 0:22 | +0:01 |
| 4. | Kristian Jones | 0:22 | +0:01 |
| 5. | Tue Lassen | 0:22 | +0:01 |
| 6. | Murray Strain | 0:22 | +0:01 |
| 7. | Lucas Basset | 0:22 | +0:01 |
| 8. | Vincent Coupat | 0:22 | +0:01 |
| 9. | Daniel Hubmann | 0:23 | +0:02 |
| 10. | Andreu Blanes | 0:23 | +0:02 |
| 18. | Jerker Lysell | 0:24 | +0:03 |
| 19. | Marten B Bostrom | 0:24 | +0:03 |
| 28. | Jonas Leandersson | 0:25 | +0:04 |
| 39. | Yannick Michiels | 0:27 | +0:06 |

Men: 12-13 (Total times)

| | | | |
| --- | --- | --- | --- |
| 1. | Yannick Michiels | 8:54 | +0:00 |
| 2. | Jonas Leandersson | 9:04 | +0:10 |
| 3. | Martin Hubmann | 9:10 | +0:16 |
| 4. | Daniel Hubmann | 9:14 | +0:20 |
| 5. | Jerker Lysell | 9:14 | +0:20 |
| 6. | Kristian Jones | 9:14 | +0:20 |
| 7. | Marten B Bostrom | 9:14 | +0:20 |
| 8. | Andreu Blanes | 9:15 | +0:21 |
| 9. | Soren Bobach | 9:15 | +0:21 |
| 10. | Jonas Vytautas Gvildys | 9:17 | +0:23 |
Men: 13-14
Men: 13-14 (Legtimes)

| | | | |
| --- | --- | --- | --- |
| 1. | Martin Hubmann | 0:28 | +0:00 |
| 2. | Jerker Lysell | 0:28 | +0:00 |
| 3. | Jonas Leandersson | 0:29 | +0:01 |
| 4. | Daniel Hubmann | 0:29 | +0:01 |
| 5. | Marten B Bostrom | 0:29 | +0:01 |
| 6. | Soren Bobach | 0:29 | +0:01 |
| 7. | Jonas Vytautas Gvildys | 0:29 | +0:01 |
| 8. | Tue Lassen | 0:29 | +0:01 |
| 9. | Kristian Jones | 0:30 | +0:02 |
| 10. | Scott Fraser | 0:30 | +0:02 |
| 35. | Andreu Blanes | 0:35 | +0:07 |
| 41. | Yannick Michiels | 0:41 | +0:13 |

Men: 13-14 (Total times)

| | | | |
| --- | --- | --- | --- |
| 1. | Jonas Leandersson | 9:33 | +0:00 |
| 2. | Yannick Michiels | 9:35 | +0:02 |
| 3. | Martin Hubmann | 9:38 | +0:05 |
| 4. | Jerker Lysell | 9:42 | +0:09 |
| 5. | Daniel Hubmann | 9:43 | +0:10 |
| 6. | Marten B Bostrom | 9:43 | +0:10 |
| 7. | Kristian Jones | 9:44 | +0:11 |
| 8. | Soren Bobach | 9:44 | +0:11 |
| 9. | Jonas Vytautas Gvildys | 9:46 | +0:13 |
| 10. | Tue Lassen | 9:46 | +0:13 |
| 11. | Andreu Blanes | 9:50 | +0:17 |
Men: 14-15
Men: 14-15 (Legtimes)

| | | | |
| --- | --- | --- | --- |
| 1. | Jonas Leandersson | 0:34 | +0:00 |
| 2. | Kristian Jones | 0:34 | +0:00 |
| 3. | Andreu Blanes | 0:34 | +0:00 |
| 4. | Vincent Coupat | 0:34 | +0:00 |
| 5. | Martin Hubmann | 0:35 | +0:01 |
| 6. | Jerker Lysell | 0:35 | +0:01 |
| 7. | Daniel Hubmann | 0:35 | +0:01 |
| 8. | Marten B Bostrom | 0:35 | +0:01 |
| 9. | Soren Bobach | 0:35 | +0:01 |
| 10. | Scott Fraser | 0:35 | +0:01 |
| 27. | Yannick Michiels | 0:38 | +0:04 |

Men: 14-15 (Total times)

| | | | |
| --- | --- | --- | --- |
| 1. | Jonas Leandersson | 10:07 | +0:00 |
| 2. | Martin Hubmann | 10:13 | +0:06 |
| 3. | Yannick Michiels | 10:13 | +0:06 |
| 4. | Jerker Lysell | 10:17 | +0:10 |
| 5. | Daniel Hubmann | 10:18 | +0:11 |
| 6. | Kristian Jones | 10:18 | +0:11 |
| 7. | Marten B Bostrom | 10:18 | +0:11 |
| 8. | Soren Bobach | 10:19 | +0:12 |
| 9. | Jonas Vytautas Gvildys | 10:23 | +0:16 |
| 10. | Andreu Blanes | 10:24 | +0:17 |
Men: 15-16
Men: 15-16 (Legtimes)

| | | | |
| --- | --- | --- | --- |
| 1. | Jerker Lysell | 0:20 | +0:00 |
| 2. | Frederic Tranchand | 0:20 | +0:00 |
| 3. | Kristian Jones | 0:21 | +0:01 |
| 4. | Robert Merl | 0:21 | +0:01 |
| 5. | Oystein Kvaal Osterbo | 0:21 | +0:01 |
| 6. | Jonas Leandersson | 0:22 | +0:02 |
| 7. | Martin Hubmann | 0:22 | +0:02 |
| 8. | Yannick Michiels | 0:22 | +0:02 |
| 9. | Marten B Bostrom | 0:22 | +0:02 |
| 10. | Soren Bobach | 0:22 | +0:02 |
| 12. | Andreu Blanes | 0:22 | +0:02 |
| 20. | Daniel Hubmann | 0:23 | +0:03 |

Men: 15-16 (Total times)

| | | | |
| --- | --- | --- | --- |
| 1. | Jonas Leandersson | 10:29 | +0:00 |
| 2. | Martin Hubmann | 10:35 | +0:06 |
| 3. | Yannick Michiels | 10:35 | +0:06 |
| 4. | Jerker Lysell | 10:37 | +0:08 |
| 5. | Kristian Jones | 10:39 | +0:10 |
| 6. | Marten B Bostrom | 10:40 | +0:11 |
| 7. | Daniel Hubmann | 10:41 | +0:12 |
| 8. | Soren Bobach | 10:41 | +0:12 |
| 9. | Jonas Vytautas Gvildys | 10:45 | +0:16 |
| 10. | Andreu Blanes | 10:46 | +0:17 |
Men: 16-17
Men: 16-17 (Legtimes)

| | | | |
| --- | --- | --- | --- |
| 1. | Marten B Bostrom | 0:13 | +0:00 |
| 2. | Vojtech Kral | 0:13 | +0:00 |
| 3. | Hakon Jarvis Westergard | 0:13 | +0:00 |
| 4. | Martin Hubmann | 0:14 | +0:01 |
| 5. | Jerker Lysell | 0:14 | +0:01 |
| 6. | Kristian Jones | 0:14 | +0:01 |
| 7. | Daniel Hubmann | 0:14 | +0:01 |
| 8. | Soren Bobach | 0:14 | +0:01 |
| 9. | Jonas Vytautas Gvildys | 0:14 | +0:01 |
| 10. | Andreu Blanes | 0:14 | +0:01 |
| 17. | Jonas Leandersson | 0:15 | +0:02 |
| 18. | Yannick Michiels | 0:15 | +0:02 |

Men: 16-17 (Total times)

| | | | |
| --- | --- | --- | --- |
| 1. | Jonas Leandersson | 10:44 | +0:00 |
| 2. | Martin Hubmann | 10:49 | +0:05 |
| 3. | Yannick Michiels | 10:50 | +0:06 |
| 4. | Jerker Lysell | 10:51 | +0:07 |
| 5. | Kristian Jones | 10:53 | +0:09 |
| 6. | Marten B Bostrom | 10:53 | +0:09 |
| 7. | Daniel Hubmann | 10:55 | +0:11 |
| 8. | Soren Bobach | 10:55 | +0:11 |
| 9. | Jonas Vytautas Gvildys | 10:59 | +0:15 |
| 10. | Andreu Blanes | 11:00 | +0:16 |
Men: 17-18
Men: 17-18 (Legtimes)

| | | | |
| --- | --- | --- | --- |
| 1. | Andreu Blanes | 0:21 | +0:00 |
| 2. | Yannick Michiels | 0:22 | +0:01 |
| 3. | Daniel Hubmann | 0:22 | +0:01 |
| 4. | Vojtech Kral | 0:22 | +0:01 |
| 5. | Oystein Kvaal Osterbo | 0:22 | +0:01 |
| 6. | Frederic Tranchand | 0:22 | +0:01 |
| 7. | Giacomo Zagonel | 0:22 | +0:01 |
| 8. | Jonas Leandersson | 0:23 | +0:02 |
| 9. | Martin Hubmann | 0:23 | +0:02 |
| 10. | Jerker Lysell | 0:23 | +0:02 |
| 12. | Marten B Bostrom | 0:23 | +0:02 |

Men: 17-18 (Total times)

| | | | |
| --- | --- | --- | --- |
| 1. | Jonas Leandersson | 11:07 | +0:00 |
| 2. | Martin Hubmann | 11:12 | +0:05 |
| 3. | Yannick Michiels | 11:12 | +0:05 |
| 4. | Jerker Lysell | 11:14 | +0:07 |
| 5. | Kristian Jones | 11:16 | +0:09 |
| 6. | Marten B Bostrom | 11:16 | +0:09 |
| 7. | Daniel Hubmann | 11:17 | +0:10 |
| 8. | Soren Bobach | 11:18 | +0:11 |
| 9. | Andreu Blanes | 11:21 | +0:14 |
| 10. | Jonas Vytautas Gvildys | 11:23 | +0:16 |
Men: 18-19
Men: 18-19 (Legtimes)

| | | | |
| --- | --- | --- | --- |
| 1. | Martin Hubmann | 0:34 | +0:00 |
| 2. | Yannick Michiels | 0:34 | +0:00 |
| 3. | Jerker Lysell | 0:34 | +0:00 |
| 4. | Marten B Bostrom | 0:34 | +0:00 |
| 5. | Daniel Hubmann | 0:34 | +0:00 |
| 6. | Andreu Blanes | 0:34 | +0:00 |
| 7. | Jonas Leandersson | 0:35 | +0:01 |
| 8. | Vojtech Kral | 0:35 | +0:01 |
| 9. | Murray Strain | 0:35 | +0:01 |
| 10. | Frederic Tranchand | 0:35 | +0:01 |

Men: 18-19 (Total times)

| | | | |
| --- | --- | --- | --- |
| 1. | Jonas Leandersson | 11:42 | +0:00 |
| 2. | Martin Hubmann | 11:46 | +0:04 |
| 3. | Yannick Michiels | 11:46 | +0:04 |
| 4. | Jerker Lysell | 11:48 | +0:06 |
| 5. | Marten B Bostrom | 11:50 | +0:08 |
| 6. | Daniel Hubmann | 11:51 | +0:09 |
| 7. | Kristian Jones | 11:52 | +0:10 |
| 8. | Soren Bobach | 11:54 | +0:12 |
| 9. | Andreu Blanes | 11:55 | +0:13 |
| 10. | Jonas Vytautas Gvildys | 11:59 | +0:17 |
Men: 19-20
Men: 19-20 (Legtimes)

| | | | |
| --- | --- | --- | --- |
| 1. | Jonas Leandersson | 0:12 | +0:00 |
| 2. | Martin Hubmann | 0:12 | +0:00 |
| 3. | Jerker Lysell | 0:12 | +0:00 |
| 4. | Daniel Hubmann | 0:12 | +0:00 |
| 5. | Jonas Vytautas Gvildys | 0:12 | +0:00 |
| 6. | Tue Lassen | 0:12 | +0:00 |
| 7. | Robert Merl | 0:12 | +0:00 |
| 8. | Oystein Kvaal Osterbo | 0:12 | +0:00 |
| 9. | Piotr Parfianowicz | 0:12 | +0:00 |
| 10. | Arturs Paulins | 0:12 | +0:00 |
| 12. | Yannick Michiels | 0:13 | +0:01 |
| 15. | Andreu Blanes | 0:13 | +0:01 |
| 32. | Marten B Bostrom | 0:14 | +0:02 |

Men: 19-20 (Total times)

| | | | |
| --- | --- | --- | --- |
| 1. | Jonas Leandersson | 11:54 | +0:00 |
| 2. | Martin Hubmann | 11:58 | +0:04 |
| 3. | Yannick Michiels | 11:59 | +0:05 |
| 4. | Jerker Lysell | 12:00 | +0:06 |
| 5. | Daniel Hubmann | 12:03 | +0:09 |
| 6. | Marten B Bostrom | 12:04 | +0:10 |
| 7. | Kristian Jones | 12:05 | +0:11 |
| 8. | Soren Bobach | 12:07 | +0:13 |
| 9. | Andreu Blanes | 12:08 | +0:14 |
| 10. | Jonas Vytautas Gvildys | 12:11 | +0:17 |
Men: 20-21
Men: 20-21 (Legtimes)

| | | | |
| --- | --- | --- | --- |
| 1. | Jonas Leandersson | 0:18 | +0:00 |
| 2. | Murray Strain | 0:18 | +0:00 |
| 3. | Yannick Michiels | 0:19 | +0:01 |
| 4. | Jerker Lysell | 0:19 | +0:01 |
| 5. | Daniel Hubmann | 0:19 | +0:01 |
| 6. | Marten B Bostrom | 0:19 | +0:01 |
| 7. | Soren Bobach | 0:19 | +0:01 |
| 8. | Andreu Blanes | 0:19 | +0:01 |
| 9. | Jonas Vytautas Gvildys | 0:19 | +0:01 |
| 10. | Scott Fraser | 0:19 | +0:01 |
| 17. | Martin Hubmann | 0:20 | +0:02 |

Men: 20-21 (Total times)

| | | | |
| --- | --- | --- | --- |
| 1. | Jonas Leandersson | 12:12 | +0:00 |
| 2. | Martin Hubmann | 12:18 | +0:06 |
| 3. | Yannick Michiels | 12:18 | +0:06 |
| 4. | Jerker Lysell | 12:19 | +0:07 |
| 5. | Daniel Hubmann | 12:22 | +0:10 |
| 6. | Marten B Bostrom | 12:23 | +0:11 |
| 7. | Kristian Jones | 12:25 | +0:13 |
| 8. | Soren Bobach | 12:26 | +0:14 |
| 9. | Andreu Blanes | 12:27 | +0:15 |
| 10. | Jonas Vytautas Gvildys | 12:30 | +0:18 |
Men: 21-22
Men: 21-22 (Legtimes)

| | | | |
| --- | --- | --- | --- |
| 1. | Marten B Bostrom | 0:07 | +0:00 |
| 2. | Jonas Leandersson | 0:08 | +0:01 |
| 3. | Martin Hubmann | 0:08 | +0:01 |
| 4. | Kristian Jones | 0:08 | +0:01 |
| 5. | Soren Bobach | 0:08 | +0:01 |
| 6. | Andreu Blanes | 0:08 | +0:01 |
| 7. | Jonas Vytautas Gvildys | 0:08 | +0:01 |
| 8. | Tue Lassen | 0:08 | +0:01 |
| 9. | Robert Merl | 0:08 | +0:01 |
| 10. | Oystein Kvaal Osterbo | 0:08 | +0:01 |
| 19. | Yannick Michiels | 0:09 | +0:02 |
| 20. | Jerker Lysell | 0:09 | +0:02 |
| 21. | Daniel Hubmann | 0:09 | +0:02 |

Men: 21-22 (Total times)

| | | | |
| --- | --- | --- | --- |
| 1. | Jonas Leandersson | 12:20 | +0:00 |
| 2. | Martin Hubmann | 12:26 | +0:06 |
| 3. | Yannick Michiels | 12:27 | +0:07 |
| 4. | Jerker Lysell | 12:28 | +0:08 |
| 5. | Marten B Bostrom | 12:30 | +0:10 |
| 6. | Daniel Hubmann | 12:31 | +0:11 |
| 7. | Kristian Jones | 12:33 | +0:13 |
| 8. | Soren Bobach | 12:34 | +0:14 |
| 9. | Andreu Blanes | 12:35 | +0:15 |
| 10. | Jonas Vytautas Gvildys | 12:38 | +0:18 |
Men: 22-23
Men: 22-23 (Legtimes)

| | | | |
| --- | --- | --- | --- |
| 1. | Andreu Blanes | 0:22 | +0:00 |
| 2. | Robert Merl | 0:22 | +0:00 |
| 3. | Oystein Kvaal Osterbo | 0:22 | +0:00 |
| 4. | Martin Hubmann | 0:23 | +0:01 |
| 5. | Marten B Bostrom | 0:23 | +0:01 |
| 6. | Kristian Jones | 0:23 | +0:01 |
| 7. | Soren Bobach | 0:23 | +0:01 |
| 8. | Jonas Vytautas Gvildys | 0:23 | +0:01 |
| 9. | Andreas Kyburz | 0:23 | +0:01 |
| 10. | Vojtech Kral | 0:23 | +0:01 |
| 12. | Jonas Leandersson | 0:24 | +0:02 |
| 13. | Jerker Lysell | 0:24 | +0:02 |
| 14. | Daniel Hubmann | 0:24 | +0:02 |
| 23. | Yannick Michiels | 0:25 | +0:03 |

Men: 22-23 (Total times)

| | | | |
| --- | --- | --- | --- |
| 1. | Jonas Leandersson | 12:44 | +0:00 |
| 2. | Martin Hubmann | 12:49 | +0:05 |
| 3. | Jerker Lysell | 12:52 | +0:08 |
| 4. | Yannick Michiels | 12:52 | +0:08 |
| 5. | Marten B Bostrom | 12:53 | +0:09 |
| 6. | Daniel Hubmann | 12:55 | +0:11 |
| 7. | Kristian Jones | 12:56 | +0:12 |
| 8. | Andreu Blanes | 12:57 | +0:13 |
| 9. | Soren Bobach | 12:57 | +0:13 |
| 10. | Jonas Vytautas Gvildys | 13:01 | +0:17 |