[Updated with correct illustrations] Maja Alm (Denmark) won 40 seconds ahead of Nadiya Volynska (Ukraine) with Galina Vinogradova (Russian Federation) in 3rd at 0:52. Maja Alm won 16 of 22 legs and did nearly no mistakes.
Maja Alm took the lead at the first control. Then Rachel Effeney (leading at the 2nd control) was at the front before Maja Alm took over the lead at control 3 of 22 controls and kept it until the finish. Maja Alm lost 2 seconds or less to the leg winner on all legs – and did simply have an incredible speed. There were generally small time differences between the best and the second best route on this course. Alm several times took a non-optimal route, but was never really punished because the course was set in a way which favoured strong runners.
[Comment: It is a mystery to me why no artificial boundaries were used to make at least one or two interesting legs on this course. One or two alleys closed could have made a big difference. Maja Alm would still have been the clear, clear winner, but it would have been more interesting for the athletes and the spectators. Thus unfortunately this analysis about the medals is more about who ran fastest in the park in the end than about orienteering issues.]
Results and maps/GPS-tracking
For completeness, below are the results (full official results including tenths of a second here).
| | | | | |
| --- | --- | --- | --- | --- |
| 1. | Maja Alm | Denmark | 13:32 | (+0:00) |
| 2. | Nadiya Volynska | Ukraine | 14:12 | (+0:40) |
| 3. | Galina Vinogradova | Russian Federation | 14:24 | (+0:52) |
| 4. | Sara Luescher | Switzerland | 14:26 | (+0:54) |
| 5. | Hanny Allston | Australia | 14:27 | (+0:55) |
| 6. | Minna Kauppi | Finland | 14:27 | (+0:55) |
| 7. | Rahel Friederich | Switzerland | 14:30 | (+0:58) |
| 8. | Silje Ekroll Jahren | Norway | 14:43 | (+1:11) |
| 9. | Julia Gross | Switzerland | 14:50 | (+1:18) |
| 10. | Karolin Ohlsson | Sweden | 14:53 | (+1:21) |
WOC Sprint Final Women

» See map in omaps.worldofo.com
Different class: Maja Alm against the rest
This splits comparison tells it all. Just like in the Sprint Relay, Alm has a different level and gains time all the way. Below is Alm's worst leg. She runs on the left side of the building instead of on the right side which is around 2 seconds faster, and loses 2 seconds to the best split time. When analyzing this further though, it might very well have been just as fast to go left due to the touch-less punching. When coming from the left you can continue without de-accelerating and accelerating. It might very well be that Alm (and bronze medalist Galina Vinogradova who also runs left) just think one step further than their competitors here …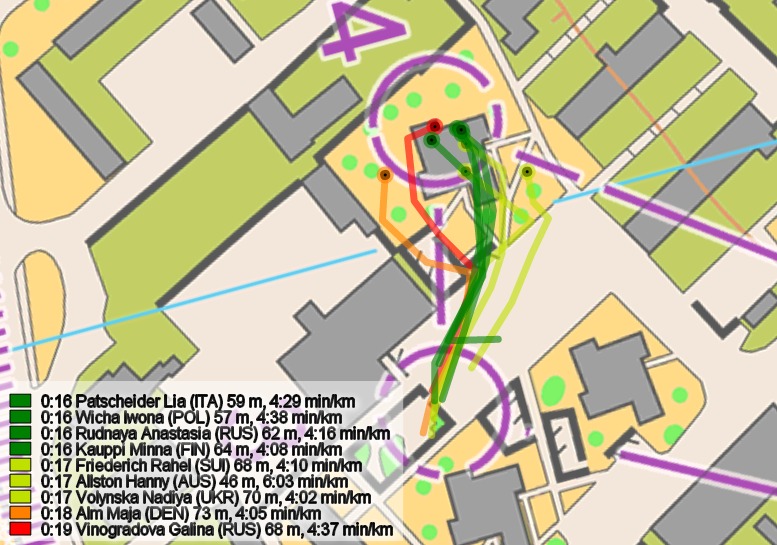 The below detailed comparison between Alm and Volynska shows how Volynska is faster only on three of the short legs – every time Alm can run for more than 100 meters, she is so much faster than the others that she can even do some small non-optimal routes. Volynska also does a very good race, and never loses more than 6 seconds to Alm.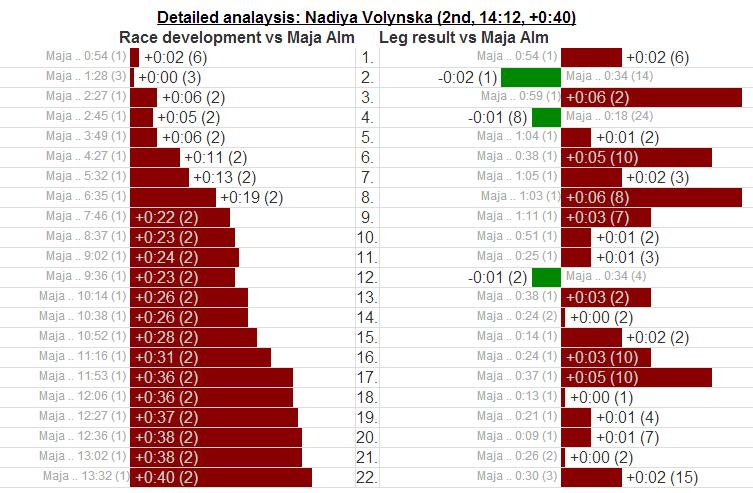 Volynska clearly the second best
As Alm is so clearly the best, it is more interesting to remove Alm from the analysis so see the differences between the other competitors. However when taking away Alm, Volynska is just as clearly the second best as you can see on the below split comparison.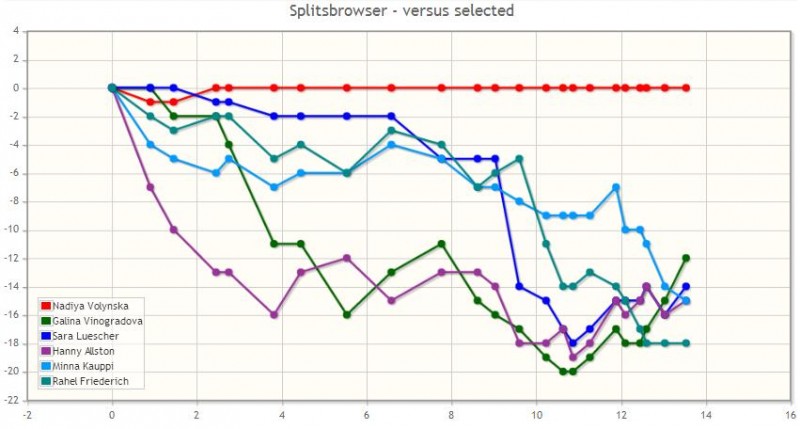 Tight fight for Bronze
Thus we take away also Volynska to look at the fight for bronze.  There are 5 runners in the fight for bronze – and the difference between them is never more than 14 seconds!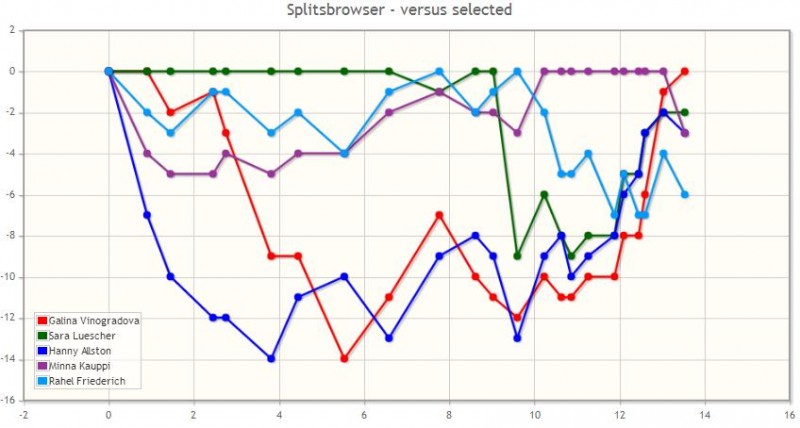 Minna Kauppi is in position for the bronze medal at the last control, but loses 4(!) seconds to Galina Vinogradova in the run-in! Galina Vinogradova loses time in the start, but has a very good finish – securing her the bronze medal. In the easy, open part in the end she beats Kauppi with 10 seconds on two minutes running – what a strong finish! Australian Hanny Allston, who is also a very strong runner, looks like she is on the way to doing something very similar to Vinogradova – but fades a little bit in the end compared to Vinogradova and loses the possibility for bronze medal.
Sara Lüscher (Switzerland) looks like a clear bronze candidate – leading the fight until her mistake at the 12th control. Here Lüscher makes exactly the same mistake as Yannick Michiels in the men's class (there are 3 more women and one more man doing the same mistake). This costs Lüscher 10 seconds to the best split time, and probably the bronze medal as she is only 2 seconds from the bronze in the end.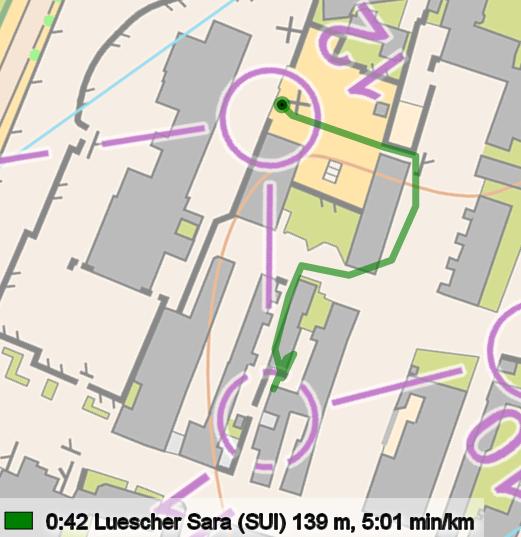 Women: S-1
Women: S-1 (Legtimes)

| | | | |
| --- | --- | --- | --- |
| 1. | Maja Alm | 0:54 | +0:00 |
| 2. | Galina Vinogradova | 0:55 | +0:01 |
| 3. | Rachel Effeney | 0:55 | +0:01 |
| 4. | Sara Luescher | 0:55 | +0:01 |
| 5. | Shuangyan Hao | 0:55 | +0:01 |
| 6. | Laura Robertson | 0:56 | +0:02 |
| 7. | Nadiya Volynska | 0:56 | +0:02 |
| 8. | Jana Knapova | 0:57 | +0:03 |
| 9. | Rahel Friederich | 0:57 | +0:03 |
| 10. | Anastasia Rudnaya | 0:58 | +0:04 |
| 15. | Minna Kauppi | 0:59 | +0:05 |
| 28. | Hanny Allston | 1:02 | +0:08 |

Women: S-1 (Total times)

| | | | |
| --- | --- | --- | --- |
| 1. | Maja Alm | 0:54 | +0:00 |
| 2. | Galina Vinogradova | 0:55 | +0:01 |
| 3. | Rachel Effeney | 0:55 | +0:01 |
| 4. | Sara Luescher | 0:55 | +0:01 |
| 5. | Shuangyan Hao | 0:55 | +0:01 |
| 6. | Laura Robertson | 0:56 | +0:02 |
| 7. | Nadiya Volynska | 0:56 | +0:02 |
| 8. | Jana Knapova | 0:57 | +0:03 |
| 9. | Rahel Friederich | 0:57 | +0:03 |
| 10. | Anastasia Rudnaya | 0:58 | +0:04 |
| 15. | Minna Kauppi | 0:59 | +0:05 |
| 28. | Hanny Allston | 1:02 | +0:08 |
Women: 1-2
Women: 1-2 (Legtimes)

| | | | |
| --- | --- | --- | --- |
| 1. | Rachel Effeney | 0:32 | +0:00 |
| 2. | Sara Luescher | 0:32 | +0:00 |
| 3. | Nadiya Volynska | 0:32 | +0:00 |
| 4. | Jana Knapova | 0:32 | +0:00 |
| 5. | Karolin Ohlsson | 0:32 | +0:00 |
| 6. | Laura Robertson | 0:33 | +0:01 |
| 7. | Rahel Friederich | 0:33 | +0:01 |
| 8. | Elise Egseth | 0:33 | +0:01 |
| 9. | Minna Kauppi | 0:33 | +0:01 |
| 10. | Silje Ekroll Jahren | 0:33 | +0:01 |
| 14. | Maja Alm | 0:34 | +0:02 |
| 15. | Galina Vinogradova | 0:34 | +0:02 |
| 25. | Hanny Allston | 0:35 | +0:03 |

Women: 1-2 (Total times)

| | | | |
| --- | --- | --- | --- |
| 1. | Rachel Effeney | 1:27 | +0:00 |
| 2. | Sara Luescher | 1:27 | +0:00 |
| 3. | Maja Alm | 1:28 | +0:01 |
| 4. | Nadiya Volynska | 1:28 | +0:01 |
| 5. | Galina Vinogradova | 1:29 | +0:02 |
| 6. | Jana Knapova | 1:29 | +0:02 |
| 7. | Laura Robertson | 1:29 | +0:02 |
| 8. | Rahel Friederich | 1:30 | +0:03 |
| 9. | Elise Egseth | 1:32 | +0:05 |
| 10. | Karolin Ohlsson | 1:32 | +0:05 |
| 11. | Minna Kauppi | 1:32 | +0:05 |
| 26. | Hanny Allston | 1:37 | +0:10 |
Women: 2-3
Women: 2-3 (Legtimes)

| | | | |
| --- | --- | --- | --- |
| 1. | Maja Alm | 0:59 | +0:00 |
| 2. | Nadiya Volynska | 1:05 | +0:06 |
| 3. | Rahel Friederich | 1:05 | +0:06 |
| 4. | Karolin Ohlsson | 1:05 | +0:06 |
| 5. | Cecilie Friberg Klysner | 1:05 | +0:06 |
| 6. | Ruth Holmes | 1:05 | +0:06 |
| 7. | Galina Vinogradova | 1:06 | +0:07 |
| 8. | Rachel Effeney | 1:07 | +0:08 |
| 9. | Sara Luescher | 1:07 | +0:08 |
| 10. | Laura Robertson | 1:07 | +0:08 |
| 11. | Minna Kauppi | 1:07 | +0:08 |
| 22. | Hanny Allston | 1:09 | +0:10 |

Women: 2-3 (Total times)

| | | | |
| --- | --- | --- | --- |
| 1. | Maja Alm | 2:27 | +0:00 |
| 2. | Nadiya Volynska | 2:33 | +0:06 |
| 3. | Rachel Effeney | 2:34 | +0:07 |
| 4. | Sara Luescher | 2:34 | +0:07 |
| 5. | Galina Vinogradova | 2:35 | +0:08 |
| 6. | Rahel Friederich | 2:35 | +0:08 |
| 7. | Laura Robertson | 2:36 | +0:09 |
| 8. | Karolin Ohlsson | 2:37 | +0:10 |
| 9. | Minna Kauppi | 2:39 | +0:12 |
| 10. | Elise Egseth | 2:40 | +0:13 |
| 21. | Hanny Allston | 2:46 | +0:19 |
Women: 3-4
Women: 3-4 (Legtimes)

| | | | |
| --- | --- | --- | --- |
| 1. | Rachel Effeney | 0:16 | +0:00 |
| 2. | Laura Robertson | 0:16 | +0:00 |
| 3. | Minna Kauppi | 0:16 | +0:00 |
| 4. | Lia Patscheider | 0:16 | +0:00 |
| 5. | Gabija Razaityte | 0:16 | +0:00 |
| 6. | Anastasia Rudnaya | 0:16 | +0:00 |
| 7. | Iwona Wicha | 0:16 | +0:00 |
| 8. | Nadiya Volynska | 0:17 | +0:01 |
| 9. | Sara Luescher | 0:17 | +0:01 |
| 10. | Rahel Friederich | 0:17 | +0:01 |
| 17. | Hanny Allston | 0:17 | +0:01 |
| 24. | Maja Alm | 0:18 | +0:02 |
| 34. | Galina Vinogradova | 0:19 | +0:03 |

Women: 3-4 (Total times)

| | | | |
| --- | --- | --- | --- |
| 1. | Maja Alm | 2:45 | +0:00 |
| 2. | Nadiya Volynska | 2:50 | +0:05 |
| 3. | Rachel Effeney | 2:50 | +0:05 |
| 4. | Sara Luescher | 2:51 | +0:06 |
| 5. | Laura Robertson | 2:52 | +0:07 |
| 6. | Rahel Friederich | 2:52 | +0:07 |
| 7. | Galina Vinogradova | 2:54 | +0:09 |
| 8. | Karolin Ohlsson | 2:54 | +0:09 |
| 9. | Minna Kauppi | 2:55 | +0:10 |
| 10. | Elise Egseth | 2:57 | +0:12 |
| 19. | Hanny Allston | 3:03 | +0:18 |
Women: 4-5
Women: 4-5 (Legtimes)

| | | | |
| --- | --- | --- | --- |
| 1. | Maja Alm | 1:04 | +0:00 |
| 2. | Nadiya Volynska | 1:05 | +0:01 |
| 3. | Elise Egseth | 1:05 | +0:01 |
| 4. | Sara Luescher | 1:06 | +0:02 |
| 5. | Cecilie Friberg Klysner | 1:06 | +0:02 |
| 6. | Alison Crocker | 1:06 | +0:02 |
| 7. | Karolin Ohlsson | 1:07 | +0:03 |
| 8. | Minna Kauppi | 1:07 | +0:03 |
| 9. | Charlotte Ward | 1:07 | +0:03 |
| 10. | Rahel Friederich | 1:08 | +0:04 |
| 12. | Hanny Allston | 1:08 | +0:04 |
| 26. | Galina Vinogradova | 1:12 | +0:08 |

Women: 4-5 (Total times)

| | | | |
| --- | --- | --- | --- |
| 1. | Maja Alm | 3:49 | +0:00 |
| 2. | Nadiya Volynska | 3:55 | +0:06 |
| 3. | Sara Luescher | 3:57 | +0:08 |
| 4. | Rachel Effeney | 4:00 | +0:11 |
| 5. | Rahel Friederich | 4:00 | +0:11 |
| 6. | Karolin Ohlsson | 4:01 | +0:12 |
| 7. | Elise Egseth | 4:02 | +0:13 |
| 8. | Minna Kauppi | 4:02 | +0:13 |
| 9. | Laura Robertson | 4:03 | +0:14 |
| 10. | Galina Vinogradova | 4:06 | +0:17 |
| 13. | Hanny Allston | 4:11 | +0:22 |
Women: 5-6
Women: 5-6 (Legtimes)

| | | | |
| --- | --- | --- | --- |
| 1. | Maja Alm | 0:38 | +0:00 |
| 2. | Hanny Allston | 0:40 | +0:02 |
| 3. | Charlotte Ward | 0:41 | +0:03 |
| 4. | Evely Kaasiku | 0:41 | +0:03 |
| 5. | Iwona Wicha | 0:41 | +0:03 |
| 6. | Rahel Friederich | 0:42 | +0:04 |
| 7. | Minna Kauppi | 0:42 | +0:04 |
| 8. | Jana Knapova | 0:42 | +0:04 |
| 9. | Shuangyan Hao | 0:42 | +0:04 |
| 10. | Nadiya Volynska | 0:43 | +0:05 |
| 11. | Sara Luescher | 0:43 | +0:05 |
| 14. | Galina Vinogradova | 0:43 | +0:05 |

Women: 5-6 (Total times)

| | | | |
| --- | --- | --- | --- |
| 1. | Maja Alm | 4:27 | +0:00 |
| 2. | Nadiya Volynska | 4:38 | +0:11 |
| 3. | Sara Luescher | 4:40 | +0:13 |
| 4. | Rahel Friederich | 4:42 | +0:15 |
| 5. | Karolin Ohlsson | 4:44 | +0:17 |
| 6. | Minna Kauppi | 4:44 | +0:17 |
| 7. | Rachel Effeney | 4:45 | +0:18 |
| 8. | Laura Robertson | 4:46 | +0:19 |
| 9. | Elise Egseth | 4:47 | +0:20 |
| 10. | Galina Vinogradova | 4:49 | +0:22 |
| 11. | Hanny Allston | 4:51 | +0:24 |
Women: 6-7
Women: 6-7 (Legtimes)

| | | | |
| --- | --- | --- | --- |
| 1. | Maja Alm | 1:05 | +0:00 |
| 2. | Hanny Allston | 1:06 | +0:01 |
| 3. | Nadiya Volynska | 1:07 | +0:02 |
| 4. | Sara Luescher | 1:07 | +0:02 |
| 5. | Minna Kauppi | 1:07 | +0:02 |
| 6. | Elise Egseth | 1:08 | +0:03 |
| 7. | Charlotte Ward | 1:08 | +0:03 |
| 8. | Silje Ekroll Jahren | 1:08 | +0:03 |
| 9. | Rahel Friederich | 1:09 | +0:04 |
| 10. | Cecilie Friberg Klysner | 1:09 | +0:04 |
| 21. | Galina Vinogradova | 1:12 | +0:07 |

Women: 6-7 (Total times)

| | | | |
| --- | --- | --- | --- |
| 1. | Maja Alm | 5:32 | +0:00 |
| 2. | Nadiya Volynska | 5:45 | +0:13 |
| 3. | Sara Luescher | 5:47 | +0:15 |
| 4. | Minna Kauppi | 5:51 | +0:19 |
| 5. | Rahel Friederich | 5:51 | +0:19 |
| 6. | Elise Egseth | 5:55 | +0:23 |
| 7. | Hanny Allston | 5:57 | +0:25 |
| 8. | Laura Robertson | 5:57 | +0:25 |
| 9. | Rachel Effeney | 5:57 | +0:25 |
| 10. | Karolin Ohlsson | 5:58 | +0:26 |
| 11. | Galina Vinogradova | 6:01 | +0:29 |
Women: 7-8
Women: 7-8 (Legtimes)

| | | | |
| --- | --- | --- | --- |
| 1. | Maja Alm | 1:03 | +0:00 |
| 2. | Rahel Friederich | 1:06 | +0:03 |
| 3. | Galina Vinogradova | 1:06 | +0:03 |
| 4. | Silje Ekroll Jahren | 1:06 | +0:03 |
| 5. | Minna Kauppi | 1:07 | +0:04 |
| 6. | Elise Egseth | 1:08 | +0:05 |
| 7. | Julia Gross | 1:08 | +0:05 |
| 8. | Nadiya Volynska | 1:09 | +0:06 |
| 9. | Sara Luescher | 1:09 | +0:06 |
| 10. | Alison Crocker | 1:10 | +0:07 |
| 16. | Hanny Allston | 1:12 | +0:09 |

Women: 7-8 (Total times)

| | | | |
| --- | --- | --- | --- |
| 1. | Maja Alm | 6:35 | +0:00 |
| 2. | Nadiya Volynska | 6:54 | +0:19 |
| 3. | Sara Luescher | 6:56 | +0:21 |
| 4. | Rahel Friederich | 6:57 | +0:22 |
| 5. | Minna Kauppi | 6:58 | +0:23 |
| 6. | Elise Egseth | 7:03 | +0:28 |
| 7. | Galina Vinogradova | 7:07 | +0:32 |
| 8. | Hanny Allston | 7:09 | +0:34 |
| 9. | Karolin Ohlsson | 7:09 | +0:34 |
| 10. | Laura Robertson | 7:09 | +0:34 |
Women: 8-9
Women: 8-9 (Legtimes)

| | | | |
| --- | --- | --- | --- |
| 1. | Maja Alm | 1:11 | +0:00 |
| 2. | Galina Vinogradova | 1:12 | +0:01 |
| 3. | Hanny Allston | 1:12 | +0:01 |
| 4. | Elise Egseth | 1:13 | +0:02 |
| 5. | Alison Crocker | 1:13 | +0:02 |
| 6. | Iwona Wicha | 1:13 | +0:02 |
| 7. | Nadiya Volynska | 1:14 | +0:03 |
| 8. | Rahel Friederich | 1:15 | +0:04 |
| 9. | Minna Kauppi | 1:15 | +0:04 |
| 10. | Silje Ekroll Jahren | 1:15 | +0:04 |
| 13. | Sara Luescher | 1:17 | +0:06 |

Women: 8-9 (Total times)

| | | | |
| --- | --- | --- | --- |
| 1. | Maja Alm | 7:46 | +0:00 |
| 2. | Nadiya Volynska | 8:08 | +0:22 |
| 3. | Rahel Friederich | 8:12 | +0:26 |
| 4. | Minna Kauppi | 8:13 | +0:27 |
| 5. | Sara Luescher | 8:13 | +0:27 |
| 6. | Elise Egseth | 8:16 | +0:30 |
| 7. | Galina Vinogradova | 8:19 | +0:33 |
| 8. | Hanny Allston | 8:21 | +0:35 |
| 9. | Silje Ekroll Jahren | 8:27 | +0:41 |
| 10. | Laura Robertson | 8:28 | +0:42 |
Women: 9-10
Women: 9-10 (Legtimes)

| | | | |
| --- | --- | --- | --- |
| 1. | Maja Alm | 0:51 | +0:00 |
| 2. | Nadiya Volynska | 0:52 | +0:01 |
| 3. | Sara Luescher | 0:52 | +0:01 |
| 4. | Hanny Allston | 0:52 | +0:01 |
| 5. | Julia Gross | 0:53 | +0:02 |
| 6. | Minna Kauppi | 0:54 | +0:03 |
| 7. | Silje Ekroll Jahren | 0:54 | +0:03 |
| 8. | Cecilie Friberg Klysner | 0:54 | +0:03 |
| 9. | Rahel Friederich | 0:55 | +0:04 |
| 10. | Anastasia Rudnaya | 0:55 | +0:04 |
| 12. | Galina Vinogradova | 0:56 | +0:05 |

Women: 9-10 (Total times)

| | | | |
| --- | --- | --- | --- |
| 1. | Maja Alm | 8:37 | +0:00 |
| 2. | Nadiya Volynska | 9:00 | +0:23 |
| 3. | Sara Luescher | 9:05 | +0:28 |
| 4. | Minna Kauppi | 9:07 | +0:30 |
| 5. | Rahel Friederich | 9:07 | +0:30 |
| 6. | Elise Egseth | 9:12 | +0:35 |
| 7. | Hanny Allston | 9:13 | +0:36 |
| 8. | Galina Vinogradova | 9:15 | +0:38 |
| 9. | Silje Ekroll Jahren | 9:21 | +0:44 |
| 10. | Laura Robertson | 9:24 | +0:47 |
Women: 10-11
Women: 10-11 (Legtimes)

| | | | |
| --- | --- | --- | --- |
| 1. | Maja Alm | 0:25 | +0:00 |
| 2. | Rahel Friederich | 0:25 | +0:00 |
| 3. | Nadiya Volynska | 0:26 | +0:01 |
| 4. | Sara Luescher | 0:26 | +0:01 |
| 5. | Minna Kauppi | 0:26 | +0:01 |
| 6. | Cecilie Friberg Klysner | 0:26 | +0:01 |
| 7. | Charlotte Ward | 0:26 | +0:01 |
| 8. | Hanny Allston | 0:27 | +0:02 |
| 9. | Galina Vinogradova | 0:27 | +0:02 |
| 10. | Silje Ekroll Jahren | 0:27 | +0:02 |

Women: 10-11 (Total times)

| | | | |
| --- | --- | --- | --- |
| 1. | Maja Alm | 9:02 | +0:00 |
| 2. | Nadiya Volynska | 9:26 | +0:24 |
| 3. | Sara Luescher | 9:31 | +0:29 |
| 4. | Rahel Friederich | 9:32 | +0:30 |
| 5. | Minna Kauppi | 9:33 | +0:31 |
| 6. | Hanny Allston | 9:40 | +0:38 |
| 7. | Elise Egseth | 9:42 | +0:40 |
| 8. | Galina Vinogradova | 9:42 | +0:40 |
| 9. | Silje Ekroll Jahren | 9:48 | +0:46 |
| 10. | Laura Robertson | 9:52 | +0:50 |
Women: 11-12
Women: 11-12 (Legtimes)

| | | | |
| --- | --- | --- | --- |
| 1. | Rahel Friederich | 0:32 | +0:00 |
| 2. | Nadiya Volynska | 0:33 | +0:01 |
| 3. | Cecilie Friberg Klysner | 0:33 | +0:01 |
| 4. | Maja Alm | 0:34 | +0:02 |
| 5. | Minna Kauppi | 0:34 | +0:02 |
| 6. | Galina Vinogradova | 0:34 | +0:02 |
| 7. | Charlotte Ward | 0:34 | +0:02 |
| 8. | Karolin Ohlsson | 0:35 | +0:03 |
| 9. | Julia Gross | 0:35 | +0:03 |
| 10. | Anastasia Rudnaya | 0:35 | +0:03 |
| 15. | Hanny Allston | 0:37 | +0:05 |
| 32. | Sara Luescher | 0:42 | +0:10 |

Women: 11-12 (Total times)

| | | | |
| --- | --- | --- | --- |
| 1. | Maja Alm | 9:36 | +0:00 |
| 2. | Nadiya Volynska | 9:59 | +0:23 |
| 3. | Rahel Friederich | 10:04 | +0:28 |
| 4. | Minna Kauppi | 10:07 | +0:31 |
| 5. | Sara Luescher | 10:13 | +0:37 |
| 6. | Galina Vinogradova | 10:16 | +0:40 |
| 7. | Hanny Allston | 10:17 | +0:41 |
| 8. | Elise Egseth | 10:20 | +0:44 |
| 9. | Silje Ekroll Jahren | 10:25 | +0:49 |
| 10. | Karolin Ohlsson | 10:32 | +0:56 |
Women: 12-13
Women: 12-13 (Legtimes)

| | | | |
| --- | --- | --- | --- |
| 1. | Maja Alm | 0:38 | +0:00 |
| 2. | Nadiya Volynska | 0:41 | +0:03 |
| 3. | Hanny Allston | 0:41 | +0:03 |
| 4. | Elise Egseth | 0:41 | +0:03 |
| 5. | Karolin Ohlsson | 0:41 | +0:03 |
| 6. | Cecilie Friberg Klysner | 0:41 | +0:03 |
| 7. | Minna Kauppi | 0:42 | +0:04 |
| 8. | Sara Luescher | 0:42 | +0:04 |
| 9. | Alice Leake | 0:42 | +0:04 |
| 10. | Lizzie Ingham | 0:42 | +0:04 |
| 11. | Galina Vinogradova | 0:43 | +0:05 |

Women: 12-13 (Total times)

| | | | |
| --- | --- | --- | --- |
| 1. | Maja Alm | 10:14 | +0:00 |
| 2. | Nadiya Volynska | 10:40 | +0:26 |
| 3. | Minna Kauppi | 10:49 | +0:35 |
| 4. | Rahel Friederich | 10:51 | +0:37 |
| 5. | Sara Luescher | 10:55 | +0:41 |
| 6. | Hanny Allston | 10:58 | +0:44 |
| 7. | Galina Vinogradova | 10:59 | +0:45 |
| 8. | Elise Egseth | 11:01 | +0:47 |
| 9. | Silje Ekroll Jahren | 11:10 | +0:56 |
| 10. | Karolin Ohlsson | 11:13 | +0:59 |
Women: 13-14
Women: 13-14 (Legtimes)

| | | | |
| --- | --- | --- | --- |
| 1. | Hanny Allston | 0:23 | +0:00 |
| 2. | Maja Alm | 0:24 | +0:01 |
| 3. | Nadiya Volynska | 0:24 | +0:01 |
| 4. | Minna Kauppi | 0:24 | +0:01 |
| 5. | Galina Vinogradova | 0:25 | +0:02 |
| 6. | Silje Ekroll Jahren | 0:25 | +0:02 |
| 7. | Cecilie Friberg Klysner | 0:25 | +0:02 |
| 8. | Lia Patscheider | 0:25 | +0:02 |
| 9. | Sara Luescher | 0:26 | +0:03 |
| 10. | Karolin Ohlsson | 0:26 | +0:03 |

Women: 13-14 (Total times)

| | | | |
| --- | --- | --- | --- |
| 1. | Maja Alm | 10:38 | +0:00 |
| 2. | Nadiya Volynska | 11:04 | +0:26 |
| 3. | Minna Kauppi | 11:13 | +0:35 |
| 4. | Rahel Friederich | 11:18 | +0:40 |
| 5. | Hanny Allston | 11:21 | +0:43 |
| 6. | Sara Luescher | 11:21 | +0:43 |
| 7. | Galina Vinogradova | 11:24 | +0:46 |
| 8. | Elise Egseth | 11:28 | +0:50 |
| 9. | Silje Ekroll Jahren | 11:35 | +0:57 |
| 10. | Karolin Ohlsson | 11:39 | +1:01 |
Women: 14-15
Women: 14-15 (Legtimes)

| | | | |
| --- | --- | --- | --- |
| 1. | Maja Alm | 0:14 | +0:00 |
| 2. | Nadiya Volynska | 0:16 | +0:02 |
| 3. | Minna Kauppi | 0:16 | +0:02 |
| 4. | Rahel Friederich | 0:16 | +0:02 |
| 5. | Galina Vinogradova | 0:16 | +0:02 |
| 6. | Cecilie Friberg Klysner | 0:16 | +0:02 |
| 7. | Iwona Wicha | 0:16 | +0:02 |
| 8. | Shuangyan Hao | 0:16 | +0:02 |
| 9. | Sara Luescher | 0:17 | +0:03 |
| 10. | Elise Egseth | 0:17 | +0:03 |
| 18. | Hanny Allston | 0:18 | +0:04 |

Women: 14-15 (Total times)

| | | | |
| --- | --- | --- | --- |
| 1. | Maja Alm | 10:52 | +0:00 |
| 2. | Nadiya Volynska | 11:20 | +0:28 |
| 3. | Minna Kauppi | 11:29 | +0:37 |
| 4. | Rahel Friederich | 11:34 | +0:42 |
| 5. | Sara Luescher | 11:38 | +0:46 |
| 6. | Hanny Allston | 11:39 | +0:47 |
| 7. | Galina Vinogradova | 11:40 | +0:48 |
| 8. | Elise Egseth | 11:45 | +0:53 |
| 9. | Silje Ekroll Jahren | 11:52 | +1:00 |
| 10. | Karolin Ohlsson | 11:57 | +1:05 |
Women: 15-16
Women: 15-16 (Legtimes)

| | | | |
| --- | --- | --- | --- |
| 1. | Maja Alm | 0:24 | +0:00 |
| 2. | Rahel Friederich | 0:26 | +0:02 |
| 3. | Sara Luescher | 0:26 | +0:02 |
| 4. | Hanny Allston | 0:26 | +0:02 |
| 5. | Galina Vinogradova | 0:26 | +0:02 |
| 6. | Elise Egseth | 0:26 | +0:02 |
| 7. | Silje Ekroll Jahren | 0:26 | +0:02 |
| 8. | Alison Crocker | 0:26 | +0:02 |
| 9. | Iwona Wicha | 0:26 | +0:02 |
| 10. | Nadiya Volynska | 0:27 | +0:03 |
| 11. | Minna Kauppi | 0:27 | +0:03 |

Women: 15-16 (Total times)

| | | | |
| --- | --- | --- | --- |
| 1. | Maja Alm | 11:16 | +0:00 |
| 2. | Nadiya Volynska | 11:47 | +0:31 |
| 3. | Minna Kauppi | 11:56 | +0:40 |
| 4. | Rahel Friederich | 12:00 | +0:44 |
| 5. | Sara Luescher | 12:04 | +0:48 |
| 6. | Hanny Allston | 12:05 | +0:49 |
| 7. | Galina Vinogradova | 12:06 | +0:50 |
| 8. | Elise Egseth | 12:11 | +0:55 |
| 9. | Silje Ekroll Jahren | 12:18 | +1:02 |
| 10. | Karolin Ohlsson | 12:25 | +1:09 |
Women: 16-17
Women: 16-17 (Legtimes)

| | | | |
| --- | --- | --- | --- |
| 1. | Maja Alm | 0:37 | +0:00 |
| 2. | Hanny Allston | 0:39 | +0:02 |
| 3. | Minna Kauppi | 0:40 | +0:03 |
| 4. | Sara Luescher | 0:40 | +0:03 |
| 5. | Galina Vinogradova | 0:40 | +0:03 |
| 6. | Elise Egseth | 0:40 | +0:03 |
| 7. | Silje Ekroll Jahren | 0:41 | +0:04 |
| 8. | Julia Gross | 0:41 | +0:04 |
| 9. | Iwona Wicha | 0:41 | +0:04 |
| 10. | Nadiya Volynska | 0:42 | +0:05 |

Women: 16-17 (Total times)

| | | | |
| --- | --- | --- | --- |
| 1. | Maja Alm | 11:53 | +0:00 |
| 2. | Nadiya Volynska | 12:29 | +0:36 |
| 3. | Minna Kauppi | 12:36 | +0:43 |
| 4. | Rahel Friederich | 12:43 | +0:50 |
| 5. | Hanny Allston | 12:44 | +0:51 |
| 6. | Sara Luescher | 12:44 | +0:51 |
| 7. | Galina Vinogradova | 12:46 | +0:53 |
| 8. | Elise Egseth | 12:51 | +0:58 |
| 9. | Silje Ekroll Jahren | 12:59 | +1:06 |
| 10. | Julia Gross | 13:09 | +1:16 |
Women: 17-18
Women: 17-18 (Legtimes)

| | | | |
| --- | --- | --- | --- |
| 1. | Maja Alm | 0:13 | +0:00 |
| 2. | Nadiya Volynska | 0:13 | +0:00 |
| 3. | Sara Luescher | 0:13 | +0:00 |
| 4. | Rahel Friederich | 0:14 | +0:01 |
| 5. | Hanny Allston | 0:14 | +0:01 |
| 6. | Galina Vinogradova | 0:14 | +0:01 |
| 7. | Elise Egseth | 0:14 | +0:01 |
| 8. | Julia Gross | 0:14 | +0:01 |
| 9. | Karolin Ohlsson | 0:14 | +0:01 |
| 10. | Gabija Razaityte | 0:14 | +0:01 |
| 23. | Minna Kauppi | 0:16 | +0:03 |

Women: 17-18 (Total times)

| | | | |
| --- | --- | --- | --- |
| 1. | Maja Alm | 12:06 | +0:00 |
| 2. | Nadiya Volynska | 12:42 | +0:36 |
| 3. | Minna Kauppi | 12:52 | +0:46 |
| 4. | Rahel Friederich | 12:57 | +0:51 |
| 5. | Sara Luescher | 12:57 | +0:51 |
| 6. | Hanny Allston | 12:58 | +0:52 |
| 7. | Galina Vinogradova | 13:00 | +0:54 |
| 8. | Elise Egseth | 13:05 | +0:59 |
| 9. | Silje Ekroll Jahren | 13:14 | +1:08 |
| 10. | Julia Gross | 13:23 | +1:17 |
Women: 18-19
Women: 18-19 (Legtimes)

| | | | |
| --- | --- | --- | --- |
| 1. | Maja Alm | 0:21 | +0:00 |
| 2. | Hanny Allston | 0:21 | +0:00 |
| 3. | Elise Egseth | 0:21 | +0:00 |
| 4. | Nadiya Volynska | 0:22 | +0:01 |
| 5. | Minna Kauppi | 0:22 | +0:01 |
| 6. | Sara Luescher | 0:22 | +0:01 |
| 7. | Galina Vinogradova | 0:22 | +0:01 |
| 8. | Silje Ekroll Jahren | 0:22 | +0:01 |
| 9. | Julia Gross | 0:22 | +0:01 |
| 10. | Iwona Wicha | 0:22 | +0:01 |

Women: 18-19 (Total times)

| | | | |
| --- | --- | --- | --- |
| 1. | Maja Alm | 12:27 | +0:00 |
| 2. | Nadiya Volynska | 13:04 | +0:37 |
| 3. | Minna Kauppi | 13:14 | +0:47 |
| 4. | Hanny Allston | 13:19 | +0:52 |
| 5. | Sara Luescher | 13:19 | +0:52 |
| 6. | Rahel Friederich | 13:21 | +0:54 |
| 7. | Galina Vinogradova | 13:22 | +0:55 |
| 8. | Elise Egseth | 13:26 | +0:59 |
| 9. | Silje Ekroll Jahren | 13:36 | +1:09 |
| 10. | Julia Gross | 13:45 | +1:18 |
Women: 19-20
Women: 19-20 (Legtimes)

| | | | |
| --- | --- | --- | --- |
| 1. | Maja Alm | 0:09 | +0:00 |
| 2. | Hanny Allston | 0:09 | +0:00 |
| 3. | Sara Luescher | 0:09 | +0:00 |
| 4. | Galina Vinogradova | 0:09 | +0:00 |
| 5. | Alison Crocker | 0:09 | +0:00 |
| 6. | Anastasia Rudnaya | 0:09 | +0:00 |
| 7. | Nadiya Volynska | 0:10 | +0:01 |
| 8. | Elise Egseth | 0:10 | +0:01 |
| 9. | Silje Ekroll Jahren | 0:10 | +0:01 |
| 10. | Julia Gross | 0:10 | +0:01 |
| 23. | Minna Kauppi | 0:11 | +0:02 |

Women: 19-20 (Total times)

| | | | |
| --- | --- | --- | --- |
| 1. | Maja Alm | 12:36 | +0:00 |
| 2. | Nadiya Volynska | 13:14 | +0:38 |
| 3. | Minna Kauppi | 13:25 | +0:49 |
| 4. | Hanny Allston | 13:28 | +0:52 |
| 5. | Sara Luescher | 13:28 | +0:52 |
| 6. | Galina Vinogradova | 13:31 | +0:55 |
| 7. | Rahel Friederich | 13:32 | +0:56 |
| 8. | Elise Egseth | 13:36 | +1:00 |
| 9. | Silje Ekroll Jahren | 13:46 | +1:10 |
| 10. | Julia Gross | 13:55 | +1:19 |
Women: 20-21
Women: 20-21 (Legtimes)

| | | | |
| --- | --- | --- | --- |
| 1. | Galina Vinogradova | 0:24 | +0:00 |
| 2. | Maja Alm | 0:26 | +0:02 |
| 3. | Nadiya Volynska | 0:26 | +0:02 |
| 4. | Rahel Friederich | 0:26 | +0:02 |
| 5. | Silje Ekroll Jahren | 0:26 | +0:02 |
| 6. | Julia Gross | 0:26 | +0:02 |
| 7. | Karolin Ohlsson | 0:26 | +0:02 |
| 8. | Iwona Wicha | 0:27 | +0:03 |
| 9. | Fanni Gyurko | 0:27 | +0:03 |
| 10. | Shuangyan Hao | 0:27 | +0:03 |
| 11. | Hanny Allston | 0:28 | +0:04 |
| 12. | Sara Luescher | 0:28 | +0:04 |
| 16. | Minna Kauppi | 0:29 | +0:05 |

Women: 20-21 (Total times)

| | | | |
| --- | --- | --- | --- |
| 1. | Maja Alm | 13:02 | +0:00 |
| 2. | Nadiya Volynska | 13:40 | +0:38 |
| 3. | Minna Kauppi | 13:54 | +0:52 |
| 4. | Galina Vinogradova | 13:55 | +0:53 |
| 5. | Hanny Allston | 13:56 | +0:54 |
| 6. | Sara Luescher | 13:56 | +0:54 |
| 7. | Rahel Friederich | 13:58 | +0:56 |
| 8. | Silje Ekroll Jahren | 14:12 | +1:10 |
| 9. | Julia Gross | 14:21 | +1:19 |
| 10. | Karolin Ohlsson | 14:22 | +1:20 |