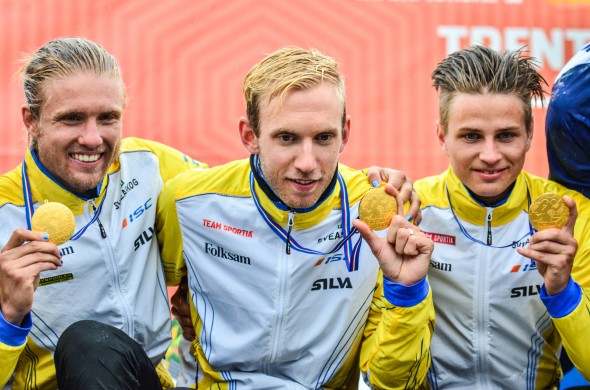 [Live from 14:55 CET (Women) and 17:00 CET (Men)] The relay is the highlight of the World Championships for many – and this year it comes before the long distance. Some top runners like Thierry Gueorgiou and Olav Lundanes skip the relay in order to be better prepared for the long distance, but most prioritize the relay highest if they are selected for the team.
Switzerland and Sweden won two very exciting relays at the World Orienteering Championships in Asiago, Italy last year. The tricky terrain made for changes in the relay all the way through the race – and especially the women's race had a lot of changes throughout the last leg. This year we can expect higher speed and somewhat easier orienteering – and there might be less opportunities to come up into the lead again if you do mistakes (full results 2014).
You can follow the event live from the WOC 2015 webpage:
WOC Relay Live page. Live TV and live GPS tracking is provided through the IOF live center portal which you find at the WOC Relay Live page of the organizers
See also World of O's WorldofoLive Twitter account (however Internet coverage was very poor/variable at the middle, so don't expect too much. This was also the reason for late race report at WorldofO)

Men's relay
Last year's silver medalist Switzerland has the most even team, full of top runners with fantastic abilities. Switzerland has to be the main favourite, although they will get a tough fight from last year's winner Sweden. France won Bronze last year, but Thierry Gueorgiou is not running this year, in addition Philippe Adamski is injured – and Vincent Coupat runs on the team along with Lucas Basset and Frederic Tranchand. Still an outsider, but not a main gold candidate with this team.
Another outsider is Norway (4th last year), even if Olav Lundanes is not on the team. Russia, Finland, Czech Republic, Great Britain and Latvia are other outsiders.
Tip:
1. Switzerland
2. Sweden
3. Great Britain
Women's relay
Judith Wyder had a fantastic championship last year, and decided the relay for Switzerland. This year Wyder is recovering from an injury, and is running the second leg. Although the team is strong, it will be difficult to defend the title. Sweden – even without Tove Alexandersson – is a bigger gold favourite. With exceptional good races of Annika Billstam and Emma Johansson, Sweden will be very difficult to beat. One team that can definitely beat Sweden on a good day is Denmark – in terrain which may be quite similar to what can be found in Denmark. Emma Klingenberg, Ida Bobach and Maja Alm have all shown exceptionally good shape – and nobody will run away from them.
Outsiders are Norway with a strong Anne Margrethe Hausken in the team, Finland and Great Britain.
Tip:
1. Sweden
2. Denmark
3. Norway