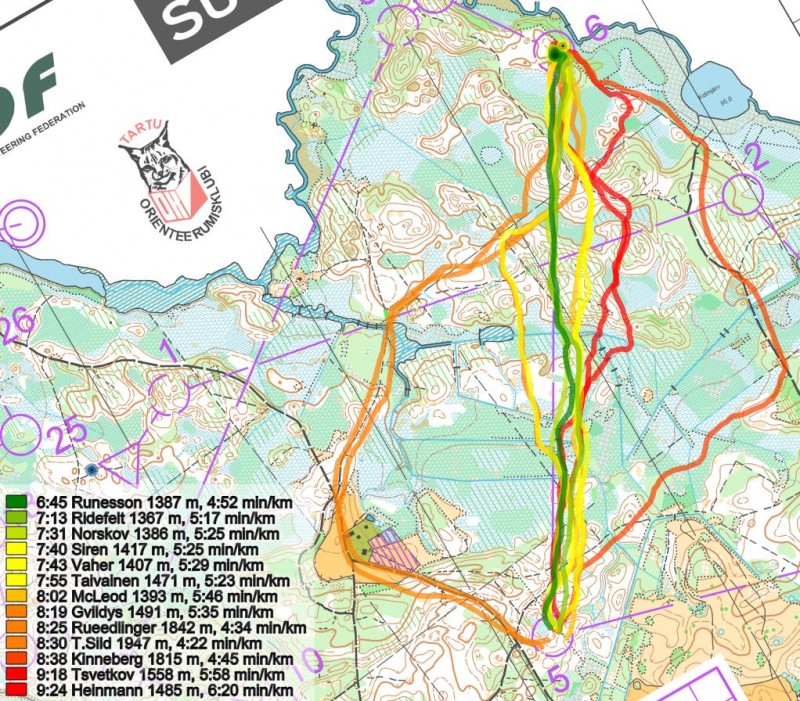 Some interesting routechoices were offered at Euromeeting's forest races this weekend – long on Saturday and middle on Sunday. Euromeeting in Otepää, Estonia this weekend offered a good opportunity to get to know the terrain type for athletes targeting the World Orienteering Championships in 2017 in Estonia.
The very varied runnability – partly very slow – makes for some interesting route choices. And at this weekend's races even some of the Baltic runners seemed to have trouble finding the best route choices at some of the longer legs. See below the brief analysis for full results, full maps with courses and links to GPS-tracking.
Men's long: 5-6
The leg from 5 to 6 in the men's long distance on Saturday shown above (see blank map below) offered possibilities to go far around to the left/right (see e.g. Timo Sild going all the way to the left) – while Swedes Runesson and Ridefelt proved that straight like a bulldozer works well even in Estonian terrain. [Note! The quick analysis in this article is written based on GPS-data of 10 athletes only – split times were unfortunately not available yet Sunday evening. This means that actual split times are different, and that there may be other athletes having faster split times on other routes. Sorry for the inconvenience.]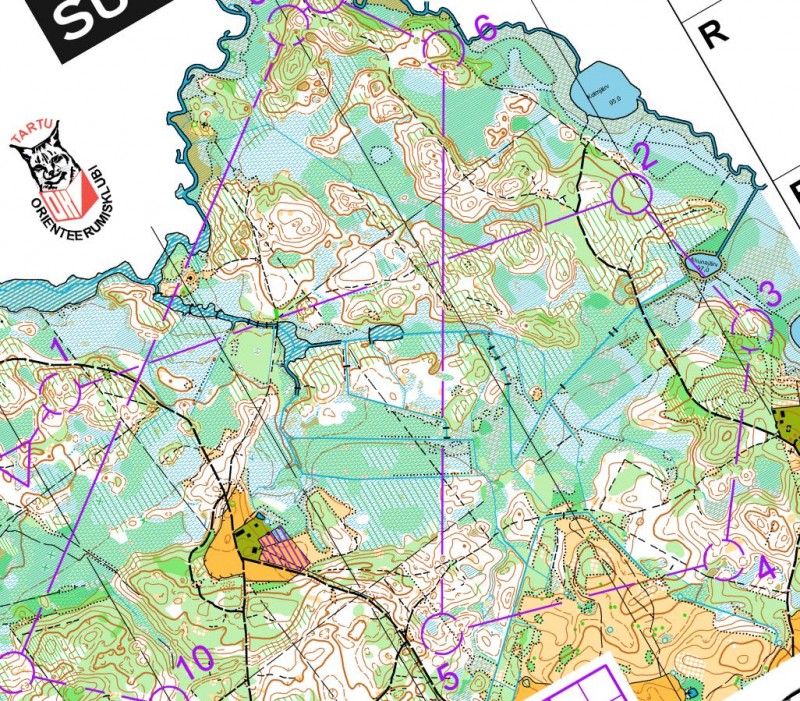 Not always straight
Below some of the longest legs in the men's long distance are shown. In many cases straight is fastest – but sometimes you need to go around. And these "sometimes" is what the world's top orienteers will try to learn the next two years. Some of the Swedes seem to have a good start already – but there is still a long way to go until WOC in Estonia in 2017.
Runesson vs Sild
The fight for victory between Runesson and Sild was decided on the longer legs: Sild lost nearly 3 minutes on the long legs to 6 and 9 – and also to the second control Runesson's route was faster. Runesson did however do several mistakes on the controls – but not enough for Sild to take the victory. Below are comparisons between Runesson's and Sild's race.
Women's middle: Ohlsson vs Gross
The middle distance was less about route choices and more about avoiding mistakes. Below the women's race by Ohlsson (2nd) and Gross (3rd) are compared. (winner Bachmann did not have GPS). As one can see, there are some differences in micro route choices, but from the GPS-tracking it looks like the main issue here was to avoid mistakes.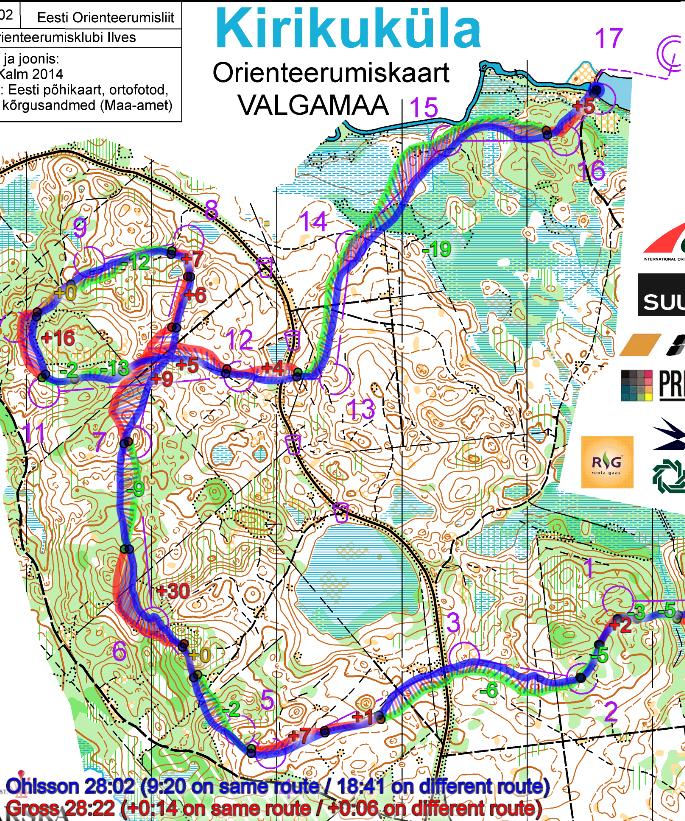 Men's middle: More straight lines
Taking a look at quick look at the men's middle, one sees many straight lines in the winner Ridefelt's route – below compared to the best Baltic runner Gvildys. The separate analysis of the longest leg (8-9) below also indicated that straight is fast in many cases in this particular terrain.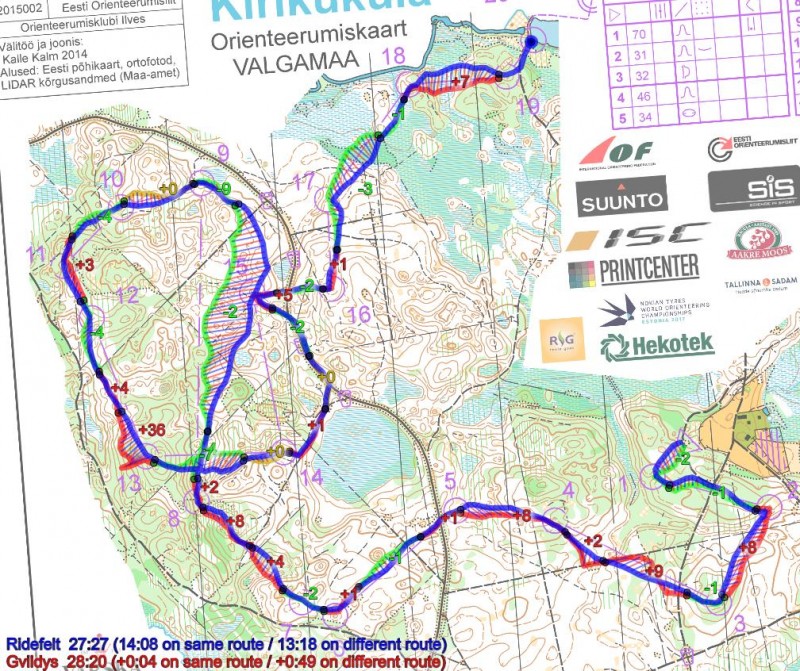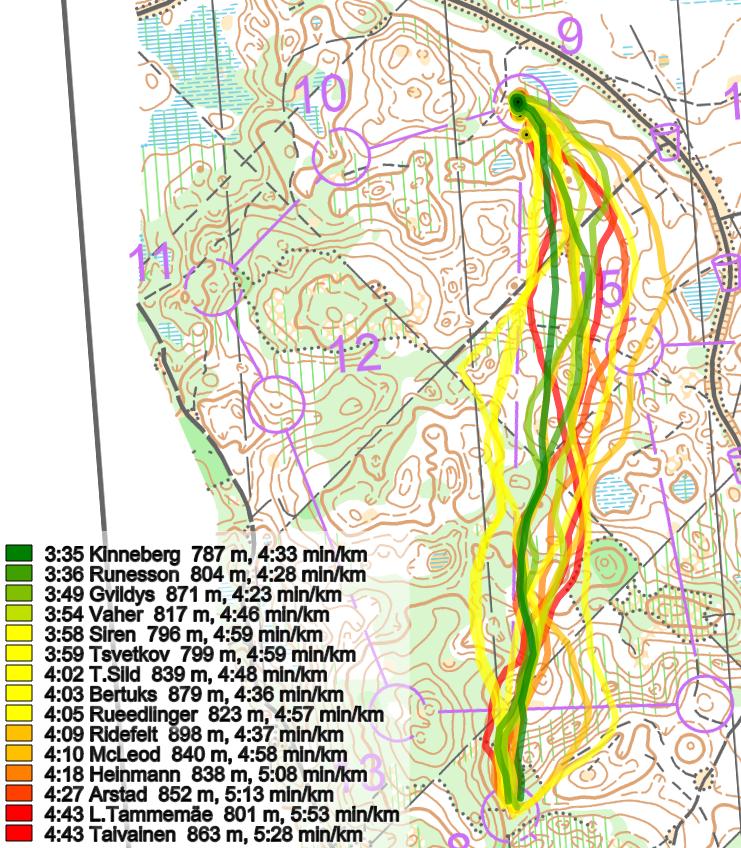 Maps and GPS-tracking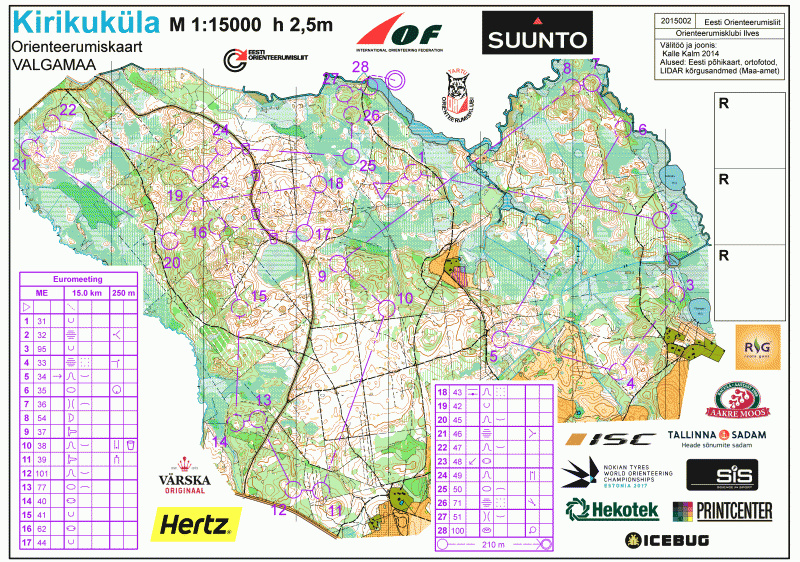 The same area was used for both long and middle distance – a typical Estonian terrain with varying runnability, many marshes and many small hills. See the men's long distance course above (click for large map), the men's middle distance below.
Maps and GPS-tracking is available here: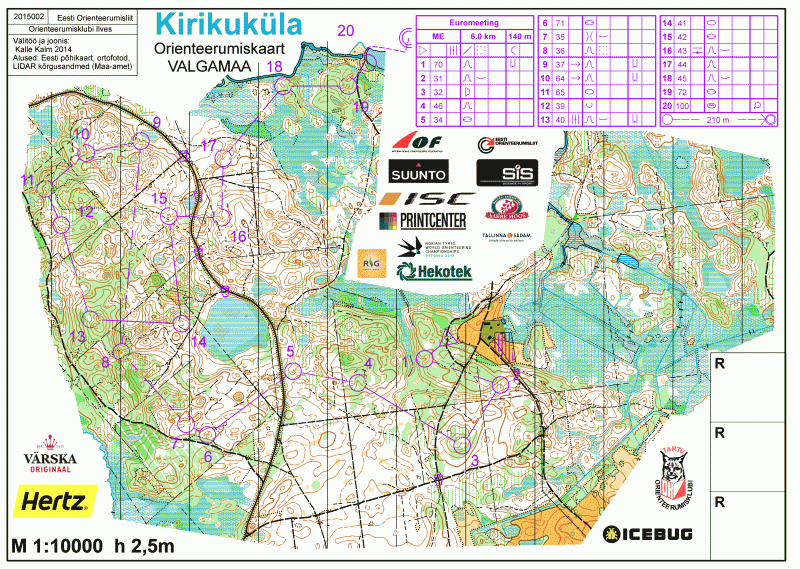 Results Long
Men
   1. Johan Runesson            Swedish Oriente Sweden       01:21.23   
   2. Timo Sild                 Estonian Orient Estonia      01:22.57   
   3. Albin Ridefelt            Swedish Oriente Sweden       01:23.05   
   4. Olli Markus Taivainen     Pellon Ponsi    Finland      01:23.51   
   5. Rassmus Andersson         Swedish Oriente Sweden       01:24.22   
   6. Martin Regborn            Swedish Oriente Sweden       01:25.45   
   7. Jonas Vytautas Gvildys    Lithuanian Orie Lithuania    01:25.50   
   8. Dmitry Tsvetkov           Russian Oriente Russia       01:27.16   
   9. Mikko Siren               Finnish Oriente Finland      01:27.19   
  10. Artem Popov               Russian Oriente Russia       01:28.06   
  11. Joakim Svensk             Swedish Oriente Sweden       01:28.27   
  12. Hakon Jarvis Westergard   Norwegian Orien Norway       01:28.35   
  13. Thor Norskov              Danish Orientee Denmark      01:28.38   
  14. Aleksi Anttolainen        Finnish Oriente Finland      01:29.05   
  15. Jens Wangdahl             Swedish Oriente Sweden       01:29.58
Women
   1. Julia Gross               Swiss Orienteer Switzerland  01:06.32   
   2. Anastasia Rudnaya         Russian Oriente Russia       01:06.51   
   3. Tuulia Viberg             Finnish Oriente Finland      01:07.50   
   4. Sari Anttonen             Finnish Oriente Finland      01:08.35   
   5. Sara Hagstrom             Swedish Oriente Sweden       01:08.56   
   6. Karolin Ohlsson           Swedish Oriente Sweden       01:09.01   
   7. Helena Karlsson           Swedish Oriente Sweden       01:09.27   
   8. Anna Bachman              Swedish Oriente Sweden       01:10.10   
   9. Evely Kaasiku             Estonian Orient Estonia      01:10.15   
  10. Sandrine Mueller          Swiss Orienteer Switzerland  01:10.51   
  11. Gabija Razaityte          Lithuanian Orie Lithuania    01:11.07   
  12. Outi Hytonen              SK100           Finland      01:12.16   
  13. Anna Haataja              Finnish Oriente Finland      01:12.58   
  14. Josefine Engstrom         Swedish Oriente Sweden       01:13.31   
  15. Anna Forsberg             Swedish Oriente Sweden       01:14.23
Results Middle
Men
1. 0:28:24 Albin RIDEFELT Swedish Orienteering Federatio SWE
2. 0:29:16 Johan RUNESSON Swedish Orienteering Federatio SWE
3. 0:29:20 Jonas Vytautas GVILDYS Lithuanian Orienteering Federa LTU
4. 0:29:38 Eskil KINNEBERG Norwegian Orienteering Federat NOR
5. 0:30:18 Thor NORSKOV Danish Orienteering Federation DEN
6. 0:30:21 Timo SILD Estonian Orienteering Federati EST
7. 0:30:30 Andreas RUEEDLINGER Swiss Orienteering SUI
8. 0:30:31 Dmitry TSVETKOV Russian Orienteering Federatio RUS
9. 0:30:44 Miika KIRMULA Finnish Orienteering Federatio FIN
10. 0:30:59 Anton SJOKVIST Swedish Orienteering Federatio SWE
11. 0:31:23 Toni SAARI Finnish Orienteering Federatio FIN
12. 0:32:09 Anton JOHANSSON Swedish Orienteering Federatio SWE
13. 0:32:09 Soren SCHWARTZ Danish Orienteering Federation DEN
14. 0:32:21 Andris JUBELIS Latvian Orienteering Federatio LAT
15. 0:32:24 Jon Aukrust OSMOEN Norwegian Orienteering Federat NOR
Women
1. 0:28:16 Anna BACHMAN Swedish Orienteering Federatio SWE
2. 0:28:51 Karolin OHLSSON Swedish Orienteering Federatio SWE
3. 0:29:17 Julia GROSS Swiss Orienteering SUI
4. 0:29:22 Anastasia RUDNAYA Russian Orienteering Federatio RUS
5. 0:29:30 Helena KARLSSON Swedish Orienteering Federatio SWE
6. 0:29:57 Sara ESKILSSON Swedish Orienteering Federatio SWE
7. 0:30:05 Anna FORSBERG Swedish Orienteering Federatio SWE
8. 0:30:17 Ingjerd MYHRE Norwegian Orienteering Federat NOR
9. 0:30:44 Evely KAASIKU Estonian Orienteering Federati EST
10. 0:30:55 Goeril ROENNING SUND Norwegian Orienteering Federat NOR
11. 0:30:56 Sari ANTTONEN Finnish Orienteering Federatio FIN
12. 0:31:05 Outi HYTONEN SK100 FIN
13. 0:31:11 Irina NYBERG Russian Orienteering Federatio RUS
14. 0:31:26 Kine HALLAN STEIWER Norwegian Orienteering Federat NOR
15. 0:31:28 Marika TEINI SK Pohjantahti FIN