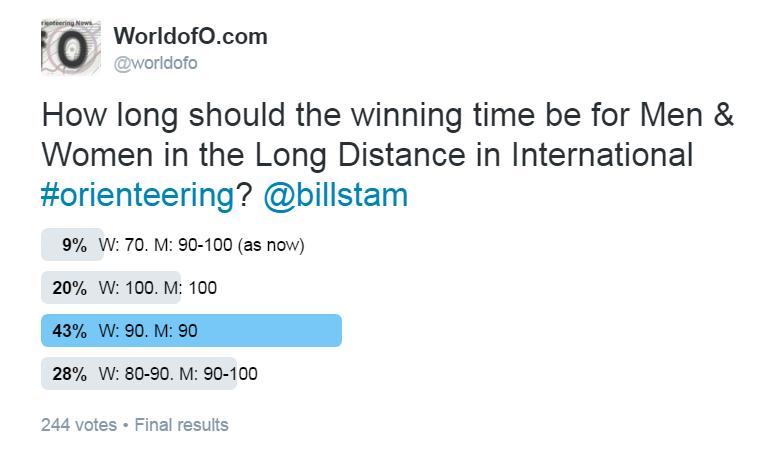 In an informal Twitter poll at WorldofO.com, the majority of the nearly 250 voters voted for equal winning time in the women's and men's long distance. 63% of the votes were for a common estimated winning time of either 90 minutes (43%) or 100 minutes (20%). 
This is compared to the current estimated winning time of 90-100 minutes for the men and 70-80 minutes for the women (apologies for the error in the poll text, thanks Jørn for pointing it out).
Official survey for all female elites ongoing
The IOF is currently making an official survey among all female elites (junior and senior) who have run an IOF Foot-O event since 01-01-2015. The survey will be open from Wednesday April 20 until Sunday May 2 23:59 (CET). After this, the results of the survey will be collated and both published and presented to the IOF Foot-O commission for consideration.
Background material
See the following article for background material:
Before the combined poll with men/women estimated winning time, separate polls for women and men were made with similar results (although a tendency to a wish for longer winning times for the men than for the women).
Quick Poll: How long should the womens long distance be? #forgetaboutthemen Background: https://t.co/c0KBh9EEdU #woo

— WorldofO.com (@worldofo) April 19, 2016
Quick Poll 2: How long should the MEN's long distance be? #forgetaboutthewomen Background: https://t.co/c0KBh9EEdU

— WorldofO.com (@worldofo) April 19, 2016