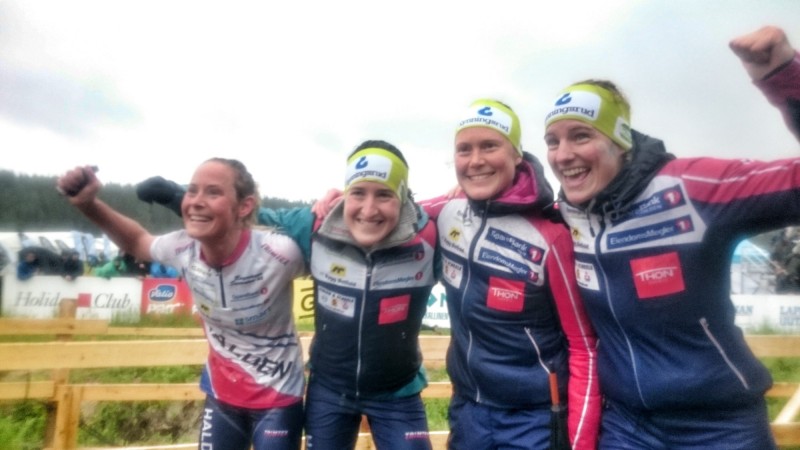 Halden wins Venla 2016 after strong last leg by Mari Fasting: – I made some mistakes in the start, but then I ran very good, Fasting said after the race. Halden's team was very international: Sabine Hauswirth (Switzerland), Hollie Orr (Great Britain), Anni-Maija Fincke (Finland) and Mari Fasting (Norway).
– I was very eager at the start as I have not been running orienteering for a while, but I knew my shape was good, Mari Fasting said after the race. – Therefore I did some mistakes in the first half of the course. After passing the arena I managed to keep my concentration and do good orienteering, so from there on and in I am very satisfied with my race.
Strong from the start
Sabine Hauswirth ran a good first leg for Halden, finishing in 2nd place only 4 seconds behind leading team Falköpings AIK (Sarah Hagström).
Sarah Hagström wins first leg for Falköping ahead of Haldens Hauswirth #venla pic.twitter.com/zO3a9OJ1tT

— WorldofO.com (@worldofo) June 18, 2016
Second leg runner Hollie Orr did brought Halden in to 8th place, nearly 3 minutes behind new leader OK Kåre. On the third leg, Halden's Anni-Maija Fincke did another excellent race, taking Halden all the way into the lead, just as at 10Mila earlier this year. With Mari Fasting back from injury, Halden had the finisher which managed to decide the relay for Halden – giving Halden the first victory since 2012.
Finnish teams in the top
The Finnish teams took all top positions except the very top in this year's Venla relay. Saila Kinni took Tampereen Pyrintö to second place after fighting in the top all the way from the start. Marika Teini took SK Pohjantähti to third place and Svetlana Mironova took Koovee to fourth place. The best Swedish team was Göteborg Majorna in 5th place.
Tight last leg
Venla featured a tight fight on the last leg. Two of the strongest challengers for Fasting were Alfta ÖSA's Natalia Gemperle (formerly Vinogradova) and Majorna's Judith Wyder. Wyder lost 3 minutes on a mistake on a forked control early in the course. Gemperle did a similiar 3 minute mistake on a forked control later in the course.
This is where Alfta ÖSA lost 3 minutes – out of the fight for victory #Venla pic.twitter.com/DxvtJ5tuIR

— WorldofO.com (@worldofo) June 18, 2016
With that the fight was between Fasting and Finnish top runners Saila Kinni and Marika Teini – a battle Fasting decided alone in the lead by not making mistakes.
This is where Halden got an advantage vs Pohjantähti & TP in fight for victory at #Venla #GPS. Now 1 minute lead! pic.twitter.com/u3bGQ4AEP7

— WorldofO.com (@worldofo) June 18, 2016
Fasting did "her mistake" at the arena passage, but this cost her only some 30 seconds – and was not decisive for the relay.
Halfway on last leg – 3 teams from 3 countries battling at the front after small Halden miss https://t.co/GGb7owG5nm pic.twitter.com/i8wB9Ak7xz

— WorldofO.com (@worldofo) June 18, 2016
Results
1
8
Halden SK
NOR
3:06:04
1 Sabine Hauswirth
44:08
2 Hollie Orr
47:50
1:31:59
3 Anni-Maija Fincke
34:33
2:06:32
4 Mari Fasting
59:32
3:06:04
2
6
Tampereen Pyrintö
FIN
3:06:57
1 Lotta Karhola
44:58
2 Sonja Kyrölä
47:14
1:32:12
3 Venla Harju
35:15
2:07:27
4 Saila Kinni
59:30
3:06:57
3
4
SK Pohjantähti
FIN
3:07:47
1 Heini Wennman
45:37
2 Marttiina Joensuu
46:29
1:32:06
3 Sofia Haajanen
34:32
2:06:39
4 Marika Teini
1:01:08
3:07:47
4
13
Koovee
FIN
3:09:42
1 Johanna Hulkkonen
44:24
2 Ulrika Uotila
47:47
1:32:11
3 Mia Niittynen
38:11
2:10:23
4 Svetlana Mironova
59:19
3:09:42
5
16
Göteborg Majorna OK
SWE
3:09:43
1 Viktoria Ernstsson
45:52
2 Anna Forsberg
43:30
1:29:23
3 Lina Strand
37:28
2:06:51
4 Judith Wyder
1:02:51
3:09:43
6
2
Alfta ÖSA OK
SWE
3:10:09
1 Galina Vinogradova
44:37
2 Sara Eskilsson
45:39
1:30:17
3 Josefine Engström
36:57
2:07:14
4 Natalia Gemperle
1:02:55
3:10:09
7
22
Stora Tuna OK
SWE
3:10:13
1 Anna Mårsell
44:40
2 Johanna Erlandsson
48:15
1:32:56
3 Julia Gross
40:03
2:12:59
4 Tove Alexandersson
57:14
3:10:13
8
10
IFK Lidingö SOK
SWE
3:10:18
1 Johanna Sanderi
46:31
2 Annica Gustafsson
45:17
1:31:48
3 Helena Karlsson
35:42
2:07:30
4 Anna Bachman
1:02:47
3:10:18
9
83
Paimion Rasti
FIN
3:10:19
1 Eveliina Hirvonen
47:00
2 Salla Fagerudd
45:12
1:32:13
3 Inga Dambe
35:06
2:07:19
4 Saara Norrgrann
1:03:00
3:10:19
10
26
IFK Göteborg
SWE
3:11:28
1 Isia Basset
45:41
2 Anna Närhi
46:33
1:32:14
3 Elin Månsson
37:36
2:09:50
4 Kirsi Nurmi
1:01:37
3:11:28