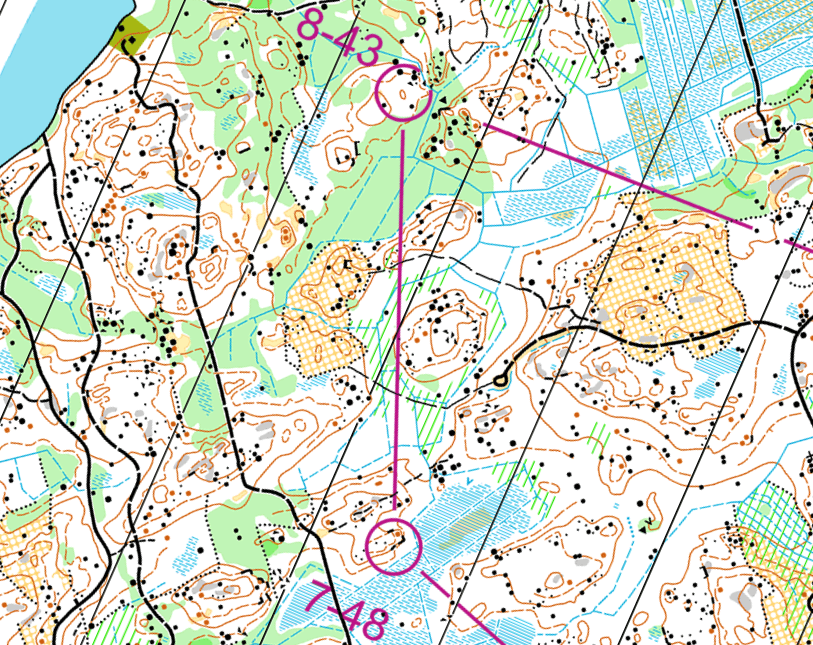 Today's event in the Summer-O 2016 series is FIN5 in Finland. FIN5 was organized close to Hamina in southeastern Finland from July 10th until July 16th 2016. Overall winners in FIN5 2016 were Frederic Tranchand (France) and Marika Teini* (Finland) Julia Novikova (Russia). 
The terrain did offer quite a few routechoice alternatives due to varying runnability – and due to GPS tracking for many categories and for several days there is a lot of interesting material to look at. Below some route animations to give an example of the challenges the runners met.
* Corrected based on comment from Finn. The English language page of FIN5 did unfortunately not have a link to the overall results.
The Summer-O 2016 series
About the Summer-O 2016 series: Traveling to new places and experience orienteering in new terrain is one of the highlights of the summer holidays for many orienteers – both orienteers on high level and hobby orienteers. The "Summer-O 2016″ series takes a quick look at some of the summer orienteering races of 2016. Sometimes it may just be a map with a course, sometimes several maps, sometimes results, sometimes comments, sometimes GPS-tracking or animations. 
Maps
See below for some maps/GPS-tracking from FIN5 2016. See also more maps from the event.
Fin5, D21E perjantai

» See map in omaps.worldofo.com
Fin5, 1pv

» See map in omaps.worldofo.com
Fin5 4. Päivä, H18E

» See map in omaps.worldofo.com
Location
Links
Links:
Selected Results
See overall results here.
Men Elite First day
1
1
Edgars Bertuks
Turun Metsänkävijät
LAT
1:10:42
2
45
Frederic Tranchand
Paimion Rasti
FRA
1:11:35
+53
3
48
Leonid Novikov
Hiidenkiertäjät
RUS
1:12:15
+1:33
4
17
Jani Lakanen
Koovee
FIN
1:15:54
+5:12
5
4
Mikael Fabritius
OK Trian
FIN
1:16:43
+6:01
6
28
Jarno Parkkinen
Koovee
FIN
1:16:45
+6:03
7
18
Jonne Lakanen
Vaajakosken Terä
FIN
1:18:20
+7:38
8
39
Daniel Stenlund
Paimion Rasti
FIN
1:18:45
+8:03
9
41
Vesa Taanila
Ikaalisten Nouseva-Voima
FIN
1:18:53
+8:11
10
35
Lauri Sild
Koovee
EST
1:18:54
+8:12
 Men Elite Last day
1
3
Frederic Tranchand
Paimion Rasti
FRA
1:06:53
2
1
Leonid Novikov
Hiidenkiertäjät
RUS
1:10:42
+3:49
3
2
Edgars Bertuks
Turun Metsänkävijät
LAT
1:10:52
+3:59
4
5
Lauri Sild
Koovee
EST
1:17:08
+10:15
5
9
Tuomas Kotro
Ikaalisten Nouseva-Voima
FIN
1:20:18
+13:25
6
8
Daniel Stenlund
Paimion Rasti
FIN
1:20:54
+14:01
7
7
Jarno Parkkinen
Koovee
FIN
1:21:39
+14:46
8
6
Mikael Fabritius
OK Trian
FIN
1:23:55
+17:02
9
12
Mikhail Chegarovskiy
OK Trian
RUS
1:26:36
+19:43
10
14
Jukka Tani
Kouvolan Suunnistajat
FIN
1:29:07
+22:14
Women Elite First day
1
123
Marika Teini
SK Pohjantähti
FIN
1:00:31
2
103
Henna-Riikka Haikonen
Anttolan Urheilijat
FIN
1:01:26
+55
3
127
Anna Närhi
IFK Göteborg
FIN
1:03:23
+2:52
4
126
Julia Novikova
Hiidenkiertäjät
RUS
1:03:31
+3:00
5
117
Saara Norrgrann
Paimion Rasti
FIN
1:03:36
+3:05
6
101
Inga Dambe
Paimion Rasti
LAT
1:04:34
+4:03
7
106
Marttiina Joensuu
SK Pohjantähti
FIN
1:06:59
+6:28
8
129
Ina Westerlund
OK77
FIN
1:07:51
+7:20
9
104
Satu Heittola
Rasti-Kurikka
FIN
1:10:37
+10:06
10
108
Sanna Kauppila
Angelniemen Ankkuri
FIN
1:10:54
+10:23
Women Elite Last day
1
104
Julia Novikova
Hiidenkiertäjät
RUS
1:03:25
2
103
Inga Dambe
Paimion Rasti
LAT
1:03:56
+31
3
102
Henna-Riikka Haikonen
Anttolan Urheilijat
FIN
1:05:47
+2:22
4
109
Satu Heittola
Rasti-Kurikka
FIN
1:06:14
+2:49
5
105
Marttiina Joensuu
SK Pohjantähti
FIN
1:06:24
+2:59
6
107
Saara Norrgrann
Paimion Rasti
FIN
1:06:30
+3:05
7
101
Marika Teini
SK Pohjantähti
FIN
1:06:41
+3:16
8
106
Anna Närhi
IFK Göteborg
FIN
1:07:51
+4:26
9
110
Annika Rihma
Hiidenkiertäjät
EST
1:08:48
+5:23
10
108
Sanna Kauppila
Angelniemen Ankkuri
FIN
1:12:27
+9:02