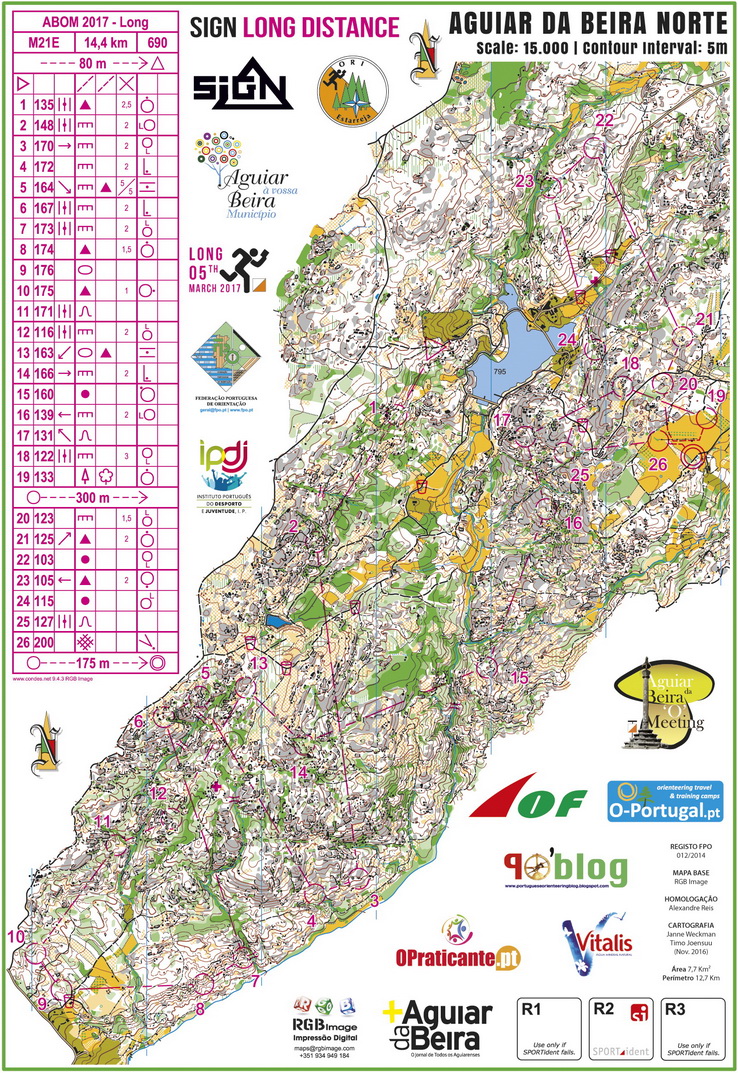 Thierry Gueorigou and Svetlana Mironova (WRE Middle) and Andreu Blanes and Ekaterina Nikitina (WRE Sprint) won the two World Ranking events organized on the same day at Aguiar da Beira O-Meeting in Portugal on Saturday. Sunday's long distance (not WRE) was won by Thierry Gueorgiou and Maren Jansson Haverstad.
Aguiar da Beira O-Meeting brought another high quality weekend with in Portugal with a high class start field and interesting terrain and courses. Many of the competitors competing in Portugal O-meeting stayed in Portugal for another week to participate this weekend.
In the men's middle distance WRE the battle was again between Gueorgiou and Olav Lundanes – Gueorgiou winning with only 5 seconds. Albin Ridefelt was nearly 2 minutes behind in third. The women's class was won by Svetlana Mironova 35 seconds ahead of Ulrika Uotila with Ekaterina Nikitina in third.
Another amazing playground in Portugal, and already a solide candidate for the course of the year?! #loveit #abom pic.twitter.com/sHjEkX83RQ

— Thierry GUEORGIOU (@tgueorgiou) March 5, 2017
The men's WRE sprint race was won by Andreu Blanes nearly a minute ahead of Eduardo Gil – again with Albin Ridefelt in third. Ekaterina Nikitina took the women's WRE sprint ahead of Fanni Gyurko with Porgual's Mariana Moreira in third.
Maps and GPS Tracking
Quick GPS-comparison
See below for a quick GPS-comparison between Lundanes and Gueorgiou on the middle distance WRE. Gueorgiou is faster in nearly all aspects in the first half of the course, but loses time around the second control. In the last part of the course Lundanes has more the intiative, but it is not enough to catch up with Gueorgiou's time.
Thanks to Bruno Nazário for the GPS illustrations.
Results
Men Middle WRE
| | | | | | |
| --- | --- | --- | --- | --- | --- |
| 1 | 1 | Thierry Gueorgiou | 79 | [9486] KR | 37:32 |
| 2 | 2 | Olav Lundanes | 87 | [9630] PR | 37:37 |
| 3 | 4 | Albin Ridefelt | 91 | [9340] OPOR OK Linné | 39:19 |
| 4 | 11 | Aaro Asikainen | 88 | [9486] KR | 39:43 |
| 5 | 10 | Timo Sild | 88 | [7152] Koovee | 40:23 |
| 6 | 14 | Andreu Blanes | 91 | [2267] Colivenc | 40:24 |
| 7 | 3 | Baptiste Rollier | 82 | [9486] KR | 40:41 |
| 8 | 9 | Hannu Airila | 85 | [9486] KR | 40:45 |
| 9 | 7 | Graham Gristwood | 84 | [9486] KR | 40:46 |
| 10 | 8 | Milos Nykodým | 90 | [9340] OPOR OK Linné | 40:57 |
| 11 | 20 | Olli Ojanaho | 97 | [9315] OPOR HS | 41:13 |
| 12 | 6 | Olexander Kratov | 85 | [7152] Koovee | 42:06 |
| 13 | 49 | Emil Granqvist | 95 | [9316] OPOR NTNUI | 42:41 |
| 14 | 5 | Jan Prochazka | 84 | [9486] KR | 42:44 |
| 15 | 15 | Kenny Kivikas | 91 | [7152] Koovee | 42:48 |
| 16 | 13 | Lauri Sild | 90 | [7152] Koovee | 43:21 |
| 17 | 46 | Lauri Nenonen | 93 | [9486] KR | 43:37 |
| 18 | 12 | Rassmus Andersson | 90 | [9340] OPOR OK Linné | 43:40 |
| 19 | 21 | Aleksi Anttolainen | 93 | [6874] LS-37 | 43:47 |
| 20 | 16 | Ivan Sirakov | 88 | [9455] OPOR VARIANT5 | 44:53 |
| 21 | 19 | Jon Aukrust Osmoen | 92 | [9316] OPOR NTNUI | 46:01 |
Women Middle  WRE
| | | | | | |
| --- | --- | --- | --- | --- | --- |
| 1 | 201 | Svetlana Mironova | 86 | [7152] Koovee | 40:48 |
| 2 | 210 | Ulrika Uotila | 86 | [7152] Koovee | 41:20 |
| 3 | 207 | Ekaterina Nikitina | 88 | [9449] Rehns BK | 41:35 |
| 4 | 218 | Heini Saarimäki | 87 | [9459] angelniemen ankkuri | 42:03 |
| 5 | 202 | Inga Dambe | 77 | [9630] PR | 42:21 |
| 6 | 206 | Annika Björk | 76 | [9340] OPOR OK Linné | 43:26 |
| 7 | 211 | Milla Mattila | 91 | [6550] HS | 44:10 |
| 8 | 203 | Bettina Aebi | 90 | [9340] OPOR OK Linné | 44:37 |
| 9 | 215 | Maren Jansson Haverstad | 92 | [9316] OPOR NTNUI | 44:53 |
| 10 | 212 | Mariia Makarova | 91 | [8088] MO Yakhroma | 45:31 |
| 11 | 209 | Fanni Gyurko | 87 | [9486] KR | 45:42 |
| 12 | 213 | Mariana Moreira | 92 | [094] CPOC | 45:50 |
| 13 | 204 | Arntraut Götsch | 76 | [9635] NT GER | 46:06 |
| 14 | 208 | Kerstin Uiboupin | 92 | [9500] OK Võru | 47:32 |
| 15 | 214 | Kristin Olovsson | 95 | [9449] Rehns BK | 48:42 |
| 16 | 217 | Erika Uotila | 85 | [7152] Koovee | 49:42 |
| 17 | 222 | Marta Guijo | 95 | [2142] Via Plata | 52:10 |
| 18 | 223 | Birte Friedrichs | 98 | [9635] NT GER | 52:57 |
| 19 | 221 | Åsne Skram Trømborg | 96 | [9316] OPOR NTNUI | 53:37 |
| 20 | 238 | Vilde Malmei | 97 | [9316] OPOR NTNUI | 54:08 |
Men Sprint WRE
| | | | | | |
| --- | --- | --- | --- | --- | --- |
| 1 | 14 | Andreu Blanes | 91 | [2267] Colivenc | 15:17 |
| 2 | 27 | Eduardo Gil | 94 | [2223] Tjalve | 16:11 |
| 3 | 4 | Albin Ridefelt | 91 | [9340] OPOR OK Linné | 16:12 |
| 4 | 15 | Kenny Kivikas | 91 | [7152] Koovee | 16:16 |
| 5 | 32 | Henry McNulty | 92 | [9316] OPOR NTNUI | 16:18 |
| 6 | 1 | Thierry Gueorgiou | 79 | [9486] KR | 16:23 |
| 6 | 8 | Milos Nykodým | 90 | [9340] OPOR OK Linné | 16:23 |
| 8 | 40 | Philipp von Arx | 92 | [9316] OPOR NTNUI | 16:26 |
| 9 | 16 | Ivan Sirakov | 88 | [9455] OPOR VARIANT5 | 16:27 |
| 10 | 24 | Jesper Lysell | 89 | [9449] Rehns BK | 16:30 |
| 11 | 19 | Jon Aukrust Osmoen | 92 | [9316] OPOR NTNUI | 16:33 |
| 12 | 10 | Timo Sild | 88 | [7152] Koovee | 16:37 |
| 12 | 12 | Rassmus Andersson | 90 | [9340] OPOR OK Linné | 16:37 |
| 14 | 7 | Graham Gristwood | 84 | [9486] KR | 16:48 |
| 15 | 5 | Jan Prochazka | 84 | [9486] KR | 16:51 |
| 16 | 103 | Veit Slodowski | 98 | [9635] NT GER | 16:56 |
| 16 | 47 | Olai Stensland Lillevold | 96 | [9316] OPOR NTNUI | 16:56 |
| 18 | 48 | Marvin Goericke | 91 | [9402] OPOR Berliner TSC | 16:57 |
| 19 | 11 | Aaro Asikainen | 88 | [9486] KR | 16:59 |
| 20 | 22 | Pau Llorens | 94 | [2776] COB | 17:03 |
Women Sprint WRE
| | | | | | |
| --- | --- | --- | --- | --- | --- |
| 1 | 207 | Ekaterina Nikitina | 88 | [9449] Rehns BK | 14:20 |
| 2 | 209 | Fanni Gyurko | 87 | [9486] KR | 14:49 |
| 3 | 213 | Mariana Moreira | 92 | [094] CPOC | 15:39 |
| 4 | 218 | Heini Saarimäki | 87 | [9459] angelniemen ankkuri | 15:44 |
| 5 | 224 | Carolina Delgado | 95 | [052] GD4C | 15:49 |
| 6 | 208 | Kerstin Uiboupin | 92 | [9500] OK Võru | 15:51 |
| 6 | 202 | Inga Dambe | 77 | [9630] PR | 15:51 |
| 8 | 212 | Mariia Makarova | 91 | [8088] MO Yakhroma | 15:57 |
| 9 | 223 | Birte Friedrichs | 98 | [9635] NT GER | 16:08 |
| 10 | 211 | Milla Mattila | 91 | [6550] HS | 16:11 |
| 11 | 215 | Maren Jansson Haverstad | 92 | [9316] OPOR NTNUI | 16:18 |
| 11 | 203 | Bettina Aebi | 90 | [9340] OPOR OK Linné | 16:18 |
| 13 | 225 | Paula Starke | 96 | [9635] NT GER | 16:30 |
| 14 | 242 | Ann-Charlotte Spangenberg | 99 | [9635] NT GER | 16:31 |
| 15 | 230 | Mareike Seeger | 98 | [9635] NT GER | 16:33 |
| 16 | 238 | Vilde Malmei | 97 | [9316] OPOR NTNUI | 16:47 |
| 17 | 206 | Annika Björk | 76 | [9340] OPOR OK Linné | 16:55 |
| 18 | 240 | Ingunn Egeberg Vári | 96 | [9316] OPOR NTNUI | 17:05 |
| 19 | 205 | Monika Rollier | 80 | [9486] KR | 17:16 |
| 20 | 222 | Marta Guijo | 95 | [2142] Via Plata | 17:32 |
Men Long
| | | | | | |
| --- | --- | --- | --- | --- | --- |
| 1 | 1 | Thierry Gueorgiou | 79 | [9486] KR | 1:36:13 |
| 2 | 2 | Olav Lundanes | 87 | [9630] PR | 1:38:17 |
| 3 | 7 | Graham Gristwood | 84 | [9486] KR | 1:44:01 |
| 4 | 4 | Albin Ridefelt | 91 | [9340] OPOR OK Linné | 1:47:18 |
| 5 | 6 | Olexander Kratov | 85 | [7152] Koovee | 1:47:57 |
| 6 | 8 | Milos Nykodým | 90 | [9340] OPOR OK Linné | 1:49:07 |
| 7 | 10 | Timo Sild | 88 | [7152] Koovee | 1:50:09 |
| 8 | 20 | Olli Ojanaho | 97 | [9315] OPOR HS | 1:54:35 |
| 9 | 3 | Baptiste Rollier | 82 | [9486] KR | 1:54:49 |
| 10 | 22 | Pau Llorens | 94 | [2776] COB | 1:57:39 |
| 11 | 27 | Eduardo Gil | 94 | [2223] Tjalve | 1:57:57 |
| 12 | 15 | Kenny Kivikas | 91 | [7152] Koovee | 1:58:10 |
| 13 | 14 | Andreu Blanes | 91 | [2267] Colivenc | 1:59:35 |
| 14 | 19 | Jon Aukrust Osmoen | 92 | [9316] OPOR NTNUI | 2:01:07 |
| 15 | 5 | Jan Prochazka | 84 | [9486] KR | 2:01:39 |
| 16 | 31 | Javier Ruiz de l Herrán | 89 | [2172] COMA | 2:04:13 |
| 17 | 34 | Anders Felde Olaussen | 95 | [9316] OPOR NTNUI | 2:04:54 |
| 18 | 49 | Emil Granqvist | 95 | [9316] OPOR NTNUI | 2:06:52 |
| 19 | 46 | Lauri Nenonen | 93 | [9486] KR | 2:10:57 |
| 19 | 12 | Rassmus Andersson | 90 | [9340] OPOR OK Linné | 2:10:57 |
Women Long
| | | | | | |
| --- | --- | --- | --- | --- | --- |
| 1 | 215 | Maren Jansson Haverstad | 92 | [9316] OPOR NTNUI | 1:36:49 |
| 2 | 201 | Svetlana Mironova | 86 | [7152] Koovee | 1:40:45 |
| 3 | 210 | Ulrika Uotila | 86 | [7152] Koovee | 1:43:08 |
| 4 | 202 | Inga Dambe | 77 | [9630] PR | 1:47:27 |
| 5 | 212 | Mariia Makarova | 91 | [8088] MO Yakhroma | 1:49:23 |
| 6 | 209 | Fanni Gyurko | 87 | [9486] KR | 1:49:32 |
| 7 | 211 | Milla Mattila | 91 | [6550] HS | 1:57:13 |
| 8 | 240 | Ingunn Egeberg Vári | 96 | [9316] OPOR NTNUI | 2:02:18 |
| 9 | 227 | Filipa Rodrigues | 96 | [090] ADFA | 2:10:55 |
| 10 | 216 | Marina Rosink | 83 | [8088] MO Yakhroma | 2:23:32 |