Thierry Gueorgiou had some trouble with a small injury in todays race – which marked the opening of this years MOC Championships – and did not manage to take home the victory. Instead his team mate, Froncois Gonon took the victory in Men Elite – 16 seconds in front of Øystein Kvaal Østerbø. Michela Guizzardi took the victory in the womens class. The MOC Championships started with a city sprint in Citta di Oria in Italy, and will continue with a long distance tomorrow. in the Men and Women elite categories, respectively. Below you see the map with course from the Mens category, which had two loops.

This is my first race of the season, and I am of course very happy to win it…
There was some tricky orienteering around the city castle – which Francois Gonon handled best. – This is my first race of the season, and I am of course very happy to win it, Francois Gonon said after the race. – Øystein did not see the direct route choice to the 3rd control on the second loop, and run all the way around to the left. He was probably faster than me, Gonon continues. Italian Marco Seppi snatched the second place between Gonon and Kvaal Østerbø.
The home victory of Michela Guizzardi in the Women category – in front of strong Norwegian runners – was very popular among the spectators. Second and third in the women's category where Norwegian National Team runners Marianne Runnervold and Elise Egseth. Only the first loop of the womens loop counted in the overall results.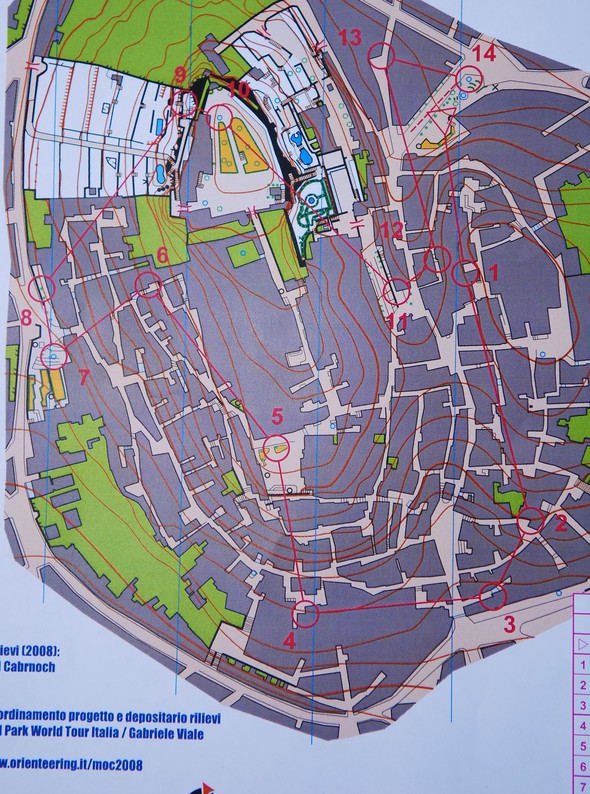 Results (unofficial)
1. Michela Guizzardi ITA 11.36
2. Marianne Riddervold NOR 11.47
3. Elise Egseth NOR 11.48
1. Francois Gonon FRA 18.27
2. Marco Seppi ITA 18.43
3. Øystein Kvaal Østerbø NOR 18.48
Pictures

Source: MOC Championships